Hustler Debuts 2022 Zero Turn Mower Line at GIE Expo
This year's Green Industry and Equipment Expo is here, and with it, seemingly every major lawn care and landscaping manufacturer's announcements concerning the next year's product lines. Case in point: Hustler has unveiled three new Zero Turn Mowers planned for a 2022 release, as well as an updating of some of their flagship models.
You can check out the Hustler 2022 Zero Turn Mowers early by showing up to this year's GIE Expo in Louisville, KY from October 20-22, 2021. Hustler Turf is located at booth #5042.
What is Hustler Saying About The 2022 Zero Turn Lineup?
We heard our customers and developed each of these new mowers with their needs in mind. After a year off from an in-person GIE+EXPO, we look forward to seeing our dealers, distributors and end-users and showing them the latest innovations from Hustler.

Mark Friesen, director of brand marketing for Hustler Turf
Hustler Zevo
The Hustler Zevo is the brand's all-electric mower, almost an all-electric version of the Dash XD. It features a 42″ fabricated deck that Hustler has designed primarily for single-yard usage. It has two speeds: 5 mph for the trim/learning mode, and 7 mph for regular mowing applications.
Though your runtime will depend on your terrain and grass conditions, Hustler tells us that the Zevo can mow up to 1.5 hours. They also claim that, with proper maintenance, the Zevo batteries ought to last up to 5 years.
Surfer Pro
The Surfer Pro also joins the Hustler Zero Turn Mower Lineup in 2022. The brand designed this stand-on mower specifically for both landscaping contractors and homeowners. It features 34″ or 48″ cutting deck options, and 18″ rear drive tires offer a smooth mowing experience. Because of its compact footprint, it makes for a solid trim and tight area mower that can fit easily through fence gates and takes up minimal space on a trailer or stored in your garage or shed.
Hustler backs the Surfer Pro with a 2-year/300-hour warranty for contractors and a 3-year/300-hour warranty for homeowners.
Super SF
The Super SF stand-on mower is Hustler's biggest, strongest, and fastest mower in the brand's stand-on lineup. This mower features heavy-duty construction and components, and Hustler has designed it to tackle the harshest mowing conditions.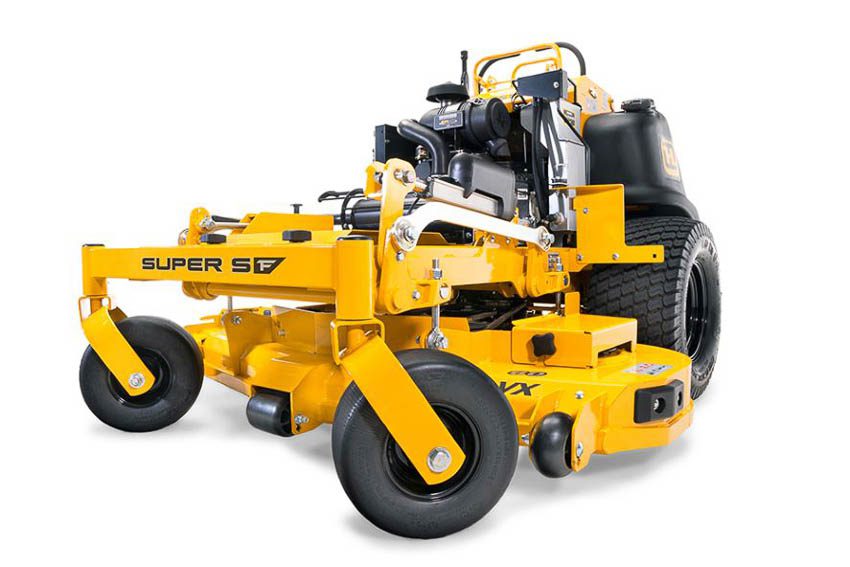 It can move at up to 15 mph with its Hydro-Gear transmissions, 26″ rear drive tires, and 40 hp engine option. It comes equipped with the Hustler VX 60″ or 72″ deck. And, holding almost 14 gallons of fuel, it lets you spend more time mowing and less time refueling.
FasTrak and FasTrak SDX Updates
Additionally, Hustler has improved upon these flagship commercial model zero turn mowers for 2022. Both mowers now feature dual fuel tanks, dual USB charger ports, front and rear tie-downs, and standard rubber floor mats. These Hustler mowers can hit a top speed of 10 mph and sport 23″ rear tires.
To learn more about Hustler Turf and its products, or to locate your local Hustler dealer, click here . Visit Hustler Turf at GIE+EXPO in booth #5042.