I love cutting down large trees with chainsaws. There's something about the experience of setting your notch, driving through the back of the trunk, and then standing back and watching something God took 50 years to grow slowly crash to the ground. But while that's fun, the truth is, most people use chainsaws to cut down firewood or handle much smaller tasks. The Black and Decker 40V chainsaw is a product that caters to those less impressive, but still important, needs.
Black and Decker 40V Chainsaw Features
The most notable feature of the Black and Decker 40V chainsaw is its side-loading 40V battery which powers the saw without the need for 2-cycle fuel. You still need to add chain oil to keep the Oregon 12″ bar and chain lubricated, but the battery and electric motor are what's driving the saw as it cuts. The chain tension is controlled by a two step process of loosening the black bar adjust locking knob on the right side of the saw which then allows you to tighten the orange tensioning knob to adjust the proper tension of the chain. You want a maximum of 1/8″ of give at the bottom of the chain when you tug on it—and it should snap back snug when you let go. You only need a little slack, as the chain will stretch and expand slightly when it heats up during use.
Activating the saw is as simple as inserting a charged 40V battery, pulling back on the lock-off button with your thumb, and then pulling the trigger. There is a slight delay on activation of the saw—nearly a second. This can be disconcerting at first, and with the electric motor it seems like future iterations of the saw would benefit from a more confident start.
The top wrap-around handle is made from plastic and presents a nice, ergonomic grip. Overall, the saw is very lightweight (it weighs just over 8 pounds). There is no blade brake, just a plastic front hand guard, but with our recommended use that shouldn't be a huge issue for most users. The bucking spikes are plastic, so there's not a ton of leverage you can get with the saw if you happen to be cutting into larger diameter logs. They do offer some purchase to keep the saw stabilized during cutting, however.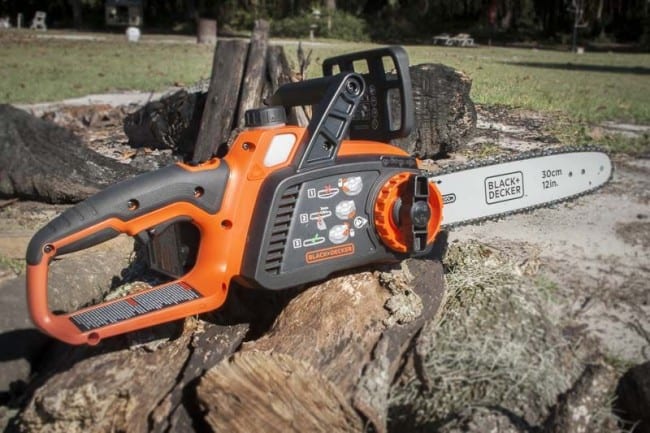 Adding chain oil is a simple matter of removing the fill cap and pouring in your oil until you see it fill the translucent plastic window visible on both the left and right side of the chainsaw. There's an integrated filter for catching any large debris, but we wish Black and Decker would have also included a strap to keep you from losing or misplacing the cap during filling.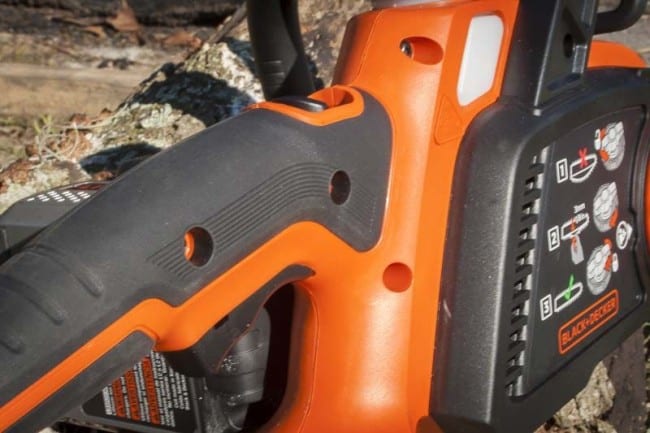 Black and Decker 40V Battery and Charger
Black and Decker definitely cut some corners with the charger it supplies with their 2.0 Ah battery. The charger takes approximately 120 minutes to completely recharge the 2.0 Ah 72 Wh battery. That's a lot of time, so we recommend you have at least one spare battery around in the event you need to do a greater amount of work that the one battery will support.
Black and Decker 40V Chainsaw Specs
Bar: 12″ Oregon w/anti-kickback chain
Motor: Brushed
Chain tensioning: Tool-less
Chain oiling: Auto w/inspection window
Battery: 2.0 Ah, 72 Wh
Charge time: 120 minutes
Weight: 8.3 lbs
Warranty: 1 year ltd.
Price: $199
Using the Black and Decker 40V Chainsaw
Being the crazy, tree-felling maniac that I am, I first attempted to use the Black and Decker 40V chainsaw to slice apart some 10-inch diameter logs that were felled using another saw. I just wanted to see what the little saw was capable of, and the results were more or less what I expected. You can cut thicker diameter wood like this, but you have to be patient and really listen to the saw's motor. The Black and Decker 40V chainsaw doesn't have a lot of extra power to handle getting bogged down, so it will stall out more quickly than either the Greenworks 40V chainsaw , EGO 56V chainsaw , or Greenworks 80V chainsaw we were testing at the same time.
The best way to cut using the Black and Decker 40V chainsaw is to engage the plastic bucking spikes and then gently angle the saw downward, being sure to not apply too much force so as to not stall the motor prematurely. Cutting too fast, or applying any significant pressure beyond what the blade is ready to cut, will result in a stall. When it invariably does stall, you just start it up again and you're back in business. After using this saw on several larger cuts, the conclusion is that the Black and Decker 40V chainsaw is going to be most efficient cutting 8-inch or smaller diameter logs. Cut though 4×4 pressure treated lumber also works effectively as well, and this might present an easy way to quickly trim up posts.
Conclusion
I like the handling and weight of this saw. It's lacking in the power department—more than other cordless chainsaws we've used. That puts it at a slight disadvantage and moves it squarely into the consumer market where aggressive cutting and large power reserves can be passed over for convenience and cost. This is one of the least expensive cordless chainsaws on the market, but with the Greenworks 40V DigiPro 16″ chainsaw coming in at about the same price, it's going to be tough to recommend the Black and Decker over competitors unless you're already on their 40V platform and don't plan on cutting a lot of thicker wood.