Most gas-powered string trimmers use 2 stroke engines. More recently, however, a couple of manufacturers have released 4 stroke products that promise several key advantages. Since both ultimately get the job done, consumers have asked us about the difference between 2 stroke vs 4 stroke engines.
That 2 stroke vs 4 stroke engine question carries with it several implied questions: Which is better? Does one offer more power than the others? Is one quieter than the others? We'll tackle all of these questions and more in this article.
Starting at the Beginning: A Birds-eye View of 2 Stroke vs 4 Stroke Technology
We want to start by helping you understand the differences between the two technologies. While each has different advantages, we don't consider this an apples-to-apples comparison. 2 stroke handheld power tools perform, weight, and function much differently than their 4 stroke counterparts. As a case in point, see our hands-on review of the Ryobi RY4CSS string trimmer.
2 Stroke Engines – Mixed Fuel
2 stroke (sometimes referred to as 2 cycle) engines run on pre-mixed fuel. This gas-oil mixture can vary in ratio but typically falls between a 1:40 and 1:50 mixture of oil to gasoline. This oil-gas mixture has the benefit of both fueling and lubricating the engine at the same time. You don't have a separate oil reservoir on a 2 stroke tool (unless you count the chain oil reservoir on a chainsaw—but that's unrelated to the motor).
4 Stroke Engines – Gasoline and Oil
4 stroke engines (often called 4 cycle) operate in a similar manner to your car or truck engine. 4-stroke motors use a crankcase with a separated oil distribution system to lubricate the engine during operation. With 4 stroke engines, you also have to change the oil periodically to keep everything operating smoothly. Typically this occurs at 25-hour intervals, though some systems by Vanguard and others feature oil systems that can go as long as 300 hours or more without a change.
A four-stroke engine uses standard unleaded gasoline—just like your car. Some Pros insist on using ethanol-free fuel—but that's not typically necessary. It's also probably not worth the extra expense if you keep your tools otherwise maintained. Definitely avoid using E85 gas—that's not compatible with either 2 stroke or 4 stroke small motors found in outdoor power equipment.
Don't get us wrong—we love corn…we just prefer to eat it or feed it to animals as opposed to burning it in our tools and vehicles!
How Does a 2 Stroke vs 4 Stroke Engine Work?
There is a marked difference in how a 2 stroke and 4 stroke motor operates. A 4 stroke engine works, as you might expect, in four stages:
Power (down) stroke
Exhaust (up) stroke
Intake (down again) stroke
Compression (up again) stroke
That initial power stroke sends the piston through each of the three remaining stages. Delivering all four strokes required to output power and reset the cylinder requires two revolutions of the crankshaft.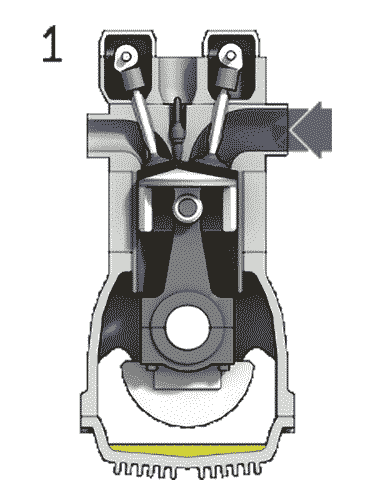 With a 2 stroke engine, two cycles combine the above duties. The first (down) stroke combines both the power and exhaust strokes while the second (up stroke) combines the compression and intake stroke. When the piston reaches the top of the cylinder, both power and combustion happen simultaneously. At the bottom of the downstroke, the system evacuates the exhaust and intakes more mixed fuel. It only takes just one revolution of the crankshaft to propel the piston through its full cycle.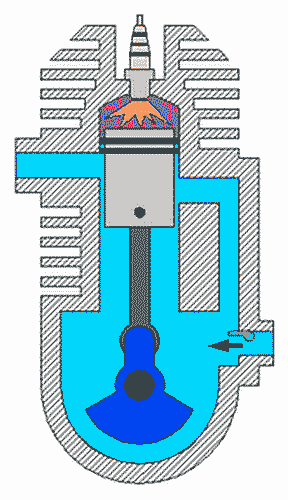 Pros and Cons of 2 Stroke vs 4 Stroke Engines
Less you begin to believe that 2 stroke engines completely beat 4 stroke motors in all situations, guess again. Two stroke engines dominate lawn tools and marine applications almost across the board. However, 4 stroke engines bring the opportunity for higher torque, better fuel economy, and lower emissions.
If we compare 2 stroke vs 4 stroke engines side by side (in general terms at least), here's what we get:
2 Stroke Engine
4 Stroke Engine
Parts
Less moving parts
More moving parts
Maintenance
Oil part of fuel mixture
Must change oil
Storage
Sealed fuel storage
Must keep level
Vibration
Lower vibration
Higher vibration
Fuel
Economy
Less efficient
More fuel-efficient
Emissions
Burns oil
Less emissions
Torque
Less potential
Higher torque potential
Starting
Easy starting
Much harder to start
(non-EFI models)
Weight
Lower weight overall
More parts = more weight
More Parts = More to Break
On the whole, four-cycle engines have a lot more moving parts. That means you have more that can break or otherwise require maintenance. Between the crankshaft, camshaft, connecting rod, valves, lifters, and piston, a 4 stroke engine does a lot in a small space.
A two stroke engine reduces the number of moving parts down to around three. You still have the crankshaft, of course. Other than that, however, you just have the connecting rod and piston. When we talk about two stroke motors for small marine applications and outdoor power tools, you generally have no cams, lifters, or valves.
While not absolute—fewer moving parts generally equates to less that can fail. Maintenance also tends to get easier. A 2 stroke engine will typically also take up around half the displacement (cylinder volume) of a 4 stroke engine since it does more with less. It does that while producing the same amount of power! It also generates that power twice as fast as a 4 stroke engine.
Final Thoughts on Two Stroke vs Four Stroke Engines
We can really appreciate the advantages of owning a 4 stroke motor for small lawn tools like a string trimmer or backpack blower. In general, however, we prefer 2 stroke engines for small motors for the many reasons we stated above. Two stroke engines are more reliable than four stroke engines. There's less to break and we find them easier to start.
When you need more torque, a 4 stroke tool might be your best bet. It certainly makes more sense for larger engines and motors that go beyond what you expect to find in a handheld gas-powered tool.
Sadly, with the current move towards even more emissions reductions and a general shift to battery-powered tools, we think the end of the 2 cycle motor may be in sight. Stricter emissions standards and rules could cause manufacturers to eventually phase out 2 stroke engines altogether.
When this happens, we hope outdoor power equipment manufacturers can improve 4 stroke technology to provide what Pros need when battery power can't quite deliver the goods.