When putting the finishing touches on a mowing job, string trimmers and edgers are dominant tools. In recent years, we've seen many high-performance models that don't necessarily qualify as totally commercial products. However, they don't fit neatly in the residential category either. So, the industry created a designation that straddles both–Prosumer. If you're looking for premium features but don't need a full commercial build, we can help narrow your search. To steer you in the right direction, our team has assembled a list of the best trimmers and edgers.
Without further ado, here they are.
Best Trimmers and Edgers: Battery
Certainly, the cordless market is a competitive one, so our staff dug through the weeds and found several models. Here's the battery-powered gear that stood out to us.
Best Battery String Trimmer–Power
One factor that we always consider for our best trimmers and edgers lists is power. Accordingly, we chose the Husqvarna 525iLST to represent the cordless class.
When we put this trimmer to the test on the OPE proving ground, it impressed us from the get-go. Based on our assessment, this tool is closer to professional than consumer.
For one, it operates on a beefy 36V (9.4Ah) battery. And to get the most out of your battery, the 970551901 has a 3-speed mode that allows you to maximize your runtime by adjusting the power.
What's more, it runs like it has a luxury car engine–smooth and confident. In fact, its confidence also applies to its cutting ability. We were able to tackle dense, brush-like patches as well as areas with normal post-mowing growth.
Husqvarna scored a hit with this model, which is why it secured a spot on our Best Trimmers and Edgers list.
Price: $399.99 (bare)
Best Brushless Edger–Pro-Worthy Motor and Cut
If you've got sidewalks, walkways, or patios, then an edger is a tool you should have in your shed or garage. That said, Ryobi's Expand It Edger is a worthy example.
While many would place this unit in the consumer bracket, our team's experience says otherwise. Frankly, we think this tool fits nicely in the Prosumer landscape.
A brushless motor drives the Expand It, and this unit runs very smoothly. The quiet whir of the motor was striking.
In truth, we reviewed the Ryobi P20160 18V Trim Mower, and, as well as it performed, our main suggestion was to exchange the brushed motor for a brushless one. The performance of the RY40226-EDG emphasizes why that's the right move.
Likewise, the battery performed well, stayed cool, kept a charge, and charged quickly after a solid workout.
And last but not least, cutting required minimal effort and its adjustable 8-inch blade held up admirably. The end result was a beautiful, crisp edge that emphasized the lawn's lush appearance. The fact that it takes attachments from multiple brands is an added bonus.
Price: $268 (kit)
Best Cordless Edger–Overall Performance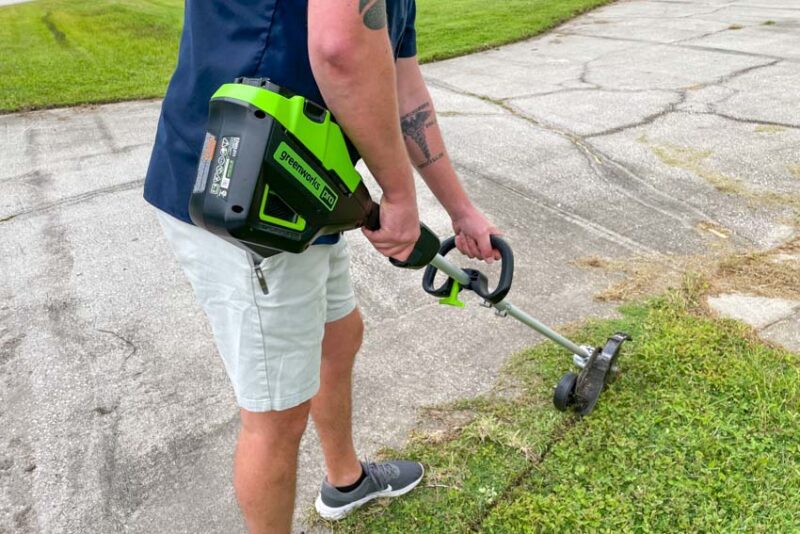 When it comes to an edger, some users prefer a dedicated tool over an attachment system. Greenworks has both options. Testing the standalone Greenworks 60V edger gave us a chance to see how it compared to the version with the brushless motor at the powerhead.
The tool weighs just 10.5 pounds without the battery and 13.4 pounds with the kitted 2.0Ah pack. Overall, this Greenworks 60V model wasn't cumbersome.
Moreover, we thought the controls were ergonomically situated, and the variable speed trigger helped to fine-tune the cutting experience. And speaking of cutting, the 2700103VT powered through overgrown areas with ease.
We also thought it exhibited low vibration and, in our estimate, performed equivalent to what you might expect from a 30cc engine.
So, if you like the idea of a dedicated edger, we think this tool will provide years of solid service.
Price: $299.99 (kit)
Not sure what size string trimmer line to use? OPE is here to help! And we also have answers to questions about why string trimmer line length is important.
Best Trimmers and Edgers: Gas
Despite battery's rising popularity, it's unlikely that gas power will become obsolete any time soon. Actually, many purists prefer it. If you're in that group, this section's for you.
Best Gas String Trimmer–Power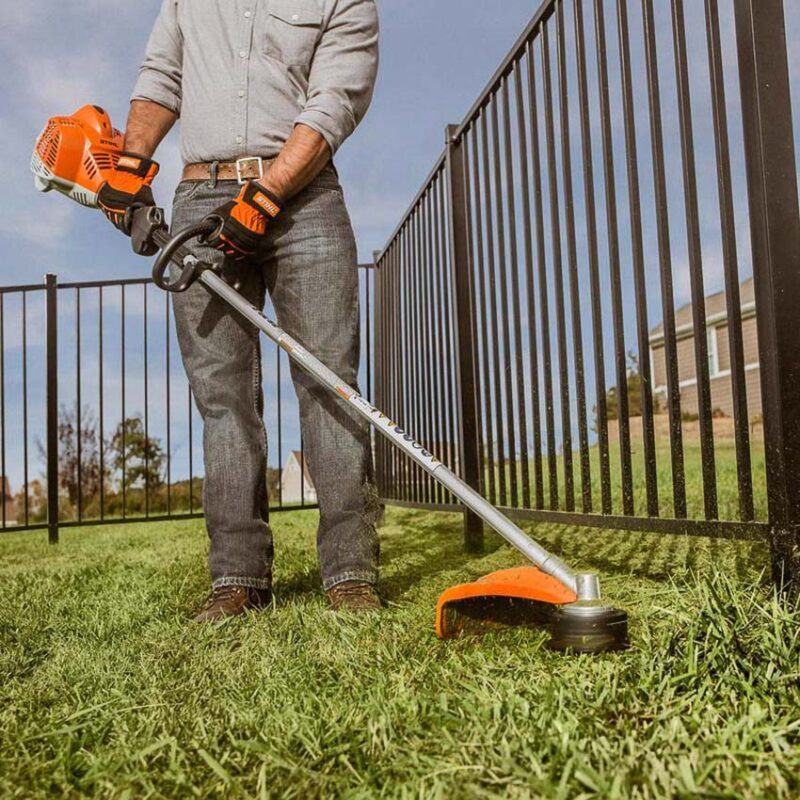 Stihl's FS 70 R shines for many of the same reasons as Husqvarna's cordless model.
During our tests, the first thing that stood out was the power of its 27.2cc engine. Notably, we also reviewed the FS 56 RC-E, which, like the 70 R, has a 27.2cc engine. Nonetheless, the latter still had more oomph.
Furthermore, we found the FS 70 R comparatively quiet, yet an aggressive cutter. Tearing through heavy brush was no problem, and, likewise, it breezed through basic trimming tasks.
Finally, this tool is lightweight, well-balanced, and capable of both residential and light commercial work. In short, we think that the Stihl FS 70 R is among the best gas models in the world of trimmers and edgers.
Price: $319.99
Best Gas String Trimmer–Heavy Cutting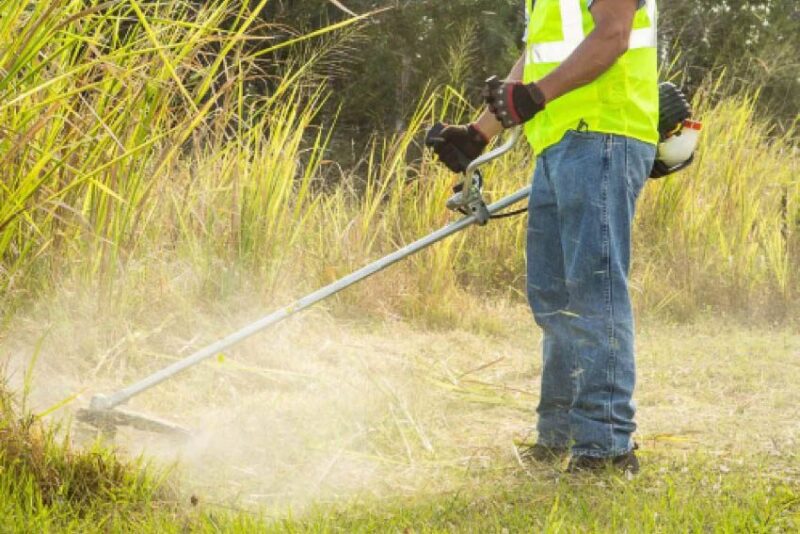 Brushcutters are essential members of the string trimmer universe, as moderately thick grass isn't the only lawn and landscaping obstacle you'll face. Sometimes tasks involve clearing dense foliage, which means you need a tool that stands out for its heavy cutting ability. That's the SRM-2620U.
Echo gave this model a 25.4cc professional-grade engine, which makes this unit suitable for both demanding residential jobs and commercial-level work. With the throttle wide open, you'll get up to 11,000 RPM, and that's enough muscle to get through serious overgrowth.
Moreover, this tool's 17-inch cutting swath helps to efficiently take care of business.
And finally, the Echo X-Series Brushcutter is lightweight but still strong enough to endure wear and tear. In summary, this tool is worthy of its place on the Best Trimmers and Edgers list. Indeed, it also made it onto our Best String Trimmer Reviews list.
Price: $419.99
Best Gas Trimmer–Overall Power and Performance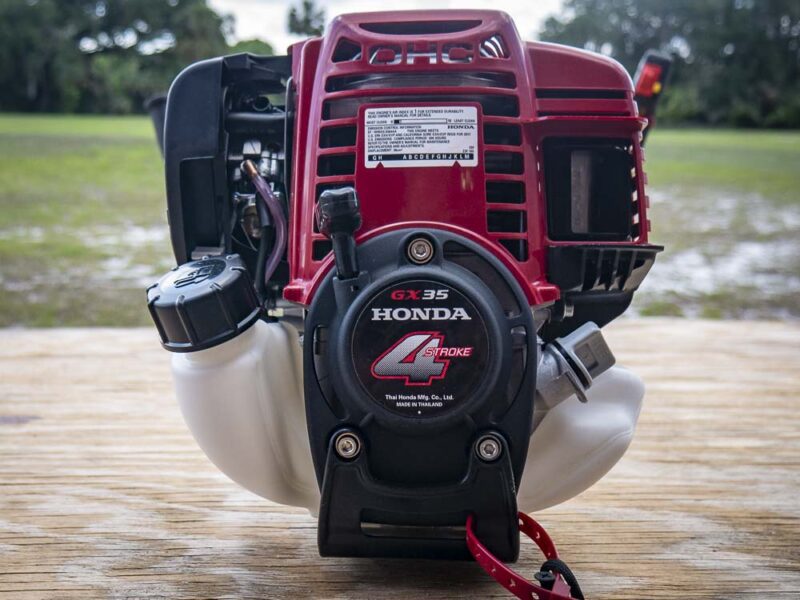 Honda is a household name with a reputation for quality. They make a host of products, and nearly all of them are well-made. This includes the HHT35SLTA, which, in our tests, demonstrated strong overall power and performance.
Let's start with the engine itself. At 35.8cc, it's no wonder this unit ranked on our list for power.
On top of that, we were quite pleased to get our hands on a trimmer with a 4-stroke engine. This means you don't have the hassle of messing around with oil additives. That also equals a little less stink, which we generally associate with a 2-stroke oil-and-gas mixture.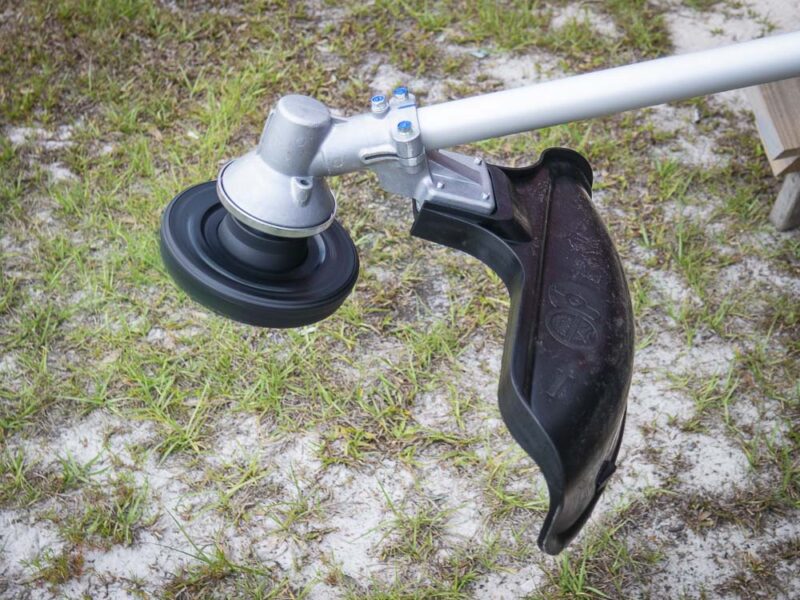 Moreover, this trimmer easily fired up–no surprise for a Honda.
Another aspect worth noting is ergonomics. Despite its heavy 16-pound weight, our team was pretty much in agreement that this trimmer is well-balanced and comfortable. The handles have overmolding, and, together with the trimmer's flex shaft, it offers noticeable shock absorption.
Additionally, its 22-ounce gas tank gave us plenty of trimming time before refills.
And while the HHT35SLTA leans to the commercial side, it's still a trimmer that would interest the Prosumer.
Price: $489
Best Trimmers and Edgers: Why You Can Trust OPE Reviews
Ever check out a "review" site, and you can't tell if they actually tested the tools or if they're just "recommending" the Amazon top sellers?
That's not us. We only recommend what we'd actually use, even if we don't earn a commission from it. It's all about giving you a legitimate recommendation and our honest opinion of each product, which includes the best trimmers and edgers.
We're an online publication dedicated exclusively to covering outdoor power tools, top-notch equipment reviews, and industry news in technical machine operation, how-to guides, and Pro and residential landscaping and yard maintenance.
Our Pro reviewers have the skills and experience to know whether a product can perform well in the field.
This includes tractors and mowers, string trimmers and edgers, blowers, chainsaws, hedge trimmers, engines, heavy equipment, aerators, hand tools, generators, maintenance gear, workwear, safety products, and more.
The OPE team will put its hands on hundreds of additional tools at media events and trade shows throughout the year. This also includes behind-the-scenes tours of manufacturing plants and test facilities.
The OPE staff consults innovators in the technology and design of outdoor tools to gain a broader grasp of where these products fit and how they work.
And this wealth of knowledge and experience is absolutely free.
The end result is information you can trust because of the editorial, scientific, and real-world professional know-how we collectively utilize each and every time we pick up and test outdoor power equipment or research a topic.