It goes by many names: weed eater, weed wacker, weed trimmer. Regardless, string trimmers have the same fundamental concept—spin trimmer line fast enough for the tips to cut grass. Ask anyone, and they'll likely tell you five different models for the best string trimmers. We asked our team to give their recommendations for everything from homeowners with small lawns to professional lawn care crews.
Check out our best battery-powered string trimmers guide for our top picks among all battery-powered models. We also have another list of the best gas weed eaters.
Our Top Picks
Best String Trimmers Overall for Professionals
There's a lot of debate about the overall best gas string trimmer, and Echo consistently shows up in it with their X-Series SRM-2620/2620T model. The only difference between the two is the "T" model has 2:1 high-torque gearing, and we generally recommend that one for professional use.
This model balances all things well.
The 25.4cc engine keeps the weight reasonable (12.5 pounds dry) and is consistently easy to start. In terms of power-to-weight ratio, the 2620T is excellent. Holding just under 21 ounces of fuel, it has solid runtime. It's also maneuverable and the narrow guard gives you great sightlines on the 17-inch cutting swath. As an added bonus, the Speed-Feed 400 head makes line changes simple.
Price: $389.99 ($359.99 for the 2620)
Best String Trimmers Overall for Homeowners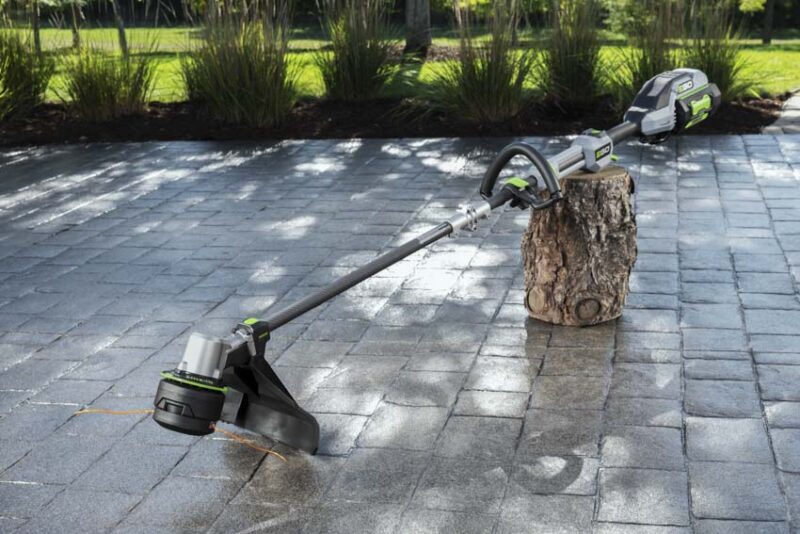 For homeowners, it's a pretty easy call to make the switch to a battery-powered system if it's in your budget. EGO consistently puts out some of the top-performing and lowest-vibration string trimmers on the market.
Better yet, they tend to lead in technology development and have pushed the bar forward once again with the ST1623T. It features PowerLoad—a technology that lets you load line easier than ever. Just thread your new line to the halfway point in the head, press the PowerLoad button, and it automatically winds.
There's also line IQ. This is an automatic feeding system that keeps your line at 16 inches without having to bump the head as you go along. Throw in a telescoping carbon fiber shaft and it's pretty easy to see why it's our choice as the best string trimmer for homeowners.
Price: $197 bare, $329 with 4.0Ah battery and charger
Best Gas String Trimmers
Echo's 2620T was our pick for the best overall professional string trimmer, and as a gas model, it's obviously the best gas string trimmer in our book as well. Not far behind is Stihl's workhorse—the FS91. This 16.5-inch trimmer's 28cc engine has power enough for trimming lawn grasses and even sees some farm and ranch work. At the same time, its 12.1-pound dry weight is easy to manage and its 24-ounce fuel tank offers solid trigger time between fill-ups.
Of course, Stihl's extensive dealer and service network is a major plus of owning its products. When you need regular maintenance or on the off chance your trimmer unexpectedly needs a repair, you can get it back in the game quickly.
Price: $369.99
Best Electric String Trimmers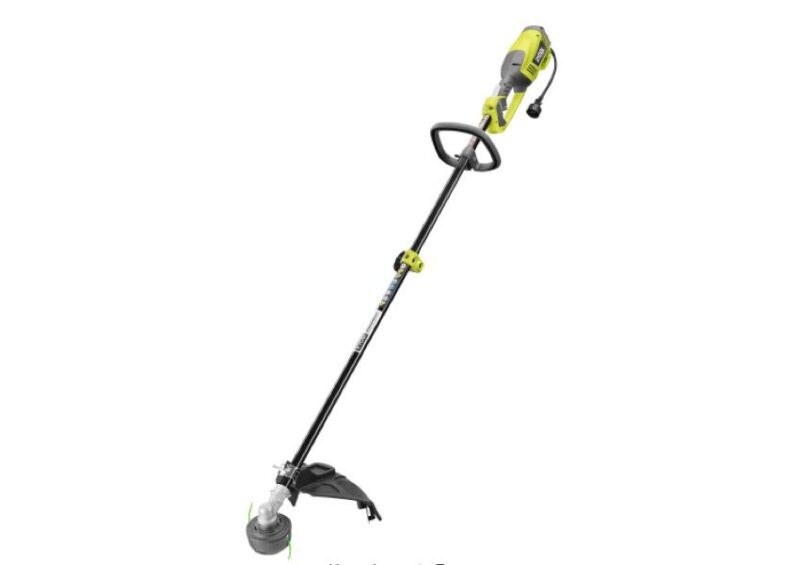 Just because you prefer plugging in for power doesn't mean you have to settle for low performance. In a close decision, Ryobi edges out Kobalt in a battle of 10-amp, 18-inch options.
In addition to the same power and cutting swath, both trimmers are also attachment capable and reasonably low weight. What pushes Ryobi into the win column as the best electric string trimmer is its easy-load head, which makes one of the most frustrating parts of owning a string trimmer easier to deal with.
Price: $75.56
Best String Trimmer for Large Areas
The best string trimmer for large areas where mowers can't go has to meet several qualifications: it has to have excellent runtime, a large cutting swath, and (in our opinion) needs to be a bike handle design.
Take our top overall professional pick, add a bike handle and harness, and you get the Echo SRM-2620U brushcutter. It has the same engine and trimmer head but swaps a D-handle for the greater support that a bike handle design offers while giving you the same performance with a design that's much easier to manage for longer periods of time.
Price: $419.99
Best String Trimmers for Overgrown Areas
If you're dealing with a lot of overgrowth, be prepared to take your time. In this scenario, we recommend a bike handle string trimmer that's capable of using a brushcutter head when the going gets really tough. We also recommend going with a bigger engine.
When you need a brushcutter that doesn't know when to quit, our selection as the best string trimmer for overgrowth is the Husqvarna 545FR. It has a powerful 45.7cc engine that is happy using a trimmer head, grass blade, or brush cutting blade. From tall grass to saplings, it's an efficient way to clear areas in a hurry.
Add a comfortable harness, vibration-dampening bike handles, and easy starting, and this is an easy recommendation for us to make.
Price: $759.99
Best String Trimmers Line
Echo Black Diamond String Trimmer Line
Our choice for the best string trimmer line is Echo's Black Diamond line. It's denser than many of the basic lines out there and has a sharp-pointed square twist to make it more effective at cutting for its size. Available in 0.095-inch and 0.105-inch sizes, it's great for almost any trimmer and it's a fantastic choice for battery-powered options.
Best String Trimmers Brand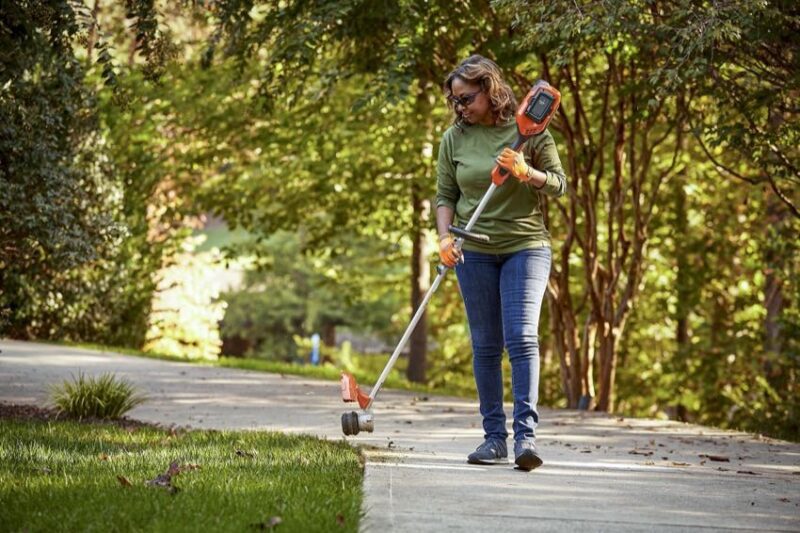 When it comes to covering the entire scope of string trimmers, Echo, Husqvarna, and Stihl are all consistently part of the conversation with other brands such as Makita and Redmax also showing up. Toss in all-battery brands such as Milwaukee and Greenworks and the landscape can be confusing.
In our opinion, Husqvarna is the best overall string trimmer brand. They have a wide range that covers homeowners through professionals, gas and battery, and lawn cutting through forestry brush cutting better than anyone else. While Stihl sets the standard for servicing dealer networks, Husqvarna does a fine job of showing up close to home as well.
Best String Trimmer Buying Guide – What We Look For
Choosing your string trimmer power source has a lot to do with balancing performance, convenience, and price.
Gas offers the most power and when you run out of fuel, a fill-up only takes a few minutes. On the other hand, they're loud, require maintenance, need an oil and gas mix, and produce emissions.
Battery-powered string trimmers have lower noise, no emissions, and very little maintenance. Plus, today's performance can match a 30cc engine with roughly the same runtime as a tank of gas. However, cordless string trimmers can be more expensive, and charging a battery can take several hours in some cases.
Electric string trimmers have the benefits of battery-powered ones with the added bonuses of costing less and having near-infinite runtime. They typically don't reach as high on the power scales, though, and you're stuck dragging an extension cord all over your lawn.
Most string trimmers are rated for somewhere between 0.080 and 0.105-inch line with fringe options below and above that range.
Generally speaking, a smaller diameter line doesn't do as much damage to objects it hits, such as the paint on your exterior walls, wood on your pergola, or irrigation pipes. It also gets the most runtime out of battery-powered string trimmers. As you go up in diameter, the line becomes more destructive and less energy efficient, while holding up better in tough conditions.
For smaller lawns, 0.080-inch line is great for keeping your grass under control, has excellent runtime for battery-powered string trimmers, and lets you put more line on the head compared to larger diameters. This is the minimum line size we recommend in most cases.
0.095-inch line is a great all-around combination for quick cutting, moderate risk of collateral damage, and solid runtime for cordless trimmers. For most cordless string trimmers, this is as thick as we recommend going, though some Pro models are fine moving up a step.
For professional crews, farm and ranch, and other large properties, 0.105-inch line is the way to go. It quickly clears overgrowth and grasses with thicker stalks while holding up to a lot of abuse. It takes more energy to spin the extra mass, though, and you likely need a 30cc+ engine to make the most effective use of it. If you're considering battery-powered options, we only recommend 0.105-inch line for high-end professional models specifically designed to handle it.
Cutting Swath
Cutting swath is the diameter your line covers. For smaller lawns, 13 – 14-inch is fine, especially when you're using a walk-behind mower that can get closer to landscape edges. 15 – 16-inch is a good all-around diameter while professional crews and large property owners get the most out of 17-inches or more.
Weight
String trimmer weight is a big consideration. The more weight is out on the end, the more your back has to work to help you work with it. Shoulder straps help tremendously, especially for the largest gas units and some cordless models come with one as well.
In most cases, pick the lightest string trimmer that has the performance for your toughest jobs with the build quality that will last you many years.
Vibration
Vibration came into focus with high-performance cordless string trimmers. All gas engines have at least some vibration, and most people didn't think much of it. That's still the case for gas, but cordless and electric string trimmers vary widely in how much vibration they create. In many cases, shifting the motor to the head helps reduce the vibration of a drive shaft, even though it moves some of the weight away from your arms.
Features
For the most part, there aren't a ton of extra features to look for on gas and AC electric string trimmers. However, brushless battery-powered models can have a few that can swing your purchase decision one way or the other. Here are some to keep an eye on:
Attachment capability (all power types)
Multiple speeds (including automatic modes)
Reverse rotation to untangle tall grass
Faster throttle up
Compatibility with other lawn care equipment and power tools
Value
We're big on value—getting the most bang for our buck is always high on our list. It's not just about what the cheapest string trimmer you can get is. It's about meeting your top priorities and coming in under budget.
Why You Can Trust OPE Reviews
Have you ever read a "review" site and found that you couldn't tell if they actually tested the tools or if they were just "recommending" the top Amazon sellers? That's not us. We won't recommend anything unless we'd actually use it ourselves—and we don't really care who the primary retailer is. It's all about giving you a legitimate recommendation and our honest opinion of each product.
We've been in business since 2016 covering outdoor power equipment, writing reviews, and reporting on industry news in the landscaping, heavy equipment, and lawn care industries. Our Pro reviewers have lots of experience in these fields as well as the skills and experience to know whether these products can perform well on the job.
Each year, our team reviews and gets their hands on hundreds of additional landscaping tools and equipment at our shop and at media events and trade shows.
We work with dozens of professionals around the United States who review products for us on real job sites and consult with us on testing methods, categories, and weighting.
We'll provide hundreds of pieces of new content this year absolutely free for our readers—including objective evaluations of lawn care tools, products, and accessories.
The end result is information you can trust because of the editorial, scientific, and real-world professional experience we collectively utilize each and every time we pick up and test a product.