Switching from Gas to Battery is Easier with the Latest Generation of Battery-Powered String Trimmers
Even before you finally pull the trigger on a battery-powered lawn mower, cordless string trimmers present a much more accessible entry point for homeowners. Pros running landscaping crews have grabbed these tools when they need a quiet solution for municipalities. So what's the best battery powered weed eater (string trimmer) for your needs? It depends. We got our team together to give you our top picks for a wide range of applications and users.
Want to see our top overall weed eater picks, including gas models? Check out this article!
Best Battery-Powered Weed Eater for Homeowners
Even before becoming a household name, EGO launch out the gate with a fairly capable weed eater. Since then, the company improved power, capability, and vibration control. It now makes what we consider the best battery-powered homeowner weedeater in the industry.
With PowerLoad automatic line loading, EGO makes the easiest-to-load weed eaters we've ever used. For 2022, we felt their PowerLoad technology and carbon fiber shaft simply dominated the battery-powered string trimmer category for homeowners.
Price: Price: $299 with 4.0Ah battery and charger
Best Battery-Powered Weedeater for Power
Ryobi 40V HP Brushless Whisper Series Carbon Fiber String Trimmer RY402110VNM
Believe it or not, Ryobi has unleashed some incredibly powerful and feature-rich OPE products in the past couple of years. Their 40V HP brushless tools have redefined what we thought possible at these price points. Their latest flagship Whisper Series string trimmer produces truly impressive cutting speed and power.
Ryobi combined advanced battery and brushless motor technology to spin 0.105-inch line with a 17-inch cutting diameter. Plus, since this battery-powered weed eater falls under their Whisper Series, it operates with roughly 60% less noise than comparable gas models.
Price: $299 with 6.0Ah battery and rapid charger
Best Lightweight Battery-Powered Weed Eater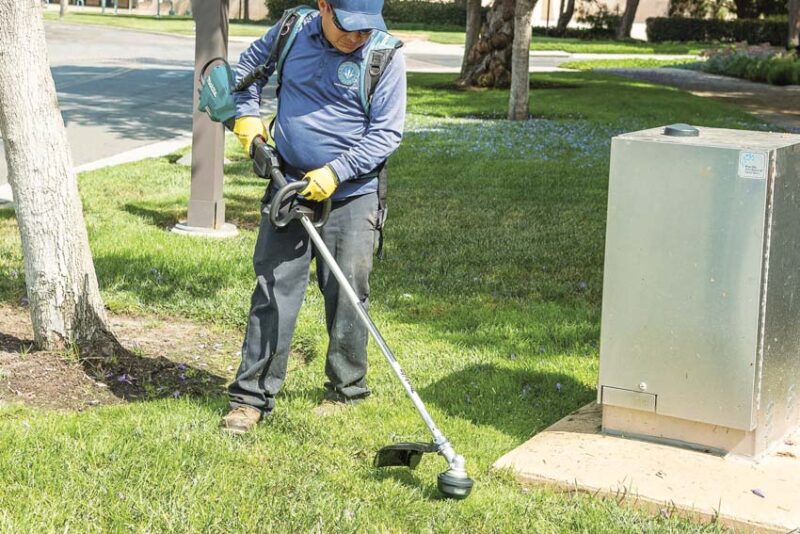 Makita claims 30cc of gas-compatible power in their ConnectX battery-powered weed eater. They dropped the tool weight under 10 pounds by shifting the battery to a harness you wear on your back. Because you can hold more juice, you get up to 1200Wh of capacity and commercial-level runtime. While Makita joins an existing group of companies sporting backpack batteries, ConnectX has a particularly value-based weight and performance combination we really like.
Price: $419 bare tool
Best Attachment-Capable Battery-Powered String Trimmer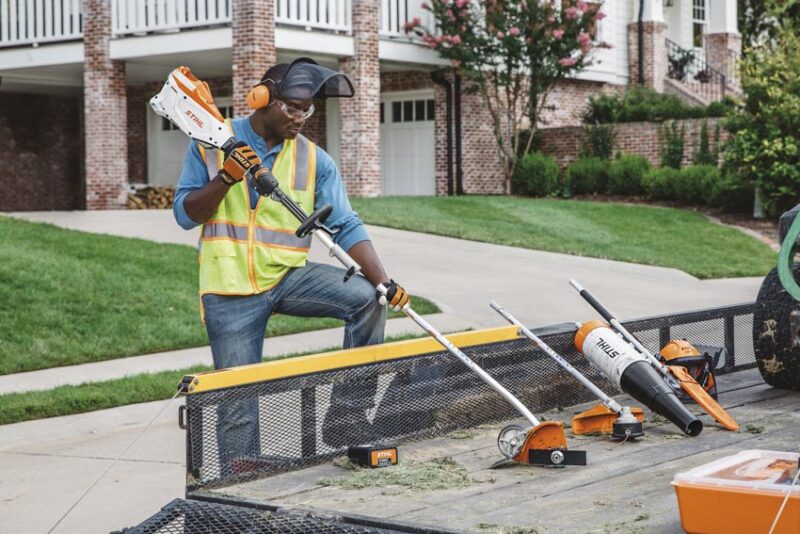 When we reviewed and compared weed eater attachment systems, the Sithl 36V KombiSystem beat everyone in both performance and options. It felt like we had a gas-powered system in our hands. The KMA 135 R powerhead makes it even better.
Unfortunately, Stihl uses a proprietary attachment mechanism. However, they provide so many attachment options we don't really mind. On top of all that, the extensive Stihl dealer and service network supports these tools long after the sale. That simply isn't the case with most other manufacturers.
Price: $359.99 powerhead only
Best Budget Battery-Powered Weed Eater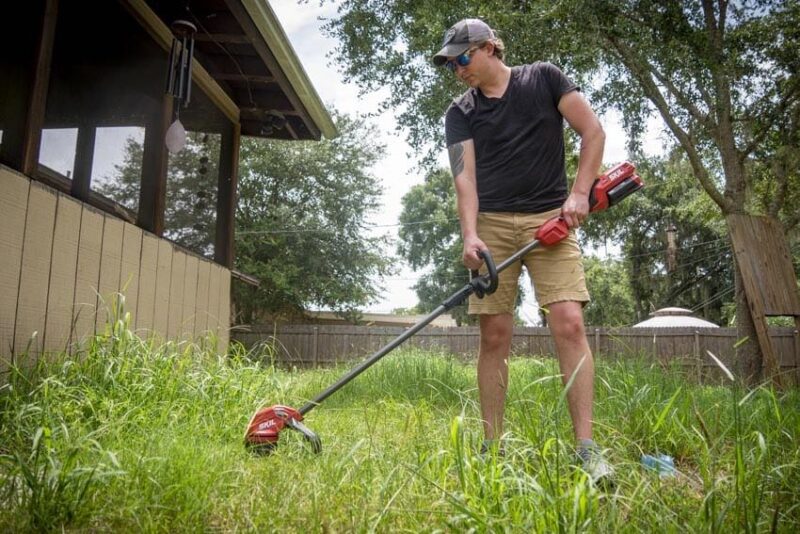 With our best budget battery-powered weed eater recommendation we set a price limit: $160 for the entire kit—including battery and charger. The Skil 40V PWRCore Brushless Weed Eater (model LT4818-10) presents a powerful option that fits the bill.
This battery-powered weed eater really fills a need for a capable trimmer that doesn't go overboard on weight or price. With more power than 18V/20V trimmers, it's a good fit for budget-minded individuals.
Price: $159 with 2.5Ah battery and charger.
Best Battery-Powered Weedeater Overall
When we're talking about the best all-day, everyday professional tool for residential crews, we love the Husqvarna 520iLX string trimmer. It weighs almost nothing—an amazing tool. On top of that, you get really low vibration and well-rounded features mixed with top-notch cutting performance. While other pro brands match it in some areas, nobody has quite as good of an overall package as Husqvarna.
Price: $299.99 bare tool
Best Line for Battery-Powered Weed Eater Use
Echo Black Diamond 0.095-Inch Trimmer Line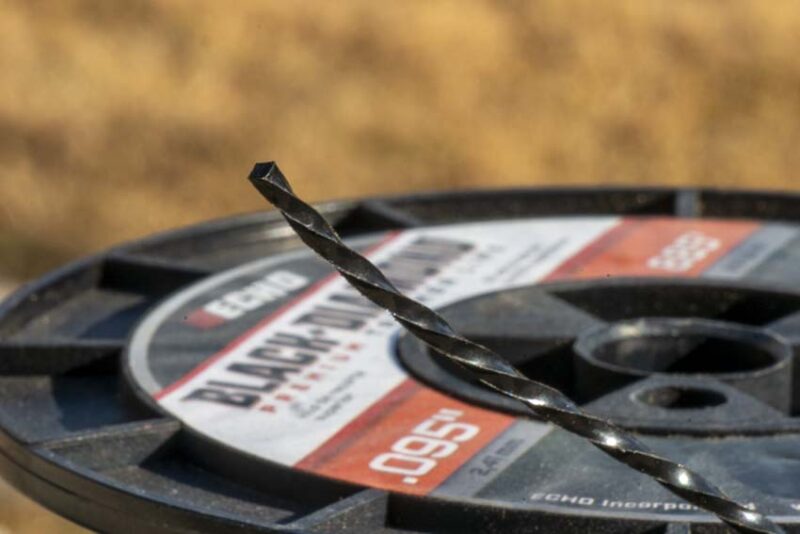 We love Echo Black Diamond trimmer line . Denser than other brands and with sharper cutting edges, it excels when used with battery-powered weed eaters. We use Black Diamond 0.095-inch line specifically. It cuts like a thicker line without reducing trigger time.
The only potential issue we've seen ahs to do with the EGO PowerLoad system. That prefers smoother line and tends to snag on Black Diamond (loading and when feeding it out)—so we avoid it in that particular tool.
Price: $14.99 for a 1-pound package (253 ft.) or $60.99 for a 5-pound spool (1394 ft.)
More Battery-Powered Trimmer Options from Brands We Trust
We like the 17-inch cutting diameter of the 60V Max brushless battery-powered weed eater. This 2-speed trimmer features a universal connection system. You get a swift 5800 RPM on the top end and support for 0.95-inch line (it comes spooled with 0.080″).
Surprisingly, for DeWalt, it has a rather thick grip. It might bother those with smaller hands. Attachments can rotate in any of three positions—makin git easy to use the trimmer head for edging.
Price: $249 bare tool, $299 with 3.0Ah battery and charger
There's a reason we picked EGO's Line IQ trimmer as our best overall for homeowners. It's so easy to use with excellent performance and smooth operation, that it can make one of the worst tasks enjoyable.
Price: $299 with 4 Ah battery and charger
Greenworks' Pro 60V line has a few options and we like the ST60L04 as the best overall balance of performance and price for trimming. It's a smooth-operating trimmer with an easy-loading Load N' Go head that uses 0.095-inch line and runs for more than half an hour on its 2.5Ah battery.
Price: $179.99 with 2.5Ah battery and charger
Best Makita Battery-Powered Weed Trimmer: GRU01
We realize not everyone is in a place to jump onto Makita's ConnectX system. If you want high performance with wider OPE and power tool compatibility, give the 40V max XGT GRU01 a look. It has three speeds and tops out with a blistering 6500 RPM. Plus, there's an Automatic Torque Drive feature that auto-adjusts the speed to match what you're cutting. Even better, this one is just 10.4 pounds with a 4.0Ah battery, giving it an excellent blend of performance and weight.
Price: $289 bare, $439 with 4.0Ah battery and rapid charger
Milwaukee's M18 Fuel Quik-Lok attachment system still holds the top spot for the best Milwaukee string trimmer in our books. Its 2-speed brushless design does an excellent job on a wide range of grasses. Even though it doesn't use a universal connection, the available attachments have done a fantastic job over several years of service with our crew.
Now that there's a new commercial lawn mower, whispers of further Milwaukee OPE expansion are in the wind, so keep your eyes open in case something new in the string trimmer department shows up.
Price: $229 powerhead and string trimmer attachment, $299 string trimmer kit with 8.0Ah High Output battery and rapid charger
What We Look for in the Best Battery-Powered Weed Eater – A Buying Guide
Cutting Power
We consider 3 key metrics that contribute to cutting power in weed eaters: line speed, line thickness/mass, and the torque of the motor.
A faster line speed yields better and cleaner grass cutting. Most battery-powered string trimmers do well—at least in dry grass. You want at least 5000 RPM to ensure your line spins quickly enough to slice through thicker grasses. The top models on our list might spin at upwards of 6500 RPM. This really impacts cutting wet grass and thicker weeds.
Thicker trimming line also helps cut tougher grasses. Most battery-powered weed eaters we recommend handle 0.095-inch line. Some homeowner models use 0.080-inch. That works fine for dry grass, but tougher loads and coming into contact with cement boundaries and fencing can quickly run through line. A battery-powered weed eater that supports 0.105-inch tells you two things: 1) it has lots of power, and 2) you have a pro model in your hands.
Remember that thicker line or string means less runtime—all things being the same.
We also look for a motor that can maintain speed under load. Run a weed eater in wet grass and you can quickly hear the speed drop on lesser models. Models with brushless motors and higher torque keep the head spinning when it runs into those tough cutting situations.
Cutting Width
A wider cutting path means you get more work done in the same amount of time. It takes more battery power to run these wider cutting paths or swaths, however. Look for at least 15-inches of cutting diameter. If you end up with a 16- or 17-inch model, be sure you have the torque and battery size to handle those larger sizes.
Runtime
The average homeowner on a 1/4-acre lot only needs about 15 minutes of consistent trigger time to cover trimming. Most cordless string trimmers are able to hit that at high speed without too much trouble.
Professional lawn care crews and homeowners with larger properties or acreage need much more.
You may also want to maximize dual-speed models for their best effect. Learning how to trim at low speed for dry grasses gives you a lot more runtime that if you run the battery-powered weed eater at full-throttle the whole time.
Vibration
We highly value low-vibration string trimmers. We already have enough work to do managing the weight of such a long tool without vibration adding additional fatigue. Some of the latest models let almost no vibration up the handle to the user.
Weight and Balance
If you're working all day on a lawn crew or even just putting the finishing touches on your own lawn, you want the lightest weight you can get without sacrificing the power you need. Bare weight isn't everything—the battery can add a lot. If you can get a fully-loaded battery-powered string trimmer that meets your performance needs and comes in under 10 pounds, that's a big win.
Balance is a consideration and the trimmers that have the best typically mount the motor on the trimmer head to counter the battery weight on the back. Many models also let you adjust the front handle to help dial in your fit.
If you're after an attachment-capable model, you're stuck with the motor in the back, and the balance shifts back. For those and trimmers that are simply heavier by nature, consider adding a shoulder strap to help you out.
Sound Level
Low noise is one of the major benefits of moving away from gas power. Cordless string trimmers we've tested range from decibels in the low 80s to the upper 90s (measured at our operator's ear). Even at the top end, it's an improvement over the majority of gas trimmers.
Your line selection plays a bigger part than it does on gas trimmers. Sometimes, switching the line you use can reduce the overall noise level or change the tone to a less irritating pitch.
Line Changes
When changing line, we don't mind manual loading. We do, however, look for models with a fast-loading system (SpeedFeed, Rapid Load, etc). These loading methods let you feed line straight through the head and either turn the head to load it, or activate a power loader to pull in the string.
The best on the market right now is EGO's PowerLoad design. It takes the fast-load concept and adds automatic winding and gives us the easiest, quickest line changes we've ever had.
Attachment Capability
Pro lawn crews typically have dedicated machines for string trimming, edging, and hedge trimming, but homeowners can save a lot of money by using interchangeable heads and tools that cover everything from blowing to brush cutting.
As we mentioned earlier, attachment systems require a top-mounted motor that affects the balance. It's a trade-off you have to make for the convenience you gain.
One thing to keep an eye on is the attachment connection style. Models with a "universal" connection can use attachments from other brands, opening up far more choices. Recent multi-head systems including EGO, Milwaukee, and Stihl aren't compatible with others, so you need to make sure they have everything you need before investing.
Why You Can Trust OPE Reviews
Ever check out a "review" site and you can't tell if they actually tested the tools or if they're just "recommending" the Amazon top sellers? That's not us. We won't recommend anything unless we'd actually use it ourselves and we don't really care who the primary retailer is. It's all about giving you a legitimate recommendation and our honest opinion of each product.
We've been in business since 2016 covering outdoor power equipment, writing reviews, and reporting on industry news in the landscaping, heavy equipment, and lawn care industries. Our Pro reviewers have lots of experience in these fields as well as the skills and experience to know whether these products can perform well on the job.
Each year, our team reviews and gets their hands on hundreds of additional landscaping tools and equipment at our shop and at media events and trade shows.
We work with dozens of professionals around the United States who review products for us on real job sites and consult with us on testing methods, categories, and weighting.