Ryobi 40V HP Brushless String Trimmer with Carbon Fiber Shaft Boosts Power
Battery-powered string trimmers have been an easy transition for more homeowners with options that have excellent performance and runtime. However, properties that need more than a 25cc engine can offer have been short on options. We tested the 17-inch Ryobi RY402110VNM 40V HP Brushless string trimmer with carbon fiber shaft to see if it's ready for those tougher properties.
Editor's Note: Check out our best string trimmer article to see our top picks.
Pros
Above-average cutting power
Over an hour of runtime in high speed!
Carbon fiber shaft reduces overall weight
Low felt vibration
Tool-free front handle adjustment
Cons
Heavier than many battery-powered models
Expensive
Ryobi 40V HP Brushless String Trimmer Design Notes
Ergonomics
While not the first string trimmer with a carbon fiber shaft, we love how this feature lightens the load for the Ryobi RY402110VNM. It has the net effect of reducing the weight to less than 9 pounds as a bare tool and less than 13 pounds with a stout 6.0Ah battery inserted. The tool may not prove a good fit for those short of stature as it measures just over 72 inches from the head to the back of the tool. Add a few more inches when you slide on a battery.
The brushless motor on the head is substantial, but it balances the tool well during use. You can use the tool-free adjustable front handle to quickly dial in the pivot point to help you get better balance while trimming grass.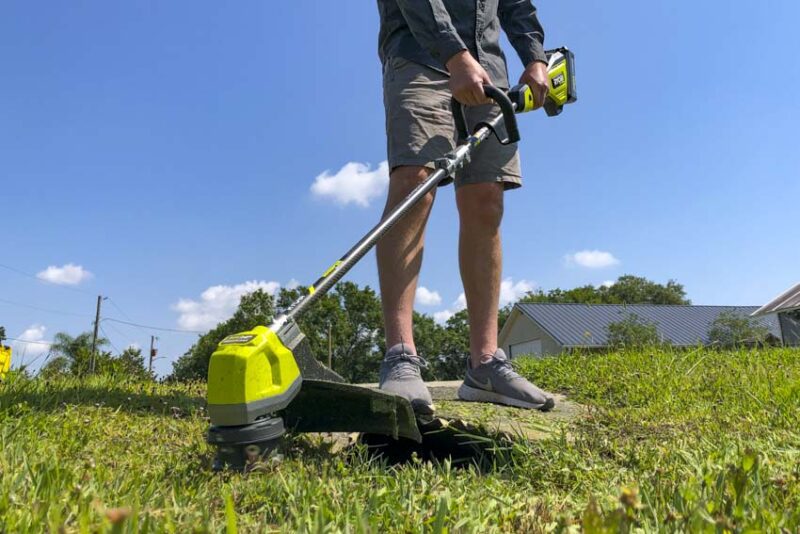 Even with all of that, this Ryobi 40V brushless string trimmer weighs a bit more than many models in its class. If you want to decrease the weight a little—at the sacrifice of runtime—you can always use a 4.0Ah battery. If you don't need 45 minutes to an hour of actual trimming we see no reason to carry the extra weight around!
Changing Out Line on the Ryobi 40V Brushless String Trimmer
The bump-feed head on the Ryobi 40V carbon-fiber brushless string trimmer loads quite easily. That might be why it bears the "Reel Easy" name.
To refill the line, spin the green bump head until the arrows line up with the black portion. Next, thread your replacement line through the head so that equal amounts are sticking out. We use around 8 feet of line, but it will take up to 10 feet.
The last step has you spin that top section clockwise to load it all up until about 6-inches stick out from each side. We found we were back up and running in less than a minute. You can speed up the entire process using the speedwinder—a handle that fits overtop the green bump head.
In addition to the speed winder, Ryobi includes a second trimmer head. It can use either fixed line or plastic blades to give you the option of cutting thicker weeds or reedy grasses. You lose the advantage of the bump-feed but gain enhanced cutting capability. The plastic blades have more mass than line that cuts tougher grasses that traditional string might just cause to bend as it passes overtop.
Ryobi RY402110VNM Additional Features
Variable speed trigger
Not attachment capable
Compatible with all Ryobi 40V batteries
75 other tools available in the 40V lineup
Ryobi 40V HP Brushless Carbon Fiber String Trimmer Performance
Compared to the RY40290 (Ryobi's 15-inch HP brushless model), the Ryobi 40V HP brushless motor in this string trimmer produces noticeably better results. It simply has more power.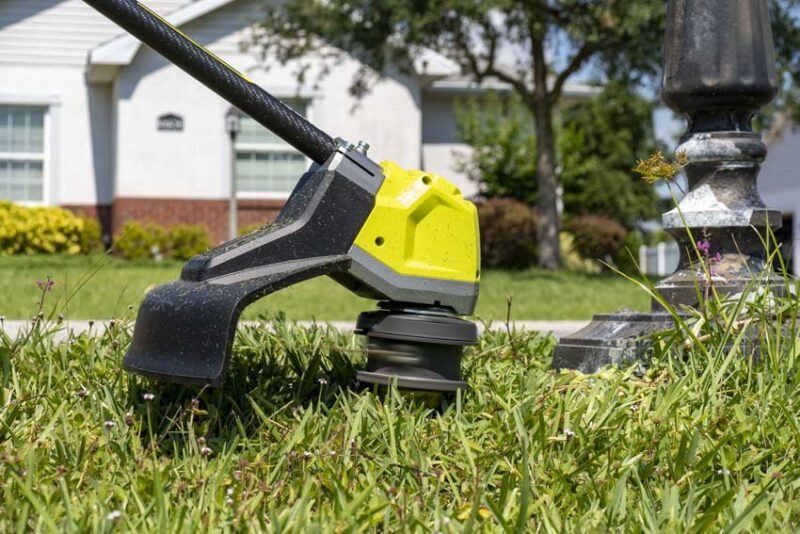 The Ryobi RY402110VNM can run anything from 0.080 to 0.105-inch line. The 40V 15-inch trimmer maxes out with 0.95-inch line. This string trimmer also offers some flexibility—running either a 15-inch or 17-inch cutting swath. You just fust flip the cutter around to switch between the two diameters.
Editor's Note: Some users may wonder why manufacturers would offer a smaller diameter cutting option. A smaller diameter cutting swath typically increases run time at the expense of the cutting path width. If you tend to edge in a way that doesn't require a full 17-inches, reducing your width lets you accomplish more on a single battery (or a smaller battery).
We trimmed around our 2600-square-foot shop and office. We could instantly notice the increased performance. This trimmer even cuts confidently at Low speed—so much so that we felt it did a better job than some other string trimmers at full speed.
We then bumped the trimmer up to High speed. At high-speed everything simply went faster. We could tackle thicker grasses—including dense patches of St. Augustine without any noticeable hesitation. While Ryobi doesn't say it, we feel this string trimmer behaves very much like a 25cc gas trimmer—perhaps even better.
Felt Vibration
When we tested some of the first Ryobi battery-powered string trimmers, they produced a lot of vibration. Now, with both the carbon fiber shaft and the improved balance, we find that the Ryobi 40V HP Brushless 17-inch string trimmer really runs much more smoothly!
Clocking Runtime
Due to variances with lawns, moisture, etc—we tend to run a baseline no-load runtime test on all string trimmers. This Ryobi 40V HP brushless string trimmer drops runtime a bit with that larger 17-inch cutting swath. Still, that additional power and diameter let you work more quickly—so we have more than simple mth to consider here.
In the kit, you get a 6.0Ah battery with the Ryobi RY402110 trimmer. They also pre-load 0.095-inch line—which we used for our runtime testing. Given that combination, we ran the string trimmer for 1 hour and 5.5 minutes. If you run 0.105-inch line, expect to see that runtime number drop. From our perspective, this trimmer has impressive runtime—testing higher than many Pro-focused models.
The Ryobi rapid battery charger included in the kitted version of this trimmer recharges the 6Ah battery pack in under an hour.
Whisper Series Means Low Noise
As you might expect with a member of the Ryobi Whisper Series of tools, this string trimmer runs very quietly compared to many other modes. Ryobi claims 60% less noise than gas. Testing at our operator's ear, we measured 84 dBA at Low speed and 87 dBA at High.
Ryobi 40V HP Brushless Carbon Fiber String Trimmer Price
The Whisper Series Ryobi RY402110 serves as the company's flagship string trimmer. Consequently, it carries a higher price. As a kit with a 6.0Ah battery and rapid charger expect to pay around $299. Look for it at your local Home Depot or on homedepot.com.
Ryobi also backs this string trimmer with a 5-year tool warranty and 3-year battery warranty.
The Bottom Line
If you want the weight reduction and power Ryobi offers in its carbon fiber string trimmers, you now have two options. This model, with its 17-inch cutting swath, offers you the best of everything at a premium price point. If you don't need a more aggressive tool, we recommend sticking with the 15-inch RY40290 model. For those with larger acreage to maintain or who have tough, tall grasses to tame, the 17-inch RY402110 provides the (gas-like) power you need.
Specifications
Model: Ryobi RY402110VNM
Power Source: Ryobi 40V battery
Cutting Swath: 15 or 17 inches
Line Diameter: 0.080 to 0.105-inch
Weight: 8.8 lbs bare, 12.9 lbs with a 6.0Ah battery
Length: 72 1/4 inches
Check out Ryobi's entire 40V lineup here .