Men's Radius Composite Toe Work Sneakers that match comfort with performance
Working outdoors can be hard going, involving long hours. And it has its share of hazards and hot days, which can be rough on your feet. That said, you want a combination of safety and comfort, making your choice of footwear an important one. Each of these considerations should have a prominent place in the design of a pair of kicks like the Timberland Pro Work Sneakers.
Let's dive into their features to see if they're the right pair for you.
Timberland Pro Work Sneakers Features and Design
Composite Safety Toe
We'll begin with the toes.
According to Timberland, the Pro Work Sneakers are lightweight, with a non-metallic, asymmetrically shaped toe cap. Now, you're probably wondering what's good about asymmetry.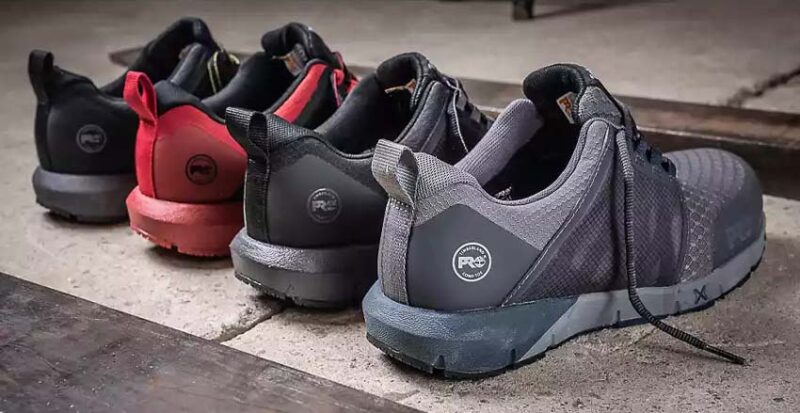 Well, with shoes, a curved shape to the cap directs more power to the big toe. That equals precision in your footwork.
Furthermore, the toe cap here meets US and Canadian safety standards. This includes ASTM F2412-18a and ASTM F2413-18 I and C impact and compression requirements.
Composite safety toe
Mutilation free
Anti-fatigue technology
Timberland PRO® FLEX Design
30-day comfort guarantee
Electrical Hazard Protection and Mutilation Free
Electrical hazards usually aren't a concern in yard maintenance or on landscaping job sites. However, the Timberland Pro Work Sneakers also meet those standards.
Moreover, these shoes are mutilation free. And while this sounds a bit medieval, it's beneficial not only in performance and durability but also financially. After all, these shoes aren't exactly cheap.
From what Timberland tells us, several features will make these shoes last. They include plastic or hidden eyelets, which should reduce the chances of marking or scratching surfaces. This also helps prevent tears.
Timberland Pro Work Sneakers Soles
There are also some interesting characteristics where you have rubber–mainly the soles. Ideal for summer, Timberland says they're made of a heat-resistant compound that offers enhanced abrasion resistance. (Again, you want them to last at this price point.)
Timberland PRO® FLEX Design
Finally, Timberland's PRO® FLEX technology reportedly gives you a full range of motion without resistance. This incorporates flex grooves under your foot and fabrics that stretch above your foot.
This combination is intended to provide the "give" that's essential to comfort without sacrificing support.
Timberland Pro Work Sneakers Price
These work shoes retail for $124.95 and come with a 30-day comfort guarantee.
Check out our guide to selecting work boots!