Skil's 7- and 4-inch Cordless Fans are Pretty Cool
Keeping cool is a big deal when you're outdoors in the heat, and fans (whether manual or electric) are perhaps the oldest means of doing so. Of course, the limitations of this option for yard warriors are pretty obvious. You need your hands free to work, and power is kind of important for any device with a motor. Thankfully, we're in the 21st century, and cords are quickly becoming things of the past. That brings us to the Skil Multivolt fan lineup.
Let's take a look at the two models available and give them a go.
Skil Multivolt Fan Lineup Overview
Starting out with a bird's-eye-view, both models (a 7″ and 4″) can use Skil's PWRCore 12 and PWRCore 20 batteries. The primary difference between the two is runtime, however, these fans use any battery from either platform.
Furthermore, Skil designed these fans to use a USB-C cord. This means you have a host of options for alternate power sources: You can use a USB port in your vehicle; a standard outlet; or a power tool battery like the EGO 56V battery with the Nexus Escape power supply attachment.
Skil 7″ Fan Performance and Design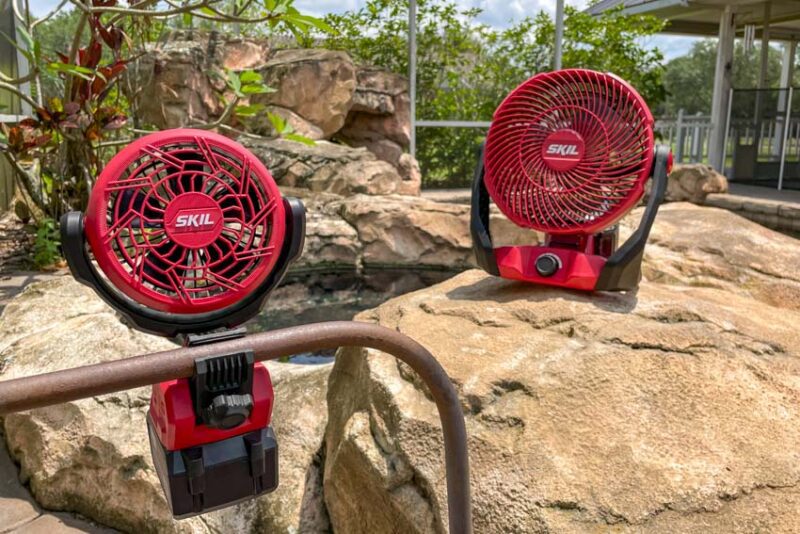 We'll kick off the tour with the largest Skil Multivolt fan. This model is likely the one you'll have at your side while pulling weeds or planting flowers in the garden.
It features a brushless motor that drives a 7-inch blade–a rather notable facet given that fans typically have brushed motors.
In this case, the principal advantage of Skil's design is its runtime. Using a 2.0Ah PWRCore 20 battery and set on high, this fan should give you a cool breeze for up to 2 hours. With the smaller 2.0Ah PWRCore 12 pack, you'll get around an hour and a half.
Like most units, the 7-inch Skil Multivolt fan uses the traditional control position–more specifically, a knob on the front. On high, the blades put out 500 CFM and 14 MPH.
We measure this performance using two metrics. The first is how much airspeed you get at 3 feet. Here it's 8 MPH.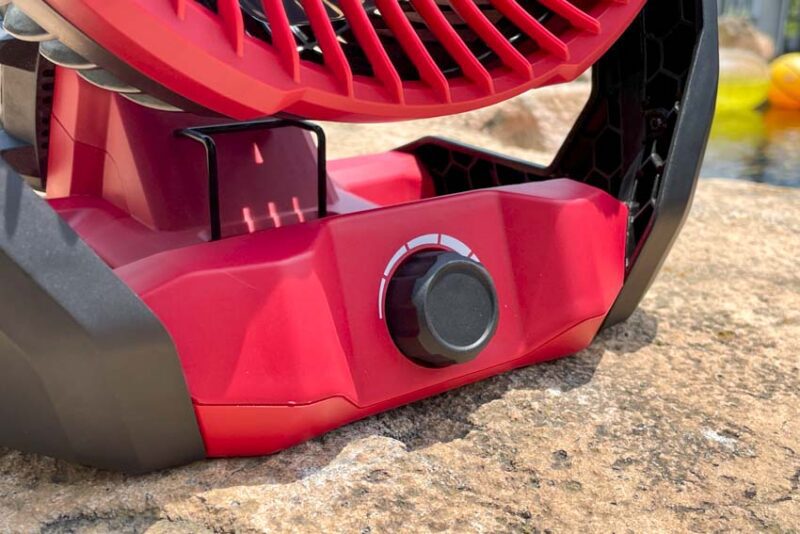 The second measurement determines the max effective distance where the airspeed is at 2.5 MPH. For Skil, that's at 11 feet.
Another performance strength is its low-noise operation. At high speed from 3 feet away, we measured just 63 decibels. At the lowest speed, our decibel meter could pick it up and it measures down to 50 decibels.
Finally, at the top of the housing is a built-in carrying handle, along with a fold-up rafter hook.
Price: $59.99
Skil 4″ Clamp Model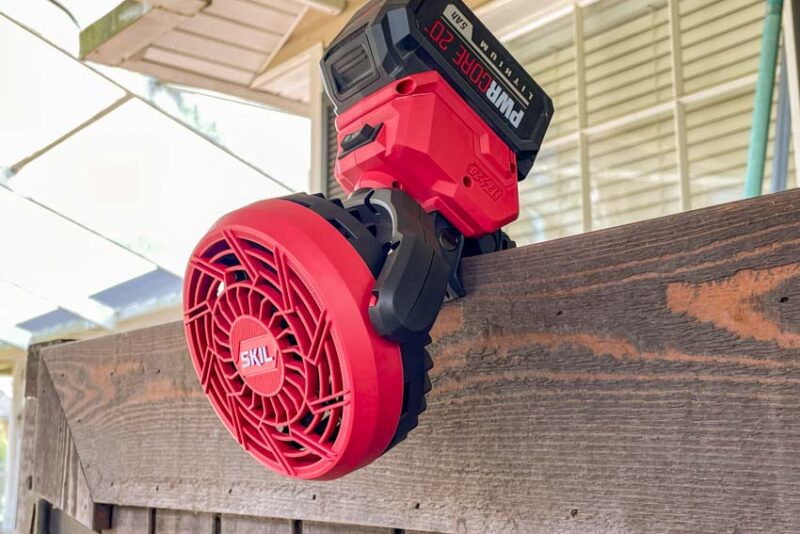 Next, we have the 4-inch Skil battery-powered fan. Equipped with a clamp, this is your close-quarters "keep-cool tool."
Like its larger sibling, this model has a brushless motor, which is unusual on a compact fan. Operating in low, a 2.0Ah PWRCore 20 battery can run for 14 hours, and a 2.0Ah PWRCore 12 battery can run for 8 hours and 30 minutes.
You control the airspeed using a 3-position rocker switch. The center position is off, left is low, and right is high.
To direct the air where you need it, the head swivels about 270° and pivots close to 300°. The combination generally moves the air right in your direction, even if you have to clamp it at an odd angle.
For performance, you're looking at 200 CFM and 11 MPH at high speed.
Using the same tests we performed on the larger fan, this model Skil Multivolt fan reaches 4.0 MPH from 3 feet away. Naturally, the max effective range isn't as far, hitting 2.5 MPH from 3 feet, 8 inches away.
That's about what you'd expect given that it has smaller blades and is meant for close-in cooling.
Additionally, the noise level is lower. We measured 51 decibels at high speed from 3 feet away and low speed was undetectable by our meter–not bad at all.
For this model, Skil uses a threaded clamp instead of spring-loaded jaws. The shape makes it easy to grab hold of round objects. Their jaws open wide enough to grab 2x lumber or round stock up to 1.5 inches.
Skil also included rubber and, as such, the clamp has a good grip.
Price: $32.79
The Bottom Line
Coming out of the gate with two brushless models, the Skil Multivolt fan lineup is impressive in terms of both design and performance. The price tag is pretty nice, too, as are the multi-voltage + USB-C power supply options. Just like what you'll enjoy with these fans, arriving at our final verdict was no sweat: Get your hands on one or both of them and stay cool.