Whether you enjoy doing it or not, maintenance is essential for outdoor power equipment. This goes for tools as small as your run-of-the-mill handheld leaf blowers to heavy equipment like excavators and backhoes. Of course, when you get into lawn tractors and similar gear, creating a workspace requires specialized tools. And that's what the MoJack ZR Mower Lift is for.
Let's take a look at what it can do for you.
MoJack ZR Mower Lift Performance and Design Features
Creating space for working underneath your mower–and doing it safely–is at the core of this tool. So, first, there's the question of what it can lift.
The MoJack ZR has a 350-pound capacity, and it can get your mower up to 20 inches off the ground. This should be ample space for swapping blades, clearing obstructions from under the deck, or replacing tires, wheels, and axles.
Editor's Note: This lift is only for the front end and not the entire mower.
Also, there's a hand crank that the manufacturer says will decrease the time and effort needed to get your ride in the air.
The MoJack ZR Mower Lift is compatible with most traditional riding mowers and zero-turns. The brands that it works with include John Deere, Toro, Husqvarna, Troy-Bilt, and Ariens.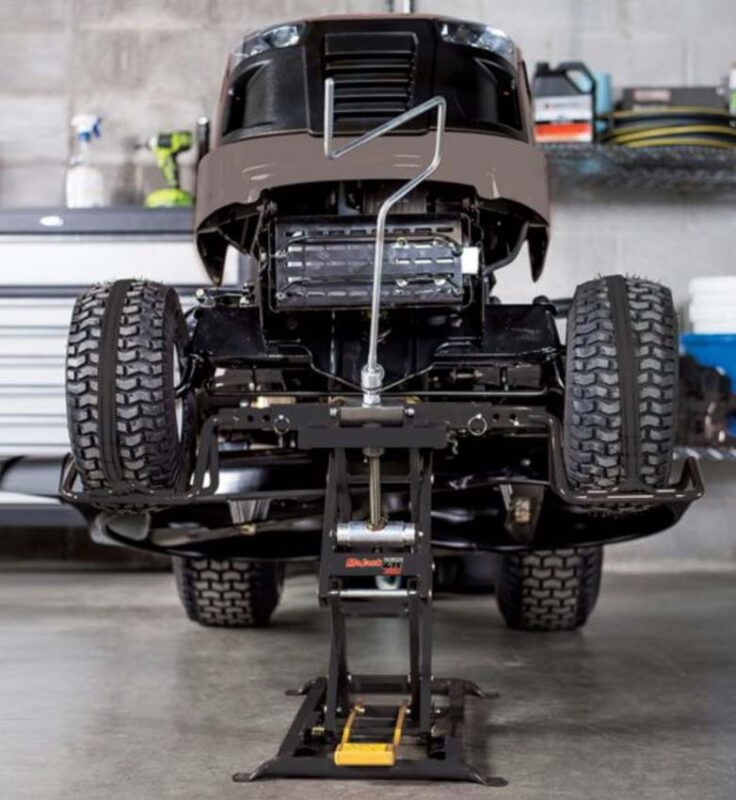 MoJack Lift Specs
MoJack Mower ZR Mower Lift (45005)
Weight: 50 lbs
Lift capacity: 350 lbs
Lift height: 20 in
Construction: Steel
Moreover, it fits any mower with a 19- to 43.5-inch outside front wheel measurement.
Also, this lift is comparatively lightweight at 50 pounds, yet it's sturdy enough to handle beefy mowers. A nice add-on is the fact that it comes fully assembled and folds for easy storage.
Furthermore, MoJack tells us that the lift is solid steel, and as such, is durable and safe.
MoJack ZR Mower Lift Price
This tool retails for $124.99 and comes with 2-year residential and 1-year commercial limited warranties.
Speaking of maintenance, check out our guide to different types of lawn mower blades!