When it comes to OPE that you can use pretty much year-round, the leaf blower is probably the best example. This is true without exaggeration, as part of our staff lives in Florida, and the other in the northern neck of the Mid-Atlantic. And all of us can find legitimate uses for them in just about every season. That's why we think it's all the more important that you stay in the know about the best leaf blower models on the market.
Best Backpack Leaf Blower
Stihl BR 800 C-E Magnum Backpack Leaf Blower
Launched in 2018, Stihl's BR 800 C-E Magnum remains the best backpack blower by our staff's standards. It may not be the strongest one out there, but it's the most powerful in Stihl's lineup.
Capable of producing 239 MPH airspeeds with 912 CFM for velocity, this blower has an overall force of 41 Newtons.
Two more things we like about this backpack blower are that it's a built-in-America product that uses a side-mounted pull start. Rather than starting the blower and then putting it on, you can get settled first, and start the BR 800 X Magnum once you're ready to get to work.
When it comes to professional-grade gas leaf blowers, it doesn't get much more convenient.
Price: $699.99
Best Cordless Battery-Powered Backpack Leaf Blower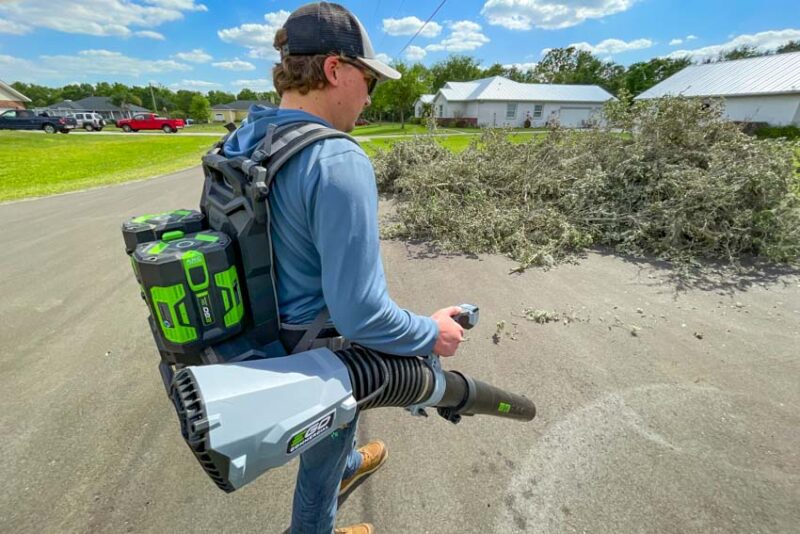 For obvious reasons, EGO is a name synonymous with cordless OPE, and they've long been pushing the benchmark higher for battery-powered lawn care gear. And while they're quite well known within the residential market, products like the EGO Commercial Backpack Blower are satisfying the professional community's demands.
Rated at 26 Newtons with 800 CFM and 219 MPH, this blower registered 27.9 Newtons during our trials, making it, hands-down, the most powerful cordless blower we've ever reviewed. Combined with a comfortable harness design, an innovative digital control system, and the runtime of two batteries, EGO's LBPX8000 earns our staff's solid stamp of approval as the best cordless backpack leaf blower.
Price: $399.00 bare tool, $699.00 kit with two 6.0Ah batteries and dual-port charger
Strongest Leaf Blower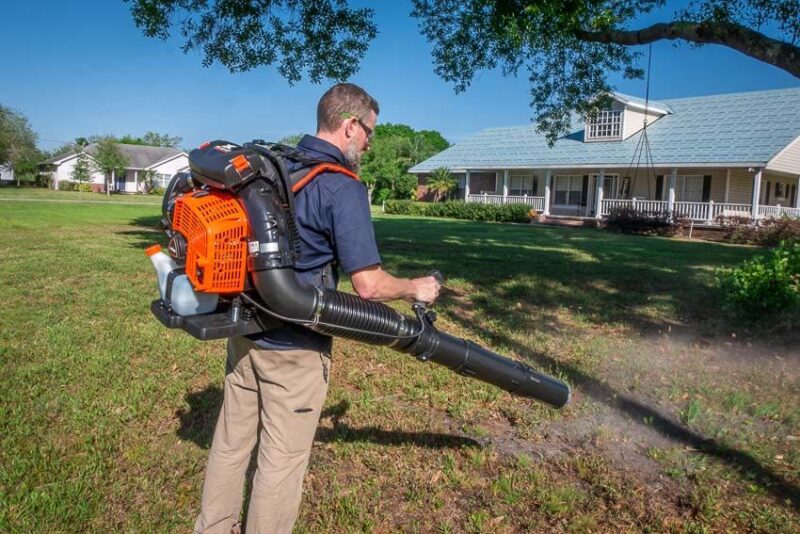 If you're looking for gale-force winds, we suggest you have a look at Echo's PB-9010 and PB-9010T. Earning our pick as the strongest leaf blower, this model registered a FEMA-worthy 52 Newtons!
As for the other stats, you're looking at 220 MPH for airspeed and an incredible 1110 CFM.
Price: $629.99
Best Gas Leaf Blower
Stihl BG C-E Handheld Leaf Blower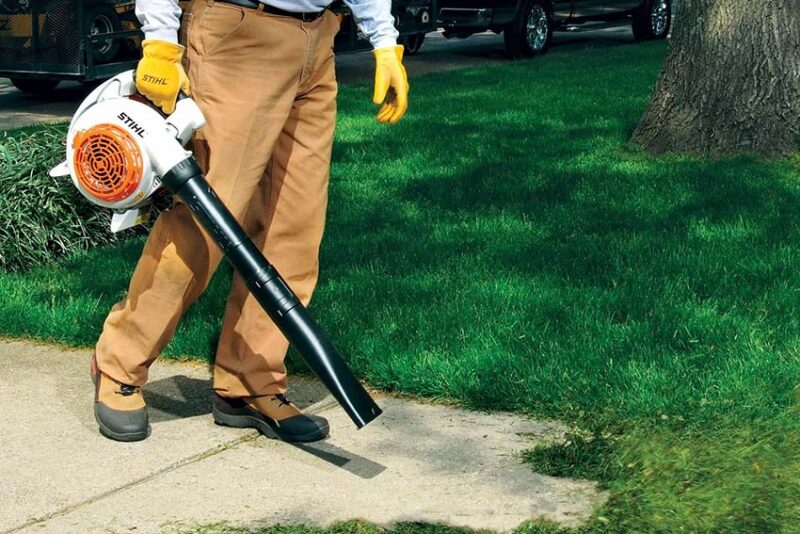 On the handheld front, the best gas leaf blower is Stihl's BG C-E. Built in the good old US of A, this model uses a 27.2cc engine to produce an output of 190 MPH and 365 CFM. With a total blowing force of 15 Newtons, it's definitely strong for a gas handheld unit.
And for added convenience, Stihl includes its Easy2Start system that requires less pull effort to crank the engine and a vibration-reducing design that cuts down on overall fatigue.
Price: $309.99
Best Cordless Battery-Powered Leaf Blower
It used to be that you went with a cordless blower for greater convenience and/or less noise. But more often, we're finding ourselves talking about their "gas equivalents," meaning that the battery-powered models have come up a few notches in recent years.
So, regardless of your immediate preference, we have two models for you to consider.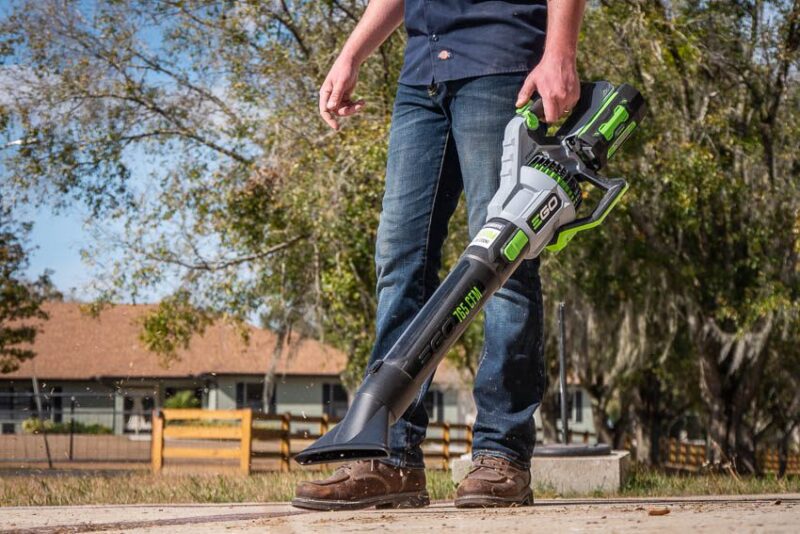 If power is your thing, go for EGO's 765 CFM model. Using a 5.0Ah battery, it hit 25.3 Newtons on our meter. Going with the twice-as-powerful 10.0Ah battery, it hit 26.1 Newtons!
Of course, you can get even more with EGO's Commercial backpack blower, so no matter which style you're looking for, EGO is a high-performance achiever.
Price: $229.00 bare tool, $329.00 with a 5.0Ah battery and charger, and $499.00 with two 5.0Ah batteries and charger
If you're looking for something that speaks softly and carries a big stick, Ryobi's 40V HP Brushless Whisper Series blower produces up to 730 CFM and 190 MPH. During our tests, we got 21.7 Newtons, destroying the 15-Newton max you get with handheld gas models.
Moreover, Ryobi's design team did a lot of work to reduce the overall noise level. At full blast, we measured just 76 decibels at our operator's ear. That's quiet, even when compared to less-powerful cordless models.
Price: $229.00 bare, $329.00 with two 4.0Ah batteries and a charger
Best Corded Electric Leaf Blower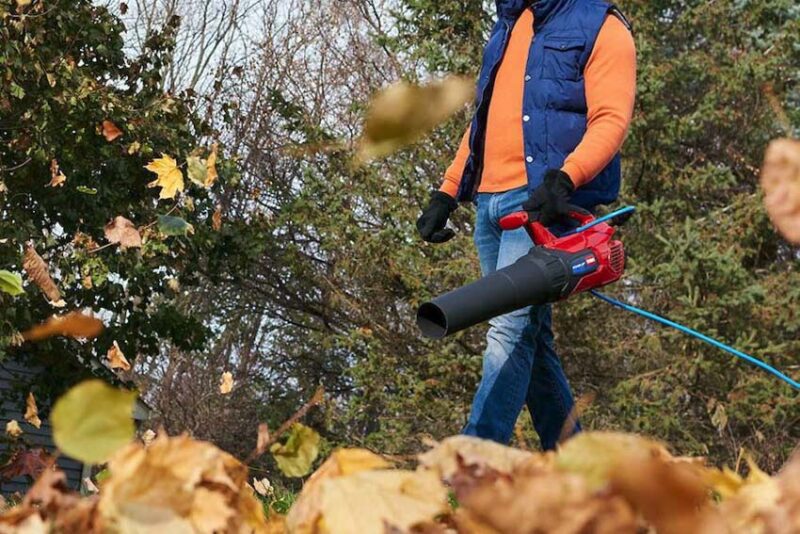 Although not the most popular option in a world that's effectively cut the cord in nearly every way imaginable, 120V AC surprisingly continues to be a viable power source for some lawn equipment. This is thanks to the low cost of such products.
Of these, the best corded leaf blower is Toro's F700. It's capable of producing 725 CFM with 140 MPH airspeeds. Moreover, with its 12-amp motor, you don't have to worry about throwing breakers. Plus, it weighs just 6.6 pounds.
And most importantly, you can get your hands on this model for about $80.
Price: $79.99
Best Walk-Behind Model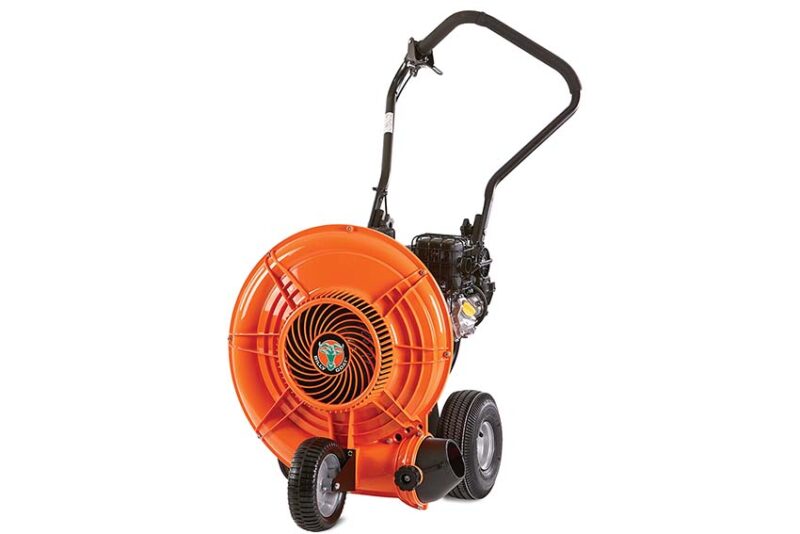 If you're looking for a leaf blower that has a Merciless setting, you need to make the jump to a walk-behind model. This setup allows for a bigger engine and heavier design, which is precisely what you get with Billy Goat–the best walk-behind leaf blower.
We like the Billy Goat F602X because of its balance of performance and price. It's more expensive than the popular Champion 200947 , however, Billy Goat uses a Briggs & Stratton 950 XR Professional Series engine. This gives it a longer-lasting power plant, and yet it's reasonably light for its class at 83 pounds.
Billy Goat gets 200 MPH and 1150 CFM from this build.
Price: $975.00
Best Leaf Blower Vacuum
Ryobi did a lot of things right for us to choose their model as the best leaf blower vacuum, starting with performance. With 600 CFM and 100 MPH, it measured 16.1 Newtons on our meter, shattering the 15 Newtons of Stihl's SH 86 C-E and other gas models, for that matter.
Next, there's design.
Convertible blower vacs often rely on awkward configurations involving bags and nozzles. However, Ryobi kept the whole thing in line by creating a system that actually flips the impeller around to change the airflow direction.
It's much easier to use than systems that have bags or nozzles sticking out at a 90° angle to make it work.
Price: $369.00 bare, $469.00 with two 4.0Ah batteries and a charger
Best Leaf Blower for the Money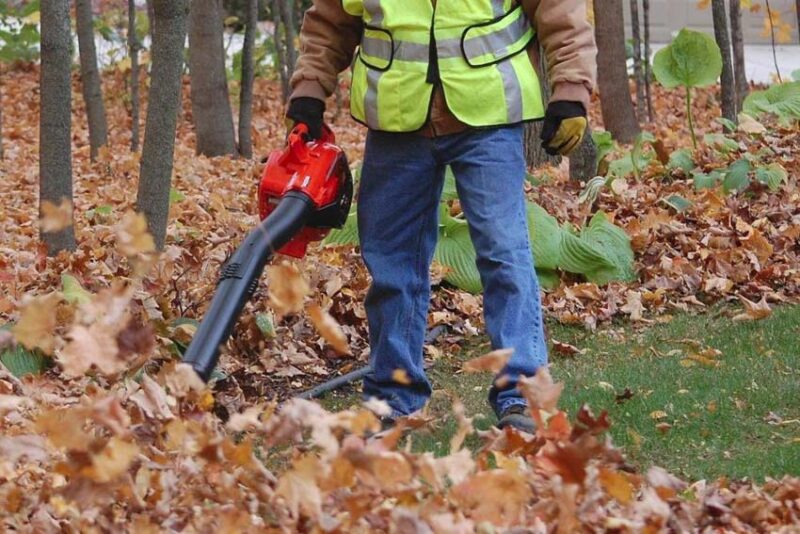 With Echo's PB-2520, you get a professional-grade built-in-America handheld blower for just $169.00. Its 25.4cc engine generates 453 CFM and 170 MPH, shutting down Stihl in overall blowing force with 15.8 Newtons.
Overall, this is a hardworking, reliable model you can count on.
Price: $169.00
Leaf Blower Buying Guide – What We Look For
Gas, Battery, or Electric?
Choosing a power source is a big part of your blower-buying journey. Here's a breakdown of the pros and cons of each power source:
Gas
Pros
Low to mid-range cost
Most powerful backpack and walk-behind models
Easy to find service and repair shops
Cons
Loudest and often requires hearing protection
Produces emissions
You have to mix gas and oil
Requires regular maintenance
Often requires service if it sits for a season
Some areas restrict or prohibit use
Battery-Powered
Pros
Most powerful handheld models
Quieter operation, typically below 85 decibels at the operator's ear.
No direct emissions during use
No fuel to mix
Little to no maintenance is required
Can sit for a long time and start right up with a charged battery
No restrictions on use
Cons
More expensive than equivalent gas or corded models
Batteries take longer to recharge than filling a gas tank
Difficult to find nearby service/repair centers if needed
Corded Electric
Pros
Quiet operation
No fuel to mix
Unlimited runtime
No direct emissions during use
Lighter than most gas and cordless models
Little to no required maintenance
Most affordable
Can sit for a long time and start right up
No restrictions on user
Cons
Not as powerful as gas or cordless models
You have to have an AC power source and drag a cord around
Typically treated as a throw-away item rather than repaired
Noise
Leaf blowers and noise complaints have come to the forefront of OPE conversation recently.
Whether you're for or against gas blowers, it's a categorical fact that they're louder than their battery-powered siblings.
ANSI requires that you test noise from 50 feet, focusing on bystanders. We test at the operator's ear.
Most cordless and electric models produce less than 90 decibels, and many of them are under 85 decibels—OSHA's threshold for hearing protection. On the other hand, gas blowers are typically well over 90 decibels, and powerful backpack or walk-behind models can be in excess of 100 decibels.
In short, the power source you choose for your blower has a significant impact on how much noise you're going to make.
CFM, MPH, and Newton Force
Leaf blowers have three forms of performance measurement to consider. Almost all brands rate CFM and MPH. More recently, Newtons are becoming a standard measurement.
CFM measures airflow. The higher the measurement, the greater your ability to keep on moving debris that's already in motion.
MPH measures airspeed. The higher the value, the heavier an object you can move with your blower.
Both numbers are important because they give you an idea of a blower's ability to get clutter moving and keep it going. However, it's Newton force that's the most important number when you're comparing overall blowing force.
Ultimately, there's no easy equation. After all, fluctuations in factors such as temperature and humidity have an effect. The best way is to measure it with a force meter, which is how we test.
Learn more about the relationship between CFM, MPH, and Newton force here.
Weight, Balance, and Comfort
Weight plays a large role in how fatiguing it is to use a blower. In general, the lighter the better.
That said, a well-balanced blower that weighs a little more is better than one that's lighter but off-balance. For handheld blowers, look for models that naturally balance downward 5 to 8 feet in front of you, including a battery or gas.
Comfort is another consideration.
With handheld blowers, it's mainly about handle design. Look for those that naturally fit your hand and that don't have seams that rub against your skin.
For backpack blowers, the key factor is the harness.
Look for models with plenty of padding around your shoulders and hips. You want enough adjustment in the straps to fit everyone on your crew.
Likewise, the hip strap should be substantial enough to move the weight of the blower to your hips without creating pressure points. A chest strap is also useful to keep the shoulder straps from moving much.
Of course, you shouldn't forget about your back. Look for a harness that has a gap so air can flow and help cool you down. Some models even have active cooling that forces air across your back.
Price and Value
If you're like us, you have a budget when you're shopping and you want the best leaf blower you can get for the money you're willing to spend. So take a look at the list below and decide which characteristics are the most important to you as you shop.
Performance (CFM, MPH, and Newtons)
Runtime/fuel tank size
Power source (gas, battery, or electric)
Weight and balance
Comfort
Noise level
Convenience/ease-of-use
Maintenance requirements
Commercial or residential build quality
Storage space
Retailer availability
Serviceability
Warranty
Why You Can Trust OPE Reviews
Have you ever read a "review" site and found that you couldn't tell if they actually tested the tools or if they were just "recommending" the top Amazon sellers? That's not us. We won't recommend anything unless we'd actually use it ourselves—and we don't really care who the primary retailer is. It's all about giving you a legitimate recommendation and our honest opinion of each product.
We've been in business since 2016 covering outdoor power equipment, writing reviews, and reporting on industry news in the landscaping, heavy equipment, and lawn care industries. Our Pro reviewers have lots of experience in these fields as well as the skills and experience to know whether these products can perform well on the job.
Each year, our team reviews and gets their hands on hundreds of additional landscaping tools and equipment at our shop and at media events and trade shows.
We work with dozens of professionals around the United States who review products for us on real job sites and consult with us on testing methods, categories, and weighting.
We'll provide hundreds of pieces of new content this year absolutely free for our readers—including objective evaluations of lawn care tools, products, and accessories.
The end result is information you can trust because of the editorial, scientific, and real-world professional experience we collectively utilize each and every time we pick up and test a product.