EGO LB7654 Leaf Blower Breaks Barriers at 765 CFM
Over the past 5 years or more we've seen manufacturers steadily increase the performance capabilities of their battery-powered leaf blowers. It's no surprise that EGO often finds itself leading the rest of the pack in blowing performance. Their latest entry in the unofficial "who makes the most powerful battery leaf blower contest" is the EGO LB7654 leaf blower. This tool boasts 765 CFM, but we wanted to put it on our Newton force meter to see whether that airflow was also backed up by air speed and power.
Pros
Most powerful battery-powered leaf blower tested to date by PTR
Great ergonomics
Cruise control
Includes both concentrator and wide fan nozzles
Cons
Priced higher than most other battery-powered leaf blowers
Favors right-hand use
EGO LB7654 Leaf Blower Design Notes
If you've ever used a battery-powered blower, you know the basics. Load the battery, pull the trigger, check out if you have cruise control, point, and go. We did find a couple of things worth highlighting about the EGO LB7654 leaf blower. The variable speed trigger allows for lots of control and we found the cruise control dial easy to use when you want to give your hand a break when blowing off lots of property.
Since EGO mounted its cruise control dial just to the left of the trigger, you can adjust your speed without making any huge adjustments to your grip. Of course, having the cruise control dial on the left side makes this tool easier to use for right-handed folks. We're not surprised by that, but it's worth noting.
As with other EGO battery-powered leaf blowers, a turbo button sits at the top of the handle, letting you drain the battery faster' I mean ramp up the power of the brushless motor for delivering maximum airflow. Seriously, High speed does a great job. Turbo is almost overkill. Use the Turbo mode sparingly, and you can take care of stubborn wet leaves and dirt without draining your battery needlessly when doing the rest of your work.
Additional Features
Tapered and wide fan nozzles included
Shoulder strap hook
EGO LB7654 Leaf Blower Performance
Blowing Force
Even before testing, the specs on the EGO LB7654 leaf blower impressed us to no end. It states 765 CFM and 200 MPH of air speed. However, lest we allow one spec to diminish the other, we look to Newton force to clear up any confusion and give us a benchmark measurement of actual blowing power.
When we measured the EGO LB7654 leaf blower, it read an astounding 26 Newtons when using a 5.0Ah battery (which was part of our kit). After getting some preliminary numbers, we ran the blower through a series of additional tests using each of the included nozzles. It actually delivers the highest blowing force without any nozzles installed at the tip.
On High, the EGO LB7654 delivered an impressive 15.9N. Hitting the Turbo button ramped up that performance to 25.3 Newtons. Even with the kitted pack, that's the strongest battery-powered blower we've tested by far. So where's that 26 Newton number we touted?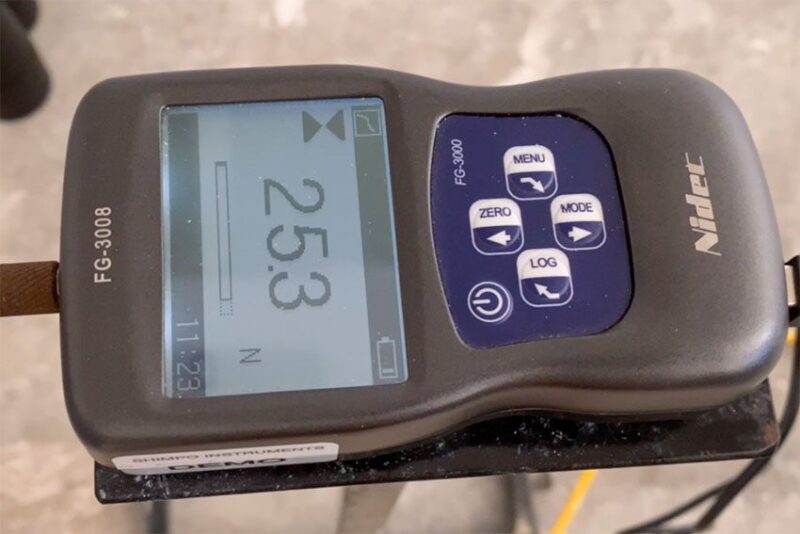 To get to EGO's claim of 26 Newtons we added their 10Ah Arc Lithium battery pack. We know that you can get more power out of higher-capacity batteries , so we assumed that might be the ticket. Retesting with the 10.0Ah battery pack, we actually measured a peak output of 26.1 N. Keep in mind that everything affects performance when taking measurements including temperature, humidity, barometric pressure—you name it. We tend to record slightly higher numbers in the warmer months.
While you can hit that 26N mark using that larger battery, we really don't recommend it. It's heavy, and you're better off managing a smaller 5Ah pack and swapping it out as needed.
The Bigger Picture
The EGO LB7654 is more than just a powerful leaf blower. Keep in mind that gas handheld blowers—even professional models—max out somewhere around 12N. EGO has crushed that number and seems closer to entry-level backpack blowers. So far, this is—bar none—the strongest handheld leaf blower we've tested as of this date regardless of the power supply.
Runtime
To quote the movie Spiderman, "With great power comes great… battery consumption."
OK, maybe that wasn't a direct quote.
EGO states you can get up to 25 minutes of blowing time on High and 15 minutes when using Turbo (based on using this with a 5.0Ah battery). Our testing netted us around 22:02 minutes in High and 13:05 minutes in Turbo. That's not bad (around 88%). The environment can certainly change the numbers and results.
Given the excellent force we measured with this leaf blower, we'll take those numbers any day. If you want to get more runtime, set the cruise control dial at a lower speed and pump the Turbo button when you really need it.
EGO LB7654 Leaf Blower Price
The EGO LB7654 56V 765 CFM leaf blower retails for $329 with a single 5.0Ah battery and charger, or $449 which includes an additional 5.0Ah battery. EGO has a 5-year tool warranty and a 3-year battery warranty.
Final Thoughts
If you want the quiet running and zero emissions a battery-powered leaf blower delivers coupled with the blowing force of an entry-level gas backpack blower, the EGO LB7654 765 CFM blower gives you exactly that. With that said we love that EGO gives homeowners lots of choices. If you don't need this kind of power, consider one of their other models which cost less money. If, however, you want the most possible power in a handheld battery-powered leaf blower, this model currently sits in the top spot.
EGO 765 CFM Blower Specifications
Model: LB7654
Power Source: 56V Arc Lithium battery
Motor: brushless
Variable speed trigger
Safety rating: cUL
Max airflow: 765 CFM
Noise: 76dBA (High), 80dBA (Turbo)
Runtime: 22 minutes (High-tested), 13:05 minutes (Turbo-tested)
Weight: 4.69 lbs. (bare), 9.63 lbs. (with 5.0Ah battery)
Warranty: 5-year tool warranty, 3-year battery warranty
Price: $329 (charger, one 5.0Ah battery), $449 (charger, two 5.0Ah batteries)