Generally, most of us prefer easy. It's human nature to avoid the struggle. Unfortunately, choosing a self-propelled lawn mower doesn't fall within this category. The sheer breadth of choices out there doesn't make that possible, which is why OPE brings you our Best Self-Propelled Mower review list.
We want to guide you through the myriad of questions you'll have to consider in your search for the right mower.
Do you need commercial or residential quality? Do you want to use gas or battery power? How much grass do you need to cut? Are you a mulcher or a bagger? And the questions go on.
Author's Recommendation: There's more where these reviews came from. Check out our Best Riding Mowers list.
Best Self-Propelled Gas Lawn Mower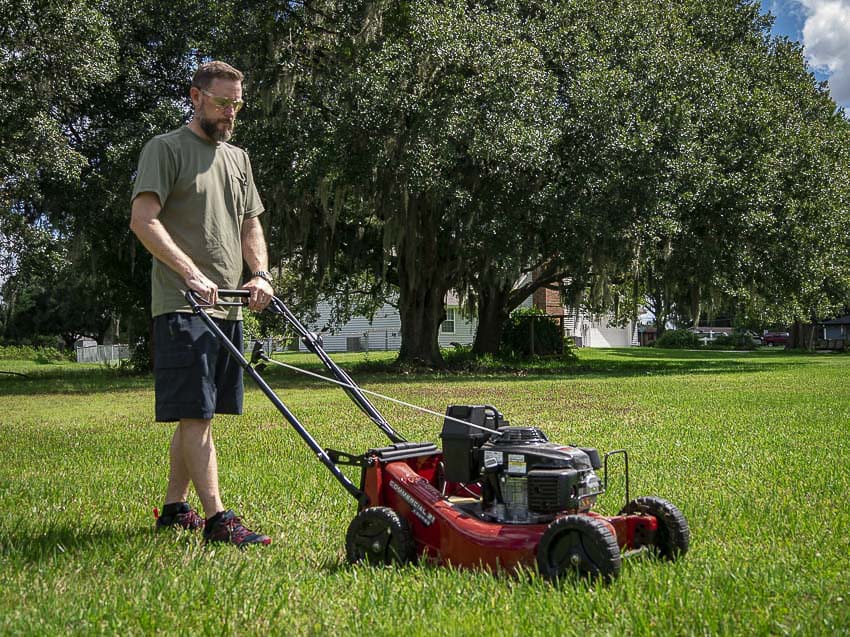 Kicking off our list is the Exmark and the Commercial X line, which complements its Lazer Z zero-turn mowers. Some professionals will turn to the higher-capacity 30-inch model, but we expect the 21-inch model will find its way onto more trailers.
Like John Deere (mentioned above), this mower uses a Honda engine, the 163cc GXV. The Exmark has a 1-gallon fuel tank and turns the blade at 18,500 fpm. There's also an option for a Kawasaki FJ180V engine (also nice) if you'd like to step up to a 179cc engine.
The deck is 1/4-inch aluminum construction that keeps the weight down (112 pounds) while maintaining high durability. Additionally, it's adjustable from 4.5 inches on the high side all the way down to 1 inch while the drive runs at speeds up to 4.2 MPH.
Price: Starts at $1799.00
Toro is a brand with a strong grip on the residential market (although you'll see a fair number of commercial crews running their zero-turns). But getting back to the residential fleet, our favorite self-propelled mower is the Super Recycler series.
Equipped with some of the best technology Toro has to offer, our top recommendation, the Toro Model 21565 Super Recycler, includes the Personal Pace drive system and the Smart Stow design that allows you to vertically store the mower even though it's a gas model.
Indeed, that's a big reason why this model made our Best Lawn Mower Reviews list.
It uses a 163cc Briggs & Stratton engine that produces 7.25 ft-lbs of torque and just under a 17,000 fpm blade tip speed.
Toro touts a commercial-grade construction on this model and includes a lighter aluminum deck rather than steel. In addition to that, you get outstanding cut quality, especially on the mulching side. Wrapping it up, the Personal Pace drive system adjusts to your walking pace so there are no levers or dials to adjust.
Price: $799.00
Best Self-Propelled Electric Lawn Mower
Just a few years ago, if you wanted to find the best battery-powered lawn mower, you weren't going to find commercial-grade models. Now, there's an emerging class of professional-grade options, and there are viable choices for both homeowners and Pros.
Plain and simple, there aren't many commercial self-propelled mowers with Lithium-ion batteries.
Milwaukee launched its debut model in 2022 with a mower that has 10 ft-lbs of torque, surpassing what you typically see from a 200cc gas engine. It's more than just muscle, though. Its blade and deck combine to handle mulching and bagging better than most.
For the fall season, the mower's high-lift mode keeps the blades at 3300 RPM to help pull lightweight leaves and clean up your lawn. Other features include 180° LED lighting, LED battery indicators facing you, a variable speed thumb bar (in addition to the speed wheel), a durable build, and more.
Price: $1099.00 with two 12.0Ah batteries and dual-port rapid charger
This model was worthy of our Best Battery-Powered Lawn Mower list. Originally, EGO put out the stacked-blade SelectCut options that improved cut quality and effectiveness in tall grass. Next, they brought out the SelectCut XP.
Now EGO adds Speed IQ to this self-propelled lawn mower.
Speed IQ is a self-propelled drive system that automatically adjusts to your pace. However, it's not a spring-loaded set of handles like Toro uses on its Personal Pace models. Instead, there's a sensor behind this stand-out engineering.
Price: $599.00 bare, $999.00 with a 12.0Ah battery and Turbocharger
Best Large Walk-Behind Lawn Mower
Greenworks Commercial has an 82V 30-inch model that has the power to replace a 200cc gas engine with blade speeds up to 16,000 fpm. On a full charge, it can cover up to 2 acres.
There are drive system features worth considering as well.
Independent hub wheel motors engage what Greenworks calls the Easy Turn System (ETS), making the mower easier to maneuver. Another note-worthy facet is the powered-reverse function, which is helpful with a mower of this weight.
The controls are all next to your hands, and there's even a display to help you keep track of your battery levels.
Price: $1999.99 bare, $2949.99 with three 8Ah batteries and a dual-port charger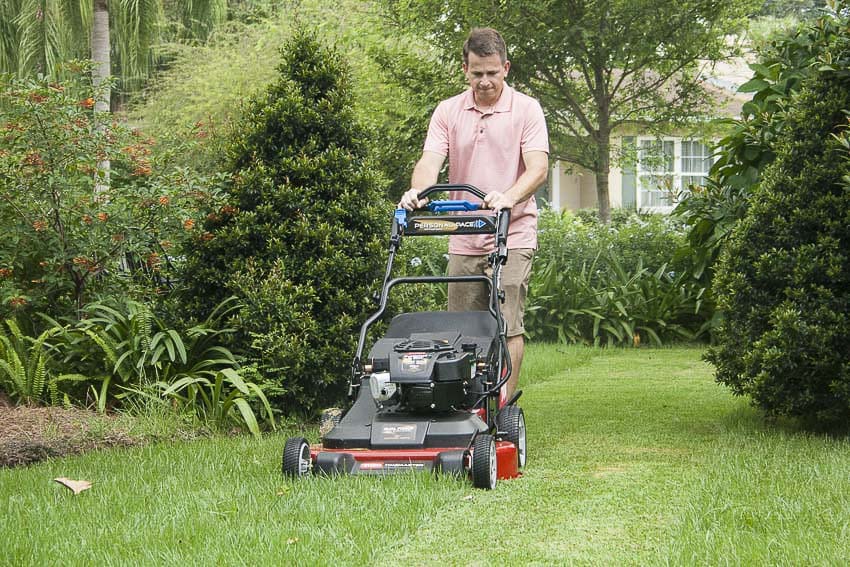 This model also made our Best Self-Propelled Lawn Mower Reviews in 2022.
A self-propelled mower that comes with a Briggs & Stratton 223cc engine, this model puts out 10 ft. lbs. of torque and gives you a 30-inch cut. Not only does it deliver big power to turn its wide, time-saving blade, but it also features Toro's Personal Pace self-propelled drive and Spin-Stop, which enables you to stop the blade without shutting off the mower.
Everything here adds up to savings on larger lawns. Pick up a 21200 if you want an electric start or the 21199 if you don't mind a recoil start and want to save $100.
Price: $1599.00 (21199), $1499.99 (20200)
Best Self-Propelled Mower for the Money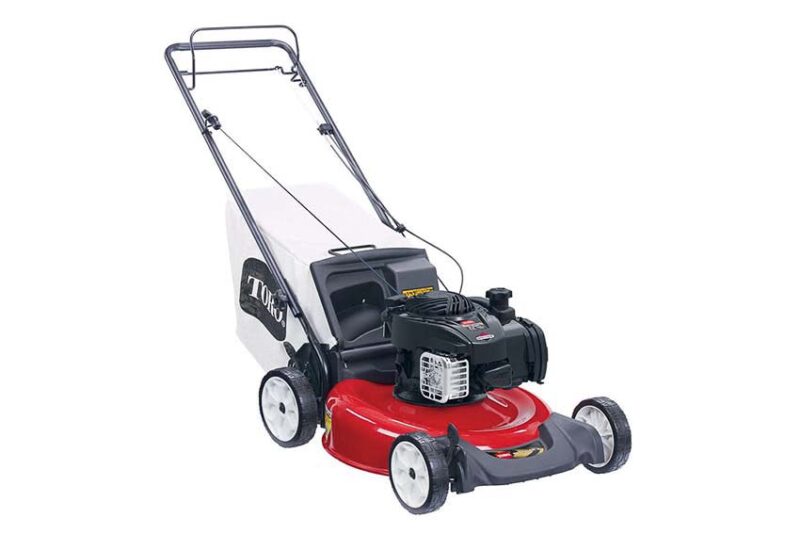 Here's another one that made our Best Self-Propelled Lawn Mower List in 2022: Toro's 21-inch Recylcler (Model 21352).
This self-propelled mower offers great bang for your buck. Made in the USA, it has rear-wheel drive powered by a Briggs & Stratton 140cc engine.
We like that it comes ready to mulch, bag, or side discharge, and, from what Toro tells us, don't worry about changing the oil, either. Just periodically check the levels and add more if needed.
Price: $396.73
Best Self-Propelled Lawn Mower Brand
Make no mistake, Honda is the cream of the crop, the head honcho within the realm of self-propelled mowers. Their engines have an unmatched reputation for quality and durability.
They typically run at a premium price, though. Both Honda mowers and Honda-powered mowers are more expensive than similar designs from other brands. Still, the fact that Honda is jumping ship is a real drag.
That opens the door for Toro.
There are a lot of Toro models we recommend for good reason. They hit a wide range from budget-friendly homeowner models to commercial zero-turns. It's one of the best-selling brands of walk-behind mowers.
However, hard-and-fast sales figures are tough to come by. Nevertheless, we see more Honda and Toro walk-behind mowers on commercial trailers and residential lawns than any other brand.
Best Self-Propelled Mower for Bagging
You don't have to send your current self-propelled mower to the landfill and buy a whole new one to improve your bagging efficiency. In most cases, adding a high-lift blade to your current mower will make a significant difference.
If you're still in the market for a new mower, higher RPMs make for better airflow and bagging. Check mowers with a 160cc or higher engine and compare the top blade speeds.
Moreover, you can always swap blades, but you can't change the speed.
Best Self-Propelled Mulching Mower
Similar to a high-lift blade for bagging, you can improve your mulching efficiency with a mulching-specific blade. These usually have additional cutting edges that chop up the clippings more times before they drop back into the grass.
Keeping the blade sharp ensures you get the best mulching results every time you mow.
If you're on the lookout for a new self-propelled mower, look for a 160cc or higher engine to give you the torque you need to keep your blade speed high in thicker grass. You can always add a mulching blade, but if you have an underpowered engine, you're stuck with it.
Best Self-Propelled Mower Priorities
After running into problems with other commercial walk-behind mowers, we turned to YBravo 25-inch commercial mower to take care of a 3-acre soggy field that our ZTs only bogged down in. Its Kawasaki 180cc engine kept the blade turning where others stalled.
Furthermore, the YBravo's cut quality is excellent. Available in a 21-inch and the 25-inch model we tested, Ybravo is worth serious consideration.
If you have a Bad Boy dealer closer to you, check out the same model sold under the Bad Boy brand name .
Price: $1299.00 (25-inch model)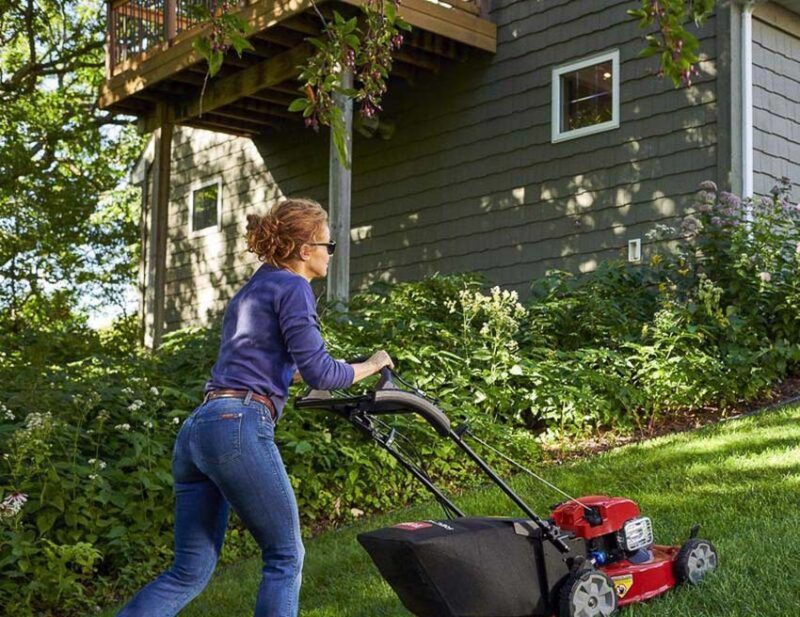 Here's yet another model that made 2022's Best Self-Propelled Lawn Mowers list–the Toro 21472.
AWD mowers are what you turn to for work on slopes and uneven terrain where it's possible to have a wheel or two lose traction. For the best all-wheel drive self-propelled lawn mower, we like this one.
Its 22-inch deck is on the larger size of standard mowers and the Personal Pace system is easy to work with once you get used to it. If you switch between mulching and bagging, the mower's lever system is super simple.
With plenty of power thanks to its 163cc Briggs & Stratton engine, it's not so much that it flattens the competition. Its performance is excellent and the innovations are genuinely helpful while keeping its price in check.
Price: $499.00
More Self-Propelled Mower Recommendations
Not every mower earns an award, but there are several other models we recommend that didn't find a place earlier in the article. Check these options out if one of the others doesn't fit your needs.
Best Lawn Mower Buying Guide – What We Look For
Gas vs Battery
Gas power still wins the day when you're highest priorities are keeping your purchase price down and your power level high. With advancements in battery and motor technology, the OPE world is shifting towards battery power, though. It's cleaner and quieter to run and requires less maintenance.
However, you have to look at premium models to get true gas power, and runtime can be a limiting factor. It's also less likely you have a service center nearby that can get you back up and running quickly if there's a problem.
If your lawn is a 1/4 acre or less, there are a lot of battery-powered options available. Once you get beyond that size, you need to consider how many batteries you'll need and legitimate options really start to thin out once you hit 1/2 an acre. With larger lawns, newer battery-powered zero-turn mowers are a legitimate option.
Take a deeper look at the comparison between gas and battery power in this article.
Commercial vs Residential
This might be better titled "professional vs. homeowner" considering there are both commercial and residential professional crews. Regardless, commercial mowers have better components and commercial engines, creating a machine that is built to last for years.
If you're a homeowner mowing once a week or so, a good residential mower can still last for 5 or 10 years (or more) if you take care of it. It just uses components and engine designs better fit for occasional use.
Engine Size and Cutting Power
If you stay on top of your mowing and cut quality isn't a high priority, an engine as small as 140cc is likely fine.
Move up to the 160cc–180cc class for better performance when the grass is thicker and taller, or when you want to make sure you get excellent mulching, bagging, and/or clean cuts. The greater power improves lift and is less likely to bog down in thick patches.
When you're looking at deck sizes beyond 22 inches, you should start looking for engines in the 180cc–200cc range (or higher) to ensure they can keep the RPMs high while it's cutting such a large swath.
Cut Quality
We look for three major components of cut quality: evenness, mulching size, and bagging efficiency.
Evenness is pretty straightforward. When we're testing, we look for grass blades that weren't cut and indications that there wasn't enough lift to clip all of the blades at the same level.
When mulching, smaller clippings are better since they drop down closer to the base of the remaining grass. We also look to see if a mower is prone to leaving trails and clumps.
For bagging, it's all about how much grass is collected, if the chute tends to clog while we're cutting, and how much grass is deposited back into the ground.
Noise Level
One of the major benefits of battery-powered mowers is the lower noise levels compared to gas, but that doesn't mean gas mowers have to be obnoxious. We expect higher levels than battery-powered models and that is typically the case.
When we test noise levels, we measure from our operator's ear to get an idea of what the person using the mower should expect. Even though some mowers are quieter than others, we still recommend hearing protection when you're using a gas model.
Fuel Efficiency
How efficient gas mowers use fuel has a very direct effect on your wallet, especially when you're mowing every day as a Pro.
Fuel efficiency testing is more than just a runtime calculation. The cutting swath of a mower comes into play, especially on those 25 and 30-inch models. With larger lawns, it's possible to get more cutting done per gallon of gas with an engine that uses more gas per hour.
Deck Size
A fairly standard deck size for most mowers is 21 or 22 inches. Going up to a 25-inch or 30-inch mower may seem better, but it's not for everyone.
If your lawn is a 1/4 acre or less, the time you gain with a larger deck might not mean a whole lot of time savings. Where you really gain some time is on lawns that are a 1/2 acre or more.
Keep in mind that larger deck-size mowers are heavier. When you have to mow wet or soggy areas, the weight can work against you.
Steel vs. Plastic (Poly) Deck
The vast majority of gas mowers have steel decks while battery-powered models have a much higher percentage of plastic poly decks.
Those poly plastic decks are tougher than they look, but they probably won't hold up as well as steel in the long run. It's still highly unlikely that you'll wear through one before it's time to replace the mower, though.
However, there's a whole lot more design flexibility that comes with poly decks, and engineers can do some amazing things to help with airflow that directly affects cut quality along with bagging and mulching efficiency.
Deck Height
Here in Florida, we have a lot of St. Augustine grass that we cut at 3 and 1/2 inches, so we prefer a mower that has at least a 4-inch maximum deck height.
Depending on what species of grass you have, you might be able to get away with a lower height, but 4 inches is a good all-around benchmark.
On the low end, most of us aren't cutting golf course greens (you'd use a reel mower for that, anyway), so the minimum deck height usually isn't an issue.
However, if you use a blade that dethatches or scalps for maintenance or re-seeding, you might want to make sure the deck height gets low enough—typically 1 1/2 inches or less.
Height Adjustment
Single-point height adjustments are the easiest since you can raise or lower the deck with just one lever. It's common on battery-powered self-propelled mowers, but not so much on their heavier gas counterparts.
Part of that is because the single-point mechanisms tend to introduce additional flex into the system and the weight of a gas mower puts more strain on the mechanism. So while we generally prefer single-point, we understand why gas mowers may opt away from them.
Pro Tip: Set the front wheels one notch higher than the rear wheels to improve bagging efficiency on 4-point or 2-point adjustable mowers.
Adjustment Levels
If you're really OCD, more height adjustments mean more precise cutting. Realistically, most of us are going to find a good height on any mower as long as it hits the maximum and minimum heights we mow at.
Setting the Speed
The type of speed adjustment your self-propelled lawn mower has can make or break your experience. There are pull levers, thumb push levers, full push bars (Toro's Personal Pace), and iterations on those.
Try it at the dealer before you buy it. If you hate working the mechanism for a couple of minutes, imagine what it's going to feel like after 30 minutes or an hour.
Front-Wheel Drive, Rear-Wheel Drive, or All-Wheel Drive?
Front-wheel drive lawn mowers are typically the least expensive and work well for even terrain. They also help you turn the easiest since you lift up the drive wheels as you make your turns.
Rear-wheel drive mowers add some cost but create better traction on hills and slopes. They're particularly good at pushing the mower's weight uphill where front-wheel drives start to lose traction as they try to pull the weight.
All-wheel drive mowers are the most expensive and generally do the best job on hills, slopes, and uneven terrain. On particularly bumpy areas where it's likely one or more wheels will lose traction, it's the best bet.
Wheel Size
Larger wheels tend to handle bumps and uneven terrain better than smaller wheels according to manufacturers.
Electric Start
If you've used a gas engine, there's a good chance you've worn out your arm pulling the cord to start it. There's no doubt that having an electric start on your mower can take away a lot of the frustration.
It won't make up for poor maintenance, though. A well-maintained mower starts easily on the first or second pull. That begs the question as to whether the electric start is worth an extra hundred dollars.
It's totally up to you, but if it's in the budget, we want it.
Mulch, Bag, or Side/Rear Discharge?
Most quality mowers are 3-in-1, meaning you can bag, mulch, or side/rear discharge. Less expensive models often only provide options for bagging and mulching. Which one you choose depends on what type of grass you have, how fast it grows, and your personal preference.
In central Florida where St. Augustine, Zoysia, and Bahia dominate our landscapes, the summer heat and rains make our grass grow incredibly fast. Most of us mulch out of necessity since we almost need a dumpster for the volume of clippings we create.
Handle Positions
Most lawn mowers have 3 handle positions you can set. For tall guys like me or average-height guys like Clint, it helps you find a more comfortable grip. Some mowers opt for 2, or sometimes just 1 handle position.
Value
Value is more than just price. We take a broad look at the performance and features compared to the price to determine the value of each mower.
Why You Can Trust OPE Reviews
Ever check out a "review" site and you can't tell if they actually tested the tools or if they're just "recommending" the Amazon top sellers?
That's not us. We only recommend what we'd actually use, even if we don't earn a commission from it. It's all about giving you a legitimate recommendation and our honest opinion of each product.
We're an online publication dedicated exclusively to covering outdoor power tools, top-notch equipment reviews, and industry news in technical machine operation, how-to guides, and Pro and residential landscaping and yard maintenance. Our Pro reviewers have the skills and experience to know whether tools can perform well in the field.
The OPE team will put its hands on hundreds of additional tools at media events and trade shows throughout the year. This also includes behind-the-scenes tours of manufacturing plants and test facilities.
The OPE staff consults innovators in the technology and design of outdoor tools to gain a broader grasp of where these products fit and how they work.
And this wealth of knowledge and experience is absolutely free.
The end result is information you can trust because of the editorial, scientific, and real-world professional know-how we collectively utilize each and every time we pick up and test a tool or research a topic.