A new lawn mower is no small purchase. What's more, there are so many to choose from: Electric mowers; push mowers; riding mowers. The research required to find the best lawn mower for you and your needs can be a daunting task.
And while we've used a bunch, we haven't walked behind or sat on every mower available. The staff at OPE is bringing their picks for the best lawn mower models to the table. But keep in mind, these are hotly debated, and not every yard or property is equal and, of course, you have your own opinions.
So feel free to go ahead and tell us what the best lawn mower is and why in the comments below!
Best Ride-On Lawn Mower
Commercial ZTs have a number of qualities, and none of them are fluff–they're essential. This is a machine designed for pros, which is why it has it all: durability, cut quality, comfort, and speed.
The staff here at OPE puts the Hustler Super Z Hyperdrive series at the top of our list, followed by a toss-up between the Scag Turf Tiger II and the eXmark Lazer Z X-Series, both of which get solid grades.
Why is that, you ask?
To start with, the Hustler Hyperdrive mowers are equipped with Vanguard big block EFI 35-40 HP commercial engines, giving the driver an impressive 16 MPH, and the customer, a great cut.
Moving on to comfort, you'll find sitting in Hustler's I3M seats something of a relief, especially in hot weather. Meanwhile, the hydraulics and transmission provide comparatively smooth operation, potentially cutting mow time. (We're sure you won't argue with fitting more customers into a day's work.)
As for toughness, the Hyperdrive's 60-72-in. VX4 decks fit the bill, built out of 7-gauge steel—and that's thick. Complete with foot-controlled raising and lowering, they have a cutting height range of 1-5.5 inches.
And Hustler stands by its product. The Hyperdrive series has a 2-year, unlimited hours 5-year, 1200-hour warranty with 3,000 hours for the drive system. For pricing, visit or call your local Hustler dealer.
Cub Cadet's Ultima ZT series is a popular addition to the company's fleet of zero-turn offerings, even for homeowners, for whom we recommend the Ultima ZTX. We think this model gives you a nice ride … pretty important for a riding mower.
From a bird's-eye-view, this line is a good fit for the prosumer class, qualifying as a hybrid species of residential-commercial models. Of the lot, we're giving the Cub Cadet ZTX6 mowers the biggest stamp of approval.
The features and specifications say it all.
Equipped with Kawasaki FX801 25.5HP commercial-grade engines, these mowers are available with 54- or 60-inch decks. Cub Cadet's Hydro-Gear ZT-3400 hydrostatic transmission system is also commercial-grade and offers forward speeds up to 9 MPH.
Of course, there are some residential-grade features included, such as a 10-gauge steel deck. Still, this model of riding mower is able to cut relatively sizable properties—about 4-12 acres.
Particularly with the Ultima ZTXS , we really like the option of either lap bars or a steering wheel and Cub Cadet's Synchro-Steer design. This is what you call attention to customer preference.
Price: $8999.00 – $9299.00 ($10299.00 for the 60-inch ZTXS6)
Did you know Stihl now has zero-turn ride-on lawn mowers? Check out the details!
Best Self-Propelled Lawn Mower
Sadly, Honda is going the way of the dodo this year, and it's tough to say goodbye to so trusted a brand. But before it meets its demise, we're giving the HRC series two thumbs up. 
Now, it's time for us to train our sights on Exmark and its Commercial X line, supporting its Lazer Z zero-turn mowers in good fashion. And while we expect to see more trucks with 21-inch models in tow, the 30-inch variation will likely be the professional's model of choice.
We're also happy to see Exmark using the ever-reliable 163cc Honda GXV engine, which has a reputation that precedes itself. After all, it's fed by a 1-gallon fuel tank and a top blade speed of 18,500 fpm. If you'd like something other than the Honda, there's also the option for a more powerful engine: the 179cc Kawasaki FJ180V.
The mower's deck (adjustable from 1-4.5 inches) is quarter-inch aluminum, which makes for a lighter 112 pounds without serious expense to the overall durability. You'll also see speeds of up to 4.2 MPH.
Price: Starts at $1799.00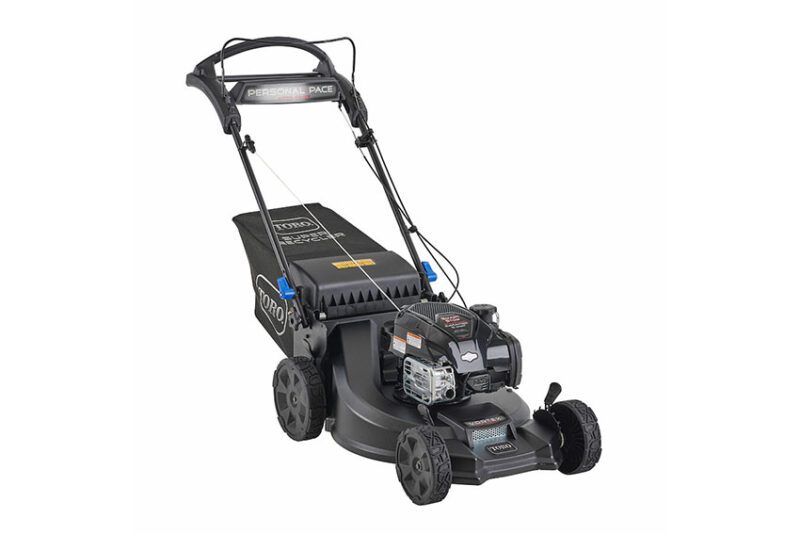 Toro is a fixture in the residential law mower market, and our favorite at OPE is the Toro Super Recycler (Model 21565). In particular, we liked the Personal Pace drive system and the Smart Stow vertical storage design.
Sporting a 163cc Briggs & Stratton engine, it's capable of 7.25 ft-lbs. of torque and a roughly 17,000 fpm blade tip speed.
This model is of commercial-grade construction and, like the Exmark, the Super Recycler has a lighter aluminum deck. Furthermore, the mulching cut quality is fantastic, and the drive system's adjustability to suit walking pace is a convenient feature.
Overall, this is an impressive tool, which is why it also earned a spot on our Best Self-Propelled Lawn Mower Reviews list.
Price: $799.00
Best Push Lawn Mower
Commercial Pick: Honda HRC-Series 21-Inch Push Lawn Mower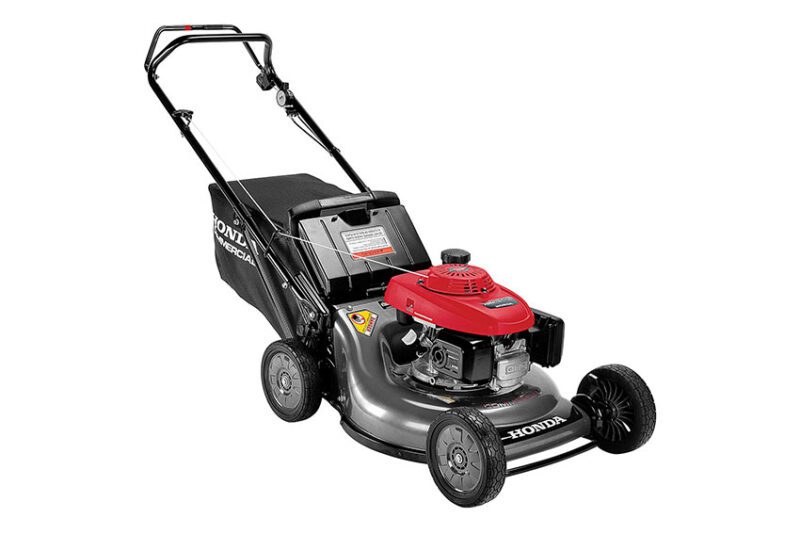 At the professional level, there aren't many push mowers to choose from. To get close to that quality, we suggest you snag a Honda HRC216DA before they're gone. As part of the HRC line, you get the commercial-grade quality you need for a long service life.
Driven by a commercial-grade GSV160 engine, Honda's MicroCut twin blades give you a thorough, high-quality cut, whether you're keeping up with your lawn or tackling overgrowth. The range of blade height is also good (3/4-4 in.).
The downside? You'll only have a 32 oz. tank … and Honda stops making gas mowers in 2023.
Price: $849.00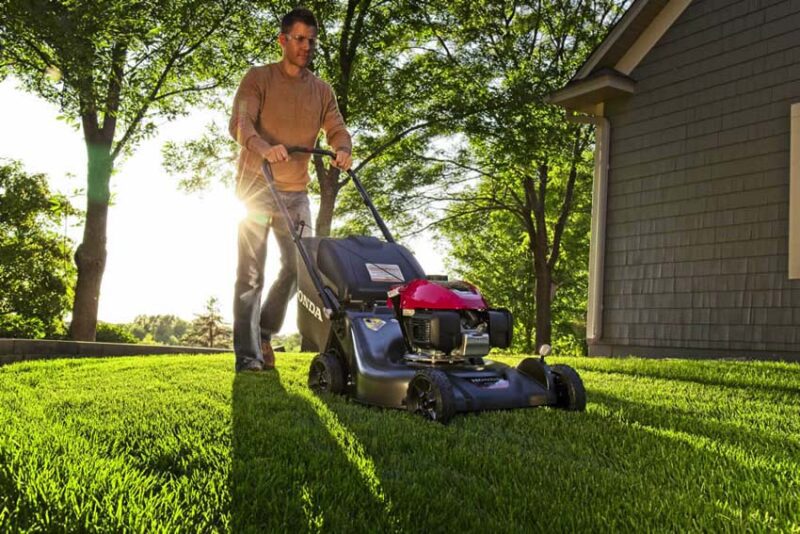 As we mentioned above, time is of the essence when it comes to getting a Honda. Another model we recommend is the HRN216PKA. The HRN series replaces the former HRR series and is the next level below the HRX series.
This is Honda's only mower designed for homeowners, using a 167cc Honda GCV170 engine and an auto choke for easy starting. It's also capable of mulching, bagging, and side discharge.
Price: $529.00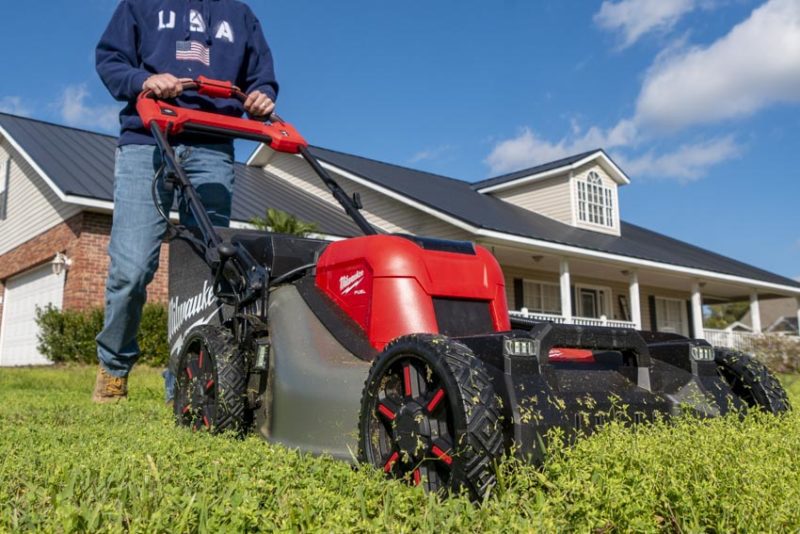 Milwaukee loyalists had long awaited a mower, and after several years, they found that it was worth it.
Using two M18 batteries, the Milwaukee M18 Fuel mower has more blade torque than any electric competitor, with power equivalent to a 200cc engine. And equally important, it delivered beautiful cuts in all of our tests.
Price: $1099.99 with two 12.0Ah batteries and dual port simultaneous rapid charger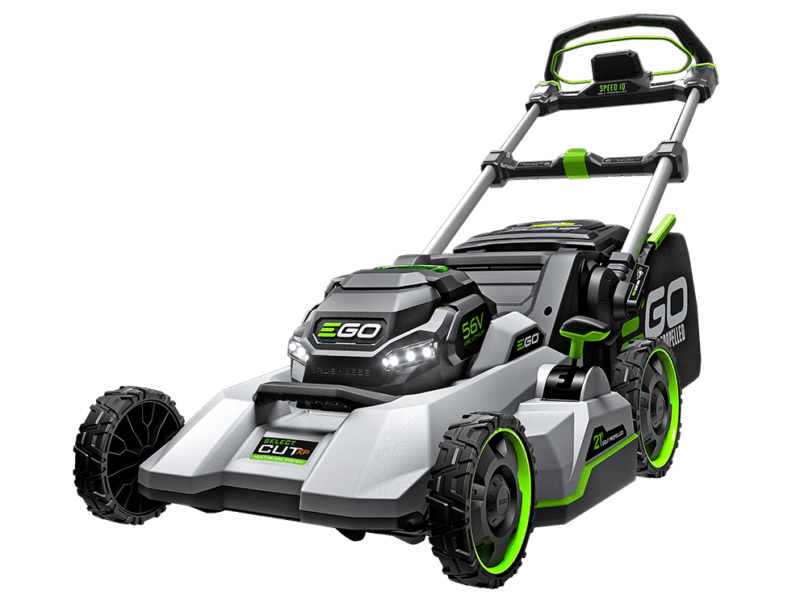 The evolution of EGO's flagship mower is a worthy point of discussion. It started with the dual-battery Peak Power model that raised the bar of what lithium-ion is capable of. Then, we saw the first stacked-blade SelectCut options that improved cut quality and effectiveness in tall grass. The two technologies merged in the SelectCut XP. Now EGO adds Speed IQ to the mix.
Speed IQ is a self-propelled drive system that automatically adjusts to your pace. However, it's not a spring-loaded set of handles like Toro uses on its Personal Pace models. Instead, there's a sensor doing some serious work, and it functioned nobly during our brief time with it at Equip Expo 2022 (formerly GIE).
Price: $999.00 with 12.0Ah battery and Turbo charger
Best Robotic Lawn Mower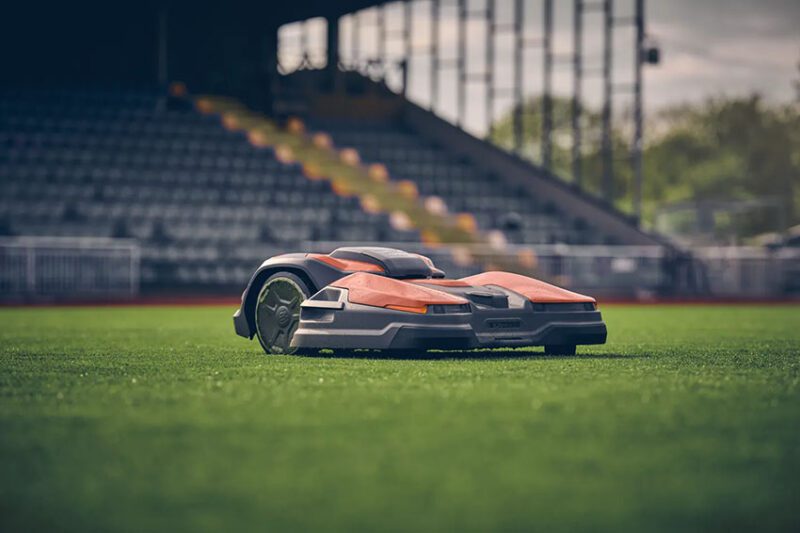 Yes, they kind'a look like props out of a sci-fi movie—think Back to the Future II. Robotic lawn mowers are indeed here, and Husqvarna is a leader in this sector of lawn maintenance products.
They're even invading the world of large-scale commercial mowing (again, think sci-fi). We're putting the Husqvarna CEORA center stage.
This mower has an 18-acre capacity; this includes sports fields, providing a professional cut on as many as 6 acres per charge! And what's more, you don't need any wires! This model features Husqvarna's Exact Positioning Operating System (EPOS) that combines a reference station and satellite technology to create a virtual boundary system.
Price: $32,829.94 starter kit
Again, without a doubt, Husqvarna is on the cutting edge when it comes to robotic lawn mowers, and they raised the bar another rung higher with the Automower 435X AWD. With all-wheel-drive, it can handle 35° inclines.
Able to cover nearly an acre of space, the mower touts an almost 2-hour runtime and a charge time of just 30 minutes.
Of course, there are drawbacks, too—like the limited cut height (1.2 to 2.8 inches), so it isn't conducive to all grass types.
All the same, we think its smartphone connectivity and GPS assist are very cool; however, it's not completely wire-free.
Price: Starts at $5199 with professional installation ($3999 without professional installation)
The lawn mowers we're covering in these reviews are components in a huge category of power equipment. And while OPE's editorial staff doesn't want to put you to sleep with too much detail (sorry, insomniacs), we hope we've given you an informative start in surveying the lawn mower landscape.
Our Lawn Mower Selection Method
There are several things common to all mowers that we look for:
Cutting Power
Some grass is easy to cut, others aren't. Central Florida's St. Augustine grass, for instance, grows particularly thick, requiring more cutting power. Yet, you also want to maintain a blade speed high enough to get the best cut quality the mower can offer.
Cut Quality
In assessing cut quality, we look for two things. First, does the mower give you a nice even cut?
And second, how well do the blades mulch the grass, and how much grass does the mower leave behind when bagging? The lawn should be clean when you're finished.
Engine Reliability
You don't want a mower that's hard to start, doesn't start at all, and/or dies after just a few seasons. Engines like Honda have comparatively long lives. On the residential side, Honda engines can last 10 years or more!
Even though professionals repower or buy a completely new mower every 3 to 5 years, quality engines from Kawasaki, Vanguard, and others can keep those years of service trouble-free with regular maintenance.
Build Quality
The engine isn't the only part of the mower you need to keep an eye on. Belt pulleys, height adjustments, wheels, and much more need to stand up to the kind of hours you're going to put on the mower.
That's very different for someone who mows once a week and a professional crew that covers 20 lawns a day.
And if you're cutting property with trees, shallow roots, and stones, watch out! When shards become wedged above the deck, they can tear up a pulley system. The more robust the components, the more resistant they are to environmental hazards.
Lawn Size Suitability
Choose a size that fits your lawn. While they're great for smaller properties, you're not going to use an 18-inch lawn mower to maintain a 3-acre property. We always take into account the best lawn size for each mower: the deck, fuel tank, or the batteries.
Price and Value
You work hard for your money—another consideration in OPE's selection process. What you get with your purchase is important. So finding the right balance of performance, quality, and price is high on our list.
Why You Can Trust OPE Reviews
OPE isn't your typical outdoor power equipment site. Covering outdoor power equipment news and insights, as well as writing product reviews and commentary is our specialty.
In our reviews, we won't recommend anything that we wouldn't use ourselves, and we don't care who the primary retailer is. It's all about giving you our honest opinion of each product.
We consult innovators in the technology and design of outdoor tools to gain a broader grasp of where these products fit and how they work.
And better yet, our content is absolutely free to our readers.
The end result is information you can trust because of the editorial, scientific, and real-world consumer and professional experience we collectively utilize each and every time we write about outdoor power equipment.