Toro Introduces New Technology with Super Recycler Series
Toro is synonymous with gas- and battery-powered lawn mowers, so it's not surprising that we're looking at another one, the Toro Super Recycler Self-Propelled Lawn Mower.
Our objective: To explore what this 21-inch gas-fueled grass chopper can accomplish for the homeowner.
The Toro Super Recycler Design Features
Model: Toro 21565
Power source: Gas
Engine displacement: 163 cc
Engine torque: 7.25 ft-lbs
The Toro 21565 has a 163cc Briggs & Stratton engine, and it puts out up to 7.25 ft-lbs of torque.
According to Toro, another aspect of this model is its Vortex air intake. Designed to pull more air into the cutting chamber, this technology purportedly provides better cutting.
Now, let's move on to what's in the name–Super Recycler. What is it?
While the designation, in part, is self-evident, the moniker essentially characterizes the cutting capabilities of the 21565, and particularly with respect to mulching.
Toro's Super Recycler Self-Propelled Lawn Mower has rear-wheel drive and uses the manufacturer's Personal Pace Auto-Drive. This automatically matches the operator's walking pace, and it requires no controls. Its max forward speed of 4 MPH is comparatively higher than average walking.
Note: This Toro mower made our list for the Best Lawn Mowers for 2023.
Toro Super Recycler Self-Propelled Lawn Mower: What It's Got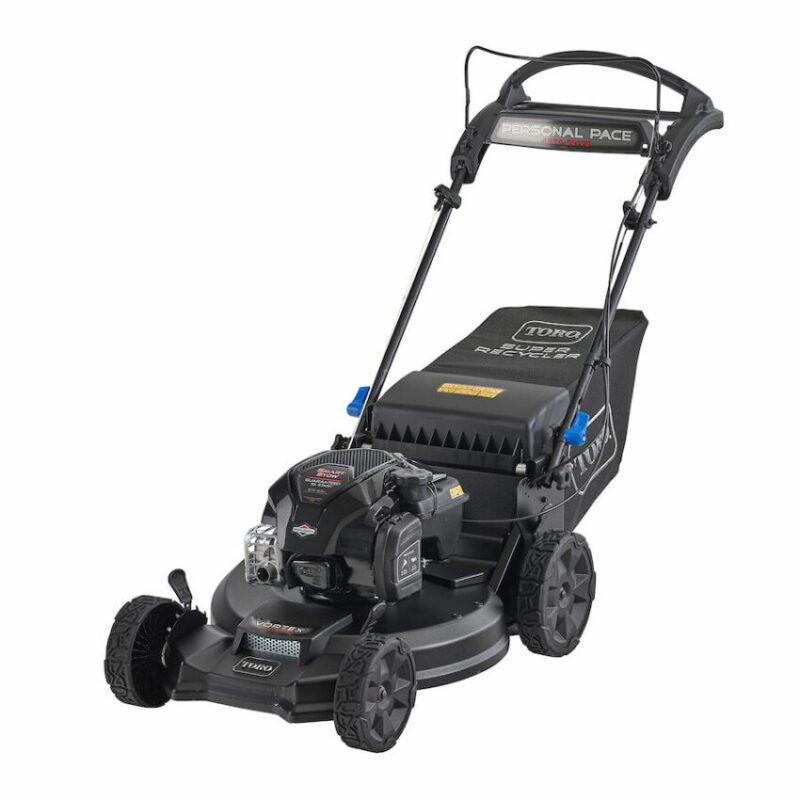 Cutting height: 1.25 – 4.25 inches
Fuel tank capacity: 0.24 gallons
Bag capacity: 1.8 bushels
Blade tip speed: 16,949 ft/min
Front wheel height: 8 inches
Length: 62 inches
Width: 44 inches
Height: 23 inches
Weight: 88 pounds
Rear wheel height: 10 inches
Cast aluminum deck
Handle folds for verticle storage with SmartStow
The company recommends the Toro Super Recycler Self-Propelled Lawn Mower's 21-inch cutting width for yards 1/2 an acre or less in size, and you get cutting heights from 1.25 inches to 4.25 inches. Adjustments are in 9 positions.
Choices of grass disposal methods include mulching, standard bagging, or side discharge. In addition, you can request a free one at the time of registration by visiting Toro's registration page .
This unit retails for $799.