From homeowners to professionals, most people need at least one dependable chainsaw in their garage, shed, or trailer. The challenge is that there are so many models out there, which can make choosing one a daunting task. That's where the experts at OPE Reviews come in. We've encountered a lot of chainsaws over the years, and run hands-on tests with quite a few of them. We keep close tabs on the brands and models that we feel will most benefit our readers. This includes a close assessment of features, performance, design, and purpose. Based on these factors, here are our picks for the best chainsaws for your specific needs and preferences.
Best Overall
Greenworks 60V Pro 16-Inch Cordless Chainsaw C60L212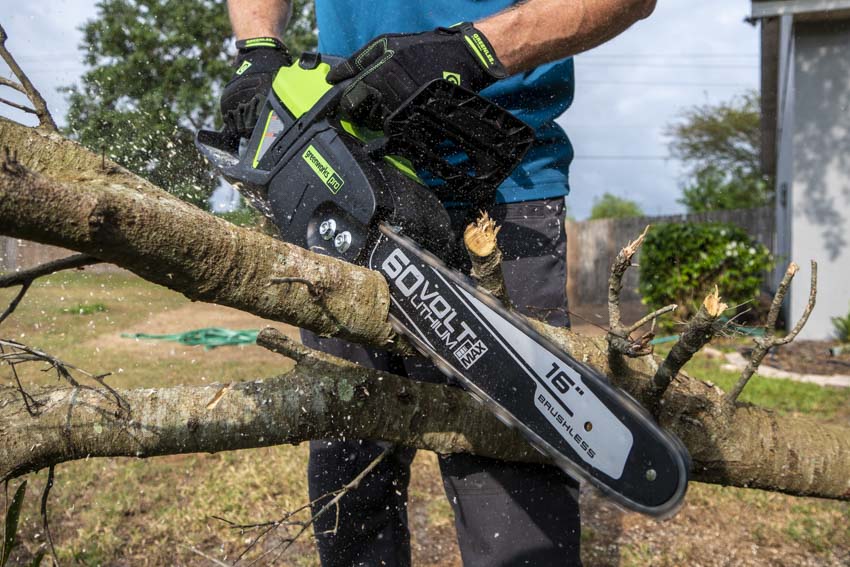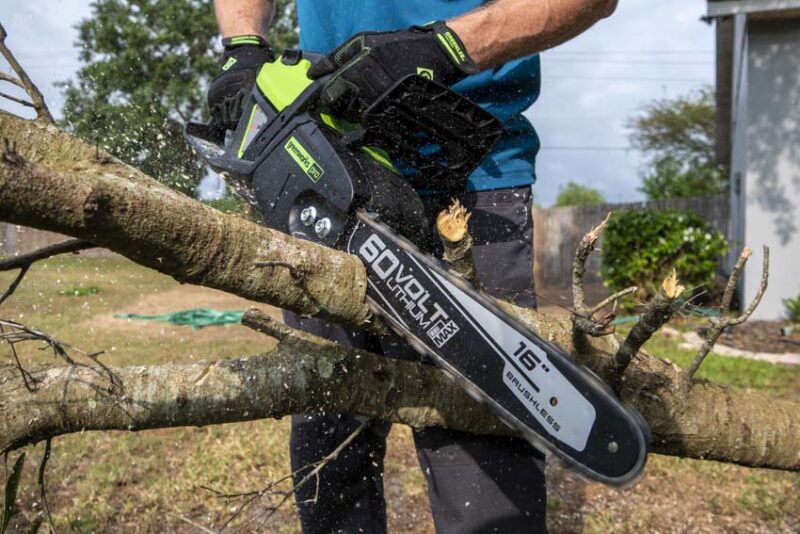 For the best overall chainsaw, we look for a few things. First, we think the bulk of our readership will benefit from versatility. One of the reasons that a chainsaw is a year-round tool is that you can use it for many things. Furthermore, we want to see solid performance, design, and pricing.
That's why we chose the Greenworks 60V Pro 16-inch Cordless Chainsaw as the best overall model. We were very happy with the C60L212's performance upgrades.
For one, the 16-inch bar makes this saw easier to wield. However, it also expands its capability. This model performs as well as its 42cc gas counterparts. So, based on our experience, this tool is a fantastic all-around chainsaw for everything from property maintenance to storm cleanup and firewood.
Price: $279.99 with 2.5Ah battery and charger
Best Electric (Battery) Chainsaw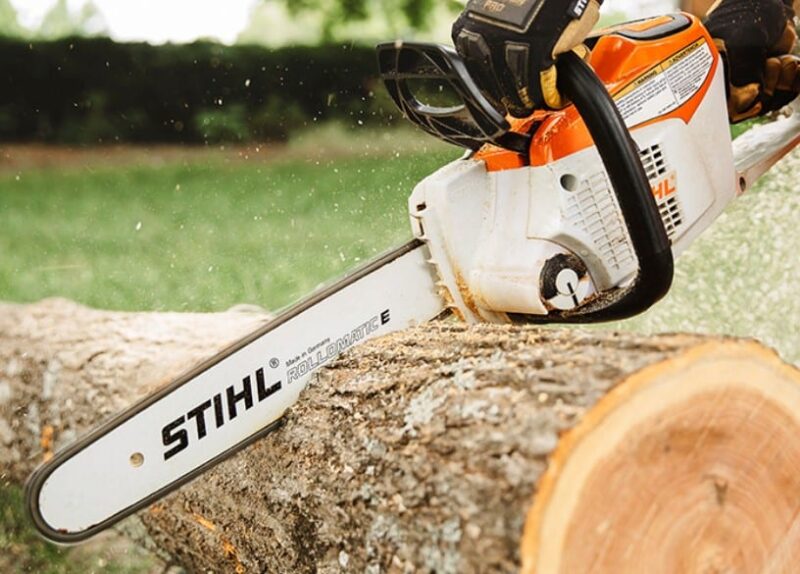 There are so many battery-powered models appearing on the market. But of the lot, we think the Stihl MSA 220 C-B 16 in. Cordless Chainsaw deserves our Best Electric (Battery) title.
Not surprisingly, this model's brushless motor packs plenty of power. Moreover, its runtime is solid, at 40 minutes using an AP 300 S battery. And talk about versatility: The MSA 220 C-B allows you to change out the 16-inch bar to the 14-inch version. Certainly, this is also an innovative way to optimize runtime over capacity.
What's more, it features a series of safety features, including coast-down and QuickStop chain brakes.
Price: $419.99 as a bare tool
Best Gas Chainsaw
ECHO made its first chainsaw, the CS-80, in 1963. They've been at it ever since, designing models that meet the needs of Pros and homeowners, alike. We chose the CS-4010 as the best gas chainsaw because it combines elements from both groups.
An addition to the brand's homeowner chainsaw fleet, the ECHO CS-4010 is the fine-tuned replacement of the CS-400. Its 41.6cc professional-grade engine produces up to 13% more power than its predecessor.
Furthermore, ECHO's design team incorporated some newer technology into the 4010. For example, there's the i-30 starter (one in a series of patented starting systems), which reduces starting effort by 30%. We tested this feature on other ECHO tools, and it truly does work.
Moreover, this model brings these high-performance upgrades to homeowners at a reasonable price. And we're sure that's music to your ears!
Price: $329.99
Best Mini Chainsaw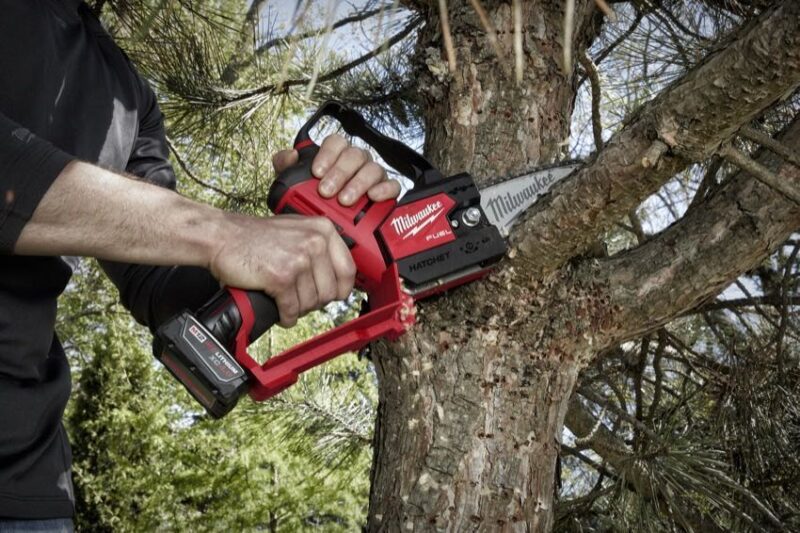 Milwaukee's M12 Fuel Hatchet has quite a bit going for it–certainly enough to land the Best Mini Chainsaw spot.
First, we like that it's a 6-inch bar and chain rather than 4-inch. Indeed, it gets you into cutting branches you might normally turn to a heavier standard-form chainsaw for.
We also like that this model has an auto-oiler, something that's missing on Stihl's model. Combined, this makes it the best cordless chainsaw for those looking for a truly compact pruning tool.
Price: $149 bare, $269 with 4.0Ah battery and charger
Best Chainsaw for Home Use
Cat is fairly new to the OPE market, but judging by the models we've tested, they're doing a solid job (for example, check out our review of the Cat 800 CFM Leaf Blower). We have a high opinion of the DG631, as well; enough so that we've named this model the best chainsaw for home use.
Up front, we liked the 18-inch bar. If you have an array of jobs to tackle around your property, a model of this length is a good fit, whether you're limbing, doing storm cleanup, or preparing firewood.
Also, the DG631 has impressive power, particularly considering its price point. Typically, we like to see speeds of around 5,000 fpm in such models. That's 83 fps, which puts the DG631's 78.7 fps almost exactly in that sweet spot.
Behind this power is Cat's 60V Max (5.0Ah) battery, which yields a respectable runtime (roughly 30 minutes). Now, this pack is heavy, at nearly 7 pounds. Nonetheless, we were pleased with the DG631's balance, which was both natural and comfortable.
Also, the toolless tensioning and auto-oiling features go a long way in simplifying maintenance.
Price: $379.99 with a 60V Max battery and charger; $269.99 bare (DG631.9)
Best Chainsaw for Professionals
Stihl has been making chainsaws for years, so, again, it should come as no surprise that they're making several appearances on this list. This time around, it's our pick as the best chainsaw for professionals: the Stihl MS 500i with EFI.
Nearly everything about this 36-inch model screams Pro, starting with the electronic fuel injection. Yes, no more choke. And thanks to this EFI technology–which you'll also find on the TS 500i cut-off saw–this gas model is NASCAR-worthy.
Running a 79cc engine, the MS 500i has seriously fast acceleration. Specifically, we're talking an astounding 0 to 62 mph in a quarter of a second. And, if you're a Pro or are looking for Pro quality, this is the saw that we think you should strongly consider.
Price: $1,689.99
Best Chainsaw for the Money
Kobalt 40V 14-in Battery Chainsaw KCS 1040A-03
If you're looking for a reliable chainsaw that performs well but doesn't cost a ton of money, the Kobalt KCS 1040A-03 is your best bet. Indeed, Kobalt has a pretty strong record for quality in our hands-on trials, and that includes this 40V chainsaw.
First, its brushless motor is a plus. During our tests, it ran smoothly and quietly.
In terms of cutting, the KCS 1040A-03 held its own. We tried it out on a few 7-inch (give-or-take) cherry tree limbs and encountered no problems. If you're not familiar with this variety, the wood is dense, and, generally speaking, moist. That said, we certainly gave this 40V chainsaw a challenge.
We made about 25 consecutive cuts and used a shade over a quarter of a fully charged battery. Again, we were attacking rather dense wood. To put this into context, Kobalt estimates that you'll get 145 cuts of soft 4 x 4 fir.
And, while this might not be the fastest saw in the West, with a chain speed of about 50 fps, we're confident it will get your jobs done and for a reasonable price.
Price: $229 with battery and charger
Best for Climbing Trees
ECHO 56V eFORCE 12-Inch Top Handle
Regardless of where you stand on the matter, the OPE landscape is changing. With an increasing number of states and municipalities banning gas-fueled equipment or passing noise ordinances, battery power is quickly becoming more dominant.
We discussed the issue at length with the company's CEO, Harold Redman, who assured us that they are on top of the shift. And the eFORCE series is ECHO's answer to the rising demand for products like cordless chainsaws.
Driving the DCS-2500TN is a brushless motor and a 56V (2.5Ah) battery. Together, this duo should give you up to 70 cuts on a single charge, which isn't bad for a Pro-grade unit like this one.
What's more, ECHO has taken measures to minimize downtime with its rapid charger. In this case, you're looking at about 38 minutes to get you up and running again.
However, what most impressed us while running it was its weight–a manageable 7 pounds. That trait, alone, proves handy when you're working high up.
Price: $659.99 kitted
More Picks from the Brands We Trust
Best Stihl Chainsaw
We named this model the best overall chainsaw and the best chainsaw for the money on our Best Stihl Chainsaw Reviews list, so it's no shocker that it took the Best Stihl Chainsaw slot here, too!
There's a lot going on with this model. Perhaps most notable is how intelligent this chainsaw is. Yep, you read correctly–intelligent. Specifically, it utilizes Stihl's M-Tronic engine management system, which uses a built-in computer to make adjustments as you work.
For example, it will tweak various functional elements like the fuel mixture. It does this based on elevation, temperature, and fuel quality. Moreover, it will compensate for a lack of air due to dirty air filters. As a matter of fact, we ran one with a clogged filter, and it actually maintained a respectable chain speed.
Price: $679.99
Best ECHO Chainsaw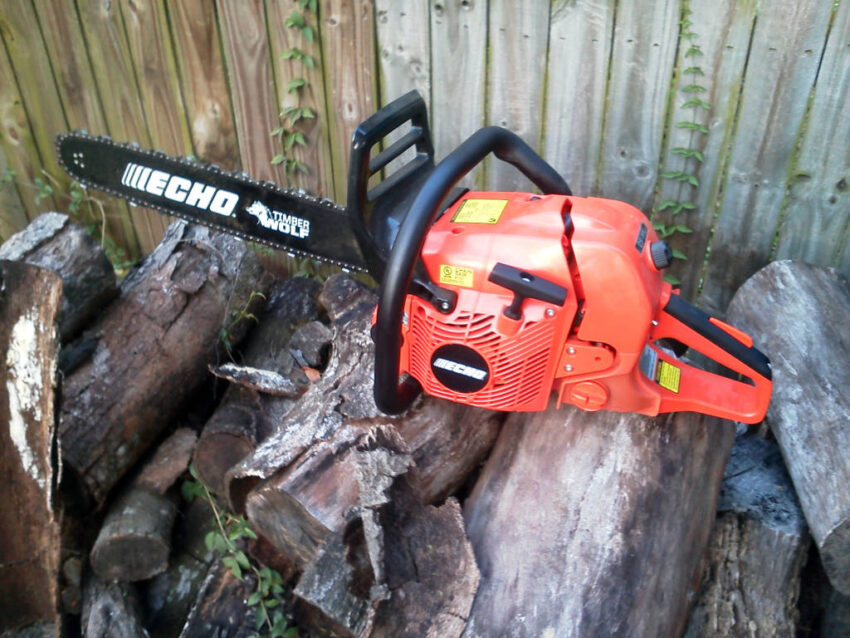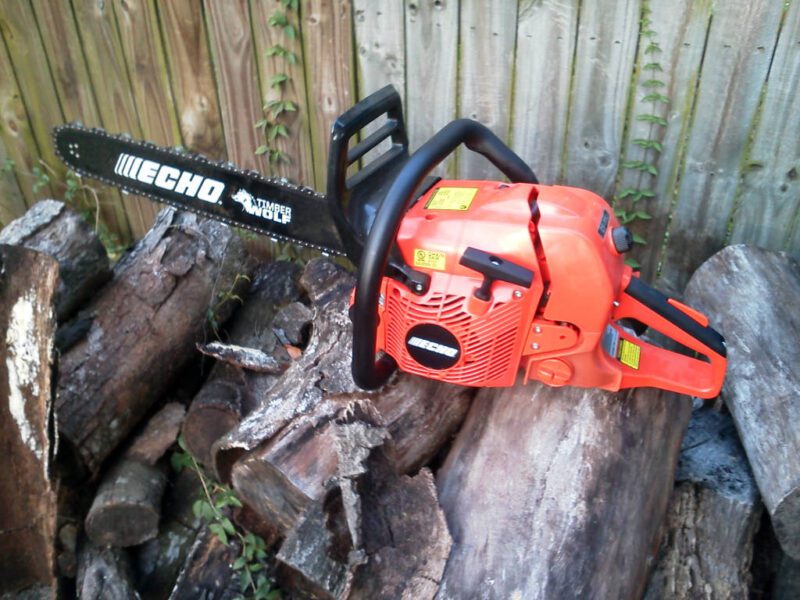 Based on our experience, the Timber Wolf CS-590 is among ECHO's best chainsaws.
For one, we like the 59.8cc engine, which delivers power that we can comfortably say qualifies as professional grade. In fact, our staff tested this saw while tearing down a pole barn. The CS-590 made quick work of the beams and, in their estimate, cut smoothly. Moreover, they were pleased with the torque and the total lack of kickback.
Especially for the price, this saw's high-end performance and classic design make it a tool worth owning. And while you can get this in 18, 20, and 24 inches, we recommend the latter. If you're up for it, this length will give you greater versatility for $10 less than the 20-inch model.
Price: $439
Best Husqvarna Chainsaw
Husqvarna 455 Rancher Chainsaw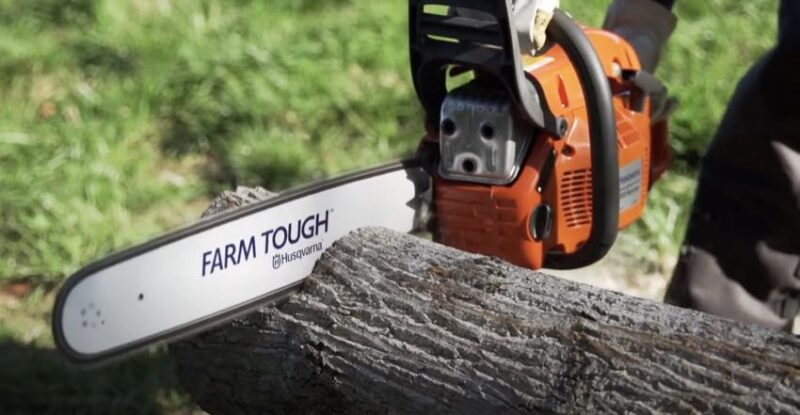 The Husqvarna 455 is a professional chainsaw that we think is reasonably priced, especially given its performance. Indeed, it made our Best Professional Chainsaws list for a few reasons.
For instance, you get a low-vibration 55.5cc engine. That may not be the highest engine displacement you'll find on this list. However, this thing's output results in a saw that cuts through firewood like a hot knife through butter (pardon the cliche).
We also like the stock 20-inch blade, which, as we've stated numerous times already, is a good length for a number of cutting tasks. You can quickly adjust the chain tension with a single screw, and changing the air filter requires no tools.
Price: $559.94
Best Milwaukee Chainsaw
Milwaukee M18 FUEL 18V Chainsaw 2826-20T
We like the 14-inch 2826-20T because of its capability and price. This top-handle chainsaw is designed for Pro arborists, utility workers, and landscapers alike–but we think Milwaukee's price point settles within the realm of Prosumers. That's a nice combo.
Right away, a few traits jumped out at us, starting with speed. This chainsaw goes from 0 to full-throttle in 1 second. And it stays relatively fast as you're working with it, reaching chain speeds of up to 50 fps. You can expect to get about 150 cuts per charge with this unit's 18V battery.
Price: $349
Best Makita Chainsaw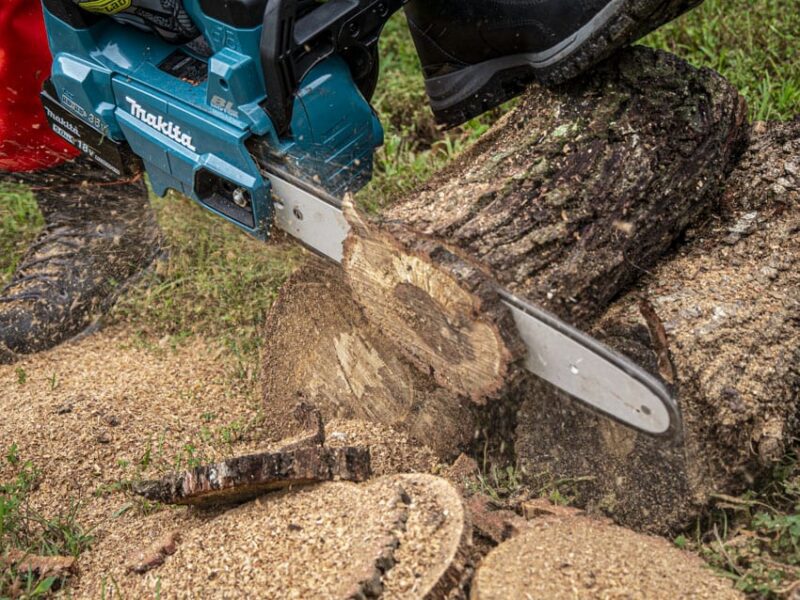 The 14-inch XCU08 has a lot going for it, making it our pick for the best Makita chainsaw. There are several pluses here.
For one, this model had excellent cutting speeds during our field tests. In line with that, we think it has the power to replace gas saws, and, with its torque boost, it can handle challenging cuts. Other stand-out features include oil flow adjustment, auto-off to save battery power, and steel bucking spikes.
Price: $579 with two 5.0Ah batteries and a charger.
Best Greenworks Chainsaw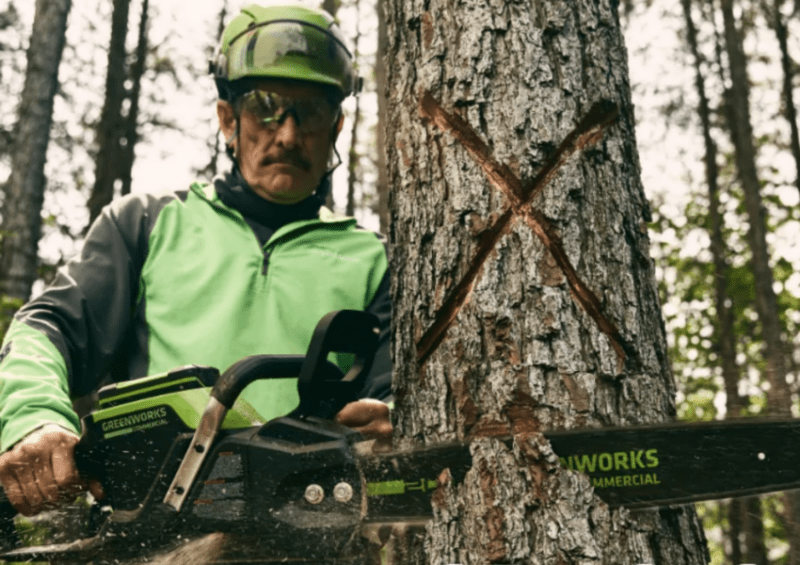 Up front, we have to warn you that the 82CS34 is pricy–and designed for professionals. That said, it landed the best Greenworks chainsaw slot largely because of its power. Especially for a cordless model, this tool is a beast; we simply couldn't resist putting it here.
First, this is a cordless chainsaw with a 20-inch bar. There isn't exactly a surplus of those around–the others that come to mind are the Ryobi RY405011BTL (see below), the DeWalt DCCS677, and the Stihl MSA 300 C-O. And when you pair that bar length with an 82V (4.0Ah) battery, you've got some oomph. We're talking about impressive specs: 65cc gas-equivalent; chain speeds up to 13,000 RPM and 82 fps even under load, and 205 cuts per charge.
This is definitely a commercial-grade tool.
Price: $549.99 (bare)
Best EGO Chainsaw
Okay, when we reviewed the CS1611, there was little question that this tool would end up on a Best Chainsaw list at some point. You can read our review for much greater detail, but we liked several things about this model.
First, the 56V brushless motor gives it more power than previous models. We feel pretty comfortable comparing it to a 40cc engine. Furthermore, the 16-inch bar is a nice in-between length–not too short, not too long–and a good fit for a number of cutting tasks.
EGO also gave this model a reasonable price point, making it a great option for those of you looking for both effective performance and cost.
Price: $249 with battery and charger
Best Ryobi Chainsaw
Ryobi 40V 20-Inch Chainsaw RY405011BTL
As you can probably tell from our Greenworks choice above, we think there's a lot of utility in the 20-inch cordless saws. That includes the RY405011BTL, which touts a brushless 40V motor, powered by an impressive 8.0Ah battery. To put that into context, Ryobi estimates that this chainsaw's output is equivalent to a 50cc engine's.
Put together, its bar length and power give it a cutting capacity of up to 36 inches, so you can use this saw for everything from limbing to felling.
Price: $379 bare
Best DeWalt Chainsaw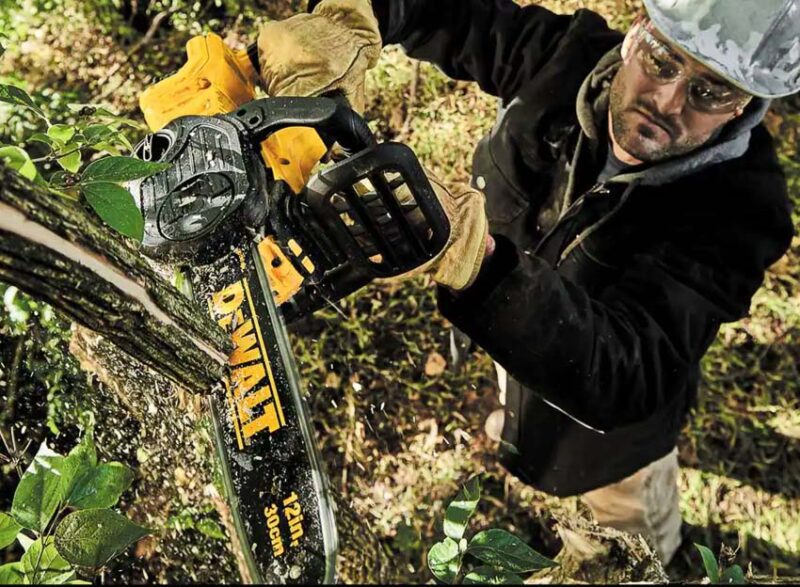 One of the best things about this chainsaw is its versatility, which is part of the reason it's also on our Best Cordless Chainsaws list. We think the DCCS6620 will benefit a wide spectrum of our readership given that it's a good fit whether you're in the yard or on the job site.
With the battery, it's just 9.65 pounds. Moreover, its 12-inch bar is sufficient for a number of tasks, but it helps keep the tool compact and manageable. And, naturally, the fact that it's battery-powered sidesteps any hangups related to cold-starts and carburetor problems.
Price: $249 as a kit; $159 bare
Best Craftsman Chainsaw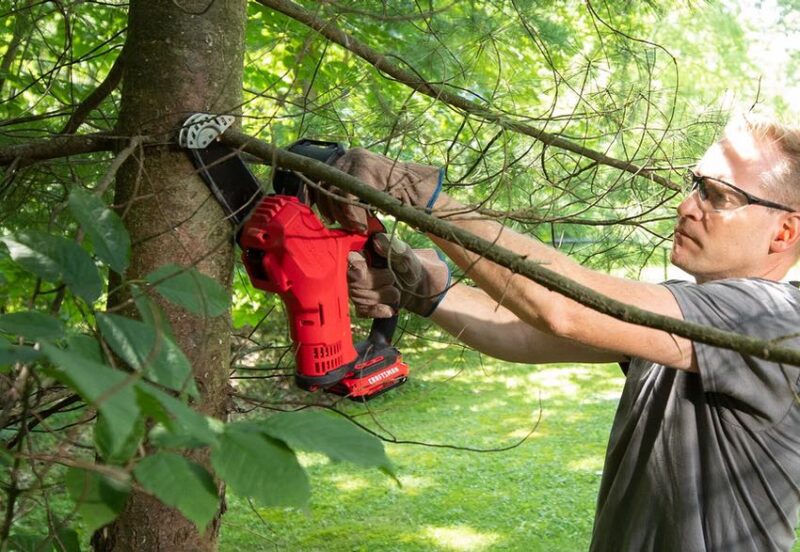 Craftsman has a long history in tools, and we've reviewed quite a few of them. In terms of chainsaws, we think one of their best models is the CMCCS320D1 pruning saw.
The V20 (2.0Ah) battery performs surprisingly well, giving you an estimated 85 cuts per charge. That's while working with 2-inch pine. Also noteworthy is this chainsaw's cutting capacity of up to 4 inches.
Price: $129 with battery and charger
What to Consider When Buying
As with any OPE, buying the right tool is about more than simply learning about the tools themselves. You also have to assess your own needs–material and physical.
Approach this process methodically. Ask yourself a series of questions to help aid you in your quest for the best chainsaw, such as:
Why do you need a chainsaw?
How demanding are your needs?
How often will you use it?
What's your budget?
Do you prefer/need gas or cordless?
Does your municipality restrict gas equipment?
How experienced are you with chainsaws?
Do you have physical limitations (e.g. joint problems, etc.)?
The answers to these questions will help you structure your search, honing your list of suitable models.
Frequently Asked Questions
What's the best bar length?
That depends on what you're cutting. Your bar length is going to dictate how much you can cut. So, if you're running a saw with an 18-inch bar, you can work with wood that's under 18 inches thick. But that's if you cut from one side. Cutting from both sides will double your bar's capacity. For example, an 18-inch bar will give you 36 inches.
Are all chains the same?
No. There are various types of chains. For example, in most cases, you can use a low-profile chain. Because they have shorter cutters, they don't bite as deep as standard chains. However, they are lighter, which makes them particularly good choices for cordless models or saws without much power.
Meanwhile, some models use skip-tooth chains. These types are designed to cut larger pieces of wood, have less drag than other chains, and are less likely to produce kickback.
What do I need to consider when it's time to replace my chain?
When it's time to replace your chain, make sure that you choose one with the same pitch, gauge, length, and link count as your original chain.
Do the chain and saw need to be the same brand?
No. You can purchase a chain from any manufacturer, but, as mentioned above, make sure you keep the same specs.
What is the ideal weight for a chainsaw?
When it comes to weight, our position is usually the lighter, the better. As with most any handheld tool, models that weigh less are more maneuverable. Furthermore, they cause less strain and fatigue.
Nonetheless, we don't want to entirely trade durability for comfort. There are ways to strike a balance. For example, saws with magnesium housings or aluminum front handles can drop weight while remaining durable. In the end, the "ideal" weight is a matter of preference and job type.
Do I need to maintain my chainsaw?
You bet. Maintenance comes in many forms and depends on what platform you're running (gas or electric). But generally speaking, a few of the central tasks include sharpening or replacing your chain, maintaining your bar oiler and levels, tensioning your chain, and keeping an eye on your fuel, air, and oil filters.
We discuss all of these tips and more in our Guide to Chainsaw Maintenance.
What safety precautions should I take when operating a chainsaw?
Let's face it. Chainsaws are dangerous. So, whether you're a homeowner or a Pro, it never hurts to reinforce proven safety practices.
A number of things factor into safety, including the type of work you're doing (e.g. felling trees), the type of chainsaw you're running, and your surroundings (e.g. high up, on the ground, uneven ground, etc.).
But there's a lot more to this topic, and we cover it all in our guide to Chainsaw Safety Tips for Homeowners and Pros.
Why You Can Trust OPE Reviews
Ever check out a "review" site, and you can't tell if they actually tested the tools or if they're just "recommending" the Amazon top sellers?
That's not us. We only recommend what we'd actually use, even if we don't earn a commission from it. It's all about giving you a legitimate recommendation and our honest opinion of each product.
We're an online publication dedicated exclusively to covering outdoor power tools, top-notch equipment reviews, and industry news in technical machine operation, how-to guides, and Pro and residential landscaping and yard maintenance.
Our Pro reviewers have the skills and experience to know whether a product can perform well in the field.
This includes tractors and mowers, string trimmers and edgers, blowers, chainsaws, hedge trimmers, engines, heavy equipment, manual tools, generators, maintenance gear, workwear, safety products, and more.
The OPE Reviews team will put its hands on hundreds of additional tools at media events and trade shows throughout the year. This also includes behind-the-scenes tours of manufacturing plants and testing facilities.
We consult innovators in the technology and design of outdoor tools to gain a broader grasp of where these products fit and how they work.
And this wealth of knowledge and experience is absolutely free.
The end result is information you can trust because of the editorial, scientific, and real-world professional know-how we collectively utilize each and every time we pick up and test outdoor power equipment or research a topic.