The ECHO CS-4010 Helps Homeowners Cut Like Pros
So often, people focus on ECHO's blowers, and with good reason. After all, the brand has long been a trailblazer with such tools, going back to its creation of the world's first backpack blower in 1975 (the ECHO PB-9). Then again, they have quite a history with their chainsaws as well, starting out with their CS-80 in 1963. And today, they're still going strong with models like the ECHO CS-4010.
Here's a tour of what it has and what it can do.
Echo Chainsaw Performance
Model: Echo CS-4010
Power output: 1.9 Kw
Engine displacement: 41.6 cc
Max chain speeds: 24.2 MPS
2-stroke engine
i-30 starter reduces starting effort by up to 30%
An addition to the brand's homeowner chainsaw fleet, the ECHO CS-4010 is the fine-tuned replacement of the CS-400. Its 41.6 cc professional-grade engine produces up to 13% more power than its predecessor, at 1.9 kW of power output.
Moreover, ECHO lists the chain speed at upwards of 24.2 m/s at full throttle.
Also, the design team incorporated some newer technology in the ECHO CS-4010. For example, there's the i-30 starter (one in a series of patented starting systems), which should reduce starting effort by 30%. And according to the peanut gallery here, anything that takes the strain out of a pull system is a welcome feature.
Furthermore, for the environmentalists out there, the manufacturer says that the ECHO CS-4010's stratified 2-stroke engine runs cleaner, producing fewer emissions.
Echo CS-4010 Design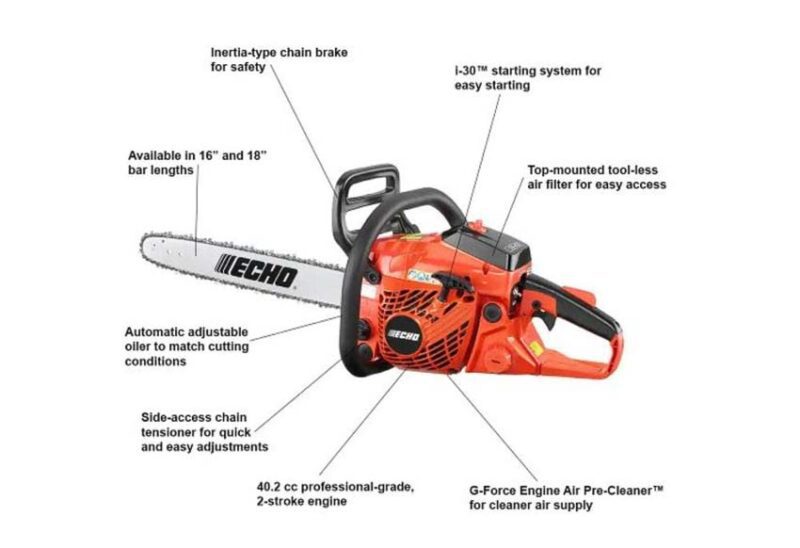 Weight: 9.5 pounds (dry)
Bar length: 16 inches / 18 inches
Rear-handle design
Side-access chain tensioner
Translucent fuel tank
Tool-free oil/fuel caps
G-Force Engine Air Pre-Cleaner reduces engine exposure to dirt and debris
Now, let's take a peek at the ECHO CS-4010's design.
A rear-handle chainsaw, ECHO built this model to be lightweight and maneuverable. Just 9.5 pounds, it's compatible with both 16-inch and 18-inch bars, giving you 14 or 16 inches of cutting capacity respectively.
Convenience factored into the design, as well. For instance, there's a side-access tooled chain tensioner and, equally important, translucent oil and fuel tanks to help you keep track of your levels.
Finally, you have the G-Force Engine Air Pre-Cleaner for less maintenance and longer life.
Echo CS-4010 Price
This ECHO chainsaw retails for $319.99 and comes with 5-year residential and 1-year commercial warranties.
And be sure to check out ECHO's DSC-2500T cordless top-handle chainsaw.