Having written about the best professional chainsaw and the best cordless chainsaw many of our readers keep asking about their favorite brands. Of those, Stihl continuously rises to the top of our lists (of requests). Many of our professional reviewers use several of these saws in their work. We wanted to give our recommendations on the best Stihl chainsaw based on our reviews and collected experiences.
For the best results, identify exactly what you need a Stihl chainsaw for—and then read through this guide to get our thoughts and recommendations.
Stihl Chainsaw Evaluation Methods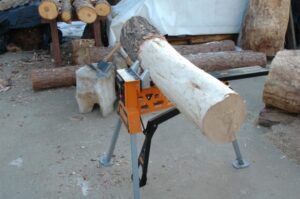 We have extensive experience testing chainsaws on various types of wood, including pine, cedar, oak, and more. Our tests have covered a range of tasks. These include limbing small branches, felling trees with diameters of up to 3 feet, and removing debris after hurricanes.
When testing chainsaws, we prefer—whenever possible—to test them by cutting through green (wet) wood, as this is what they are designed for, rather than dried construction lumber.
Chainsaw Cutting Power
The size of the motor plays a significant role in a chainsaw's power potential. However, practical testing also plays an important role. We base our recommendations on either our own experience using these saws or careful research into the feedback of professionals on their specific uses and experiences.
In addition, smart systems that monitor fuel and oxygen levels and keep the chainsaw running efficiently even when the filters become clogged can enhance power. In some cases, a 55cc chainsaw from a particular brand may outperform other chainsaws with larger engines once you start making cuts. Testing a chainsaw in both real-world and controlled scenarios helps us thoroughly evaluate its performance.
Matching Chains to Reduce Bias
In order to eliminate bias in our comparative testing of chainsaws, we use the same type of chain across all the saws. The type of chain can impact various aspects of a chainsaw's performance. From the speed of the cut (perceived power) to chip clearing, vibration, and the risk of kickback—we want an even playing field. You can also observe these differences when using different types of chains in your own chainsaw.
The Best Stihl Chainsaw Features We Look For
Ease of Starting
Stihl chainsaws that do not rely on battery power utilize a two-cycle fuel system, which necessitates manual pulling in order to start the saw. If a Stihl chainsaw exhibits slow starting or an extended process is required to get it running, it may need to be taken to a dealer for servicing. While professional users of these saws typically have no problems with rapid starting, those who require the ability to turn the chainsaw on and off frequently may find the Stihl EFI models to be a more convenient choice, albeit at a higher cost.
Chain Adjustment
It is necessary to adjust the chainsaw bar almost every time the saw is used, as a new chain tends to stretch quickly. It is important to tighten the chain several times as it breaks in. If the chain becomes tight unexpectedly, it is likely that the bar is not receiving enough oil. Before attempting to loosen the chain, check to ensure that the saw is properly lubricating the bar.
Pro Tip: Make it a regular habit to loosen your chain at the end of the day. Using a chainsaw in cold weather can cause the chain to tighten as the tool cools after you put it up. This can cause premature wear and even damage parts.
Professional-grade chainsaw bars require a specialized tool called a scrench, which combines the functions of a screwdriver and a wrench. None of the chainsaws we recommend for professional use have tool-free tensioners, as they are not favored by professionals (or by us) for this type of use. Many tool-free tensioners tend to slip more easily and can cause issues over the long term.
Hold Onto Your Nuts!
It's not uncommon for bar nuts to come loose and get misplaced when using chainsaws in the field. Some tools use captive (retained) nuts to prevent this from happening. Both Stihl and Husqvarna chainsaws often have this feature while Echo chainsaws tend to lack it. To be prepared for any eventuality, we recommend keeping a few screnches in your truck or trailer.
Pro Tip: Keep a spare nut on hand in case you lose one in the field.
Bars and Chains
Most manufacturers of chainsaws don't make their own bars and chains. We observed one notable exception on a visit to see how Stihl makes chainsaw guide bars. Instead, they typically use bars and chains made by Oregon. In our testing, we have found that most chainsaws use 3/8″ pitch, 0.050″ gauge chains. However, some saws may use .325-inch pitch chains designed to cut more quickly.
Oiling Systems
Bar and chain oil is critical for the effective operation and longevity of a professional chainsaw. Without adequate lubrication, the saw will not function optimally and will likely have a shorter lifespan. During our testing, we noted that most saws were able to apply oil effectively, and we appreciated any features that helped to prevent or reduce leaks.
We also assessed the visibility of the oil level, recognizing that even the most transparent oil windows can quickly become dirty, rendering them difficult to use for their intended purpose. This is especially true for tiny windows that make it difficult to see much.
Ease of Filling Matters
The size of the oil reservoir and the ease of adding new oil are important considerations when using a chainsaw frequently, as we do with our Stihl chainsaws. These factors can make the task of adding oil much more convenient. We prefer oil caps with lugs that can be easily turned with gloves on or flip-up tabs that provide a secure grip, as this allows us to refill the tank without having to remove our work gloves and get our hands oily.
Spills & More Spills
Spills during the oil refilling process can also be caused by a narrow filler neck on the chainsaw's oil tank. Bar and chain oil can behave a lot like molasses in the cold. That makes it more prone to piling up and overflowing. Additionally, plastic filters at the inlet of the tank can restrict the diameter. Finally, we avoid caps that seem prone to cross-threading. That can make a regular maintenance task like filling the oil tank quite frustrating.
Tips to Avoid Leaking or Spilling Oil
To avoid making a mess when using a chainsaw, try poking a small hole in the foil sealing the oil bottle. Alternatively, you could use a syrup bottle with a tapered, pull-to-open tip. This lets you pour a thin stream of oil during filling.
You can then use the tip to stop the flow with one hand while steadying the saw with the other. Just make sure to clean the bottle out first! It's also worth noting that some chainsaws are prone to leaking oil due to the expansion and contraction of the plastic tank due to daily temperature changes.
Chain Brake and Other Safety Features
When evaluating chain brakes and safety trigger locks on chainsaws, consider their ease of use and effectiveness. Most chain brakes are reliable, but you want to make sure they extend high enough to be easily activated during a kickback event.
We also look for the placement and feel of the safety trigger lock. It should be easy to use without getting in the way of natural hand positioning. Echo's trigger lock is known for being particularly easy to replace, but it's not clear if that's a positive or negative feature!
Other factors to consider when evaluating chainsaws include the position of the handguards and the chain catch pin—typically quite reliable on most models.
Bucking Spikes
Chainsaws are equipped with bucking spikes, also known as bumper spikes, felling spikes, or dogs. These aid in more efficient cutting through trees and logs. Located alongside the bar, these steel spikes help anchor the saw in place as you pivot the guide bar through the cut.
By using the spikes to apply a lifting motion with your rear hand instead of pushing downward, you can hold the saw tight to the wood and allow the motor to utilize its maximum pulling power. This technique helps reduce cutting vibrations and the jerking that can occur when holding the saw away from the work.
Leveraging the spikes also adds control—just avoid applying too much pressure, as this can cause the chainsaw to stall. Yes, even saws powered by gas!
Chainsaw Ergonomics
Balance
While the comfort and feel of any tool remain subjective, certain designs simply feel better than others. Most professionals and seasoned homeowners can discern the difference. Better-designed chainsaws can simply create a better user experience for pros and homeowners alike.
When it comes to chainsaws, Stihl earned their reputation by creating powerful saws that feel well-balanced. A solid chainsaw should cut straight without inducing a twisting motion and shouldn't put undue stress on either the front grip or rear hand during use. It should be effortless to pivot the saw on the bucking spikes while cutting larger trees.
While a front-heavy saw is acceptable, a rear-heavy saw raises the cutting end of the saw towards you. That requires more work to both use and carry it safely.
Handles
Chainsaws with thicker handles are generally more comfortable to hold during use because the broad, rounded edges of the handles provide a softer contact surface for the hand. Rubber handle surfaces also improve comfort and grip.
Interestingly, the grip on Stihl, Husqvarna, and Echo professional chainsaws is quite similar. Husqvarna has little to no rubber overmold on the handle, while Echo has textured plastic. Stihl has some overmold on the back of the handle, which is a nice feature.
Both Stihl and Husqvarna have a stop to prevent the user from sliding up in the decoupled portion of the handle, where vibration control is located.
Trigger Comfort
Professional chainsaw triggers are typically large enough to accommodate two fingers. Some have an extended trigger with additional space for a comfortable grip. The most comfortable triggers fold flush into the handle, rather than stay raised when activated.
Weight
The dry weight of the top professional chainsaws can vary from a minimum of 6 pounds to a maximum of 16 pounds or more. In reality, the overall balance of the saw is more critical than the weight, as the full weight is only noticeable when carrying the tool.
Best Stihl Chainsaw Overall – Our #1 Pick
Stihl MS 261 C-M Chainsaw (Also the Best Stihl Chainsaw for the Money)
The Stihl MS 261 C-M chainsaw is made in the United States and features fuel efficiency and low exhaust emissions like the MS 261 model. It also has the M-Tronic engine management system, which uses a small computer to make adjustments on-the-fly. For example, it automatically adjusts the fuel mixture based on factors like elevation, temperature, and fuel quality. It even compensates for the lack of air due to dirty air filters. When we tested the MS 261 C-M, it did an above-average job of maintaining its chain speed—even when the air filter was almost clogged.
This strong and reliable saw can handle a variety of felling, limbing, and other wood-cutting tasks with guide bar options ranging from 16 to 20 inches. You can purchase the Stihl MS 261 for less than $700—an excellent value for the performance it delivers.
Best Pro Stihl Chainsaw
Stihl MS 271 Farm Boss Chainsaw
Some people may not consider the "Farm Boss" line from Stihl to be professional grade, but we believe this to be an exception. The company has made significant improvements to the line in recent years, starting with the release of the MS 271 in 2011. In 2015, the MS 271 was given the prestigious "BOSS" designation, effectively replacing the popular MS 270 chainsaw.
One of the major updates to the MS 271 was the addition of a pre-separation air filtration system. This helped reduce emissions by 50% and extend the life of the air filter by five times. Stihl continues to experiment with its air filter systems, creating chainsaws that can run for longer periods of time without experiencing a loss in performance. That holds true even when the air filter becomes clogged. You can buy the MS 271 Farm Boss for around $420.
Best Stihl Chainsaw for Homeowners
Stihl MS 250
For homeowners, the Stihl MS 250 chainsaw really fits the bill. The MS 251 CB-E is a chainsaw that offers a powerful cutting experience at an accessible price point for homeowners. It comes equipped with an 18-inch chain and features a mix of professional-grade elements and cost-saving measures.
One example of this is the tool-free chain tensioner, which some users may like. Others may prefer the side-access bar wrench adjustment. The MS 251 also emphasizes fuel efficiency, although some users may prioritize a stronger cut and additional features. This chainsaw retails for around $350.
Best Stihl Battery-Powered Chainsaw
Stihl manufacturers more than a couple of battery-powered chainsaws, giving users some choices. In fact, the company sells more than six different models. Of those, we really prefer the Stihl MSA 220 C-B . It excels in both power and runtime, operating for more than 40 minutes using an AP 300 S battery pack. You can also change the bar from the default 16-inch down to a 14-inch bar if you want to optimize runtime over capacity.
The saw retails for around $419 as a bare tool and includes a 2-year commercial or 3-year residential warranty.
Best Stihl Top Handle Chainsaw
Stihl MS 201 TC-M
The Stihl MS 201 TC-M is a lightweight chainsaw with a powerful 35.2cc engine. It was released in 2015 and features the M-Tronic engine management system, which automatically adjusts the fuel mixture as needed for efficient performance with low emissions. This saw is designed with low vibration and excellent balance, making it easy to handle, especially when climbing. It also has convenient, tool-free access to the gas and oil caps, as well as a translucent tank to easily check fuel levels.
The MS 201 TC-M starts around $809.99, depending on the size of the bar. It supports, 12″, 14″, and 16″ lengths.
Best Stihl Chainsaw for Cutting Trees or Farm Use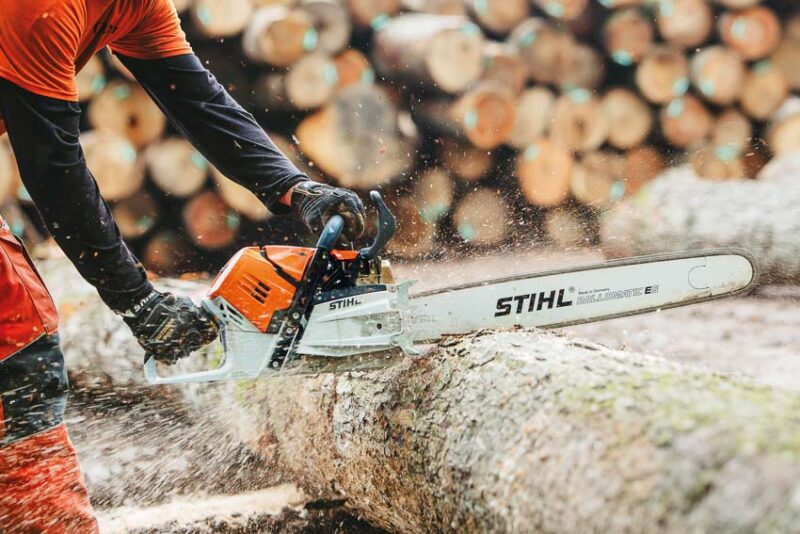 The Stihl MS 500i chainsaw is a powerful tool designed for serious tree-cutting. It features a 79cc (4.83 cu. in.) engine with an electronic fuel injector. Stihl also features this in the TS 500i 14-inch brushless cut-off saw. The MS 500i provides quick acceleration for efficient tree cutting. The high power-to-weight ratio delivers a maximum output of 6.7 bhp and a weight of 13.9 lbs. without fuel. It also has no choke, making it easy to start.
You can pick up this chainsaw for around $1,350 and is built to last for many years with proper maintenance.
The Best Stihl Chainsaw for Cutting Firewood
MS 261 C-M
The Stihl MS 261 C-M is our top recommendation for the best Stihl chainsaw for cutting firewood. It features the M-Tronic engine management system. This automatically adjusts the fuel mix to ensure reliable performance, no matter what you're cutting or where you use the saw. Stihl also makes this saw in the USA.
In our testing, the MS 261 C-M handled even heavily clogged air filters without issue. You can typically find this saw for under $700.
Best Stihl Chainsaw for Milling
MS 881 Magnum Chainsaw (up to 41″ bar)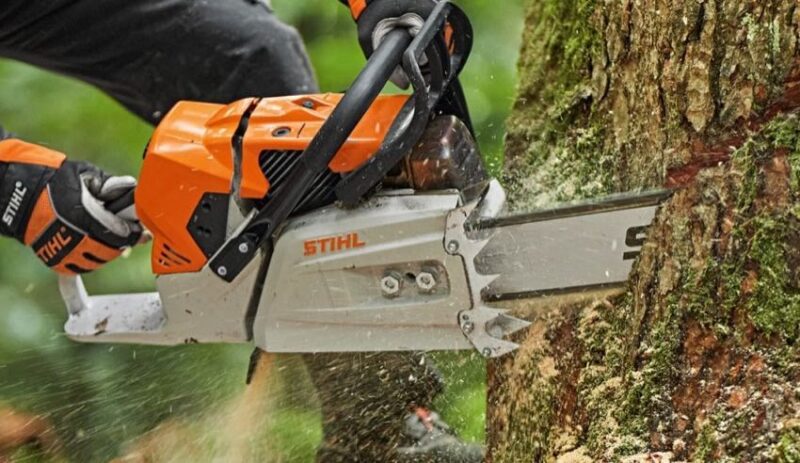 The Stihl MS 881 Magnum chainsaw is the largest model currently offered by the company. It replaces the popular MS 880. It has a 121.6cc engine and supports up to a 41-inch bar. It's worth noting that the MS 880 used to support bar lengths up to 59 inches. Stihl no longer makes these available as stock or build-to-order options on its website, so check with your local dealer.
The MS 881 has reduced emissions and works well for a range of tasks. That includes forestry, logging, and milling. It offers a great balance of power and control. Pick it up for around $2210.
Best Stihl Chainsaw for Carving
Stihl Carving E bar on an MS 194 C-E
The Stihl MS 194 C-E chainsaw, with its rear handle design, is a popular choice among professional and amateur carvers. You can equip this lightweight saw with a 10- or 12-inch Carving E bar for a good balance of power and control.
This saw is reasonably priced at around $460 and is known for its reliability.
Best Stihl Chainsaw Chain
Stihl is the only chainsaw manufacturer that produces its own guide bars and saw chains. The company has a facility in Waiblingen, Germany for producing guide bars and a facility in Switzerland for manufacturing saw chains. Stihl also has a large production campus in Virginia Beach. The company's longer Rollomatic E Super Guide Bars feature an angled oil delivery hole. This improves oil flow to the saw chain. All Stihl chains are pre-stretched before they leave the factory.
There are many options to choose from when it comes to Stihl chains, with over a dozen different types available. For general use, the Rapid Micro Comfort 3 chain offers low chatter and reduced kickback. It also delivers smooth cutting and low vibration. The Pico Duro chain features carbide-tipped technology and stays sharp for longer periods of time.
If you want more speed and fewer teeth that need sharpening, the Rapid Micro skip-tooth blade may be a good choice, particularly for basic tree felling.
Why You Can Trust OPE Reviews
Have you ever read a "review" site and found that you couldn't tell if they actually tested the tools or if they were just "recommending" the top Amazon sellers? That's not us. We won't recommend anything unless we'd actually use it ourselves—and we don't really care who the primary retailer is. It's all about giving you a legitimate recommendation and our honest opinion of each product.
We've been in business since 2016 covering outdoor power equipment, writing reviews, and reporting on industry news in the landscaping, heavy equipment, and lawn care industries. Our Pro reviewers have lots of experience in these fields as well as the skills and experience to know whether these products can perform well on the job.
Each year, our team reviews and gets their hands on hundreds of additional landscaping tools and equipment at our shop and at media events and trade shows.
We work with dozens of professionals around the United States who review products for us on real job sites and consult with us on testing methods, categories, and weighting.
We'll provide hundreds of pieces of new content this year absolutely free for our readers—including objective evaluations of lawn care tools, products, and accessories.
The end result is information you can trust because of the editorial, scientific, and real-world professional experience we collectively utilize each and every time we pick up and test a product.