In a previous review and the best-of list where it later appeared, we touched on the topic of performance grades. Specifically, we discussed how some models these days straddle the Prosumer and Pro classes. This trait encompasses all outdoor power equipment, including chainsaws like the 20-inch Stihl Farm Boss.
So, let's explore this tool's features and design elements, and you can decide where it belongs.
The MS 271 made our Best Stihl Chainsaw Reviews and Best Professional Chainsaw Reviews lists. Check them out!
Stihl Farm Boss Chainsaw Features
Stihl first released the MS 271 chainsaw line in 2011, but it wasn't until 2015 that the company awarded it the title of "Boss." In its rise to prestige, this tool replaced the brand's MS 270 model.
At the heart of this 20-inch saw is a powerful 50.2cc 2-cycle engine, which has some advantages beyond power. Indeed, Stihl tells us that this upgrade boasts 20% longer runtimes between refuelings. Furthermore, its exhaust emissions are half those of the MS 270.
Getting the most out of your chainsaw includes adopting solid safety practices. Explore our guide to Chainsaw Safety Tips for Homeowners and Pros.
Specs
Model: Stihl MS 271
Engine: 50.2cc, 2 cycle
Bar Length: 20 in
Tension Adjustment: Manual
Chain brake
Anit-vibration handle
Powerhead weight: 12.3 lbs
Another notable upgrade to the 20-inch Stihl Farm Boss chainsaw is the addition of a pre-separation air filtration system. This helps reduce emissions by 50% and, generally speaking, extends the life of the air filter by five times. Moreover, it doubles the time between air filter cleanings.
In our opinion, these are professional-grade performance features.
And according to Stihl, their team continues to experiment with its air filter systems. The goal is to produce chainsaws that run longer without experiencing performance loss. That goes for clogged filters as well.
Stihl Farm Boss Chainsaw Design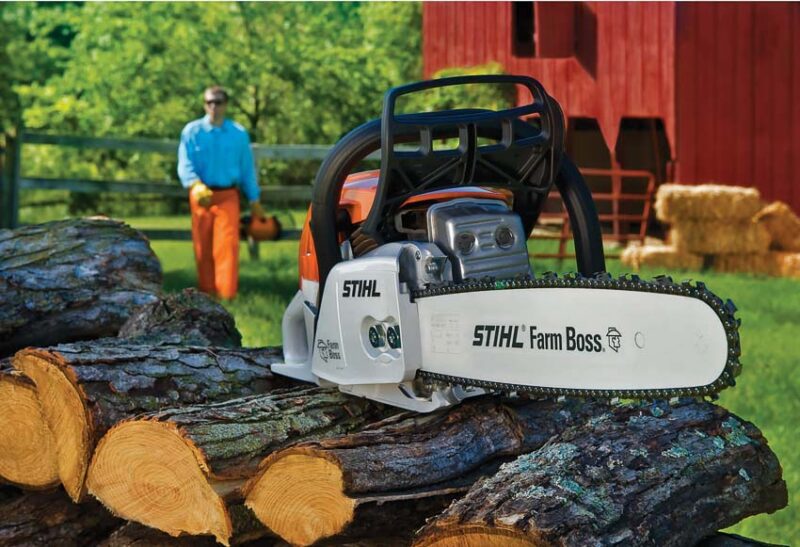 Several design features distinguish the MS 271, which is part of the reason we think this tool leans towards the professional side.
First, long durations of work raise the concern of fatigue. That's why Stihl included design elements like an anti-vibration handle.
Finally, there's the matter of efficiency. At the Prosumer and light-commercial level, time savers are more than conveniences. They're assets.
So, it's nice to see chainsaw features like the Stihl Farm Boss's side-access chain tensioner, which makes it easier for the user to adjust the chain with a bar wrench. That's compared to the typical location of the guide bar adjustment screw.
Stihl 20-Inch MS 271 Price
This Stihl Farm Boss chainsaw retails for $479.99.