When we began testing the best cordless chainsaws (or, really, battery-powered chainsaws) we wanted to understand who offered the best power, the most convenience, the best ergonomics, and more. It wasn't too long ago that only a few manufacturers even made cordless chainsaws. Of those, only a couple offered noteworthy performance and could be considered replacements for gas tools.
Today, the best cordless chainsaws meet or even surpass the power of many gas saws. Further, manufacturers are making models with bars up to 20-inches in length! At that size and power, battery power is becoming a reality for those looking to grab emissions-free solutions for their farm and ranch chainsaws!
What We Look for in the Best Cordless Chainsaws
Performance and Runtime
Brushless motors join advanced electronics and batteries to deliver much more powerful tools than ever before. The best battery-powered cordless chainsaw needs to do more than simply operate off higher voltage batteries. It needs to have ample cutting speed and enough torque to cut through hardwoods.
Ideally, a battery-powered chainsaw balances cutting speed and power with enough runtime to complete the job. Batteries with higher amp-hour ratings help you work longer. With faster charging times and batteries with higher-density cells and more capacity, cordless chainsaws are quickly catching up to gas in small top-handle and mid-size models.
In fact, given how quickly some of these batteries recharge, a couple of batteries and a fast charger can keep you cutting nearly all day long depending upon the work.
Look for Convenient Triggers and Controls
With gas chainsaws, you start them, turn off the brake and pull the trigger to get to work. With cordless chainsaws that run on batteries, you need some kind of additional safety before it fires up that chain. That usually takes the form of an auxiliary trigger that you grasp alongside the main trigger. We also like more comfortable two-finger main triggers.
In either case, the intent is to prevent accidental startups when you're just grasping the tool. We like to see cordless chainsaws with a well-designed safety trigger mechanism. What we don't want, however, is something that feels clunky or causes us to have to use or grasp the saw in a way that doesn't feel natural.
Some cordless chainsaws feature an electronic switch that puts the saw into ready-mode. Then, picking up the tool naturally (activating both the trigger and the handle-mounted safety switch) is enough to get it started. You just have to understand how long it takes for the automatic timeout feature works. After that, you need to reactivate the tool using the electronic switch.
Easy and Consistent Chain Tensioning
Every chainsaw—both gas and battery-powered—needs a way to adjust the chain tension. This typically happens each time you use a saw—especially after replacing the chain. Professionals prefer manual adjustment by a wide margin.
Pro Tip: Make a habit of loosening up the chainsaw chain when you finish your work. Since the chain heats up and expands as it works, leaving it tight when it cools down can cause premature stretching and wear as it contracts.
Some cordless chainsaws use a tool-free chain tensioning adjustment to move the bar forward and back. These work, but not as well as a manual system. A Pro-level saw won't use a tool-free tensioner. Instead, it will require a scrench—an aptly-named hybrid tool that combines a screwdriver and wrench. You've also hit the jackpot if your saw provides onboard storage for this tool.
Even better are manual chain tensioning systems that use capture nuts that don't fall off when you loosen them up. This makes replacing the chain and tightening the chain to the bar a much easier task. If your saw doesn't feature captured nuts, keep a spare one handy—you'll likely need it at some point.
Pro Tip: Always alternate when tightening dual chain tensioning nuts.
Oregon Bars and Chains
With the notable exception of Stihl, most chainsaw manufacturers don't make their own bars and chains. Instead, many use quality products from Oregon. Of the best cordless chainsaws we've tested to date, a large majority use a 3/8-in. pitch, 0.043-in. gauge chain. Some bigger models may use a larger 0.050-in. gauge chain.
Oiling Systems That Work
No chainsaw—be it gas or battery-powered can (or should) run for long without chain oil. Look for a large enough oil tank for storing the chain lubricant and a translucent window for checking your level. You don't want to run out while using the saw. For those new to using chainsaws, plan to check the oil level every hour or between uses—whichever comes first.
We also like to see oil caps that come off easily while wearing gloves. We like flip-up tabs that provide extra grip or anything that otherwise makes it convenient to remove that cap as needed.
Also, while most cordless chainsaws feature ample oil reservoirs and oiling systems, nearly all of them leak…badly. If a saw eventually stops keeping the chain well-oiled even though it isn't empty, give it a good cleaning and you'll likely clear out a blocked port.
Oil leaks happen for a variety of reasons and seem to be par for the course. Use a piece of cardboard if you want to protect the surface underneath where you store your cordless chainsaw. Any manufacturer or brand that makes a cordless chainsaw that doesn't leak oil when you set it down will score a lot of points in our book!
Do You Want Metal or Plastic Bucking Spikes?
Bucking spikes let a chainsaw get leverage on wood while making a cut. After starting the cut and getting far enough to let the spikes dig in, you can lift your rear hand instead of pushing downward. Holding the saw tight to the wood, the motor can exert its maximum pulling power. This saves you from some of the vibrations due to cutting as well.
On battery-powered or cordless chainsaws, many manufacturers use shallow plastic bucking spikes instead of metal. While this increases the usable length of the chainsaw bar, it reduces the leverage. We prefer metal bucking spikes regardless of the power supply.
Pro Tip: You get more control when using the bucking spikes. Listen to the pitch of the motor to keep from stalling the saw. You can overload both gas and battery chainsaws by applying too much pressure during a cut.
The Best Cordless Chainsaws Have Good Balance and Weight
While subjective, we care a lot about the balance and weight of a cordless chainsaw. Some designs do a better job than others. Much of this has to do with the location of the battery and rear handle.
The best cordless chainsaws let you make straight cuts without leaning to one side or the other. They also naturally fall into the material you're cutting instead of forcing you to apply pressure to the front of the saw.
We like to test balance and weight by holding the cordless chainsaw's front handle in the left hand. In this position, the saw should self-balance. If the saw leans forward a bit—that's OK. However, a rear-heavy saw indicates you need to apply additional effort when making cuts.
With respect to weight, even the best battery chainsaws can tip the scales at over 15 lbs. Balance trumps weight, however, since you only really feel the weight as you lift the saw from one cut to the next.
Since both batteries and bar length contribute the most to weight, more powerful saws with larger battery packs end up being the heaviest tools.
Batteries and Voltage
Typically, larger capacity batteries provide the maximum power a cordless chainsaw needs for optimal performance. At times, however, you may benefit from a smaller battery if you only plan to do work on smaller limbs.
We've seen some of the best cordless chainsaws running on 18V/20V batteries thanks to better and more powerful battery cell technology. Still, 36V and higher chainsaws dominate the field and require less current (amps) to get the job done. Consequently, they tend to run cooler and with less stress on the batteries.
Keep in mind that brands advertise either nominal or "Max" voltages. That means the following tools use the same exact voltages in their batteries:
18V Nominal = 20V Max (5 cells)
36V Nominal = 40V Max (10 cells)
50.4V Nominal = 56V Max (14 cells)
54V Nominal = 60V Max (15 cells)
72V Nominal = 80V Max (20 cells)
To complicate things, these batteries can use multiple groups of cells in parallel to create additional battery storage and runtime.
Best Battery-Powered Chainsaw for Pros
Pros have more options than ever before and as of Spring 2022, that includes 20-inch cordless chainsaws. Of the three available, Sithl earns our pick as the best battery-powered chainsaw for professionals in a tight battle (DeWalt and Greenworks Commercial also have 20-inch models this year).
Stihl is introducing the AP 500 S battery along with the saw, giving the MSA 300 C-O an advanced power source to pull high performance from. Where it pulls away from the pack is intelligence. The saw has 3 performance settings so you have options when you want to prioritize runtime over power. It also has an LED screen that displays power status, mode, chain brake position, and has a low oil alert. For those of you managing inventory, it's also Smart Connector A 2 compatible.
Retail Price: $910–$940 (tool only)
Best Cordless Chainsaw for Home Use
In choosing the best battery chainsaw for home use, we didn't want to sacrifice the power we enjoy from our professional saws. While there are a lot of options available, we tend to get the best balance of performance and weight in the 60V class.
Moving to an 18-inch bar, we put the EGO CS1800 on the top of the charts. It has excellent power and there's plenty of runtime with available batteries up to 10.0Ah (a 5.0Ah pack comes in the kit).
In addition to its performance, EGO's auto-tensioning system makes it super-easy to adjust the chain tension and access the bar and chain without the use of additional tools. There's even an LED to help with post-storm cleanup when the power's out and you can't wait for sunrise.
Price: $259 bare, $349 with 5.0Ah battery and charger
Most Powerful Cordless Chainsaw
Greenworks Commercial 82CS34 82V 20-inch Chainsaw
In late 2021 at GIE, DeWalt, Geenworks Commercial, and Stihl all announced new 20-inch battery-powered chainsaws with the power to take on the farm and ranch class. All three also claimed to have the most power and as the dust settled, Greenworks Commercial's had the highest-rated power.
The caveat here is that we haven't been able to fully test these saws yet. They're too new. We got our hands on them at GIE, though, and no matter which one you choose, you're in for a treat! Once we get a chance to use it for a more thorough test, we'll be sure to share our experience. Learn more at the links below.
Greenworks Commercial 20-Inch Chainsaw
Best Battery Top Handle Chainsaw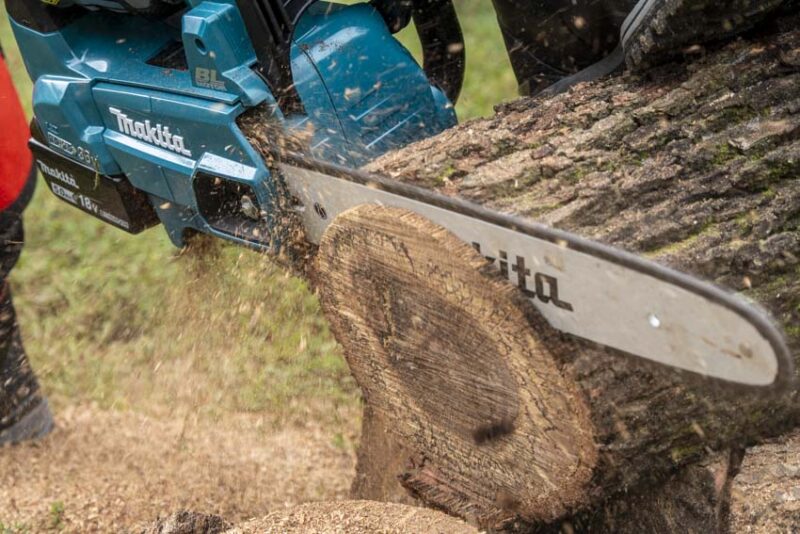 Top handle chainsaws are an arborist's and lineman's best friend. The differences in design give these saws a very different feel while you're cutting and we generally only recommend them for experienced chainsaw users.
Our choice for the best battery top handle chainsaw is the Makita XCU08. It's a legitimate gas replacement that has the muscle to hang with traditional names such as Stihl and Husqvarna. The best part is that it comes in with a lower price tag.
The saw comes stock with a 14-inch bar, but you can also order the XCU09 if you want the same saw with a 16-inch bar instead.
Price: $339 bare, $449 with two 5.0Ah batteries and charger
Best Battery Pole Saw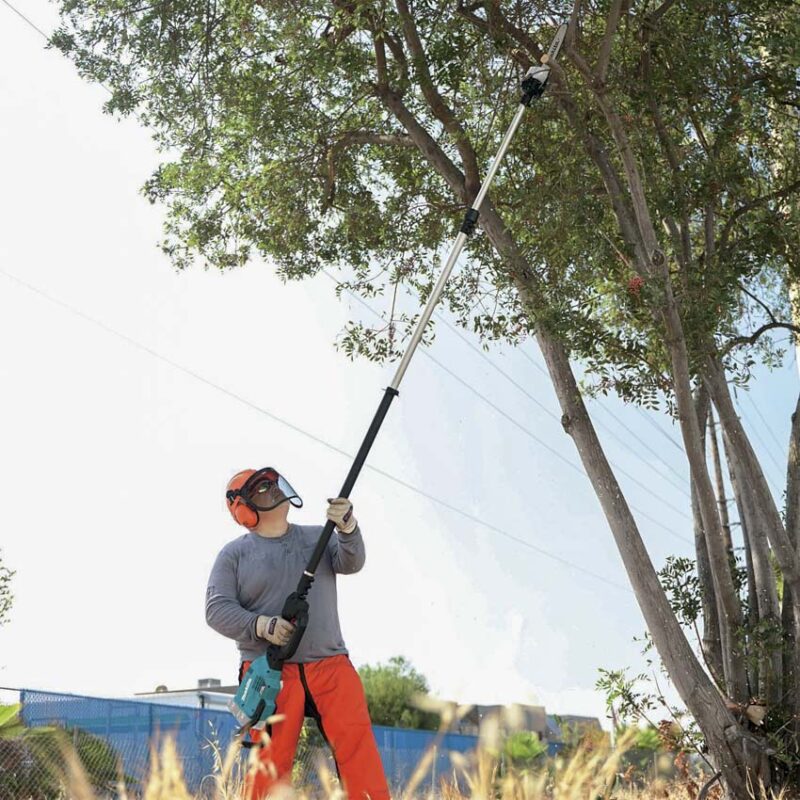 When it comes to the best battery pole saw, multi-head systems are an excellent platform. However, most professional crews prefer dedicated tools to attachment systems. If that sounds like you, check out Makita's XAU02. It's a 9- to 13-foot telescoping system that reaches significantly higher than most of its competition.
Its performance is impressive, using two 18V batteries with its 10-inch bar to cut at speeds up to 3940 fpm (20.0 meters per second). In terms of overall power, it's the equivalent of a 30cc gas engine, and Makita's internal testing shows it cutting faster than a 31.4cc gas competitor.
What helps set this model apart is a torque boost mode. You can do most of your cutting on a battery-saving standard setting and then kick it up to full power for thicker or harder braches.
Price: $499 bare
Best Small Battery-Powered Chainsaw
Choosing the best small cordless chainsaw isn't just a matter of choosing something lightweight with a 10- or 12-inch bar anymore. The introduction of battery pruners with a 4- to 6- inch bar and chain ups the ante. So we picked one of each for you.
DeWalt 20V Max Compact Cordless Chainsaw DCCS620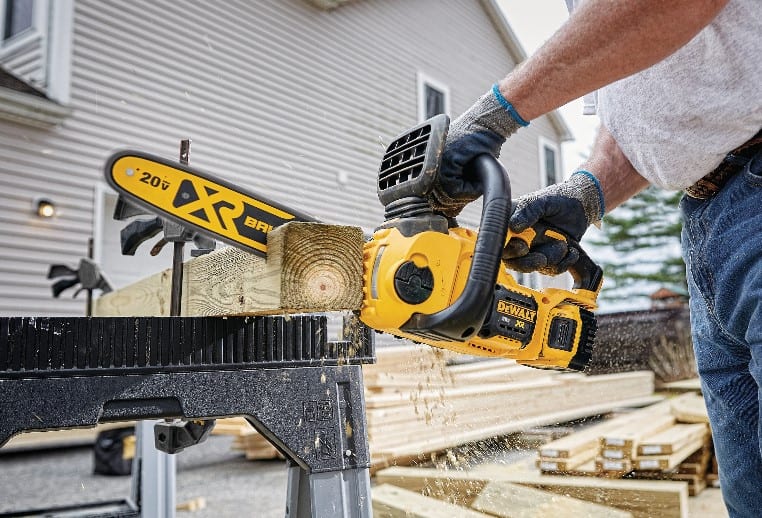 DeWalt launched a line of light-duty OPE for its popular 20V Max platform as a way to give contractors the ability to clear jobsites using the batteries they already have. Those same OPE tools are great for homeowners that need occasional or limited-use equipment.
The name says it all: DeWalt's 20V Max compact cordless chainsaw features a highly-manageable 12-inch bar and chain that works with one of the deepest lines of cordless power tools available. For dedicated lawn care, you might look to the FlexVolt 60V Max line, but this saw is just right for limbing and light felling around your home.
Price: $179 bare, $249 kit with 5.0Ah battery and charger
Best Battery Pruner
As the only current member of Milwaukee's OPE line to use the M12 battery platform, the M12 Fuel Hatchet does a couple of things better than its limited competition.
First of all, we like that it's a 6-inch bar and chain rather than 4-inch. Even though it's only 2 more inches, it gets you into cutting branches you might normally turn to a heavier standard-form chainsaw for.
We also like that this model has an auto-oiler, something that's missing on Stihl's model. Combined, this makes it the best cordless chainsaw for those looking for a truly compact pruning tool.
Price: $189 bare, $269 with 4.0Ah battery and charger
Best Value Cordless Chainsaw
Greenworks 60V Pro 16-Inch Battery-Powered Chainsaw C60L212
We were thrilled with the performance improvement in Greenworks' 2nd-generation 60V Pro chainsaw. Capable of cutting faster than 42cc gas saws, it's a fantastic all-around chainsaw for property maintenance and storm cleanup.
In addition to its higher performance, it has a more professional-grade feel with metal bucking spikes, dual captured bar nuts, and excellent balance. If your priorities include getting a lot of bang for your buck, this is the chainsaw for you!
Price: $229.99 bare, $299.99 with 2.5Ah battery and charger
Best Budget Battery-Powered Chainsaw
Just because you're on a sub-$200 budget doesn't mean you can't get a quality brushless chainsaw. Skil's PWRCore 40 system includes a 14-inch brushless chainsaw that finds an excellent balance between performance, design, and price.
We tested this saw cutting oak and it did an excellent job of confidently melting through branches up to 12 inches thick. With auto-oiling and a tool-free chain adjustment system, it's very easy to use as well. Best of all, the kit is just $199.99.
Price: $199.99 with 2.5Ah battery and charger
See Also: Can battery power cut it? Read our article: Why use a battery-powered chainsaw
More Recommendations from Brands We Trust
Without a doubt, DeWalt's 60V Max 20-inch cordless chainsaw (DCCS677) is the best model in Yellow's lineup. As one of three battery-powered 20-inch chainsaws announced launching in the spring of 2022, it's in a very elite class.
In designing the saw, DeWalt's development team used the largest brushless motor in any tool they have, period. Along with a list of features that verify its professional pedigree, it's also the first DeWalt chainsaw to come with a case.
Price: $349 bare, $449 with 4.012.0Ah battery and charger, $499 with 5.0/15.0Ah battery and charger
Best Hart Battery-Powered Chainsaw
Hart makes a strong statement with its 16-inch brushless chainsaw (HLCS021). For starters, a 16-inch chainsaw is no joke—you need a stronger motor than most DIY saws use.
A 360° tour around this model reveals a big step forward for Hart. Dual bar nuts are a nod to Pro-style design while the scrench conveniently stores on the handle. There's an automatic oiler and the saw comes with a hard plastic case for storage. Overall, this is a much more capable cordless chainsaw than we saw from Hart's initial offerings.
Price: $274 with a 4.0Ah battery and fast charger
Best Echo Cordless Chainsaw
Echo is moving away from its original cordless line to a new 56V Force system (the two systems are not compatible). Along with the initial launch, there are two chainsaw offerings: a homeowner-grade 18-inch model and a Pro-focused 12-inch top handle.
The top handle is our choice as the best Echo battery-powered chainsaw. As part of the X-Series, the DCS-2500T oozes professional design. It starts with a muscular brushless motor and builds out the drop protection (including a quickdraw harness ring) you expect from a professional gas top handle saw. It's definitely not your least expensive top-handle option, but it is designed with the demands of professional tree care use in mind.
Price: $429.99 bare, $499.99 kit with 2.5Ah battery and charger
In the end, Husqvarna's 540i XP is one of the best cordless chainsaws for professionals. Though not as powerful as the Greenworks Commercial 82V, its balance of 40cc power and weight makes it an excellent all-rounder for cordless cutting.
We also like the option to use a standard battery pack or switch over to a battery backpack for extended cutting.
Price: $589 bare (14-inch bar), $599 bare (16-inch bar)
Take the Greenworks model we recommended as the best value cordless chainsaw earlier, flip out the 16-inch bar for an 18-inch, and you get our favorite Greenworks chainsaw for homeowners. With performance that rivals a 42cc gas engine, its 18-inch bar offers excellent capacity you'll get plenty of runtime from the 4.0Ah battery that comes in the kit.
Price: $279.99 bare, $429.99 with 4.0Ah battery and charger
Makita's cordless chainsaw didn't take long to get dialed in really well and they make some of the best cordless chainsaws in the industry. The XCU08 top handle we recommended earlier is a sold choice for arborists.
For a rear handle design, go for the XCU04. It's a 16-inch 36V (18V X2) model that's reasonably lightweight at 11.1 pounds with batteries. Like Makita's other cordless chainsaws, expect smooth cutting and exceptional balance. Its 32cc gas equivalence isn't quite as strong as some of the competition, but its refined design makes up for it and then some.
Price: $299 bare, $329 with two 5.0Ah batteries and dual-port rapid charger
Milwaukee had one of the first really great cordless chainsaws and the M18 Fuel 2727 is still an excellent choice. It sports a brushless motor that runs its 16-inch bar and chain to levels that exceed 40cc gas power. It has a quality build with metal bucking spikes and dual captured bar nuts.
Even though other brands have pushed the power boundary forward, we still highly recommend this saw. Now that Milwaukee has raised the bar with its self-propelled lawn mower, there are whispers beginning to ask if there's a new high-performance chainsaw in the works for later this year.
Price: $329 bare, $499 with 12.0Ah battery and charger (also available with a 14-inch bar for $319)
Ryobi's launch of HP Brushless tools has been impressive and it's a game-changer for the 40V lawn care and landscaping line. The 40V HP Brushless 18-inch chainsaw is a fantastic example. With cutting performance far ahead of any other chainsaws we've tested from Ryobi, it earned our respect and recommendation.
While it's not completely Pro-style with its plastic bucking spikes, property owners looking for a high-performance cordless option to replace gas can rely on Ryobi.
Price: $189 bare, $349 with 5.0Ah battery and charger
Why You Can Trust OPE Reviews
Ever check out a "review" site and you can't tell if they actually tested the tools or if they're just "recommending" the Amazon top sellers? That's not us. We won't recommend anything unless we'd actually use it ourselves and we don't really care who the primary retailer is. It's all about giving you a legitimate recommendation and our honest opinion of each product.
We've been in business since 2016 covering outdoor power equipment, writing reviews, and reporting on industry news in the landscaping, heavy equipment, and lawn care industries. Our Pro reviewers have lots of experience in these fields as well as the skills and experience to know whether these products can perform well on the job.
Each year, our team reviews and gets their hands on hundreds of additional landscaping tools and equipment at our shop and at media events and trade shows.
We work with dozens of professionals around the United States who review products for us on real job sites and consult with us on testing methods, categories, and weighting.