Chainsaws are tools for all seasons. In the spring, summer, and fall, you're either cutting fallen limbs after storms or preparing firewood to season. Moreover, ice and snow bring down their fair share of obstacles, too. Either way, a dependable chainsaw is an asset. And for those who want to ditch the gas can for a battery, powerful cordless models are the way to go. Enter the DeWalt 20V Max Chainsaw (DCCS620).
Here's why we added this set of teeth to our Best Battery Chainsaw Reviews list.
DeWalt 20V Max Chainsaw Features
Interestingly, the DCCS620 isn't just for light duty on medium-sized limbs and firewood. Indeed, DeWalt originally launched this line of OPE as a way to give contractors the ability to clear job sites using the batteries they already have. In this case, we're talking about the 20V Max lithium-ion.
However, as we've pointed out above, the DeWalt 20V Max chainsaw works for homeowners, as well.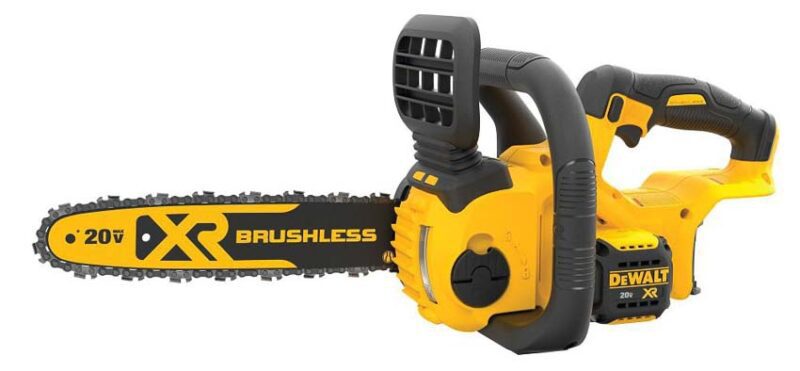 Specs
Model: DeWalt DCCS620
Battery: 20V Max (5.0Ah)
Bar: 12 in
Weight: 9.65 lbs (w/ battery)
So, starting off with the heart of this compact tool, the DCCS620 runs on a brushless 20V motor that DeWalt tells us will increase its efficiency and lifespan.
On the cutting side, its 12-inch low kick bar and chain should make the DCCS620 a solid choice for both construction and outdoor tasks.
In terms of runtime, DeWalt estimates that you'll get roughly 90 cuts per charge using the 20V (5.0Ah) battery. Of course, this figure depends largely on the application at hand.
DeWalt 20V Max Chainsaw Design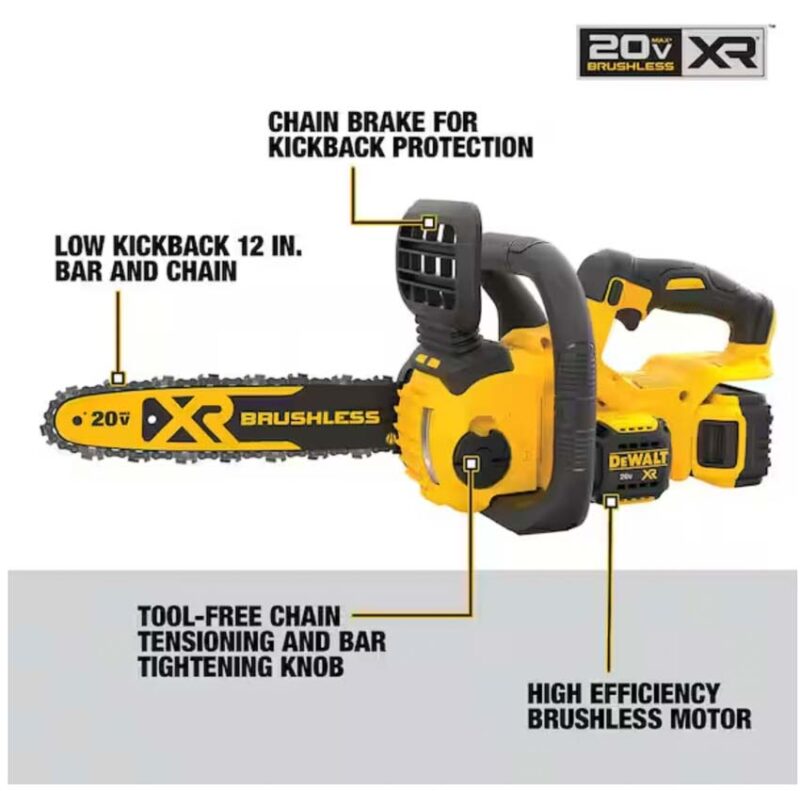 As far as design is concerned, the DCCS620 has some notable features, including its lightweight construction. At just 9.65 pounds (with the battery), we think this chainsaw will provide a nice balance of comfort and handling.
And naturally, the fact that it's battery-powered sidesteps any hangups related to cold-start and carburetor problems.
Lastly, the toolless tensioning further eliminates maintenance and operation headaches.
DeWalt DCCS620 Price
The DeWalt 20V Max Chainsaw sells as a kit for $249 or as a bare tool for $159. It comes with a 3-year limited warranty, as well as 1-year free service and a 90-day satisfaction guarantee.
Check out our guides on Chainsaw Tips for Beginners and Chainsaw Safety!