A chainsaw is a tool that tackles jobs throughout the four seasons. In the fall and winter, you're cutting firewood and limbs downed by ice. Meanwhile, spring and summer bring their own necessities. Large shrubs need pruning, and, like winter, you often find yourself cleaning up limbs hit by lightning and heavy winds. Whatever the task, models like the 60V Cat 18-Inch Chainsaw (DG631) come in handy 365 days a year.
We're going to tour its features to see why.
Cat 18 Inch Chainsaw Features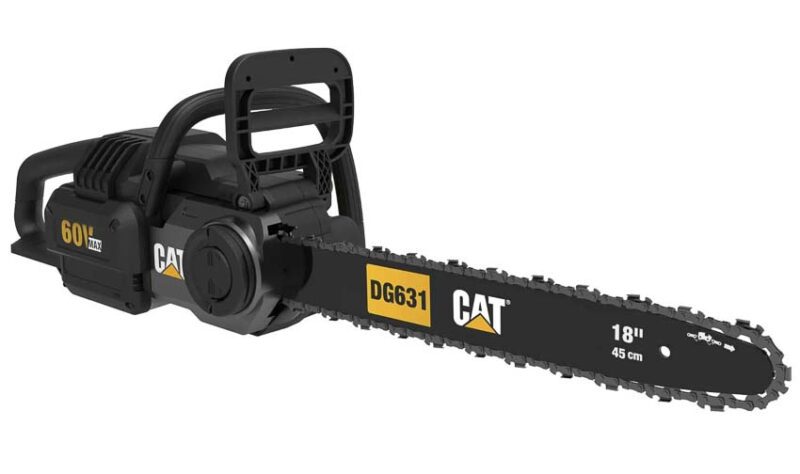 Based on the numbers, this chainsaw has plenty of bite.
Specifically, Cat's proprietary 60V (5.0Ah) Max battery, paired with an 18-inch bar, is a formidable combination. Indeed, they tell us that this duo puts out a chain speed of nearly 80 feet per second.
Typically, we like to see speeds of around 5,000 feet per minute. That's 83 feet per second, which puts the DG631 almost exactly in the position that we prefer.
And what's more, this is a cordless chainsaw. So, we're doubly impressed, despite not having put our hands on it yet.
Specs
Model: Cat DG631
Battery: 60V, 5.0Ah
Runtime: ~30 mins
Bar length: 18 in
Chain Speed: 78.7 ft/sec
Toolless tensioning
Auto oiling
This suggests a Pro-grade cutting capability that should make this cordless tool appropriate for a wide variety of applications.
Furthermore, while we're on the topic of power, the DG631 boasts a front-mount brushless motor. According to Cat, it's 40% more powerful than competing units.
DG631 Chainsaw Design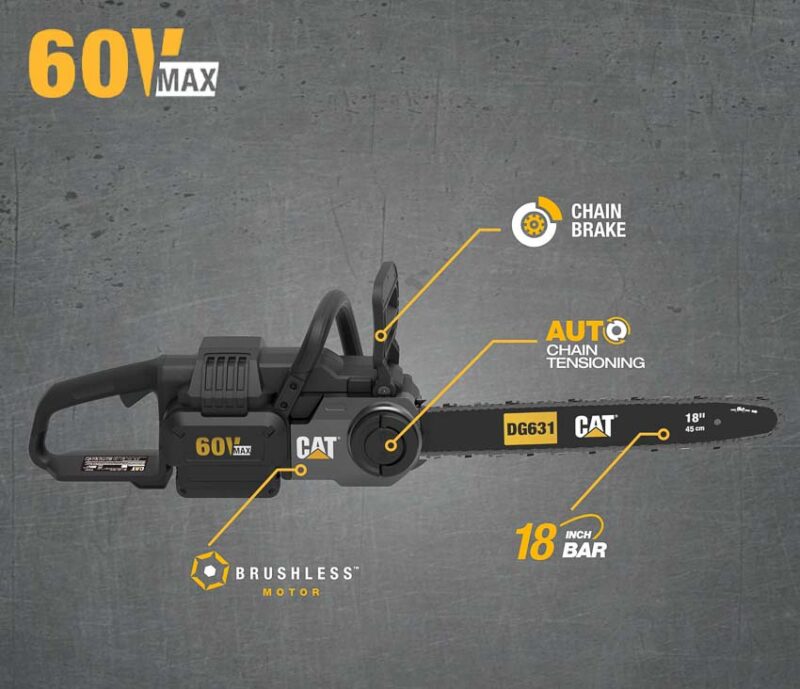 There's a lot to talk about in terms of the 60V Cat 18 inch chainsaw's design.
First, their team definitely kept chainsaw safety in mind. For example, this model has a small radius bar nose that helps minimize the risk of kickback.
Also, it has a rapid chain brake for sudden failures and occurrences.
On the maintenance side, the DG631 is equipped with an automatic bar and chain oiler to prevent unnecessary wear and tear. Additionally, it has a toolless chain tensioner.
Finally, this chainsaw is comparatively lightweight–only 16.3 pounds with the battery attached.
Cat 18 Inch Chainsaw Price
This saw retails as a kit for $379.99 and comes with the tool and a 60V Max (5.0Ah) battery and charger. It's also available bare for $269.99 (DG631.9). Cat backs their product with 3-year tool and 5-year battery warranties.