It's tough to mistake the iconic yellow and black color combination that identifies Cat products at a glance. They have a history in the realm of heavy equipment that goes back to the 19th century. Of course, the company has also entered the OPE market, where they're producing gear like the 60V Cat 800 CFM Blower (DG651). That's a pretty big number for a handheld unit, which piqued our interest. So, we got our hands on one and put it to the test.
Does this blower measure up to its name? To help you decide if this is the right tool for you, explore what we thought based on our experience.
Don't miss our Best Leaf Blower Reviews and Best Backpack Leaf Blower Reviews lists!
Cat 800 CFM Blower Background
Beginning with the heart of this tool, the DG651 has a brushless, inline motor, powered by a 60V lithium-ion battery. Incidentally, this pack is compatible with all Cat outdoor equipment products.
Going back to the motor, you might be wondering what benefits accompany an inline design.
To keep things simple, an inline motor is more compact and, therefore, touts several advantages. It's comparatively quiet, responsive, long-lasting, and lighter. The latter is particularly important on a handheld model like Cat's 800 CFM blower. (You'll see why later.)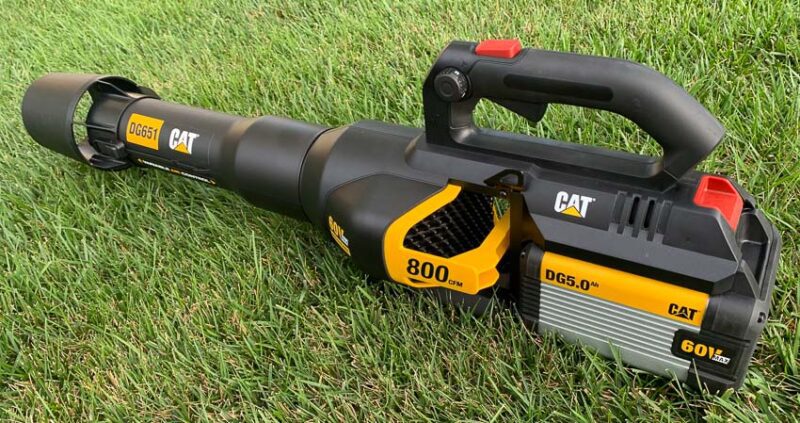 Cat 800 CFM Blower Specs
Model: Cat DG651
60V (5.0Ah) battery
3A charger
Blowing force: 175 mph, 800 CFM
Weight: 11.2 lbs
Moreover, the folks at Cat had told us that this motor is 40% more powerful than competing traditional brushless systems.
And the DG651 has other performance features that pair flexibility with function. Specifically, this model gives the operator the ability to switch between high volume and high power.
What's the difference, you ask? We discuss that at length in our article on MPH vs. CFM, but essentially, volume equals coverage and control, while power involves your ability to move and dislodge.
And that brings us to how this blower performed in the field.
Cat 800 CFM Blower Performance
Power
Naturally, we have to start with power. To be blunt, the DG651 is a beast.
With the power dial set to the max (at 3), this tool had absolutely no trouble moving debris of just about any kind and amount. We're talking about stuck-on leaves, stubborn cobwebs, large clumps of mulch, and wet clods of grass clippings.
Now, a lot of brands toss around CFM figures rather liberally, but with this model, you really feel it. Indeed, it's unmistakable. The amount of coverage and control that this Cat blower puts out is every bit consistent with 800 CFM performance.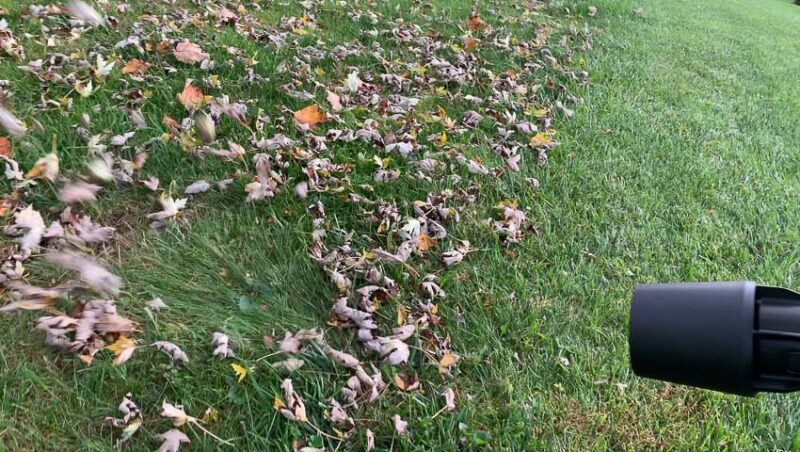 In one of our tests, we used a tractor to discharge ground-up grass and leaves along the driveway. What we saw pleased us.
In spite of a 12-mph headwind, the DG651 not only made quick work of the mess but also enabled us to guide the debris as if we had reigns on it. No doubt, you'll appreciate that kind of performance when you're removing leaves from your yard in the fall.
The bottom line here is that this tool's power will not disappoint.
Battery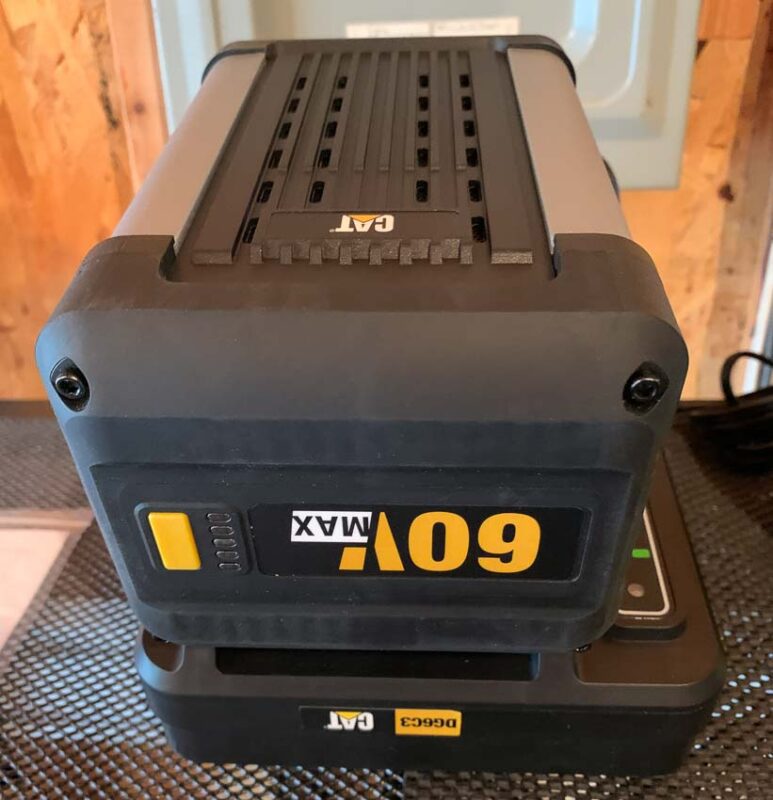 You know the old saying: "A picture is worth a thousand words." Take one look, and you'll see that this blower's 60V (5.0Ah) battery is big, and it's heavy–nearly 7 pounds. (Try to imagine a lithium-ion patio paver.)
But, it's also powerful and darned long-lasting.
As we do with all the equipment we test, we ran the DG651 at full blast for the entirety of almost every session. That's about 20 minutes, cranked up to 3, our thumb smashing the Turbo button. On average, this abuse consumed less than half of a full battery.
This, in itself, paints a decidedly stark picture of real-world runtime.
Handling, Ergonomics, and Control
When it comes to handling, the Cat 800 CFM blower is something of a paradox. Like we said, the battery is notably heavy, accounting for roughly three-quarters of the tool's 11.2-pound assembled weight.
Even so, this is perhaps one of the most comfortable, well-balanced handheld models we've tested in a long time. In spite of its beefy stern, the unit naturally drops to the perfect angle (about 30 degrees, nozzle down).
In fact, we were able to wield the DG651 with unexpected ease. And this went for the author's 11-year-old son, who, likewise, gave the handling a resounding thumbs-up.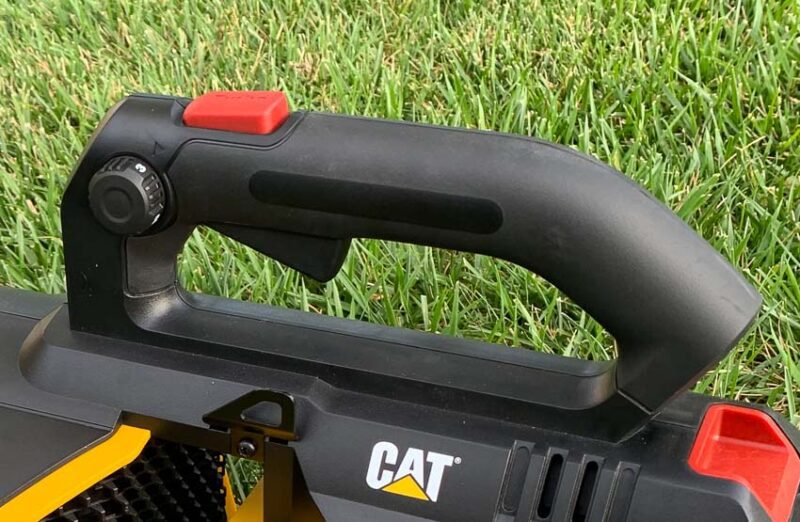 In terms of comfort, we experienced minimal wrist, elbow, or shoulder fatigue. This was due to both the balance and the handle design. The latter features contoured edges and a rubber overmolding that, together, greatly enhance grip.
Additionally, the controls were accessible and seamless; especially the Turbo button and trigger, which Cat positioned just right for the thumb and index finger.
The Bottom Line
As much as we like the DG651, there's always room for improvement. Specifically, we'd prefer to see a variable speed trigger on future iterations.
All the same, this tool is a force to be reckoned with. Simply put, Cat built a blower that delivers true 800 CFM performance. Hands down.
That said, there's no getting around the fact that the DG651 is hefty. The scale doesn't lie. Nonetheless, its balance and ergonomics offset the weight, almost to where we didn't notice it. (This is a relative point, so keep in mind that we're speaking from our experience.)
In short, we can confidently say that this model has, in our estimate, reset the bar for high-performance handheld units. If you're in the market for a replacement or an upgrade, the Cat 800 CFM leaf blower is worthy of your attention.
Cat 800 CFM Blower Price
The DG651 retails for $349.99 and comes as a kit that includes a 60V (5.0Ah) battery, and a 3 amp charger. Cat backs this tool with a 5-year limited warranty.
Why Trust OPE Reviews
Ever check out a "review" site, and you can't tell if they actually tested the tools or if they're just "recommending" the Amazon top sellers?
That's not us. We only recommend what we'd actually use, even if we don't earn a commission from it. It's all about giving you a legitimate recommendation and our honest opinion of each product.
We're an online publication dedicated exclusively to covering outdoor power tools, top-notch equipment reviews, and industry news in technical machine operation, how-to guides, and Pro and residential landscaping and yard maintenance.
Our Pro reviewers have the skills and experience to know whether a product can perform well in the field.
This includes tractors and mowers, string trimmers and edgers, blowers, chainsaws, hedge trimmers, engines, heavy equipment, manual tools, generators, maintenance gear, workwear, safety products, and more.
The OPE Reviews team will put its hands on hundreds of additional tools at media events and trade shows throughout the year. This also includes behind-the-scenes tours of manufacturing plants and testing facilities.
We consult innovators in the technology and design of outdoor tools to gain a broader grasp of where these products fit and how they work.
And this wealth of knowledge and experience is absolutely free.
The end result is information you can trust because of the editorial, scientific, and real-world professional know-how we collectively utilize each and every time we pick up and test outdoor power equipment or research a topic.