Design Inspiration, Installation Insights, and Price Influencers
Paver patios are one of the most useful, durable, and long-lasting hardscaping features you can build in your backyard. Here's everything you need to know about paver patio cost, including the different types and materials to choose from and the factors that influence the cost of patio pavers.
What is a Paver Patio?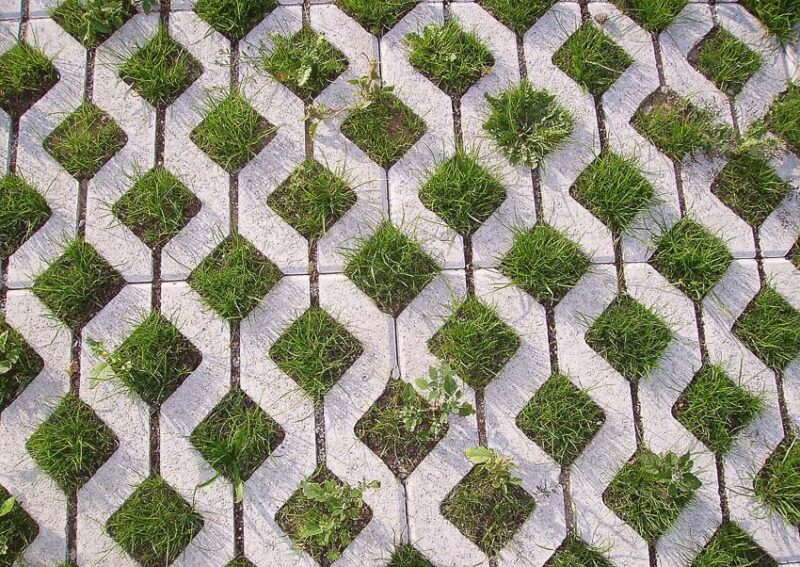 A paver patio is an outdoor living space built with pavers, usually placed on a bed of sand or gravel to prevent cracking and shifting. Typically, mortar, polymeric sand hold together pavers, which are sometimes separated using grass or low-growing ground covers. You can lay them randomly or in geometric patterns to create stunning designs.
Paver Patio Basics: Definition and Benefits
Patios made from pavers are one of the best ways to increase your yard's usable space and enhance your home's aesthetics. Manufacturers often make them from concrete, brick, or natural stone, but they can also use materials like porcelain or rubber.
Types of Pavers: Materials and Styles
Patio paver materials are available in various colors and styles, each with advantages and disadvantages. Depending on where you live, various paver types are better suited to your environment and are more readily available.
Concrete pavers
Concrete pavers are a popular option because they are relatively inexpensive and come in various color and texture options. They can be designed and arranged in a variety of patterns, however, concrete pavers are prone to cracking and staining.
Natural stone pavers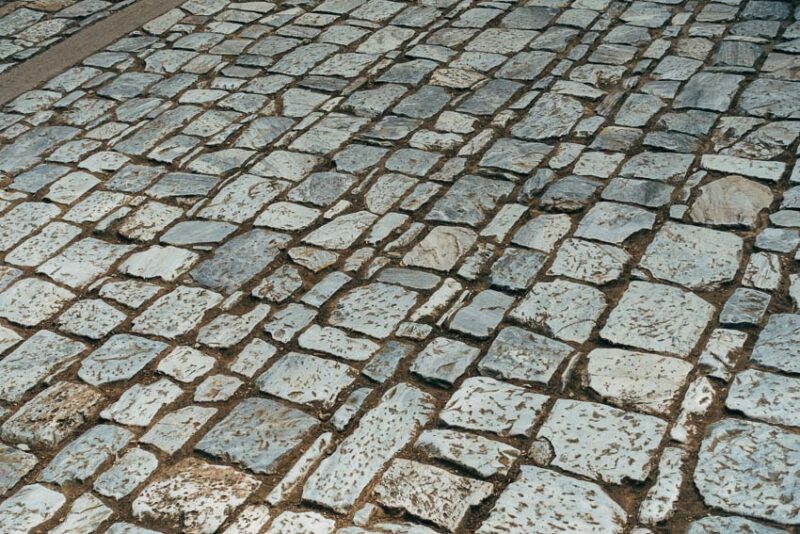 Natural stone is a classic and timeless option for patio pavers.
Various colors and textures are available in different regions, and they are available as fieldstone, flagstone, limestone, bluestone, travertine, and cobblestone. Natural stone is a strong and durable choice that can withstand weathering and temperature changes, but it is expensive and difficult to install correctly.
Clay brick pavers
More durable than concrete, clay brick pavers deteriorate more slowly, and because of the kilning process, they are some of the strongest pavers available. Manufacturers make this type in rectangular shapes and in shades of red and brown, from light cream to very dark.
Porcelain pavers
Like bricks, porcelain pavers also come from fired clay, but they are glazed, giving them a non-porous, stain-resistant surface. You can customize the color and pattern of the glaze to create stunning and unique flooring resistant to traffic, staining, and cracking.
On the downside, porcelain pavers are expensive and less suitable for DIY installation because they crack and break easily during installation.
Rubber pavers
An eco-forward option, rubber pavers are hitting the paver patio stage in high gear. They are cost-effective, easy to install, and eco-friendly.
Made from recycled tires, they are perfect for children's play areas because of their shock absorbency and slip resistance. Rubber pavers are available in various colors, shapes, and sizes.
Comparing Paver Patios to Other Patio Options
Compared to other types of patios, such as poured concrete or stamped concrete, patio pavers are a durable and low-maintenance option. They offer more design possibilities than concrete slabs, and they are easier to care for than pea gravel and wood patios.
Paver Patio Ideas and Designs: Inspiration for Your Outdoor Space
The endless design possibilities of paver patios make them an excellent choice for enhancing the design of any home. From modern paver patio designs to rustic and natural stone paver styles, you can use a variety of patterns and patio styles to create any look you want.
Here are some patio paver ideas to help inspire you.
Modern Paver Patio Designs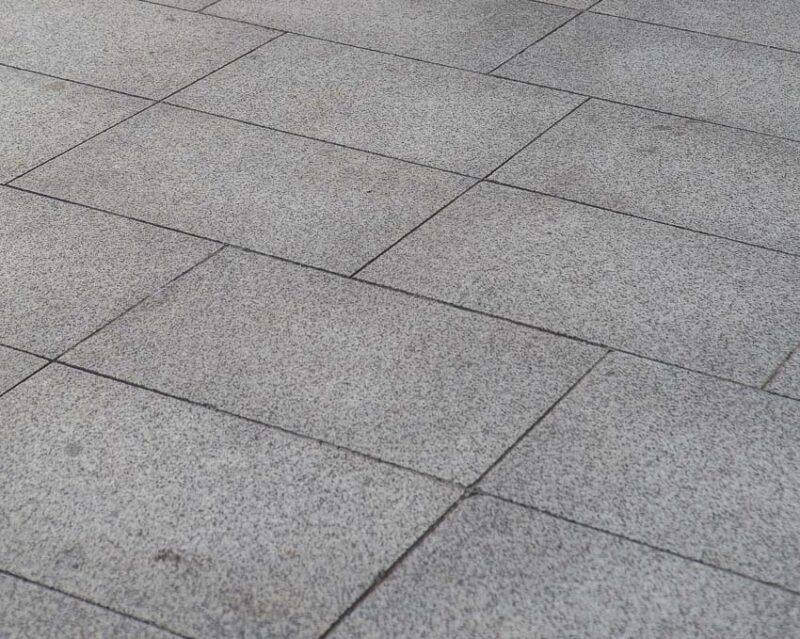 Straight lines and clean edges create a modern patio with a strong contrast between hard and soft elements. Modern paver patios are uncluttered designs, and they have geometric shapes and rely on various plant textures and colors to enhance the overall look.
Contemporary paver patios are the perfect choice for modern homes. Specifically, they're great for creating a rectilinear design that accommodates an outdoor kitchen or grill area.
The natural color palette of concrete pavers also provides an excellent backdrop for other minimalistic design elements used in modern landscaping designs. When you pair them with features like low-level lighting and minimal decor, pavers make for attractive modern patios.
Rustic and Natural Paver Patio Styles
Natural stone pavers are best for rustic paver patio styles. However, when you use them with other simple design features like reclaimed wood planters, hammocks, and hanging lights, it's easy to achieve any style.
This includes everything from a country-style cottage look to an industrial outdoor design.
Natural stone and other pavers lend well to curvilinear and freeform patio shapes, making it easy to connect rock pathways. Add accents like metal lanterns, moss-covered wood, and outdoor stone seating to create a rustic but charming outdoor living space.
Creative Patterns and Layouts for Paver Patios
There is a paver for every type of landscape, whether you're using a rectilinear, curvilinear, or free-form design. What's more, you can choose from different patio shapes, patterns, and finishes to create the exact style you're trying to achieve.
However, making a decision can be overwhelming, which is why you should focus on the following design elements.
Patio paver edges
Patio pavers have different types of edges that you can use to create a variety of different looks, including beveled, rounded, and worn edges.
Beveled edges are crisp and clean, rounded edges look more natural, and worn edges promote an aged appearance.
Patio paver finishes
The most common patio paver finishes are flat, dimpled, and mottled.
Flat finishes help you achieve a polished, modern appearance. Dimpled finishes create a natural feel, and mottled surfaces look weathered.
Patio paver shapes
Here are the most common patio paver shapes, which you can use in a variety of geometric patterns and designs:
Square
Rectangle
Circle
Hexagon
I-shape
Triangle
Natural
Patio paver patterns
In addition to choosing your pavers' edge, finish, and shape, you can also choose a pattern. Mix and match paver types and patterns to create borders and other design elements.
Here are some common paver patterns:
Stack bond–pavers arranged in straight, rectangular lines
Running bond–staggered pavers that create a seamless look that provides more stability
Basketweave–side-by-side and diagonal interlocking pavers
Herringbone–interlocking pavers placed in a zig-zag or L-shaped design
3-stone pattern–three pavers laid in an alternating pattern, often used for borders
5-stone pattern–similar to the 3-stone pattern, but with five stones, they're great for footpaths
Header–bricks that you lay vertically to form a header or border, accenting other designs
Other paver patterns include pavers that create corner designs, circles, and spirals as design focal points. Ultimately, the possibilities are endless when it comes to paver patio designs.
Incorporating Landscaping and Outdoor Features
You can match other landscaping features to your paver patio to broaden the design possibilities.
Include hardscaping features like pathways, outbuildings, water features, and decking. This gives your landscape more structure to frame various colors and textures achieved with plants, lawns, trees, and shrubs.
Finally, choose plant containers and outdoor furniture to complete your style.
Paver Patio Installation: Key Steps and Considerations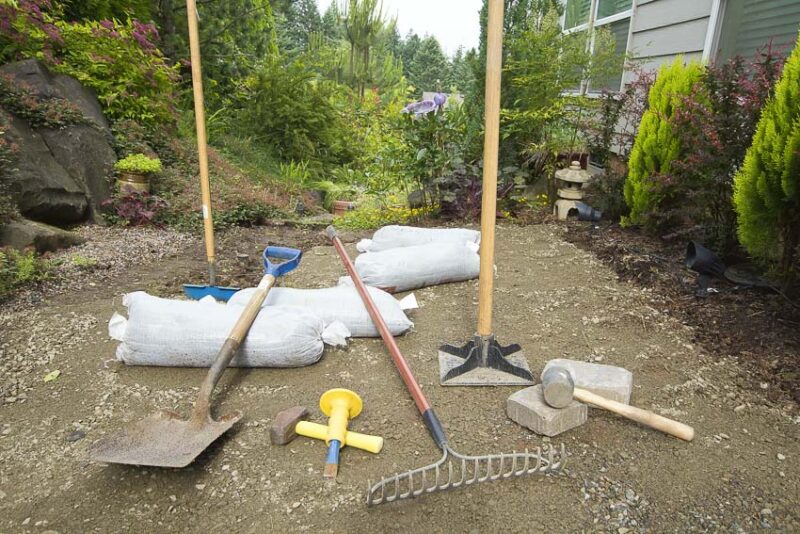 Most paver patios are DIY friendly, and while you might need help to achieve some of the more intricate patterns and designs, following these basic steps will help ensure your success.
Layout and Design
Before you start, plan and lay out your design with lines and stakes. Then, use an online paver patio design tool that allows you to upload a photo of your yard so you can easily visualize the final product.
Lastly, consider factors like foot traffic and sunlight exposure in your design.
Site Preparation and Excavation
When determining the durability of a patio, site preparation is one of the most important factors.
First, prepare the ground by ensuring that it is level and free of plants and debris. The ground should slope gradually away from your house–about 1 inch every 8 feet.
Base Material and Compaction
Use a 4-inch layer of gravel topped with a 1-inch layer of sand to create a well-drained but solid paver base. Next, compress the gravel before laying the sand, using water and a plate compactor or tamping tool.
Calculate the amount of gravel you need using this formula:
4 inches of gravel (0.334 feet) x length (in feet) x width (in feet) divided by 27 = cubic yards
To determine how much paver sand you'll need, divide the total cubic yards by 4.
At this point, you are ready to purchase pavers. Use a handy online tool to calculate how many pavers you need, or draw more complicated designs on graph paper.
Laying Pavers and Creating Patterns
Use an 8-foot 2×4 to level out the sand before laying the pavers. Then, start at a corner and lay them according to your design, working in all directions as you go.
Finally, lay the pavers gently on the leveled sand by placing them straight down, ensuring they fit together tightly.
Finishing Touches: Edging and Joint Sand
Use edging stones or another type of paver patio edging material to ensure your pavers stay in place. Then, spread polymeric paver sand over the entire surface and use a push broom to sweep it into the gaps.
Factors Affecting Paver Patio Cost: What to Expect
The average cost for paver patios typically falls between $8 and $24 per square foot, depending on several factors, such as materials, style, size, and installation. Base materials, including sand, gravel, and edging materials, cost about $1.40 to $2.20 per square foot.
Paver Material and Style
Material and style are among the most significant factors affecting the cost of a paver patio. Here is a price breakdown of the most common types of patio pavers.
| | |
| --- | --- |
| Material | Paver patio cost per square foot |
| Concrete | $4 to $6 |
| Natural stone | $7 to $16 |
| Clay brick | $4 to $8 |
| Porcelain | $7 to $15 |
| Rubber | $2 to $6 |
Patio Size and Complexity
Large patios require more materials and take longer to install, and paver patios with more complex patterns and curves can also require more materials. The longer it takes to install, the higher the labor costs.
Labor and Installation Cost
Unless you're DIYing your patio installation, labor costs can represent more than half of the total cost of your project.
For an average paver patio installation, expect to pay $10 to $17 per square foot for installation labor. High-end installations will cost more, averaging between $25 to $40 per square foot.
Additional Features and Customizations
Additional features and customizations will also affect your paver patio cost. For example, to enhance the appeal of your patio, you may consider extra landscaping features, such as built-in planters, ponds, outdoor kitchens, fire pits, or outdoor lighting.
FAQ: Frequently Asked Questions About Paver Patio Cost
How much does it cost to install a paver patio?
The average cost to install a paver patio depends on several factors, including materials, design complexity, and installation costs, but people usually spend between $2,300 and $7,000.
What are the most cost-effective paver materials?
The cheapest pavers per square foot are brick and concrete. Sometimes, you can find used or recycled bricks and pavers that further lower your costs.
Can I install a paver patio myself to save on labor costs?
Many people possess the necessary skills to DIY paver patio installations. However, if it's your first time, sticking with a simple design and a small area is a good idea.
How long does a paver patio typically last?
With proper installation, pavers last about 20 to 25 years. If you properly seal and maintain them, they can last up to 50 years.
Are there maintenance costs associated with paver patios?
Paver patios are one of the easiest to maintain, but you should reseal them every three to five years. Cleaning pavers and resealing them usually costs about $2 per square foot.