Pressure washers make it easier to remove built-up residue and dirt from fences, decking, siding, driveways, and other areas of the home. Knowing how to use a pressure washer properly, however, can keep you from damaging property or wasting lots of time. We consulted with professionals who use these tools almost daily to get you the tips, tricks, and know-how to use these tools to their fullest.
The best pressure washers come in many different sizes and capabilities. Knowing how to maximize the capabilities of yours can help you get the best possible results on your cleaning tasks.
1 – Remove Everything You Don't Want to Wash
How you prepare begins even before you start using a pressure washer. Make sure you clear the area of all items you don't intend to wash. Don't try and pressure wash around deck furniture, grills, and plants—you won't get good results. Instead, remove everything you can, clean the deck, and then put everything back. Also, relocate any items that could easily break.
As you might guess from a name like "pressure washer" the high pressure of the water stream that emerges from these tools can do some serious damage. When cleaning a deck, move everything off the surface. When cleaning the vinyl or Hardie siding of your home, first remove hanging plants, wind chimes, and other items you don't want to damage with the spray. Trust us that good preparation makes the job much easier.
2 – Attach the Pressure Washer Hose to a Water Supply
With a pressure washer, you need to supply a water source. That means attaching a hose from the hose bib to the inlet of the pressure washer. This lets the pressure washer take that water and "amplify" the pressure using an onboard pump.
It doesn't take a lot of hose pressure to use a pressure washer. Rather, most units need less than 4 gallons per minute to operate. With the hose connected at both ends, turn on the spigot and move to the next step.
3 – Check Over Your Tool and Start the Pressure Washer
If you don't have the high-pressure hose and wand connected—now is the time to do that as well. Be sure not to touch the trigger until you want to begin cleaning.
With the hose and wand attached, you're ready to start up the pressure washer. Make a habit of checking the oil level before you start. That ensures you don't damage the pressure washer accidentally by running it without enough engine lubricant.
4 – Set or Monitor the Pressure Level
Some pressure washers let you set or vary the pressure using a pressure regulator. Many simpler units lack this feature, however. With those units, you vary the pressure along with the spray pattern. This happens naturally when you switch nozzles. Remember that the spray pattern widens with the degrees represented on the nozzle. As the spray pattern gets wider, the pressure drops. While not all nozzle tips are compatible across all pressure washers (due to the varied pressure these tools have), the colors remain the same:
Red – 0º
Yellow – 15º
Green – 25º
White – 40º
Black – Soap
Black elongated – Turbo (a fast-moving 0º tip)
We included more information about selecting the right pressure washer nozzle or tip below.
Aside from varying the tip, how you adjust the pressure on a pressure washer involves varying the distance of the tip from the surface you're cleaning.
You always want to use enough pressure to get your surfaces clean. What you want to avoid, is the kind of pressure that might damage the surface. Exposing raw wood and splintering a deck might make it super-clean—but now you can't walk on it! We recommend reading the instruction manual for the pressure washer if you have any questions. You can always test smaller areas with various tips (always work from weakest/widest to strongest).
Pressure washers use quick-connect nozzles that vary the spray pattern and output pressure emitted from the spray wand. Knowing how to select which pressure washer nozzle to use ensures a safe and effective use of your pressure washer. Fortunately, as we indicated above, the tips come in color-coded standards that let you know the spray fan pattern (in degrees). Fewer degrees yield a more concentrated spray.
Red Nozzle (0º)
A zero-degree nozzle (0º) gives you a spray pattern the size of a pencil. With virtually no fanning, it produces the highest pressure or concentration of water possible. You do not want to use this nozzle for general cleaning or anything easily damaged. In fact, the Red nozzle typically only finds use with high-pressure cleaning of metal surfaces to reach up to very high eaves.
Yellow Nozzle (15º)
The Yellow nozzle outputs a 15-degree (15º) fan pattern. Perfect for use on tough materials, it can "scraspe" away dirt and grime in a relatively thin but powerful stripe. We use it all the time on PVC fences, but if you pre-treat, a wider nozzle can get the work done more quickly. Use the 15º tip on very stubborn spots and tasks.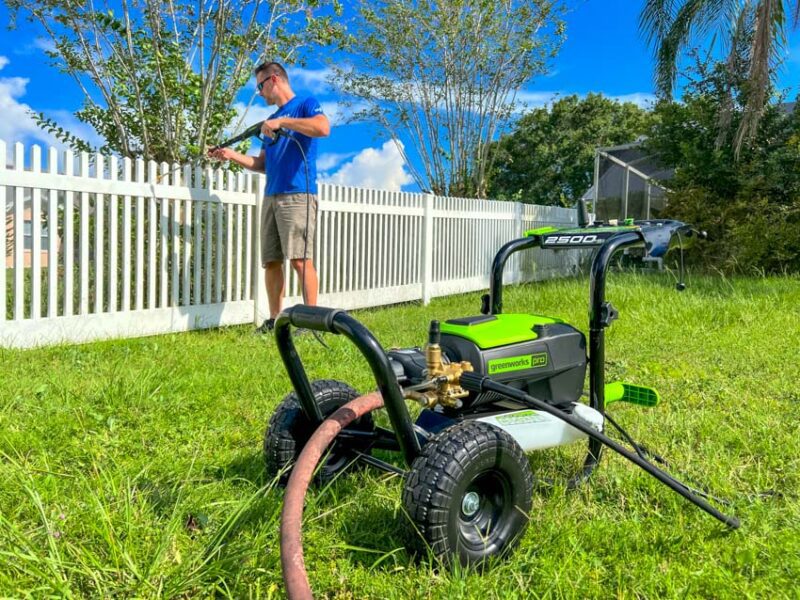 Green Nozzle (25º)
This 25-degree tip yields wider fan pattern and works great as a general all-arround power cleaning tip. Primarily used when washing tough surfaces, this tip tackles those tough jobs that need a solid combination of speed and a powerful spray.
White Nozzle (40º)
The 40-degree fan tip on this nozzle lets it function well for rinsing and more delicate washing across larger surfaces. We use these tips when washing or rinsing glass. With less powerful pressure washers, it can work on your vehicle as well when rinsing it off. The 40-degree tip does a great job cleaning pre-treated wood or composite decks.
Black Nozzle (Soap)
These tips work really well when you plan to use soap or other cleaning products. These nozzles deliver a wide spray with the lowest pressure. They actually work to help siphon chemicals when soaping or spraying cleaning materials onto a surface.
Turbo Nozzle (0º Rotating)
Turbo nozzles provide a mix between high pressure and coverage. By rotating a 0º spray in a circular or oscillating pattern, turbo nozzle tips let you apply a greater amount of pressure over a wider area than you would normally get with a Red tip. Be careful, however, as these tips will chew through older brick or concrete if you don't take care.
6 – Begin Spraying – Technique Matters
What you wash determines how you use the pressure washer on the material. For example, when spraying a pressure-treated or composite deck, you want to use a sweeping motion. Move the wand back and forth with the spray pattern oriented vertically. Start at the house and move away, so the water doesn't pool near the framing or siding material.
Try to keep your motion and spray pattern consistent to avoid leaving swirls and distinguishing marks. Match your spray pattern to the job. You don't want to overclean an area with a 15º tip when you could have accomplished more and with fewer paths using a wider nozzle.
For cleaning tasks, like pressure washing your home or siding, sweep from side to side and consider pre-rinsing the surface with a cleaning agent to prepare it for pressure washing. We find it far easier to remove stains that have been soaked in an appropriate cleaning solution than going after them with just the pressure of water alone.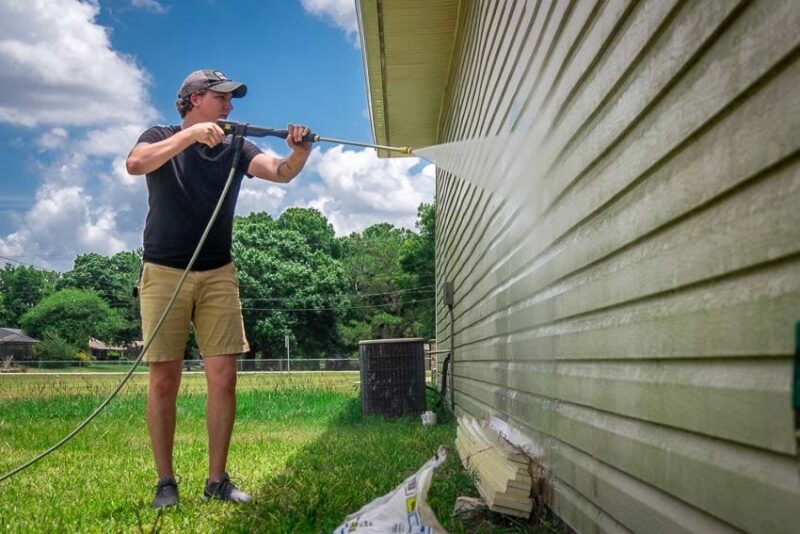 Also for vertical surfaces—start at the top and work down as you go from side to side. Always know where you have that spray wand pointed. You never want to lose control of that and risk hurting someone (including yourself) by accident or through negligence.
7 – Keep Pressure Washing
Keep moving around your deck, patio, or home with the pressure washer until you've cleaned every surface you set out to clean. If you encounter any difficulties with the washer, first check the intake valve and make sure the water supply is unobstructed.
Optional – Using Soap, Cleaners, or Additives
Those wanting to pressure wash decks, concrete, or vinyl/Hardie siding should probably plan on adding a cleaning solution to the spray. When spraying mold or mildew growth, a 10% bleach solution or similar can help you clean more quickly and prevent a quick recurrence. Before adding any chemical, check the label to ensure it works without damaging your material.
You also want to ensure you don't damage plants with overspray. We also highly prefer and recommend systems that add the solution post-pump. You don't want bleach or chemical solutions running through your pressure washer—just the water flowing out from it.
Final Thoughts
Follow these guidelines and stay within the manufacturer's suggested procedures, and you should have great results. If we missed anything or you have additional tips, please leave them in the comments below.