No matter where you live, you probably have stains or crud somewhere on your property. Maybe it's mold and algae on your deck, pool area, or outdoor kitchen. Maybe it's on walkways or patio pavers. Regardless, a reliable pressure washer is the only way to clean them effectively. But we've heard from readers who are looking for compact solutions; models more manageable than a gas unit, or even some cordless tools, for that matter. If that's you, then we think the electric Karcher K2 Pressure Washer is a solid option.
That said, Karcher has a number of pressure washers in its fleet. However, the K2 1.599-153.0 was our top pick, landing on our Best Electric Pressure Washer Reviews list.
Karcher K2 Pressure Washer Performance Features
These days, corded models seem like relics of a bygone era. And, with certain tools, maybe they are. But we think pressure washers are an exception.
For example, there's no getting around a tethered design. After all, water is a pretty important part of the cleaning process. You're going to have a hose, no ifs, ands, or buts. Is it really that big a deal to add one more link? We don't believe it is; of course, that's just our opinion.
Karcher is quite generous in its cord and hose lengths, as the K2 pressure washer has a 35-foot power cable and a 25-foot hose.
Specs
Model: Karcher 1.599-153.0
Motor: Electric (10 amp)
Weight: 10.6 lbs
Furthermore, we have to say that the amount of tasks this entry-level model can handle is impressive.
Using a 0º tip, the K2 puts out 1,600 PSI at 1.35 GMP. Utilizing their proprietary DirtBlaster spray wand, Karcher tells us that this unit can tackle decks, cars, boats, and siding to name just a few things.
Moreover, its performance comes out of an incredibly portable unit about the size of a boombox (wow, we're really dating ourselves). To put it another way, this is a pressure washer that only weighs a shade under 11 pounds.
Finally, Karcher added another noteworthy function to the K2 pressure washer. The Vario power spray wand enables users to switch between high and low pressure without having to switch nozzles or wands.
Karcher K2 Design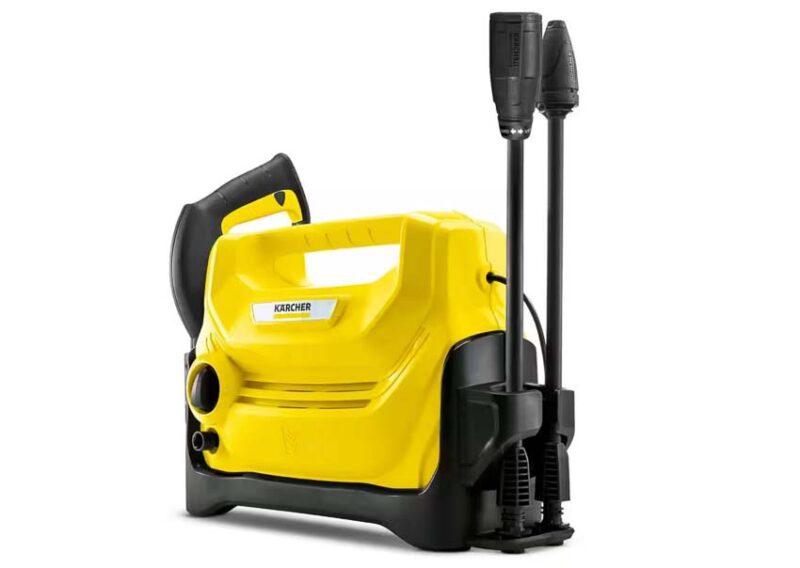 Karcher geared most of this tool's design features towards convenience. For instance, the K2 1.599-153.0 involves a 5-minute, no-tool setup.
What's more, Karcher intentionally shaped this pressure washer to mimic a briefcase for simple transport. It has a vertical design, as well, making storage more manageable.
Karcher K2 Pressure Washer Price
The model K2 1.599-153.0 is a small tool with an equally small price. This electric pressure washer kit sells for $139.99 and comes with the Vario and Dirtblaster spray wands. Karcher backs this package with a 2-year limited warranty.