While plenty of gas-powered equipment devotees are out in the field going strong, electric models are quickly building a fan base of their own. In fact, the overall performance and reliability of electric tools have, in recent years, given their petrol equivalents a run for their money. That's true of nearly every type of outdoor gear, including pressure washers. For instance, when cleaning your porch, patio, or vinyl fence, you want a product that will give you the most for your hard-earned dollars. And we think you'll get precisely that with Ryobi's 2300 PSI Electric Pressure Washer (RY142300).
So, without further ado, let's look at the features that earned this tool a spot on our Best Pressure Washers and Best Electric Pressure Washer Reviews lists.
Ryobi Electric Pressure Washer Features
As always, we'll start with the motor. Simply put, you shouldn't go electric unless you go brushless.
Ryobi is on the same page because the RY142300 does indeed have a brushless 13-AMP motor.
As its name suggests, this Ryobi pressure washer is a corded electric device capable of putting out 2,300 PSI at 1.2 GPM. Among the variety of jobs you can knock out with this tool are:
Cars
Decking
Driveways
Grills
Patios and patio furniture
Siding, and
Windows
And Ryobi tells us that you can clean up to 50% faster when you add detergent and the unit's turbo nozzle. The latter should maximize power and your cleaning area. Moreover, you'll make full use of this feature as you learn how to operate your pressure washer.
Ryobi Electric Pressure Washer Design
Model: Ryobi RY142300
Motor: Brushless
13 Amp
Power cord length: 35 ft
Cold water
1-gal soap tank
Onboard hose length: 25 ft
Three nozzles, including Turbo
12-inch wheels
Weight: 49 lbs
Now, some of you may see a power cord and head for the hills. We caution against that.
Admittedly, a cord doesn't allow for the freedom of mobility that you enjoy with a battery, but, think about it. It's a pressure washer, which requires water and, therefore, a garden hose. One way or another, you're tethered.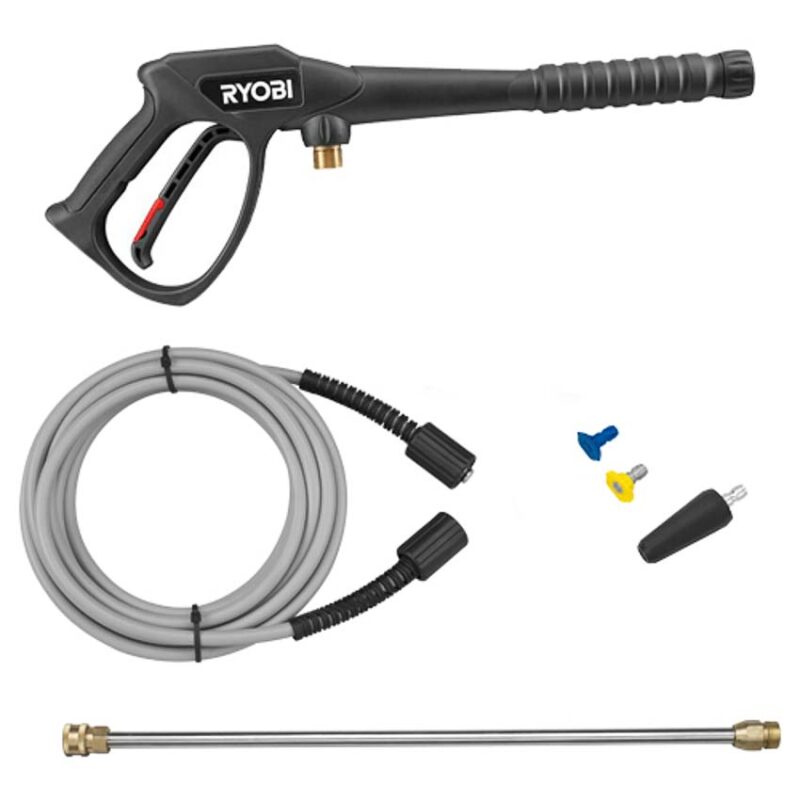 However, in this case, you're still working with 35 feet of cord and another 25 feet of the RY142300's hose. Not to mention, it's actually refreshing not having to worry about runtime.
Lastly, we think Ryobi did well in adding 12-inch wheels, which will come in handy when moving it across lawns and up and down steps.
RY142300 2300 PSI Pressure Washer Price
Ryobi's 2300 PSI electric pressure washer retails for $329 and comes with a 3-year limited warranty.