Our Top Picks Plus a Guide on Buying the Best Garden Hose
Before purchasing my first house, I didn't realize garden hoses had so many differences. I didn't understand the variations in construction, diameter, functionality, and intended use. Leading brands such as Continental, Flexzilla, Gilmour, and Worth Garden offer a range of hoses suitable for different tasks. Hopefully, this buying guide can help you select the ideal garden hose for your home—and avoid the issues I encountered in the past buying hoses that only lasted a year before breaking!
Best Garden Hose Overall – Our Top Pick
Apex Teknor NeverKink Heavy-Duty Garden Hose (5/8 in. x 50 ft)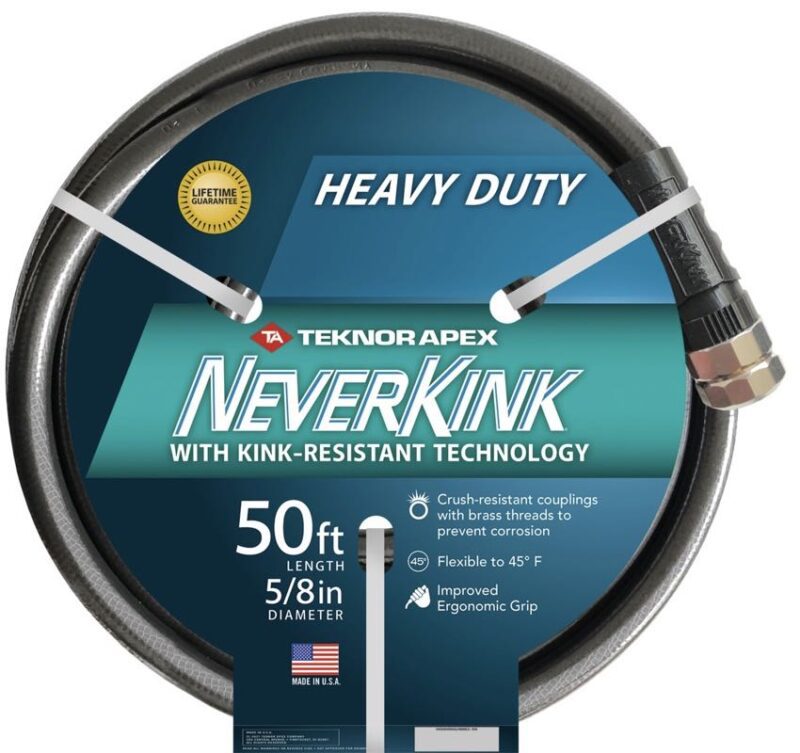 The Apex Teknor NeverKink heavy-duty garden hose is our top choice for several reasons (and we have used it for years). It's heavy-duty, lightweight, and made in the USA. The design is durable, and although it may not be completely kink-free, it shouldn't kink under normal use. Wind it up carelessly, and all bets are off!
The hose features a rigid sleeve that provides a comfortable grip when connecting or disconnecting it from the water spigot.
It can resist damage from abrasions and boasts a "crush-proof" rating of up to 1,200 pounds. The cost falls under $45, and we have one that has lasted more than 3 years in partial sun. It's available in 25, 50, and 100 ft. lengths—perfect for nearly any application.
Best Expandable (Flex) Garden Hose
Pocket Hose Original Silver Bullet Lightweight Water Hose
It's important to understand the limitations of a flexible or expandable hose before purchasing one. They are not as durable and they do not last long if exposed to sunlight. However, if you don't plan on using it around sharp objects or leaving it in the sun, expandable hoses can be a great option if you want a hose that is lightweight and easy to store.
This model comes with quick-connect removable aluminum ends, giving you more options for accessories. It's available in four different lengths: 25 feet, 50 feet, 75 feet, or 100 feet. One of our editors uses the 25-foot version of this hose (around $25) as a convenient way to wash his boat with freshwater at the marina.
Best Lightweight Garden Hose
Xhose Pro Dac-5 High-Performance Lightweight Expandable Garden Hose
If weight is a primary concern, don't overlook the 5/8 in. x 25 ft. Xhose Pro Dac-5 High-Performance Lightweight Expandable Garden Hose. The DAC-5 refers to the polyester outer layer that provides additional protection compared to other expandable hoses.
We appreciate the built-in shut-off valve and the linear expandability of the hose. The hose shrinks to 1/3 of its size when not filled with water, making it easy to store indoors. You want to keep these types of hoses away from heat which causes them to become brittle over time. You can purchase the DAC-5 hose in lengths of 25 feet, 50 feet, 75 feet, or 100 feet. Prices range from $20 to $60.
Best Retractable Garden Hose
Sunneday Gartenkraft XW-50B Retractable Garden Hose Reel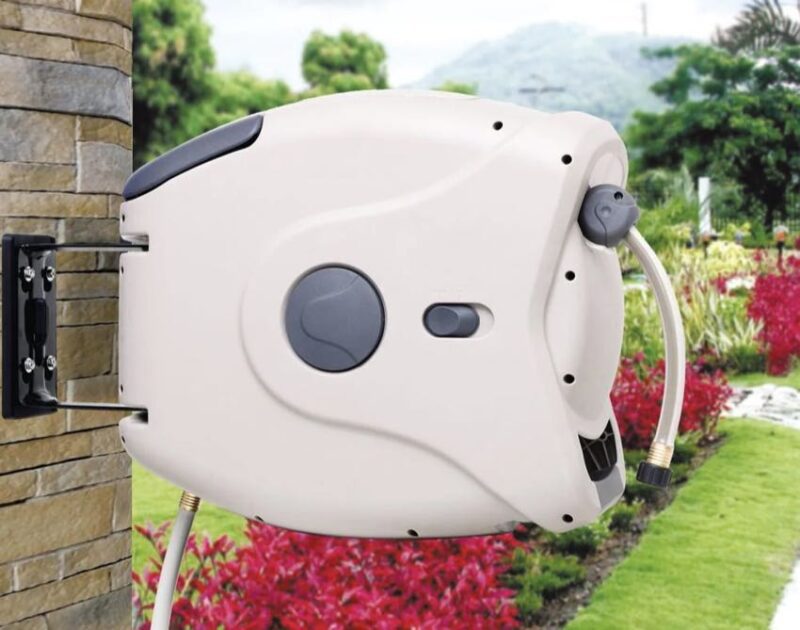 We recommend the Sunneday Gartenkraft XW-50B Retractable Garden Hose Reel for several reasons. Firstly, it comes with a steel mounting system, not plastic. That makes it easy to mount on brick, stucco, or studs using the included bracket. Once you install the bracket, the hose reel mounts easily via its keyhole-style mounts.
Secondly, unlike most hose reels, Sunneday offers multiple options for both hose diameter and length. You can also replace the hose if damaged. Just match up the same size hose to avoid overcrowding the case or reel.
The 5/8 x 50-foot or 5/8 x 75-foot hose should suffice for most. If you really need more length, Sunneday also makes a 100-foot model and a super-long 1/2 x 130-foot model.
Best Rubber Garden Hose
Kobalt Premium-Duty Rubber Black Coiled Hose
The Kobalt Premium-Duty Rubber Black Coiled Hose makes our first name-brand pick in this best garden hose list. It comes in any color and length so long as you only need a black 50-foot hose. Aside from that, we like the Polyester reinforcement and abrasion-resistant cover. It also features octagonal brass fittings to make it easier to tighten or loosen as needed.
You get no frills on this hose, but you do get a 500 psi max burst pressure rating, 212°F hot water support, and a reinforced outer cover that should last longer than most hoses. At just over $40, this is our easy pick for the best rubber garden hose.
Most Durable Heavy Duty Garden Hose
Element ContractorFarm 3/4-inch Premium Garden Hose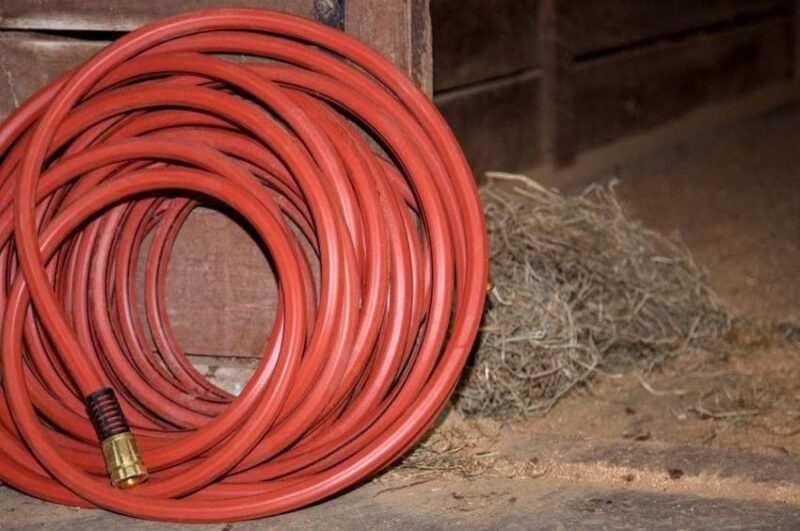 The Element ContractorFarm 3/4 in. x 100 ft. hose is among the most robust and heavy-duty garden hoses out there. This hose is safe for drinking water and has a high internal pressure rating of 500 psi, in addition to a strong outer jacket. The hose bib end has a reinforced brass connector that provides a secure grip when tightening it. The design of this hose is not just strong, but also well-constructed.
The output end does not have any strain relief, but it has a hex grip which allows you to use a wrench on it if needed.
While this 100-foot model may be a bit pricey at $75, it comes with a lifetime warranty, making it a worthwhile investment.
What We Look for When Picking a Garden Hose
Water Flow Rate (Diameter)
The width of a garden hose has a vital impact on the water flow rate. In reality, the width of the hose is a more substantial determinant of the flow rate than its length.
For example, a 25-foot hose with a width of 1/2-inch can provide a flow rate of approximately 9.5 gallons per minute, while a 25-foot hose with a width of 3/4-inch can produce a flow rate of 10 gallons per minute. It is essential to keep this in mind when making a choice of garden hose for your requirements.
Length also plays a role in the rate of water flow. A 5/8-inch 50-foot hose delivers the same flow rate as a 1/2-inch 25-foot hose. Still, to ensure you get the maximum potential flow rate you need, you have to consider both the garden hose diameter and its length. When choosing the best garden hose, pay attention to the specs and you should ensure you have enough water for your pressure washer and other tools and projects.
Check out how length and diameter affect garden hose water flow rates based on a 50 PSI spigot:
| Garden Hose Diameter | Hose Length | Waterflow Rate (GPM) |
| --- | --- | --- |
| 1/2 in. | 25 ft. | 9.5 |
| 1/2 in. | 50 ft. | 8.5 |
| 1/2 in. | 100 ft. | 7.5 |
| 5/8 in. | 25 ft. | 9.8 |
| 5/8 in. | 50 ft. | 9.5 |
| 5/8 in. | 100 ft. | 8.5 |
| 3/4 in. | 25 ft. | 10.0 |
| 3/4 in. | 50 ft. | 9.8 |
| 3/4 in. | 100 ft. | 9.0 |
Garden Hose Durability
When you plan to move a garden hose around your yard, the strength of the hose becomes crucial. However, if the hose is kept in a reel and is only used to water a small section of your garden, a less sturdy design may suffice.
The best garden hose for your home should be able to withstand years of use, without developing pinholes or having fittings detach from the hose. It should be reliable and sturdy enough to last.
Let's Talk About "Kink-free" Hoses

It is not possible to completely eliminate kinking in any garden hose. Any manufacturer claiming to have a "kink-free" design should be viewed with skepticism. Some hoses come pre-coiled, which can prevent kinks but also limits their length. With a regular hose, even one labeled "kink-free", you can reduce kinking by always retracting the hose with some water still inside.

Additionally, when manually coiling the hose, use an "over-under " method rather than looping it in the same direction, like a spring. Lastly, don't ignore kinks, especially in the sun, as they can easily develop a "memory" and reappear every time you use the hose.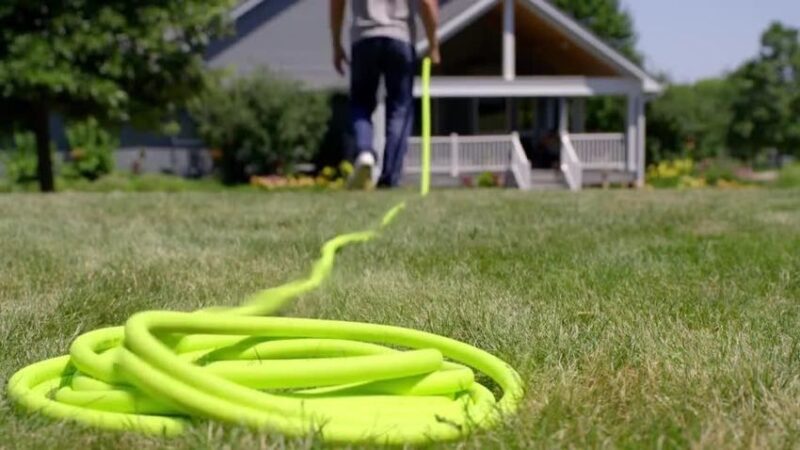 Length
Excessively long hoses can be cumbersome, so it's essential to ensure you don't purchase more than you need. Determine the required length before buying a hose that is heavier than necessary. Garden hoses generally come in four sizes: 25 feet, 50 feet, 75 feet, and 100 feet.
If you require a longer hose for a specific task, by all means, choose the size that meets your needs. However, if you only need the flexibility that a longer hose provides, consider buying two shorter hoses and connecting them as needed. This often works better and shorter hoses cost you less money than longer ones. Also, in case of hose damage, we find replacing a shorter hose easier than replacing a longer one. That includes the hassle of manipulating the entire hose length as well as the reduced cost.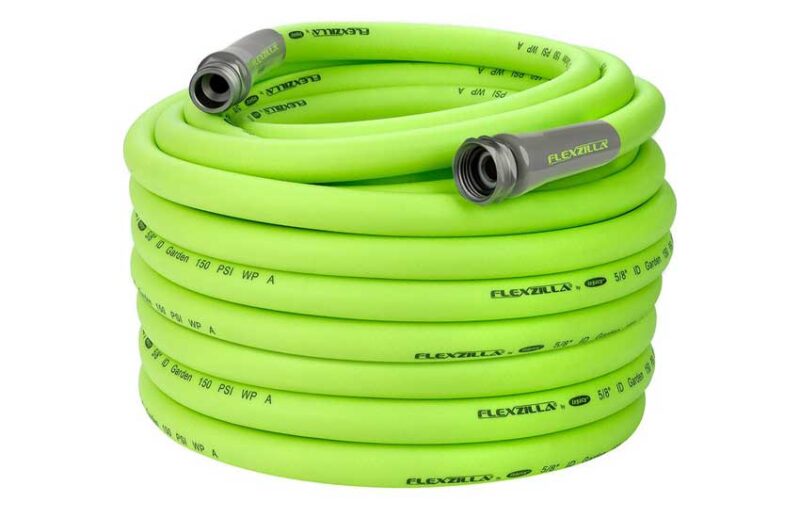 Material
After decades of using and testing garden hoses, we've found that the materials used in manufacturing significantly impact the long-term durability of a hose.
Garden hoses can be made from a combination of rubber, extruded polyurethane, and vinyl. Rubber hoses are the most durable and can withstand wear and tear better than others, but they are also the most expensive. Pure rubber hoses are not very common. If you want to use the hose for drinking water, ensure that it is rated for potable use. Hoses suitable for drinking water typically use polymers that are listed by NSF International, rather than PVC or other plastics that can leach into the water.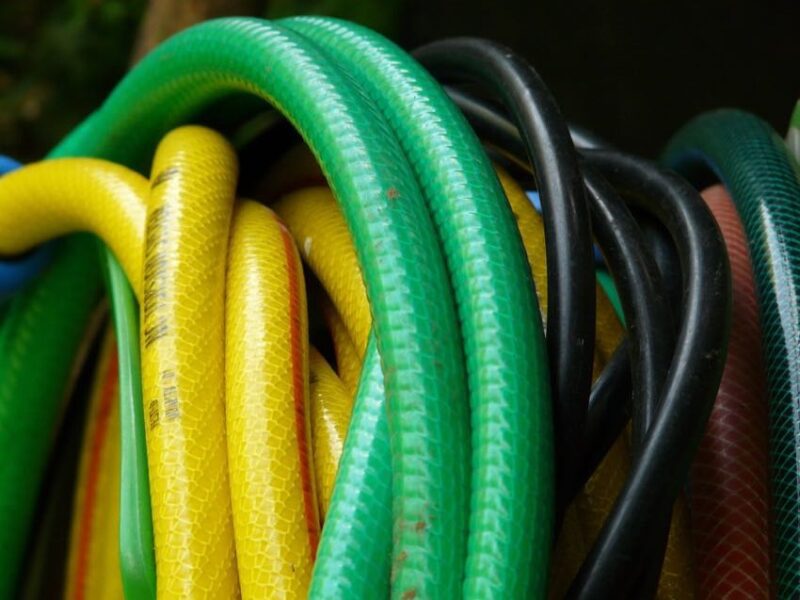 Hardware
The ends of the garden hose are often overlooked but they are important. The couplings that form the ends of garden hoses are typically made of brass, but some hoses use aluminum. Recently, manufacturers have started using plastic and hybrid ends which use both metal and plastic. Regardless of the material used, you can replace the end if it needs maintenance, even if the hose is still in good condition.
We appreciate a hose that has a threaded female end that you can fully grasp. This means that you can grip an elongated section that spins freely, making it easier to connect and disconnect the hose from another hose or a faucet.
If you end up with a hose that only has a captured nut for threading onto a spigot, a hexagonal shape allows you to use a wrench on a stubborn connection. Using water pump pliers on round connections can cause slipping or crushing when squeezing too hard.
Garden Hose Maintence & Care
Don't expect to take a ton of time maintaining a garden hose. However, even the best garden hoses require some love in order to last as long as possible.
Keep Garden Hoses Out of Sunlight When Possible
Sun destroys most garden hoses over time. In the best case, it merely stiffens up the hose. Find a shady place to store garden hoses when you don't need them. If you absolutely need a sun-tolerant garden hose, look for an EPDM (Ethylene Propylene Diene Monomer) rubber hose. This is a type of synthetic rubber that has UV resistance.
Eventually, any garden hose eventually decays when left too long in direct sunlight. Outer material can dry rot, rubber can dry out and crack, and vinyl can get stiff.
Get Rid of Kinks
Get rid of any obvious kinks before storing a garden hose. You also don't want to wrap a garden hose in a way that introduces kinking. Even the best garden hose will retain a permanent kink if stored for long (especially out in the sun) with a kink.
Keep your hoses kink-free and smooth, and they'll give you hassle-free use for years.
Stay on Top of Leaks
Most people don't realize you can repair hoses. If your hose does start leaking, locate the problem area and patch it using a tube or hose patch repair kit. If you wait too long before repairing it, a small pin leak can break open into a full-on tear. You can't repair tears—you actually have to cut them out and rejoin the garden hose using new fittings.
Do Not Let Your Hoses Freeze with Water Inside
If you live in a cold climate, bring your hoses into the garage or shed when temperatures drop below freezing. This helps prevent ruptures caused by expanding water. Even if you empty a garden hose, localized freezing can create a weak spot. The best practice has you storing hoses indoors until needed.
Periodically Change Gaskets/Washers
If you notice leaking between the spigot and the hose end, change out the washer inside the hose end. It may even be missing. These rubber washers provide a compressible seal between the garden hose and spigot as well as the hose and spray nozzles.
Over time they simply harden, deteriorate, or fall out. That leads to overtightening of the hose which can damage the threads. Your hose should easily attach to spigots and spray nozzles. If you have to bottom out the connection, you likely need to replace the washer .
How We Select the Best Garden Hose
When we judged the best garden hoses we looked at a variety of metrics to help us decide on our top choices. Our final decisions are somewhat subjective, of course, but also the result of careful consideration of a variety of factors. Over the years, we've honed these into what we feel helps us deliver reliable choices when recommending tools or other products.
We've also all used garden hoses for decades, so we had a lot of personal experience to pull from when picking out the best garden hose choices. In the end, we feel you can really rely on and trust the picks found in this list.
Durability
From rubber garden hoses to polyvinyl material, their useful life depends on the materials used. We've all bought hoses that lasted about a year before kinking, cracking, or otherwise losing their usefulness. In truth, the best garden hose should last for several years.
Before making any recommendations, we look at each garden hose's build quality to see if it can handle sun, basic use, and the kind of manipulation we expect when dragging these products in and out over and over again. Having used hoses from a dozen or more brands over the years, our team recognizes good build quality vs cost-cutting measures designed to save money.
Options and Features
When we talk about "options" we often refer to at least the ability to purchase a hose in various lengths. Most of our best garden hose selections include 25-, 50-, 75-, and 100-foot hose length options. Since not everyone has the same requirements, we want to make sure our choices give consumers the options they need.
We don't want to recommend the best garden hose as a 100-foot model when you might only need a 25- or 50-foot hose. We also appreciate options like grippable ends and integrated shut-off valves.
Value
Value matters. How much you pay for a good garden hose should equate to its performance. We don't mind spending top dollar, but the hose has to deserve that higher price. Because of this, we look for products that offer exceptional build quality or truly unique features that justify the extra expense.
Why You Can Trust OPE Reviews
Ever check out a "review" site and you can't tell if they actually tested the tools or if they're just "recommending" the Amazon top sellers? That's not us. We won't recommend anything unless we'd actually use it ourselves and we don't really care who the primary retailer is. It's all about giving you a legitimate recommendation and our honest opinion of each product.
We've been in business since 2016 covering outdoor power equipment, writing reviews, and reporting on industry news in the landscaping, heavy equipment, and lawn care industries. Our Pro reviewers have lots of experience in these fields as well as the skills and experience to know whether these products can perform well on the job.
Each year, our team reviews and gets their hands on hundreds of additional landscaping tools and equipment at our shop and at media events and trade shows.
We work with dozens of professionals around the United States who review products for us on real job sites and consult with us on testing methods, categories, and weighting.