From cleaning the driveway to making sure your vinyl siding is mold-free, you want the best electric pressure washer (your) money can buy. Having used so many of these personally, we assembled a list of our favorites. Separated by application and training, we created this list for a variety of use scenarios and needs. If you're in the market for an electric pressure washer, something on this list should get your attention and present a great value.
Editor's Note: Check out our best pressure washers article to see our top gas picks.
Electric Pressure Washers vs Gas Pressure Washers
Even the best electric pressure washers don't have as much maximum pressure or water flow as their comparable gas counterparts. They do, however, carry enough PSI and GPM rates to handle many cleaning tasks. For homeowners, it's hard to beat the value of an electric pressure washer.
On top of that, electric pressure washers have much less maintenance. They don't need gas or oil so you never have to check levels or refill them. You don't have any spark plugs to change and you can't gum up the carburetor. Even better they make much less noise and you have zero emissions!
While both gas and electric pressure washers require a water hose, electric models also need a power source. That means you need an extension cord and some sort of GFCI outlet on the outside of your home or office. While you can find some battery-powered pressure washers, we find them less powerful overall, though they have some advantages in particular use cases (like washing down your boat at the dock after fishing).
Comparing PSI and GPM
Pressure washers come with all manner of specifications. These include numbers for the flow rate (GPM) and maximum pressure using a 0-degree tip (PSI). With all the numbers and combinations, consumers can have a difficult time deciding which electric pressure washer best fits their needs. Cleaning power might present a solution as it combines both PSI and GPM. You can multiply the two numbers as a relatively simple way to compare models.
Here are a few examples using the PSI x GPM = Cleaning Power formula:
| | PSI | GPM | Cleaning Power |
| --- | --- | --- | --- |
| Pressure Washer A | 2000 | 1.2 | 2400 |
| Pressure Washer B | 2200 | 1.4 | 3080 |
| Pressure Washer C | 2300 | 1.3 | 2990 |
We wrote a helpful article about the relationship between PSI vs GPM in pressure washers.
Electric Pressure Washers vs Power Cleaners
Recently, several manufacturers have released power cleaners. These products, like the Worx 40V Hydroshot and Ryobi 18V EZClean power cleaner, provide a truly cordless cleaning solution for certain applications. With a power cleaner, you simply connect a hose directly to the tool or use a siphon hose submerged in a 5-gallon water bucket. Since it runs on battery, using the latter method means you don't need a local water supply or source of corded power to clean your car, boat, or RV.
While pressure washers generate much more pressure, a power cleaner gives you a truly handheld solution suitable for smaller jobs. Electric pressure washers typically generate 1200-1500 PSI or more while most power cleaners sit between 300 and 600 PSI. Both have similar flow rates and can put out enough water to clear a car or boat without any difficulty. Plus, a power cleaner lacks the pressure to damage the paint, making it safer to use on those products.
Best Electric Pressure Washer Overall
Producing up to 3000 PSI and a 2.0 GPM flow rate that drops to 1.1 GPM at max pressure, the Greenworks 5110502VT is the most powerful electric pressure washer we've used. It also uses the PWMA certification to lend its specifications credibility. It tops our list as the best electric pressure washer of the year. A corded electric model, it features a brushless motor and Greenworks "JettFlow" technology for maximum reach with the included wand. Most other pressure washers don't get this high of a PSI rating or they use inflated "PSI max" numbers to look like they perform better than they do.
Expect to pay a bit more for this performance, however. Retailing for $399, it tops our best electric pressure washer list in retail pricing. If you want the strongest machine you can get without switching to a gas model, this tool gets you there.
Best Battery-Powered Electric Pressure Washer
Ryobi 40V HP Brushless 1500 PSI Pressure Washer
The industry lacks a huge selection of battery-powered pressure washers. The Greenworks 60V Pro hybrid model stands out, but our favorite is the Ryobi 40V HP Brushless 1500 PSI pressure washer. It runs off two 40V batteries and features two modes. You pay more for the battery-powered option, but if it helps you clean on-site when you don't have access to power, it's worth the investment.
In the default mode, it produces a maximum of 1000 PSI. Switch to the Boost mode and you get the maximum pressure of 1500 PSI. We like the running choice between runtime versus power. You can also use the integrated 10-foot siphon hose to avoid the need for a pressurized water hose. Drop the siphon tube into a 5-gallon bucket (or similar) of water and you can clean without an external power supply or water supply. That makes this one of the most convenient solutions for cleaning your fishing boat at the dock!
Best Electric Pressure Washer Value
Ryobi 2000 PSI Electric Pressure Washer RY142022VNM
As we searched for the best value in an electric pressure washer, we again landed with Ryobi. Their 2000 PSI model has a great mix of cleaning power, quality, and price. With several excellent options falling right around $200, the Ryobi RY142022VNM was our top pick. It eeked out the win with its incredible value for what you get.
This electric pressure washer generates as much as 2000 PSI and 1.2 GPM and carries a PWMA certification. We LOVE the compact, wheeled frame with a telescoping handle. It also includes three different tips—one of which is a turbo nozzle that lets you clean a wider area with the maximum available pressure.
Best Electric Pressure Washers By Brand
Craftsman 2100 PSI Electric Pressure Washer CMEPW2100
We genuinely like Craftsman electric pressure washers. They price their products to make them accessible and they carry excellent specs and features. Our top Craftsman pick happens to fall to the model with the highest pressure. It tops out at a CETA-certified 2100 PSI and 1.2 GPM. With four included nozzles and a turbo nozzle, this tool feels like. small gas unit. We also like the 10-inch wheels that make it easy to transport this pressure washer up and down steps or across your lawn.
DeWalt 2400 PSI Electric Pressure Washer DWPW2400
DeWalt's top electric pressure washer is very similar to Craftsman's. Boasting the same CETA-certified 2400 PSI/1.1 GPM rating, there's essentially interchangeable in the types of work you can do with them. Like Craftsman, this model comes with four standard nozzles plus a turbo nozzle and it moves easily on its 10-inch wheels. If you want a more compact model at a similar price, check out the suitcase-sized DeWalt 2100 PSI pressure washer.
Karcher K2 Entry Electric Pressure Washer Kit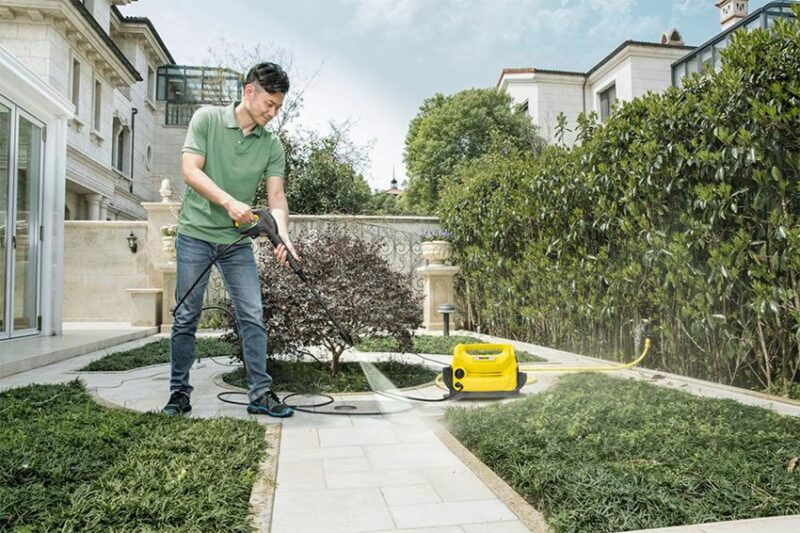 Karcher has several electric pressures to choose from. We find the Karcher K2 Entry ridiculously portable. It gets our top pick for the brand. With up to 1600 PSI using a 0º tip and outputting 1.35 GPM, this tiny electric pressure washer gives you cleaning from a frame that's no larger than a carry-on. It also weighs just 10.6 lbs. We recommend using the Karcher foam nozzle for a truly portable vehicle/boat/RV cleaning machine.
With a maximum of 2300 PSI and 1.2 GPM, the brushless Ryobi RY142300 electric pressure washer presents a more premium solution from the brand. It comes with three nozzles, including a turbo nozzle for maximizing power and your cleaning area. We also like the 12-inch wheels, which are great for moving across lawns and up and down steps.
Simpson Clean Machine 2300 PSI Electric Pressure Washer CM60976
We love the variety of Simpson pressure washers both homeowners and commercial professionals can choose from. They focus on gas pressure washers, but the Clean Machine CM60976 works well as an electric pressure washer. It puts out 2300 PSI and 1.2 GPM on the top end. We really like the value of this brushless model. It comes in significantly less than its closest brushless competitors.
What About Sun Joe?
There's some confusion surrounding some manufacturers' PSI and GPM ratings. Brands such as Sun Joe and Westinghouse decided to use "PSI max" as a way to communicate pressure and it's not the same as how other manufacturers get their numbers. Check out this article for more details.
While these brands make popular pressure washers and can do a good job of cleaning, pay close attention to the numbers when you're comparing models.
Sun Joe 2030 PSI Electric Pressure Washer SPX3000
Sun Joe has one of the largest lines of electric pressure washers available and there's no question the SPX3000 is their most popular. Boasting 2030 max PSI and 1.76 GPM, be sure to take a look at the fine print before pulling the trigger. Under a typical working load, it actually produces 1450 PSI, and the GPM rating is taken with the nozzle open (AKA no nozzle installed). Even though its $159 price tag is compelling, make sure you're comparing it against other pressure washers in the 1500 PSI range.
On the positive side, Sun Joe's design is easy to use, it has two removable detergent tanks, and it comes with 5 nozzles. Despite straying from typical specification reporting, it is a very approachable pressure washer that has served many homeowners very well.
Worx WG607 2200 PSI 13A Electric Pressure Washer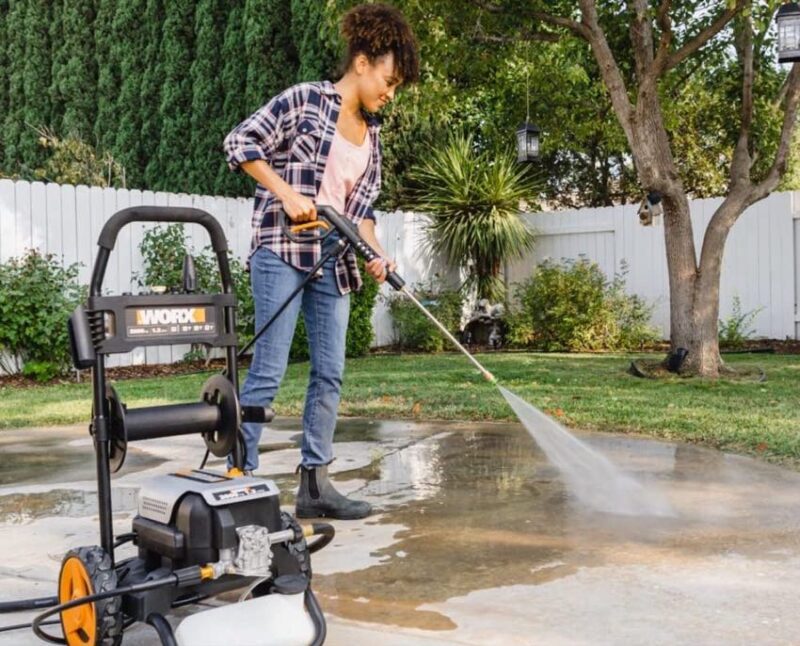 Worx is another brand that displays PSI max, but to their credit, they make it very clear what the expected working pressure is. On the WG607, they put the 2200 PSI working pressure in the name and let you know it has 2000 PSI in the technical specs. The same goes for the GPM rating. Its rated flow is 1.2 GPM with a max of 1.4. We appreciate the clarity!
We like the hose reel built into the frame a lot. Managing the hose when you're storing or moving any pressure washer can be a pain and the assist is helpful. Among the four nozzles that come in the box, one is an ever-handy turbo nozzle that helps lower-PSI units work more efficiently.
Why You Can Trust OPE Reviews
Ever check out a "review" site and you can't tell if they actually tested the tools or if they're just "recommending" the Amazon top sellers? That's not us. We won't recommend anything unless we'd actually use it ourselves and we don't really care who the primary retailer is. It's all about giving you a legitimate recommendation and our honest opinion of each product.
We've been in business since 2016 covering outdoor power equipment, writing reviews, and reporting on industry news in the landscaping, heavy equipment, and lawn care industries. Our Pro reviewers have lots of experience in these fields as well as the skills and experience to know whether these products can perform well on the job.
Each year, our team reviews and gets their hands on hundreds of additional landscaping tools and equipment at our shop and at media events and trade shows.
We work with dozens of professionals around the United States who review products for us on real job sites and consult with us on testing methods, categories, and weighting.
We'll provide hundreds of pieces of new content this year absolutely free for our readers—including objective evaluations of lawn care tools, products, and accessories.
The end result is information you can trust because of the editorial, scientific, and real-world professional experience we collectively utilize each and every time we pick up and test a product.