Settling in between the cleaning power of a hose nozzle and a pressure washer is a class of tools called power cleaners. The Ryobi 18V One+ HP Brushless EZClean Power Cleaner is an upgrade from a previous design and we wanted to see what the hype was all about.
Ryobi 18V One+ HP Brushless EZClean 600 PSI Power Cleaner Performance
If you're not familiar with this class of tools, a power cleaner is essentially a low-PSI pressure washer. Operating at up to 600 PSI and up to 0.7 GPM, Ryobi's power cleaner doesn't need a motor and pump system on the same level that their electric or gas pressure washers do.
In fact, it doesn't even need a pressurized water source at all. While you can use a hose directly with an included adapter, there's also a 20-foot siphon hose that makes using the tool a legitimate option when there's no hose around. Stick it in a bucket, a barrel, your pool, or the lake—as long as it's a freshwater source, you're good to go.
For that matter, you can also convert a bottle into a water or detergent source—there's an adapter in the box for that, too.
Compared to other power cleaners on the market, the Ryobi 18V One+ HP Brushless EZClean, it's on the high end for pressure and a little lower for flow rate. What's unusual is that there are 3 electronic speeds to choose from to help you manage your runtime. Most power cleaners only have one speed and there are a couple with two.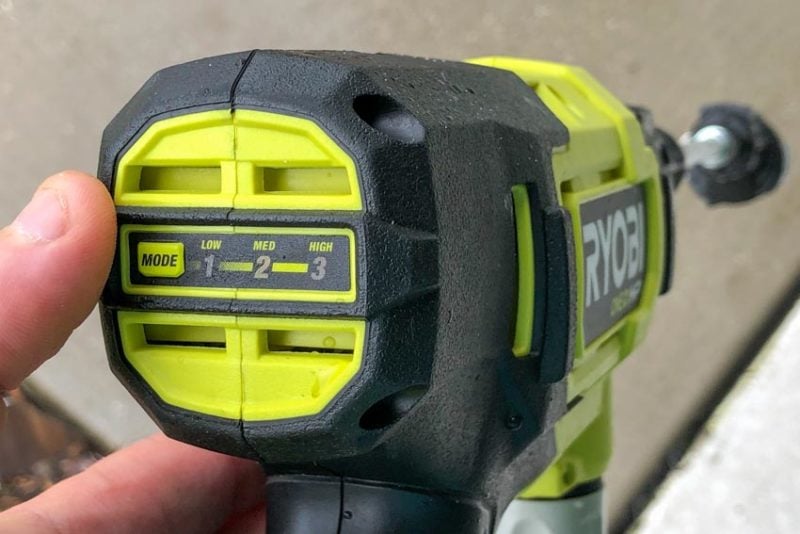 In terms of what you can do with it, imagine what you would tackle if you could get 5 – 10 times more pressure out of your garden hose nozzle. You can clean outdoor furniture, windows, screens, campers, or my favorite—your boat. What you won't be able to do is clean concrete or other surfaces that really need a higher PSI level to get the gunk moving.
Pro Tip: 600 PSI is enough to clean concrete, but you don't want to tackle your entire driveway. Stick with a pressure washer to cover large concrete areas and spot clean with the EZClean.
Ryobi 18V One+ HP Brushless EZClean 600 PSI Power Cleaner Design Notes
Size and Weight
With the stock wand, the tool measures just over 31 inches long. That's more compact than most of the competition out there. The others we've tested are in the 38 – 40-inch range.
The bare weight is 4.2 pounds and it's 5.8 pounds once you add a 4.0Ah battery.
Battery Protection
You can use any Ryobi 18V One+ battery to power the EZClean. Even though water and electricity don't sound like a great idea, there's a battery encloser with a gasket to seal out any water no matter how much splashing you do.
Lance and Nozzle
The tool comes with a quick-connect lance that's just over 12 inches long installed. We appreciate that Ryobi went with a metal shaft instead of plastic as we've seen from others.
The nozzle that comes with the tool is a 3-in-1 design that covers turbo (spinning 0°), 15°, and rinse. While some models have a 5-in-1, these are the nozzles we use most often.
Even though it's a quick-connect system, the size isn't the same as a standard pressure washer. You can't use a standard nozzle or foam cannon .
Accessories
You can get quite a bit of work done with what comes in the kit, but you can take the EZClean's versatility to a whole new level with the accessories Ryobi has available for it.
Chemical nozzle kit
Wash brush
Foam blaster
Squeegee
Bottle adapter (for 2-liter bottles)
Extensions
Flexible wand (must-have!)
Siphon extension
Pivoting adapter (another must-have!)
Ryobi 18V One+ HP Brushless EZClean 600 PSI Power Cleaner Price
You can pick up Ryobi's cordless power cleaner at The Home Depot for $159. Considering that includes the tool, siphon hose, hose adapter, bottle adapter, 4.0Ah battery, and charger, we like the value proposition. If you're already on the Ryobi 18V One+ platform, you can grab the bare tool for $119.
Ryobi Power Cleaner Quick Comparison
| | | |
| --- | --- | --- |
| | 18V One+ EZClean | HP Brushless EZClean |
| Max Pressure | 320 PSI | 600 PSI |
| Max Flow | 0.8 GPM | 0.7 GPM |
| Nozzle | 3-in-1 (turbo, 15°, rinse) | 3-in-1 (turbo, 15°, rinse) |
| Price | $79.97/$149.00 | $119.00/$159.00 |
The Bottom Line
The Ryobi 18V One+ HP Brushless EZClean Power Cleaner hits a higher performance level than its predecessor and comes out as a more versatile tool because of it. While it's not designed to be a pressure washer replacement, it does have high pressure for this class of tool. It's an excellent portable cleaner when you don't have access to a pressurized water source or want to avoid the potential damage a pressure washer can cause.
Ryobi 18V One+ HP Brushless EZClean 600 PSI Power Cleaner Specifications
Model: Ryobi RY121850
Power Source: Ryobi 18V One+ battery
Max Pressure: 600 PSI
Max Flow: 0.7 GPM
Nozzle: 3-in-1 (turbo, 15°, rinse)
Weight: 5.8 pounds with 4.0Ah battery
Warranty: 3 years
Price: $119 bare, $159 kit with 4.0Ah battery