DeWalt Electric Jobsite Pressure Washer Tucks Away Smartly
When we first spotted the DeWalt jobsite electric pressure washer it looked unlike anything we had seen before. The compact design of the DeWalt DWPW2100 takes up less space and lets you store all of your hoses, cords, and accessories right on its rectangular frame. A pressure washer shaped like a rolling suitcase? Color us intrigued.
Pros
Extremely compact
Internal wand storage
Portable suitcase design
60-foot total reach
Removable detergent bottle
GFCI plug
Cons
Could use slightly larger wheels for better travel in dirt and grass
Check out our best pressure washer article to see our top picks
DeWalt 2100 PSI Electric Pressure Washer Design
Compact Size and Manageable Weight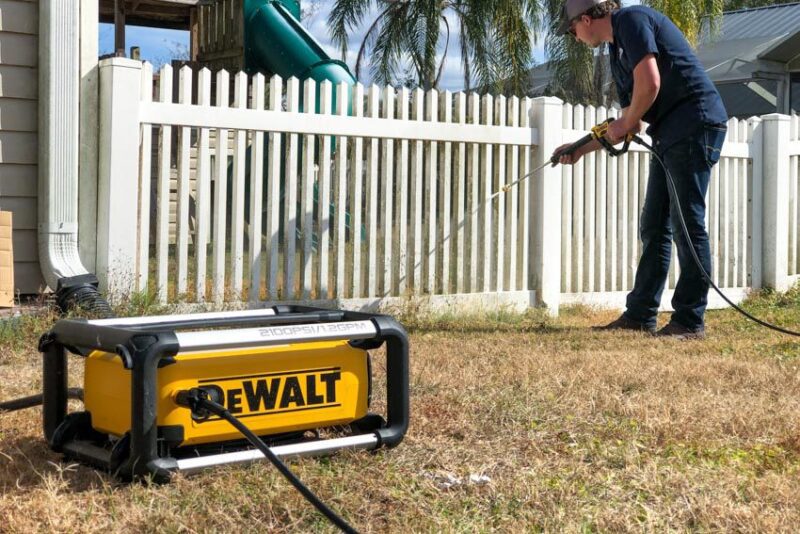 The DeWalt DWPW2100 electric job site pressure washer presents itself as a compact rolling suitcase-sized package. Measuring 22.5 x 15.1 x 10.5 inches and weighing less than 28 pounds, you can take it or toss it just about anywhere. Extend the telescoping handle, and you can easily roll it around the job site.
While diminutive (small) tires don't come with all-terrain treads, they work really well on hard surfaces. The ergonomics also let us get this pressure washer across both grass and dirt without too much difficulty. Still, larger wheels would be nice.
Onboard Hose and Power Cord Storage
Ranking top among the things we like—DeWalt integrates a handy cord clamp for the 35-foot GFCI cord. Two oversized cleats sit within a recessed area on the back of the pressure washer. The included 25-foot hose could and stores nicely on the front.
cost less and would drive up prices too far for entry-level models like this one.
Onboard Accessory Storage
While most pressure washers provide a hose wrap and onboard storage for nozzles, DeWalt takes it further. To store everything on board, the wand breaks down into three pieces. Lift up the cover next to the top handle and you find that all three pieces slide down into the body of the DeWalt jobsite pressure washer. Even the handle fits in this compartment!
Speaking of the handle, it lets you store three nozzles right underneath the plastic trigger guard. Since It only has room for three (the system includes 4), keep one on the wand or toss it in that compartment.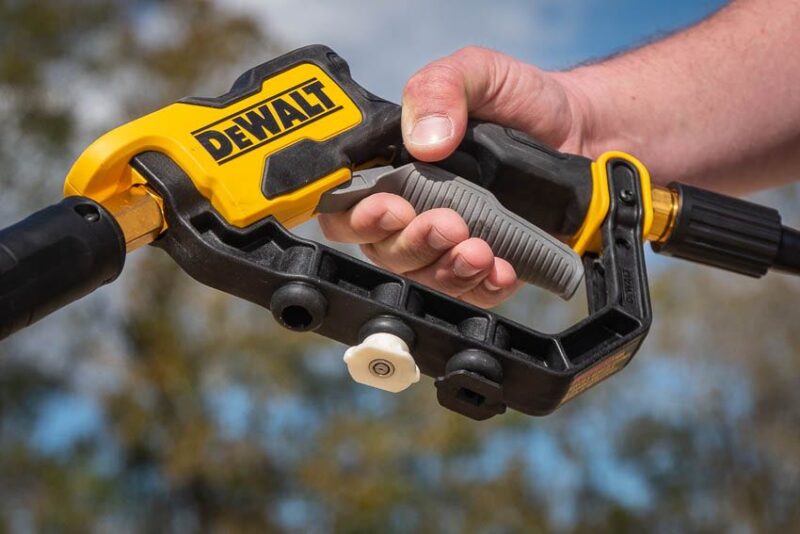 On-Board Detergent Tank
An onboard detergent tank means you can add your favorite detergent to the pressure washer directly. The DeWalt DWPW2100 made the tank removable, however. Because of this, we found it so much easier to empty any leftover soap back into the bottle once we finished. Great design!
Because of its location on the pressure washer, you can use this tank with the unit standing vertical or lying down flat. The soap still feeds correctly from the bottom of the container.
Additional Features
CETA certified, meeting the CPC100 performance standard
Axial pump
DeWalt Electric Jobsite Pressure Washer Performance
Despite its small size, this jobsite electric pressure washer really performed for us. DeWalt rates this 13-amp unit at 2100 PSI at 1.2 GPM.
We used the DeWalt electric pressure washer to remove dirt and algae from a PVC fence (without chemicals). We also tried it on some vinyl siding. While certainly not as powerful as our Simpson Powershot 4240 pressure washer, it held its own. It removed tough algae just fine provided we gave it some extra time and used the included 15-degree tip.
While there's a debate on whether you should use a pressure washer to clean your car, we used it with the soap nozzle and had great results.
The roll cage not only provides protection for the DeWalt electric jobsite pressure washer—it gives you tons of ways to pick it up. We found it quite easy to load and unload on our work truck.
DeWalt Electric Jobsite Pressure Washer Price
The DeWalt 2100 PSI electric pressure washer retails for $249 at The Home Depot and includes a 3-year warranty, 1-year free service agreement, and 90-day money-back guarantee. It cost a bit more than other 2100 PSI/1.2 GPM pressure washers. However, none of them have this level of compact storage convenience.
The Bottom Line
The DeWalt electric jobsite pressure washer does a great job providing both form and function. We love the compact chassis and it has excellent mobility. We found it has enough power for most light-duty work. Consider a more powerful model with higher PSI and GPM ratings for those demanding jobs. If more manufacturers don't figure out how to imitate or improve upon DeWalt's innovative design, we'll be very surprised.
For more information about DeWalt tools, click here .
DeWalt 2100 PSI Electric Pressure Washer Specifications
Model: DeWalt DWPW2100
Power: 120VAC
Hose: 25 ft.
Cord: 35 ft.
Pump Type: Axial cam
Removable detergent tank
Flow rate: 1.2 GPM
Included Nozzles: Turbo, 15°, 40°, Soap
Dimensions (LxWxH): 22.5 x 15.13 x 10.5 in.
Price: $249