As a homeowner, it may be that you don't require more than an electric pressure washer offers. We had a chance to test the Greenworks 3000 PSI electric pressure washer to see if this tool could take the place of larger, more expensive gas models for homeowners looking to perform basic household cleaning tasks. Based on specs, this pressure washer advertises the strongest PSI and flow rates available without moving to a gas engine.
Greenworks 3000 PSI Electric Pressure Washer Design Notes
Upright Storage
Following the best battery-powered lawn mowers which all store vertically, some electric pressure washers have finally started following suit. Stored vertically, your pressure washer doesn't need to overtake the floor space of your garage or shed. This works even better when you consider these tools lack oil and gas which tends to spill and leak. Greenworks effects vertical storage with no frills. Just lift the unit up until it rests on the padded front bar. You don't even have any handles to fold.
Generous Post-Pump Detergent Tank
Most electric pressure washers we review include some kind of detergent tank. The Greenworks 1-gallon tank, however, gives you more storage than most. We buy Simple Green by the gallon and fill that tank with the entire contents. As it should, this feeds the wand post-pump, so no chemicals travel through those critical components and cause additional wear and tear.
Additional Highlights
Push-button start
10-inch airless tires
35-foot power cord with in-line GFCI
25-foot kink-resistant hose
Axial cam pump with thermal relief valve
Includes 15°, 25°, 40°, soap, and turbo nozzles with onboard storage
Greenworks 3000 PSI Electric Pressure Washer Performance
With pressure washers, two specifications matter above all others: PSI (the pressure) and GPM (water flow rate). Greenworks reaches 3000 PSI with this tool and up to 2.0 GPM. Of course, like all pressure washers, those maximum numbers depend on which nozzle you use. A typical electric pressure washer rates 2000 PSI/2.0 GPM. The difference could be partly attributed to Greenworks' use of a brushless motor .
By nature, brushless motors require special electronics to operate. This lets the Greenworks 3000 PSI electric pressure washer employ intelligent sensors that adjust both power and water flow to maintain both as needed.
Pressure washer ratings matter, and some tools play fast and loose with those numbers. You can often find PSI Max and GPM Max numbers that have little to do with the real-world performance of the pressure washer.
Greenworks certifies its ratings using the PWMA . That gives you more confidence that their ratings connect to what you get when using the pressure washer.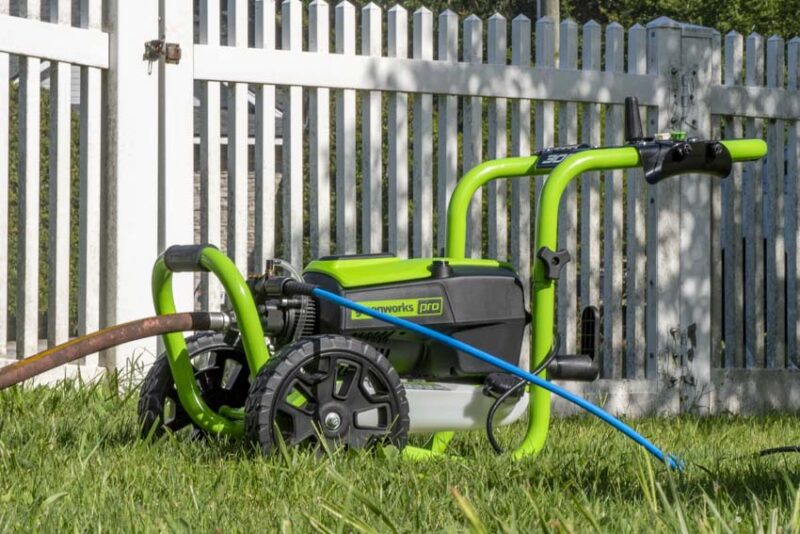 The end result is an electric pressure washer that cleans with the power of an entry-level gas tool…all without the hassles and cost of gas, oil, winterization, and other associated maintenance.
Greenworks 3000 PSI Electric Pressure Washer Price
As one of the highest-performing electric pressure washers available, it's no surprise that the Greenworks 5110502VT is also at the high end of the price scale. The retail price runs $399.00 and that comes with a 3-year warranty on the tool and a 10-year warranty on the brushless motor.
The Bottom Line
If you want to get into gas pressure washer performance without leaving the convenience of an electric unit behind, the Greenworks 3000 PSI electric pressure washer is a great way to accomplish that. Its combination of PWMA-certified performance and conveniently thought-out design make it an easy recommendation for homeowners.
Specifications
Motor: Brushless
Max Water Pressure: 3000 PSI (with 1.1 GPM)
Max Water Flow: 2.0 GPM (with 100 PSI)
Hose: 25 feet
Cord: 35 feet with GFCI
Wheels: 10 inches