We've said it time after time. Battery power has come a long one, and it's catching up to gas in popularity and performance. Let us count the ways: namely, gas is expensive, and it makes you stink. In any case, we were excited to hear about a pressure washer that's utilizing lithium-ion technology–the Ryobi Whisper Series Pressure Washer.
Indeed, this 40V, 2000 psi model landed on our Best Pressure Washers list. Let's take a look at the features and design that put it there.
Ryobi Whisper Series Pressure Washer Performance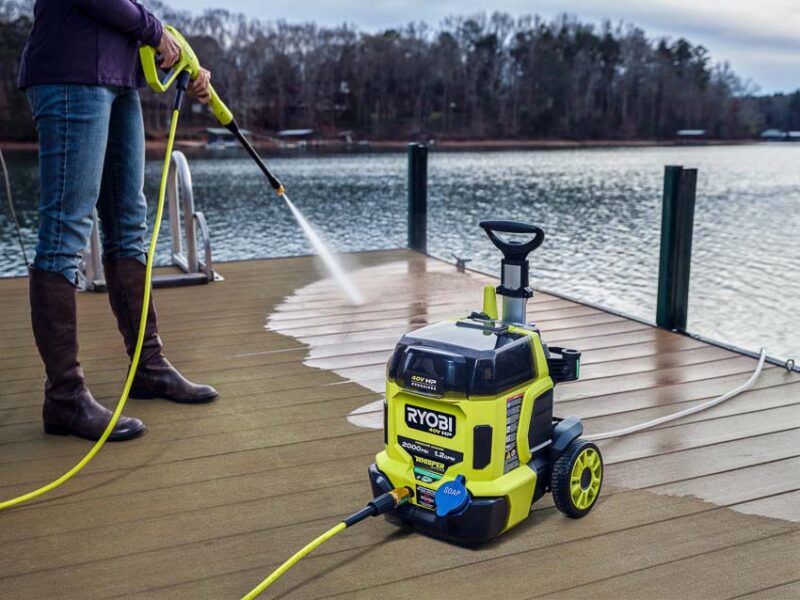 The second-generation Ryobi 40V HP Brushless model is the best battery-powered pressure washer in an arena where the competition is slim. That effectively makes Ryobi something of a trailblazer in this case.
First of all, the Ryobi Whisper Series Pressure Washer puts out an impressive 2000 PSI at 1.2 GPM when in Boost Mode. Moreover, it closely resembles the 1500 PSI version, which was among our recommendations in 2022.
But this power has to come from somewhere, which is why it takes two batteries to run this tool.
Specs
Model: RY40306BTLVNM
40V Lithium-ion battery
Cold Water
One of the many features that we liked was the ease of use and the options that it gives you. You can adjust the Ryobi Whisper Series Washer's pressure with 3 setting options–low, medium, and high, within a range of 1000 PSI to 2000 PSI.
This enables you to choose between runtime and power. You can apply these choices to a number of tasks, such as sidewalks and driveways, windows, and patio furniture.
And of course, we have to hit on why it's part of the Whisper Series. That's because it's a whopping 81% quieter than a gas-fueled pressure washer.
Ryobi Whisper Series Pressure Washer Design
To start with, Ryobi designed this tool for convenience. And, by and large, they've succeeded.
For example, you don't need a pressurized water source with this model. Drop the siphon hose in the pool or lake and start cleaning.
Moreover, the wheels and telescopic handle should make it easy to move, and the batteries sit in a waterproof enclosure.
Ryobi RY40306BTLVNM Price
The 40V Ryobi Pressure Washer retails for $499, and comes with the manufacturer's 5-year limited tool warranty. The batteries and charger are available separately.
Don't miss our guide on How to Use a Pressure Washer!