When it comes to removing leaves from your yard, you basically have three options. One, you can rake and bag them. Two, you can use a mower with mulching capability. We definitely like this method. Mincing leaves and grass clippings saves you time. It also creates instant compost that acts as an organic fertilizer. However, if the leaves are too thick, or you don't have a mulching mower, there's a third option. Break out a tool like the 24-inch Craftsman Chipper Shredder Vacuum (CSV060).
Here's a rundown of what this gas-powered solution can do to help you finish off your yard work for the season.
Craftsman Chipper Shredder Performance and Design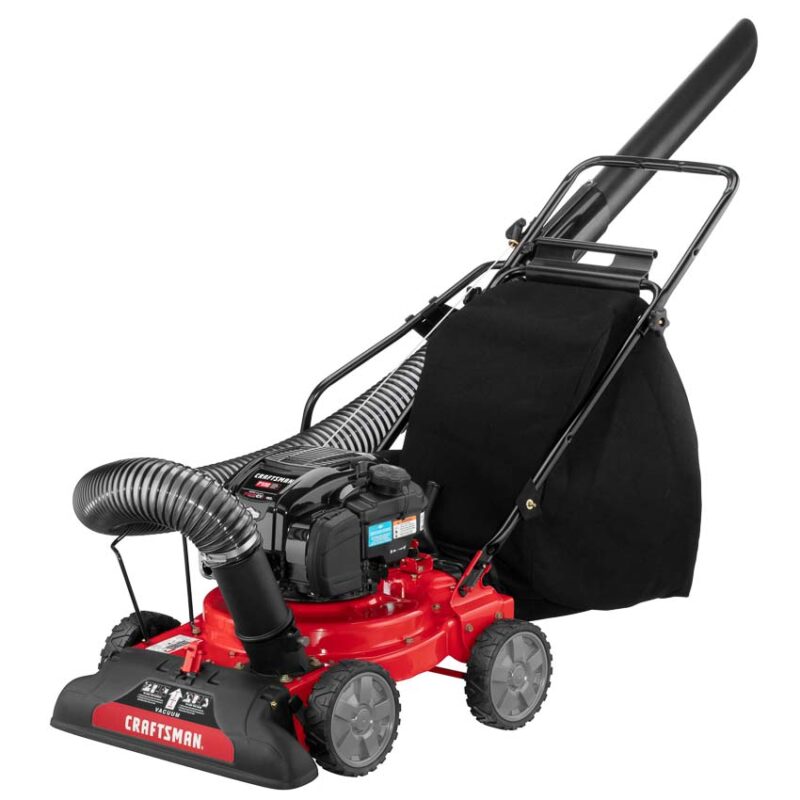 Driving the CSV060 is a 163cc Briggs and Stratton engine. That, in itself, bodes well for this model. In our experience, B&S builds solid engines. They're reliable starters that run smoothly and age well.
In terms of applications, Craftsman assures us that their chipper shredder is an omnivorous vacuum. Indeed, the CSV060 can handle a variety of natural litter, including leaves, twigs, acorns, and pretty much anything else a tree or shrub can drop.
Specs
Model: Craftsman CMXGPAM1080054
Engine: 163cc Briggs and Stratton
Clearing width: 24 in
Chipping capacity: 1.5 in
Mulch ratio: 8:1
Bag capacity: 2 bushels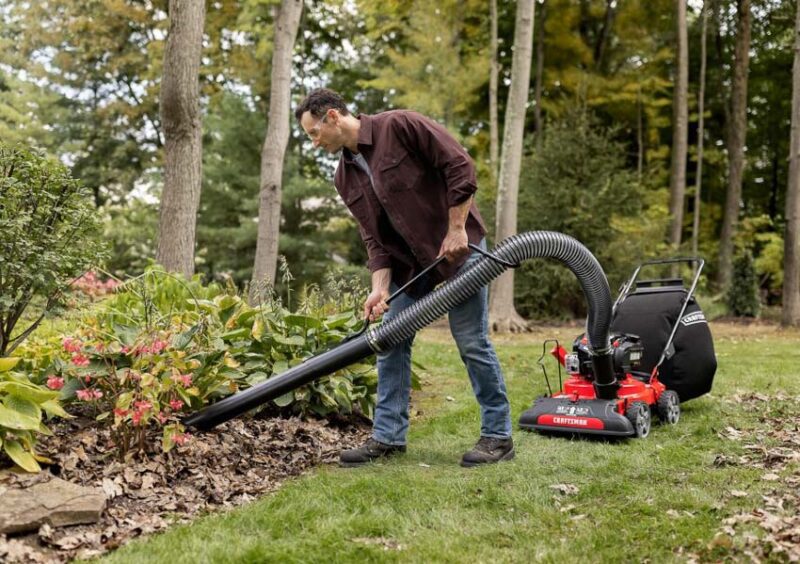 On the business end, you have a 24-inch vacuuming width and side chute for shredding sticks and branches up to an inch and a half thick. What's more, you can hit hard-to-reach spots using the 7-foot flexible vacuum hose, and, if that's not enough, Craftsman gives you an additional 3-foot extension that you can attach to the chipper shredder.
In fact, the hose is ideal for tight or crowded spots that require more precision. For example, it will help you clean under shrubs, in flower beds, around patios, and along fences.
Moreover, the CSV060 collects the mulched debris in a 2-bushel bag as you work. According to Craftsman, the chipper shredder yields an 8:1 mulching ratio.
Craftsman Chipper Shredder Price
The CSV060 sells for $799 and comes with a 2-year limited warranty.