Fences come in all shapes and sizes, from wood and vinyl privacy fences to metal panels and bamboo. The best fences complement your home's style and meet your family's needs, and they can achieve several objectives at once. Choose from different types of fencing materials to build a fence that's right for you and your family.
What Type of Fence is Best for Your Yard?
Protecting your property and maintaining privacy are the top reasons for building fences, but people build fences for many different reasons. There are numerous fencing options, however, before you choose the best fence for your yard, it's important to understand why you need a fence and what you're trying to accomplish.
Consider these common reasons for fences:
Create privacy
Provide safety and security
Create a sound barrier
Establish property boundaries
Enhance landscaping features
Create shade
Block dust and wind
Contain pets and livestock
Security fencing, privacy fencing, and specialty fencing are all popular choices, and many types of fencing for yards will help you solve multiple problems. For best results, explore the following fence materials before you decide which styles and types of yard fences best suit your needs.
Security Fences
Security fences protect your home and property from intruders and unwanted visitors. If security is your primary reason for fencing, your best choices are metal security fences. Choose from chain-link, steel, aluminum, and wrought iron fences.
Chain-Link Fences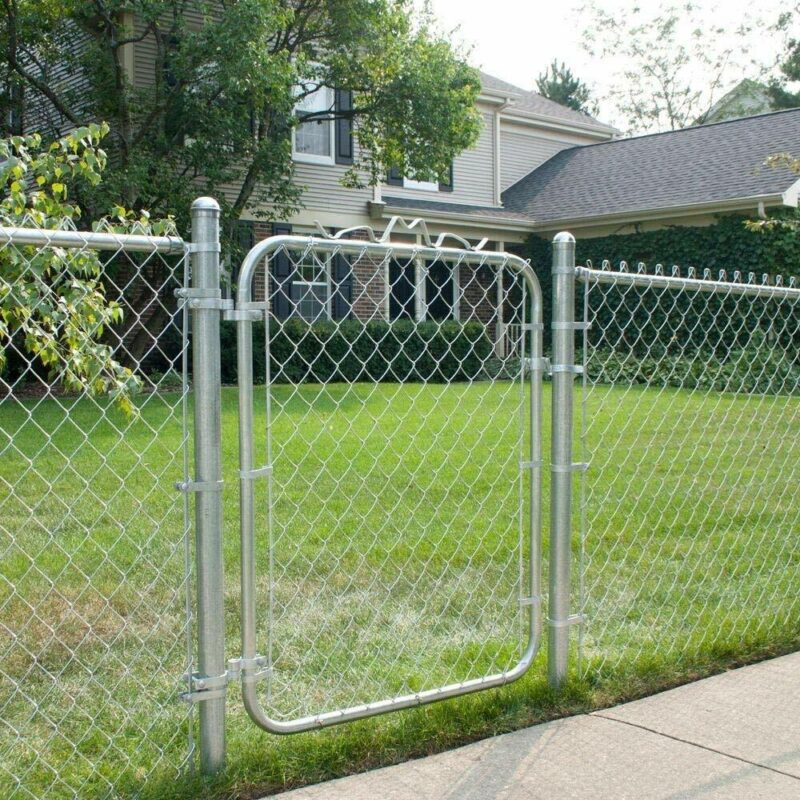 Chain-link fences are the most common type of security fence. They are durable, budget-friendly, and easy to install. They come in different heights and configurations for various purposes and require little maintenance.
There are some disadvantages to chain-link fences, though. They lack aesthetic appeal and unless you add wire mesh, bamboo screens, or privacy slats, they aren't private. You can also plant confederate jasmine which eventually transforms that fence into a hedge.
Chain-link fences are excellent for securing commercial properties, correctional facilities, and industrial buildings. Because they are less attractive than other types of yard fences, they aren't the best choice for a residential property. But their low price, easy installation, and durability make them popular with homeowners.
Aluminum Fences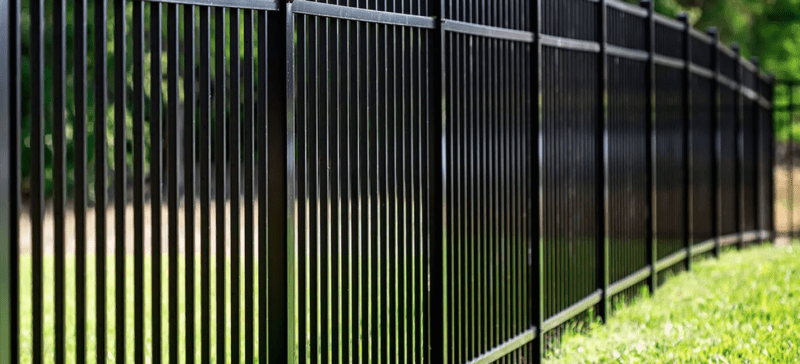 Aluminum fences are another type of metal security fence, and they are one of the best options for homeowners looking for a combination of beauty, durability, and affordability. Aluminum is lightweight but durable, and if you want security without sacrificing your view, aluminum fences are an excellent option.
Steel Fences
Steel fences are medium-range security fences that resist rust, corrosion, and chipping. Consider a steel fence when you're looking for long-lasting security that requires very little maintenance and will look great for years.
Wrought Iron Fences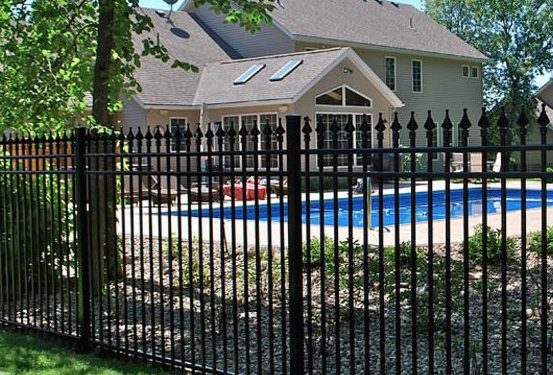 The unmatched elegance of wrought iron fences adds value to your home by providing excellent security. They are tremendously attractive, and like other metal security fences, wrought iron is durable and long-lasting. It's often the focal point of an entire property.
Wrought iron is designed with elaborate finials and other ornate features, making it highly customizable and adding to its appeal. It is expensive and requires more maintenance than other metal fences for yards, but if you can afford it, the timeless appeal of wrought iron will more than offset the cost and maintenance requirements.
Privacy Fences
Privacy fences are essential for homeowners who want to maintain their space and create a private oasis. A privacy fence means you don't have to worry about nosy neighbors, loud noises, and unsightly views.
Not only do privacy fences establish property boundaries and contain children and pets, but they also make your family safer. When unwanted visitors can't see what's inside, they are less likely to intrude.
Standard Wooden Fencing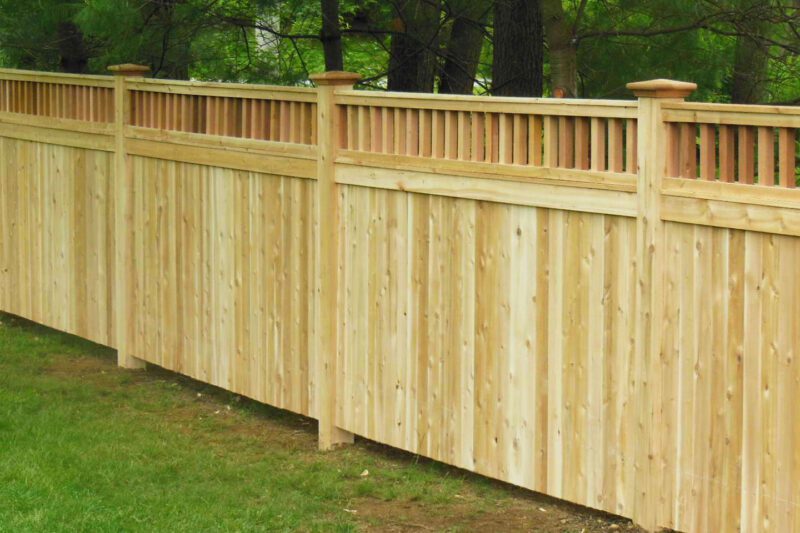 When privacy is your primary concern, standard wooden fences have much to offer.
Wood fences are one of the most common types of fences for backyard privacy. They are affordable, durable, and attractive, and you can stain or paint them to complement your home's exterior.
There are limitless combinations when you customize wood fences with different colors, wood types, and styles. Lumber costs vary, and there is a wood fence to fit every budget.
You can combine different types of wood to reduce your overall cost. For example, use pressure-treated lumber for fence posts and fir rails to support cedar or redwood pickets.
Even though wood fences require more maintenance than other fence types, it isn't difficult to paint or fix them. DIY wood fence repairs are much easier than fixing other types of yard fences.
Composite Fences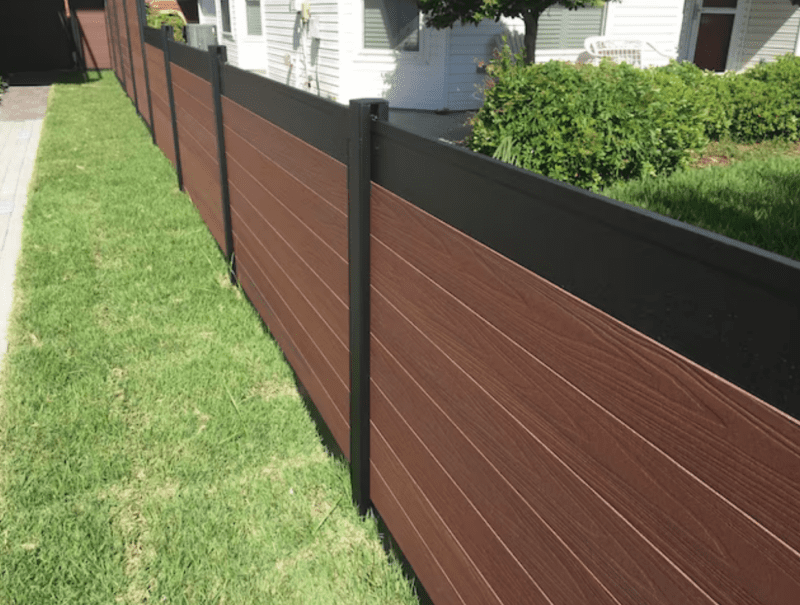 There are many reasons to consider composite fencing as an alternative to standard wooden fencing. Compared to wood, it's a durable option that looks good for years, and you can choose from many colors and styles.
Composite fencing is also environmentally friendly. It's made from recycled materials, and unlike treated wood, composite fencing has no toxic additives.
Once it reaches the end of its lifespan, you can recycle it again.
Ornate Wooden Fences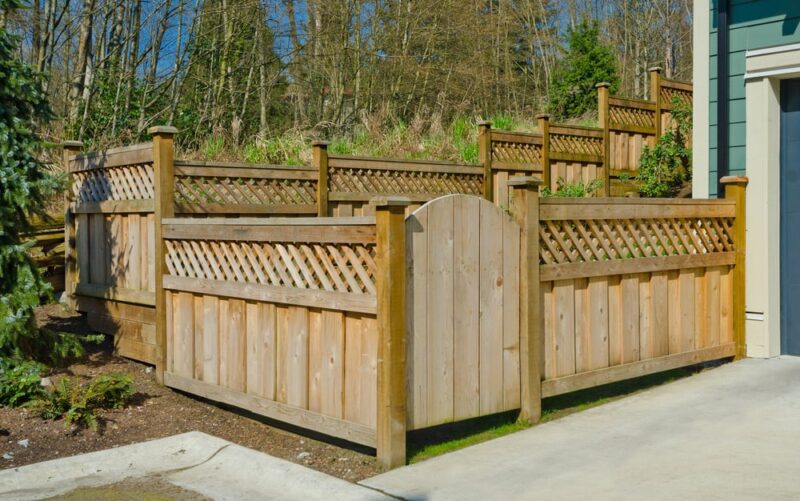 Design enthusiasts often add decorative features like wood finials and sections of lattice paneling to ordinary wooden fences. Since wood is so versatile, there are many options, and when you pair high-quality wood with interesting design features, the results can be extraordinary.
Changing the standard vertical orientation of panels to horizontal is one way to achieve a unique wooden fence. You can also use diagonals, Chevron patterns, and combinations of wood and metal to create custom fence styles.
Semi-Privacy Fences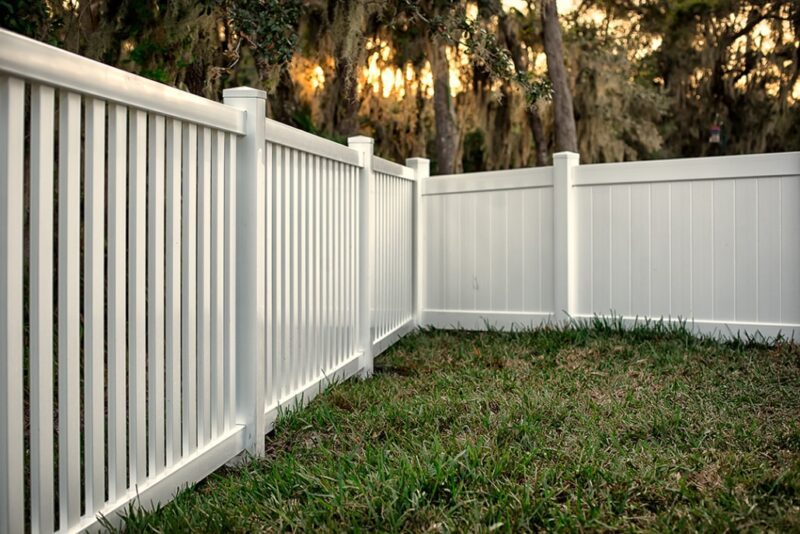 Semi-privacy fences are a great way to add both privacy and style to your outdoor space. There are several fencing options in this category, and you can choose from different types of fences that offer varying levels of privacy.
Many people prefer the airy feel of semi-privacy fences because you can create a boundary without making it feel like you're inside a fortress. With a semi-privacy fence, the pickets, or slats, are far enough apart to allow air through, but they still offer some privacy.
Several affordable and attractive types of semi-privacy fences are available, and you can choose from wood, vinyl, and metal.
You have more options when privacy and security aren't your primary reasons for building a fence. For a unique fence, use a combination of different types of fencing materials.
Vinyl Fencing
Semi-private and private vinyl fencing are top choices for homeowners because they are low-maintenance, long-lasting, available in different colors, and can be customized with decorative finials to improve appearance. Despite being more expensive than wood, people often go with vinyl because it doesn't splinter, rot, or succumb to insects.
Furthermore, you don't have to paint vinyl, which makes it hard to beat when you factor in the long-term price of maintenance and repairs.
Lattice Fences
Lattice is made from wood, vinyl, or metal, and the highly decorative panels pair well with many types of fence designs. It's often used to create a border or to compliment landscaping features. Even though it isn't great for privacy, it can enhance your exterior by doubling as an excellent trellis for vines.
Louvered Fences
You can purchase louvered fence panels or build a louvered fence by setting fence pickets at an angle. Louvered fencing lets air flow freely into your yard but will block heavy winds. When viewed from most angles, it offers privacy for your family.
Louvered fences are available in vinyl, wood, metal, and composite.
Metal Panels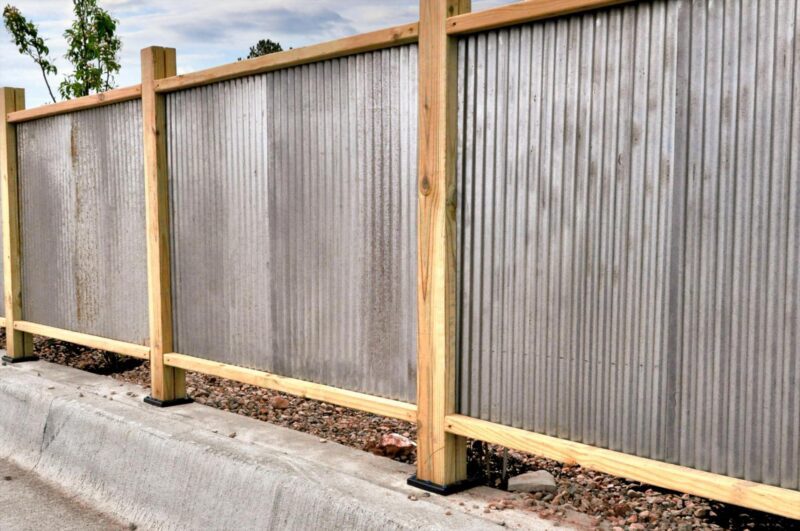 Metal can be used in many ways to create a semi-private fence. Metal pairs well with brick, concrete, stone, and wood, and you can create beautiful modern designs from various styles of metal fence panels.
There is a wide variety, from linear planks to decorative laser-cut panels.
Wooden Picket Fences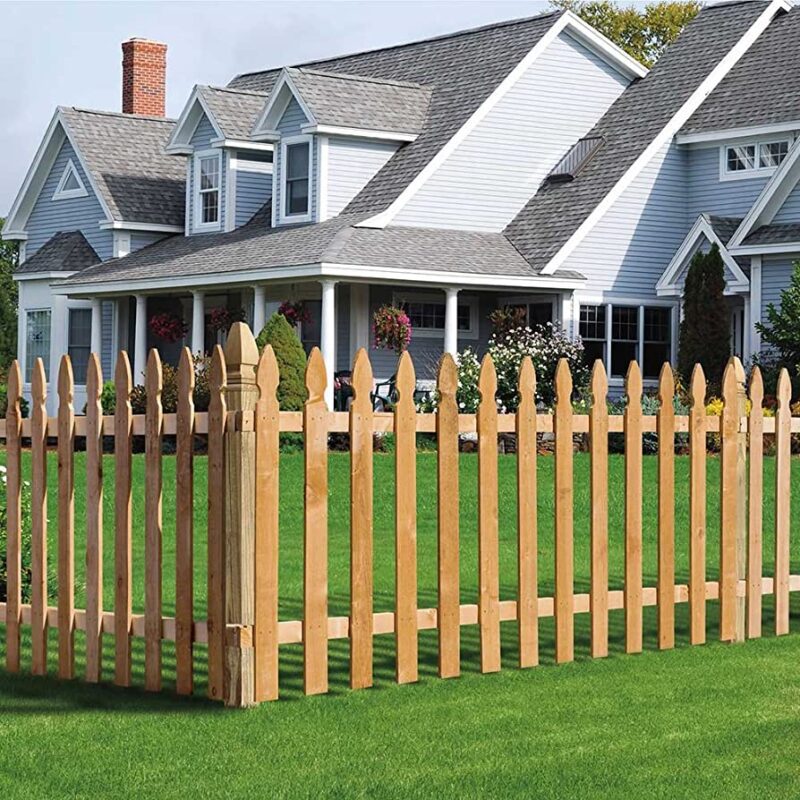 The iconic status of wooden picket fences, particularly white ones, still holds sway over people today. Wooden picket fences make everyone think of a peaceful and joyful life filled with family and fun.
While the classic look of wooden picket fences doesn't offer much privacy or security, it has genuine aesthetic appeal. It's a cost-effective choice that does a great job of keeping people from walking through your front yard. It also serves as a beautiful backdrop for shrubs and flowers.
Vinyl Picket Fences
Vinyl picket fences are an excellent alternative to wooden picket fences. When you are looking for a nice-looking fence to establish property lines and add curb appeal to your home, vinyl picket fences achieve the same cottage-garden feel as wooden ones.
Even though it costs slightly more, some people prefer vinyl because it is extremely easy to care for and lasts a long time.
Specialty Fences
Specialty fences are designed for specific applications or purposes. Common examples of specialty fences include bamboo, masonry, wire fences, and invisible pet fences.
Bamboo Fences
Bamboo is often combined with wood to create stunning panels that provide a natural, tropical look for your outdoor space. Bamboo can be shaped in various styles, from simple to ornate, and it's a strong, lightweight fence material that's easy to install and maintain.
Because bamboo grows fast, it's one of the least expensive options for yard fencing. It's not as durable as wood, so you should seal it every 2-3 years to extend its lifespan.
Masonry Fences
Masonry fences can be made with brick, concrete, stucco, or natural stone. Often used in residential settings, they are the most durable type of fence available, sometimes lasting over a century.
These types of fences aren't good for small yards, but they are durable, attractive, and soundproof. Masonry fences pair well with metal panels, and because there are so many types of masonry fencing materials to choose from, you have many design options.
Wire Fences
There are four common wire fence types: welded, woven, barbed, and electric. They are often used on farms to contain livestock or to keep out deer and other pests. The type of fence used depends on what animal you want to keep in or out.
Wire fences are economical and make excellent perimeter fences for large properties. Sometimes, people use a combination of different types of wire fencing to create a multi-purpose hybrid fence.
Quality construction improves the appearance of wire fences. Some box wire fences made with welded metal panels and wood posts are rather stylish. Even a simple barbed wire fence is more attractive when properly built and maintained.
Invisible Electric Fence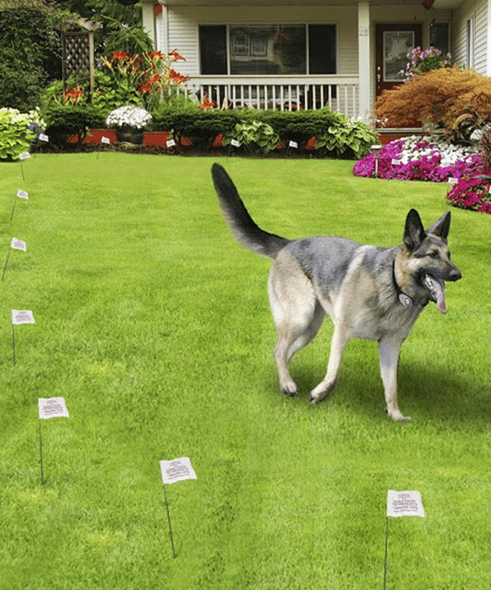 If you're looking for a cost-efficient way to hold your dog, invisible electric fences are effective and humane solutions.
These fence systems create an invisible boundary by emitting an unpleasant shock to your dog when it approaches the fence limits. Invisible electric fences are inexpensive and easy to install or move, but they don't keep other predators, pests, or intruders out.
FAQs About Types of Fences
What is the cheapest type of fencing?
The cheapest type of fencing is wire mesh fencing. Several types of wire fencing, including chain-link, are among the least expensive types of fencing. Wire fences are also the easiest to install, making them popular with homeowners.
What type of fence lasts the longest?
The fences that last the longest are usually the ones that cost the most to install. Wrought iron fences, when properly maintained, can last for centuries, and masonry fences can last for at least 100 years.
Chain-link fences–perhaps the cheapest fences available–are also quite durable, lasting an average of 25 to 30 years.
Can I build an 8-foot fence?
You can build an 8-foot fence if you want, but you may need to check local building regulations or homeowner association rules before you begin. Most privacy fences are generally 6 to 8 feet tall. With the proper support, installing an 8' vinyl privacy fence with panels is relatively easy.
What type of fence is low maintenance?
Vinyl fences are popular because they are essentially no-maintenance fences. Other than cleaning and minor repairs, you don't need to do anything to take care of vinyl fencing.
Aluminum fences are another type of low-maintenance fencing.
What is the best fencing to keep dogs in?
The best type of fencing to keep your dog in depends on your dog. If your dog is a digger, climber, chewer, or some other type of escape artist, it can find a way out of almost any fence.
Invisible electric fences are inexpensive and effective, making them the best fence for dogs that are difficult to contain.
What is the easiest fencing to install?
Chain-link fencing is the easiest type of fence to install because it is a simple process and requires minimal tools (like a Milwaukee fencing stapler). Use a battery-powered auger to dig the post holes, fill them with concrete, and string the chain-link fencing between the posts.