HART Tools 40V Battery-Powered Earth Auger Digs Through Soil Fast
When putting up fence posts in a large pasture, any tool or method to reduce the physical labor helps. We connected with Eli Mosley , our local rancher, to install more than a few fence posts in one of his cow pastures. We always seem to get "invited" to his ranch when he has lots of work that needs doing. In any case, we wanted to see if the 8-inch HART 40V earth auger could save us from hours of back-breaking work using our typical post-hole diggers and shovels.
HART 40V Battery-Powered Auger Design Notes
Size and Weight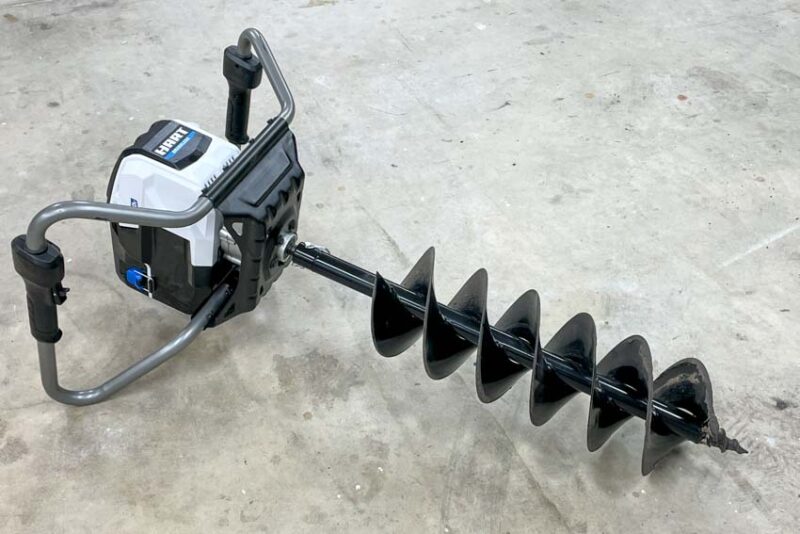 The Hart 40V earth auger weighs 38.25 pounds including the 8-inch attachment and the battery. Tip it up, and you measure 44 inches from the tip of the auger to the top of the handles. That pretty much matches similar gas models. You also eliminate the pull cord, gas, and maintenance associated with gas augers. With this 40V auger from Hart, you just pull the trigger and it begins digging your 8-inch diameter hole.
Ergonomics
As you might expect, Hart Tools match the aesthetics and feel of this auger to what you would find on a gas model. This should make transitioning to a battery-powered tool simple and familiar. The side handles give you plenty of room and leverage for your grip while drilling. That proved true even on packed earth. As with most earth augers, you do have some play where the steel auger meets the tool body.
Tool Controls
Hart Tools placed the controls on the right handle. A single rocker switch controls high and low speeds as well as reverse while a trigger activates the auger. A cover protects the switch from dirt and moisture. You use the auger by selecting the mode and then pulling the trigger to begin.
Pro Tip: Set the left handle against your leg to help brace the tool when driving it into packed soil or otherwise difficult-to-drill soil.
Using the HART 40V Battery-Powered Auger
Unfortunately—or fortunately—the ground we selected for our posts wasn't your average Florida sugar sand. Placing the Hart 40V earth auger into high gear, the brushless motor on this tool managed to drop right through the soil at its 200 RPM speed. Apparently, the 53.98 ft-lbs of torque produced by the motor was more than sufficient for the task.
While a bit overkill for our array of 3-inch posts, we also needed to drop a few 8-inch corner posts. We drive these larger posts deeper than the others because they support a lot more tension from the barbed wire. We let the auger loose on the dirt and buried all 31 inches of the bit into the ground, letting us with the perfect post hole in just a few seconds.
While digging a hole, the tool grabbed a root. This activated the Hart Auger's anti-kickback feature. The tool immediately stopped digging. In fact, it stopped so quickly, the handle turned no further than 45 degrees. A small strip of foam padding on the left handle actually helps with kickback events as it provides a small amount of cushion when you encounter a bind-up.
The auger bits use a safety-style auger pin. That means you can use other brands of auger bits with this tool. If you plan to install 4×4 pressure-treated fence posts, picking up a 4-inch auger might prove beneficial.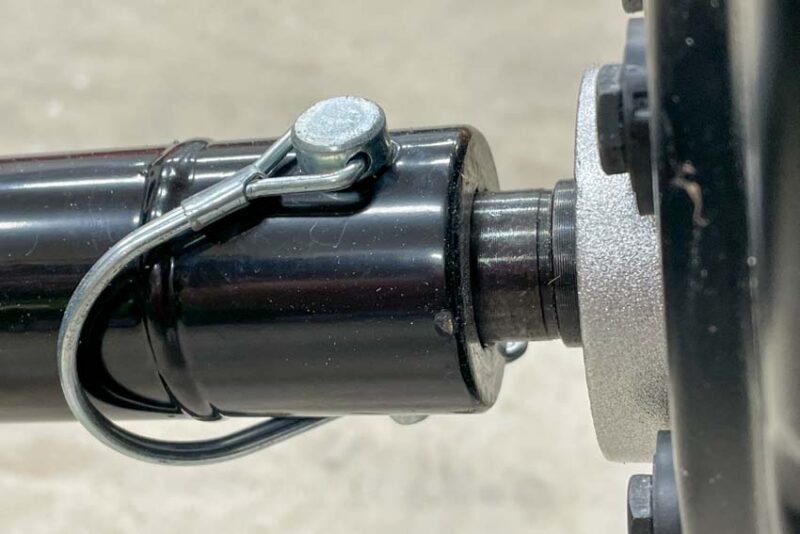 HART 40V Battery-Powered Auger Price
You can purchase the HART 40V auger as a kit with the 8-inch auger bit, 4.0Ah battery, and charger for $396. Hart includes a 5-year limited tool warranty as well as a 3-year limited battery warranty with the kit.
The Bottom Line
Getting a chance to install some large corner posts with the HART 40V 8-inch earth auger gave us a great way to test it out. In the end, it reduced the time it took us to dig these larger holes. Plan on picking up a smaller auger bit attachment for smaller fencing jobs unless you plan on pouring concrete in each hole. Working across a wide variety of soils, this tool didn't seem to stumble anywhere we used it. Pick up this tool if you want to supplement or replace your old gas auger or would like to permanently retire your post-hole diggers.
Hart 40V Battery-Powered Auger Specifications
Model: Hart HLAUG01
Power Source: Hart 40V battery
No-Load Speed: 200 RPM
Max Torque: 53.98 ft-lbs
Digging Capacity: 30 holes per charge (with 40V 4.0Ah battery)
Gearbox: Low/High/Reverse

Height: 44 in.

Max Bit Diameter: 10 in.
Anti-Kickback Protection: Yes
Max Auger Depth: 31 in.
Weight: 38.25 lbs.
Warranty: 5-year (tool), 3-year limited (battery)
Price: $396 (kit)