Exmark To Debut 96-Inch Zero-Turn Mower at GIE Expo
For those of you who plan to attend this year's edition of the Green Industry and Equipment Expo in Louisville, KY later this month, you'll have the chance to experience the awesome power and wingspan of the Exmark 96-inch Lazer Z X-Series zero-turn mower.
10-Second Summary
Kohler Command Pro EFI air-cooled engine
Features Exmark's patented RED technology
UltraCut Flex Wing cutting deck
48″ center deck, two 24″ wing decks
Exmark Gives You Wiiiings…
The obvious news here – by virtue of the fact that it's the most immediately apparent – is that this mower has a whopping 96-inch cutting deck. But, if you have any concern that these 96 inches won't effectively cut consistently across the span of your lawn, you can put those concerns to bed. This new edition to the Exmark X-Series features the durable UltraCut Flex Wing cutting deck, which consists of a 48″ center deck and two 24″ wing decks that conform to the shape of your lawn.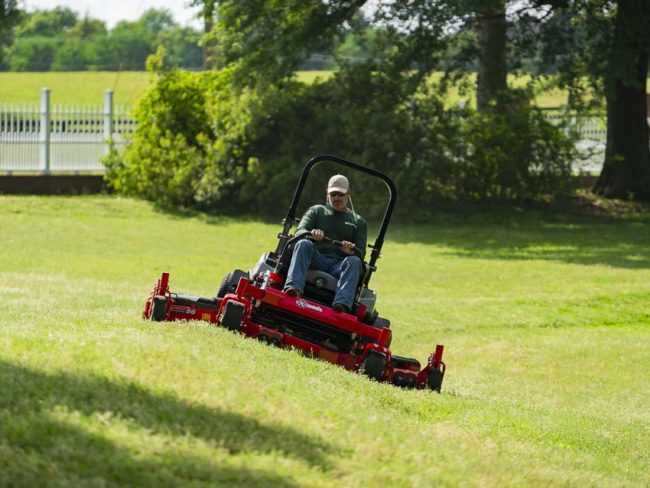 But, that's not the only thing going on here. The Exmark 96-inch mower also features a Kohler Command Pro EFI air-cooled engine that comes with RED tech.
This is Exmark's patented communication platform that culminates in longer machine life, increased productivity, and significantly better fuel efficiency. This RED technology means that the mower has customizable engine speeds set points for Low, Efficient, and Max modes. It monitors engine temperature, oil pressure, the electrical system, and it places the mower in Safe Transport mode when these thresholds are exceeded. RED tech also extends the life of the clutch.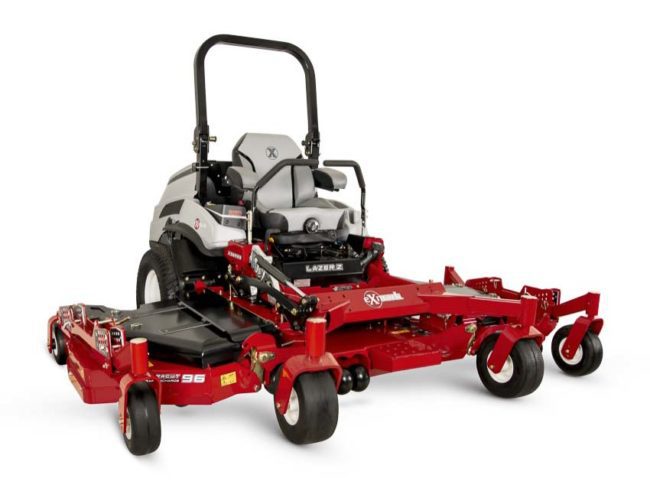 With this edition to the X-Series, Exmark expects that they're 96-inch zero turn mower will provide an overall better user experience. By cutting more grass over larger areas with fewer operators, the Lazer Z X-Series reduces labor costs and increases revenue potential.
Final Thoughts
The Exmark 96-inch Lazer Z X-Series zero-turn mower debuted at the GIE+Expo in Lousiville, KY in 2019. It looks like a great solution for large-area mowing. We'll see how the Pro feedback shapes up as more landscapers start using it on commercial properties.