In early October, Honda announced on the Honda dealer Interactive Network that it will stop making gas lawn mowers by September 2023. Honda will plan to sell its remaining inventory through 2024 until it sells out of stock.
COVID Effect or Something Else?
In March 2020, Honda Power Equipment suspended production at its Swepsonville, North Carolina plant through April 7th of the same year. Honda attributed this temporary shutdown to parts supply issues related to the economic impact of the pandemic.
That plant represents the company's (and indeed one of the world's) highest-producing plants. It has enough capacity to produce over 2 million Honda engines per year. At the same time, it also produces 500,000 finished products. That includes Honda lawn mowers, snow throwers, string trimmers, mini-tillers, and some of the best portable generators we've ever used.
Over the past 37 years, Honda has invested over $350 million in their North Carolina plant. In fact, 2020 saw the company announcing a $46.4 million expansion.
You might see why, just over two years later, this recent announcement caused a big stir in the industry.
The Statement from Honda Power Equipment
We don't have a screenshot of the actual statement from Honda Power Equipment. However, the statement seems to originate from Honda Power Sports & Products and says the company plans to "discontinue production of lawn mowers at its North Carolina manufacturing facility in September 2023 and move all-terrain vehicle production there from its South Carolina facility." Apparently, the Timmonsville, South Carolina plant will focus on Honda side-by-side (SxS) production.
"The decision to end lawn mower production is driven by market forces such as stricter environmental regulations, shifting customer preferences, and our focus on growing profitable products in our portfolio. Honda will continue to sell the remainder of its lawn and garden product line and industrial-type power products such as GX engines, generators, and water pumps, and continue to support its service and parts operations in the U.S. market."

statement on Honda dealer Interactive Network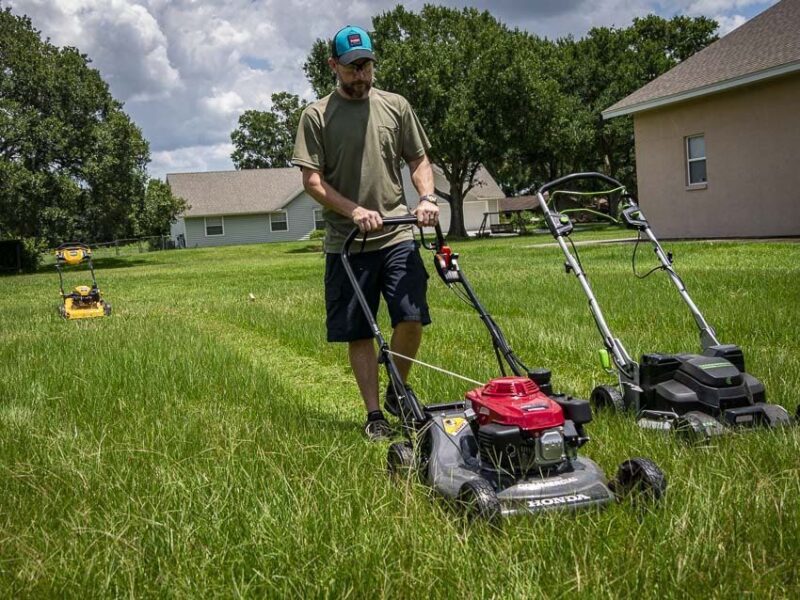 What's Next If Honda Stops Making Gas Lawn Mowers?
We love Honda mowers. When we reviewed the Honda HRC216 commercial lawn mower we thought it performed better than most gas mowers we had tested to-date. With Honda stopping the manufacture of lawn mowers, you can expect others to fill in the gap—provided legislation permits it. You can also bet Honda will shift resources to areas where its manufacturing skills continue to profit the company. ATVs and side-by-sides come to mind as does the production of electric vehicles like the Honda Prologue .
Pro Tool Reviews reached out to Honda Power Equipment for a statement and will update this article if and when we receive a response.