ECHO Battery-Powered Self-Propelled Lawn Mower Sets The Stage For eForce Line
ECHO has been in the battery-powered equipment game for quite some time. We've seen the development from its first-generation 58V lineup and the transition to the current 56V eForce tools. The ECHO DLM-2100SP lawn mower headlines this system and we wanted to take you through its features and specs.
ECHO Battery-Powered Self-Propelled Lawn Mower Performance
Most of the cordless mowers we recommend utilize a brushless motor and the DLM-2100SP is no exception. It's powered by just one ECHO eForce 56V battery, but it has room for two batteries onboard. The internal computer even takes care of switching from one battery to the next to minimize downtime.
Pro Tip: ECHO's eForce 56V batteries are not interchangeable with the previous 58V batteries.
The mower can handle most general maintenance cuts without any issues, but if you hit a thicker patch or you skipped a few days in your weekly cutting schedule, there's a turbo button that raises the RPMs to slice through it. Be mindful that this will lower your overall runtime, however.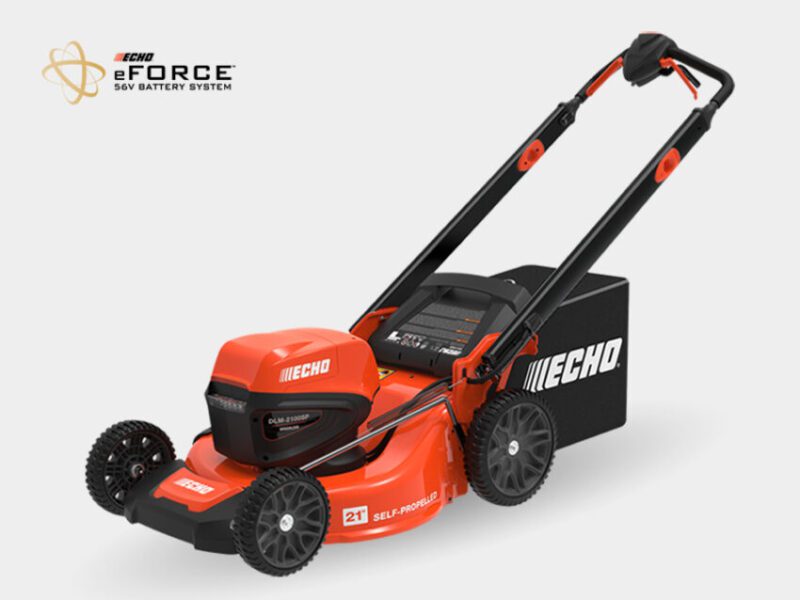 The heavy-duty steel deck is 21 inches wide and houses a 20-inch blade. While the metal body is heavier than poly decks, the result is a more durable mower.
This mower offers 3-in-1 grass disposal, with options for mulching, bagging, and side discharge. We prefer side discharge as opposed to rear discharge when we're not bagging and mulching. You get better clipping distribution with side discharge mowers, although rear-discharge models hold an airflow advantage for better mulching and bagging.
With a single 5.0Ah battery, you can expect to achieve runtimes of up to 70 minutes in light conditions. It goes without saying that your runtimes will vary on your cutting conditions. There's a battery indicator mounted on the control deck so you can keep an eye on your battery life while you mow.
ECHO Battery-Powered Self-Propelled Lawn Mower Design Notes
Cutting Height
You can adjust your cutting height from 1 to 4 inches with 7 height positions, making the ECHO DLM-2100SP lawn mower a good option for almost all species of grass. To modify your cutting height, there's a single-point lever on the back right wheel that for easy and quick adjustment.
Vertical Storage
One of the biggest advantages of battery-powered mowers is the ability to store them vertically to take up less storage space. Plus, instead of having to reach all the way down near the wheels, ECHO designed this mower with handle-release levers near the top for easy access. You simply pull them toward you, pivot the handle forward until you hear it click into place, and lift the mower to stand it up.
The same adjustment lets you choose between the two handle height positions.
Additional Highlights
Cushioned Handle
LED headlights
10-inch rear wheels, 8-inch front wheels
Compatible with all ECHO eForce 56V batteries
ECHO Battery-Powered Self-Propelled Lawn Mower Price
You can find this mower as a bare tool for $399.99, or as part of a kit with a 5.0Ah battery and charger for $499.99. There is also an option for a rapid charger that can cut your charging time in half from 150 minutes to 75 minutes per battery.
ECHO backs your purchase with a 5-year consumer warranty or a 2-year commercial warranty. For the batteries, you get a 2-year consumer and 1-year commercial warranty.
The Bottom Line
This ECHO self-propelled battery-powered mower features a solid design and utilizes elements that have been proven to simplify use. While some flagship battery-powered models can push the $1000 mark, this mower gives you competitive performance at around half the price. While it may not have all the bells and whistles of top-of-the-line options, it's a good choice for properties up to 1/4 to 1/2 acre, especially if you're working with more than one battery.
Check out ECHO's entire lineup by clicking here !
Specifications
Model: ECHO DLM-2100SP
Power Source: ECHO eForce 56V batteries
Deck: 21-inch steel construction
Blade: 20-inch
Weight: 65.5 pounds bare
Mower Warranty: 5 years consumer, 2 years commercial
Battery Warranty: 2 years consumer, 1 year commercial