There are just too many benefits of riding lawn mowers to mention here, and we're sure you already know what they are anyway. If you don't currently enjoy these "luxuries", then you're definitely not alone in pining for them in the hot summer sun. So, the staff at OPE has assembled our recommendations for the best riding lawn mowers of 2023.
Homeowners and commercial professionals alike, or those on the hunt for a lawn tractor or zero-turn mower, this one's for you.
Editor's Note: If you're considering walk-behind mowers, check out our Best Lawn Mower main page.
Best Commercial Riding Lawn Mower
Affectionately known as "mow and blow" crews, this managing editor likes to call them grass-conquering professional lawn care crews. These guys and girls focus on hitting a lot of properties every day during the mowing season, and they can be rough and tough on their gear.
Exmark, Hustler, and Scag all come up frequently in conversations about the best commercial mower, and our top choice is the Hustler Hyperdrive series.
While the Super Zs are likely more popular, the Hyperdrive series has a more durable transmission system, lessening downtime.
Deck sizes range from 60 to 72 inches, and there are 35 to 40 HP engine options from Kawasaki and Vanguard. The Dale Earnhardts out there who prefer to blast through lawns can run up to 16 MPH on this model.
Regardless of your mowing style, Hustler's hydraulic system carries a 3,000-hour warranty, and also 5-year/1200-hour coverage on the overall mower.
Contact your local dealer for a price.
Best Residential Riding Lawn Mower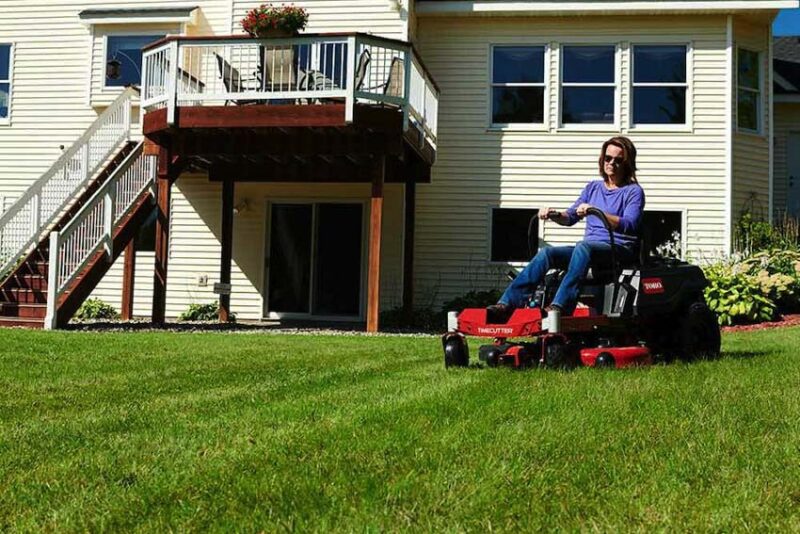 We recommend Toro's Time as the best residential riding lawn mower for a variety of reasons. It comes down to the fact that you get an excellent balance of performance, comfort, and reliability for the price.
Currently, this line includes 17 models along with CARB-friendly options. Deck sizes start at 34 inches for small lawns. They also run up to 60 inches for those of you with acreage to maintain.
The base-level models are an excellent value for most people, but if comfort is a high priority, step up to the MyDrive models to get an upgraded suspension and an easier ride.
Price: $3299 – $5699
Best Zero-Turn Riding Lawn Mower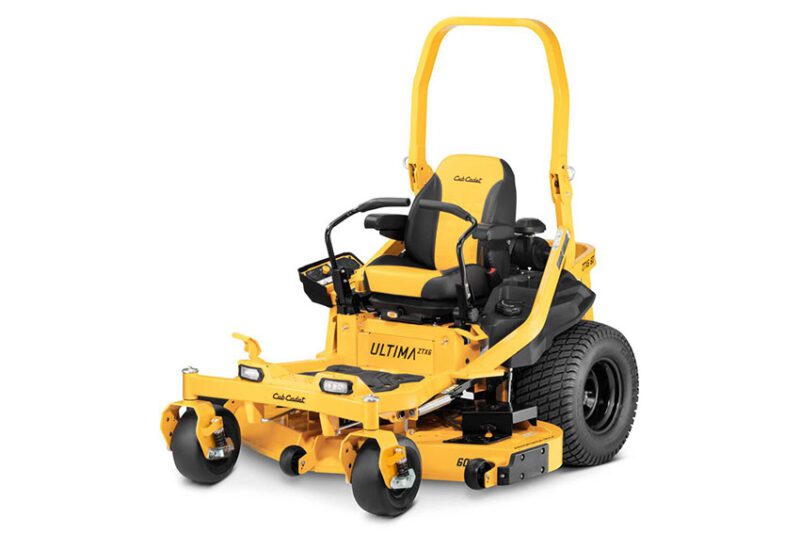 While Toro earns our pick as the best overall riding mower for residential use, Cub Cadet's Ultima ZTX6 series is the best-of-the-best for those of you with more bread in your wallets. Earning our choice as the best residential zero-turn riding lawn mower, the ZTX6 is at the top of Cub Cadet's residential Ultima line.
These mowers bridge the gap between consumer and professional needs, giving you a ride and performance that feels high-end, but without premium professional mower prices.
The ZTX6 comes with a 25HP Kawasaki commercial-grade engine and either a 60-inch deck size. If you prefer a steering wheel over lap bars, there's the ZTXS6 option.
Price: $8,799
Best Lawn Tractor
Cub Cadet lawn tractors have been around for quite a while, and they have a strong reputation with homeowners. If you're looking for the best lawn tractor among them, we recommend the XT1 Enduro FAB series.
Although they're more money than other models in the XT1 line, they upgrade from a 13-gauge stamped steel deck to an 11-gauge fabricated steel version for enhanced long-term durability.
Available with a 50- or 54-inch deck, these mowers are suitable for larger lawns than 30- to 48-inch lawn tractors. What's more, their Kohler 24HP engines offer better overall performance than most of their competition.
And in spite of the fact that they don't have as tight a turn as a zero-turn, they do have a 16-inch turning radius that gives them tighter turn handling than others.
Price: $2899.99 – $3399.99
Best Electric Riding Lawn Mower
It was simply too hard to choose just one electric ride-on lawn mower as the best. However, we did find three that stand out from the rest.
Greenworks has actually played a big role in blazing the trail within the realm of commercial electric zero-turn lawn mowers. And it's years' worth of experience and today's best technology that come together in the Greenworks OptimusZ zero-turn.
That's why it's our choice as the best electric commercial riding lawn mower.
The line includes both ride-on and stand-on models. In terms of the ride-on models, there are 48–60-inch deck sizes with either 18KWh or 24KWh battery packages. On the 60-inch mower, the larger battery bank can run up to an impressive 8 hours on a charge.
It boasts a max speed of 16 MPH with the blades running. Security is already onboard thanks to the combination of 4G and GPS connections, really bringing this model into the 21st century.
And remember, Greenworks backs these mowers with a 5-year/2,000-hour warranty.
Price: $22,999 – $26,999
EGO is playing a pretty big part in the shift from gas to battery power, including in the zero-turn market with the 56V E-Steer riding lawn mower. Instead of the traditional lap bars, this model uses a steering wheel, making for a much more approachable mower if you're not used to typical ZT steering.
Beyond that, the design team shifted the controls and performance screen onto the airplane yoke-style steering wheel, where they're easy to monitor while mowing.
The mower has a 42-inch deck with cutting speeds between 4 and 8 MPH and matches the power of a 22HP gas engine. For power, EGO uses the same 56V batteries that drive its other mowers and handheld tools.
With a full load of six 12.0Ah batteries, you should get four acres of cutting on a charge. Meanwhile, the four batteries that come with the mower will allow you to cover 2.5 acres.
Price: $5999 with four 12.0Ah batteries and onboard charger (scheduled for May 2023 launch)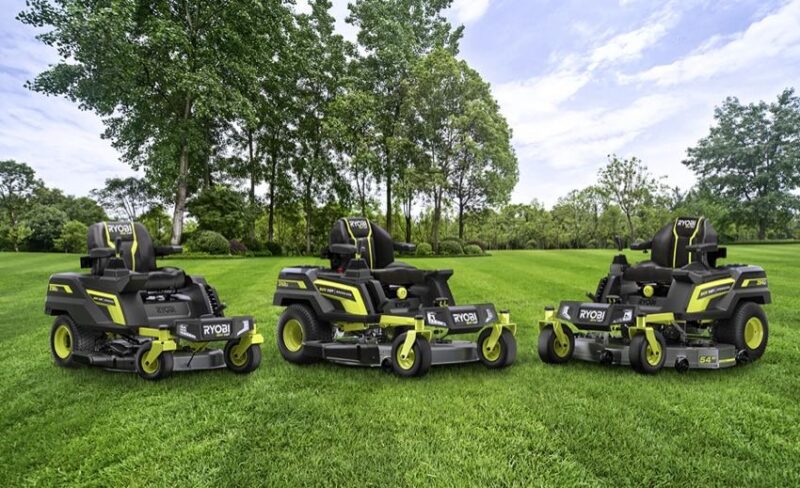 If you like video games (or fighter jets), you're really gonna like the Ryobi iDrive zero-turn lawn mowers, which utilize, not a steering wheel, but rather a joystick. While it certainly parts from the norm, it's surprisingly easy to adjust to this more unusual way of steering.
There are three deck sizes covering 30 to 54 inches, and they primarily use 80V suitcase-style batteries for power. These mowers also have slots to use Ryobi's 40V batteries if you need to extend your runtime beyond what the 80V packs offer.
The power ranges from a 28HP–42HP gas equivalent with runtime covering 1–4 acres, depending on which model you choose. Furthermore, this mower uses the CrossCut stacked blade system to give you a higher quality cut than you'd get with single blades.
Price: $5999 – $7999 ready to mow
Take a look through our full list of Best Battery-Powered Lawn Mower recommendations!
Best Riding Lawn Mower For Small Lawns
John Deere lawn tractors are great for small- to medium-sized lawns, and the S130 lawn tractor is our choice as the best riding lawn mower for small lawns. The S100 comes in at a lower price, but moving up to the S130 is worth it.
Both feature a 42-inch mowing deck, but the S130 has a stronger 22HP V-twin engine. Also, it has John Deere's 30-Second Oil Change system.
The S130 also has cruise control and an electronic PTO system. Overall, it balances ease of ownership and performance while keeping a safe distance from the price of zero-turn mowers.
Finally, based on our experience, Deere is incomparable when it comes to getting parts for repairs.
Price: $2799
Author's Note: Have you seen the John Deere battery-powered zero-turn lawn mower?
Best Riding Lawn Mower For Medium Lawns 1 Acre to 5 Acres
The Husqvarna Xcite is the best riding lawn mower for medium-sized lawns. There are two models that feature a 54-inch, 10-gauge deck ideal for properties up to 5 acres in size.
We're particularly jazzed about the combination of innovative features and a more Pro-like design, despite the fact that they target residential users.
Starting from the top, your start/stop and blade engagement controls are on the lap bar ends where you can easily reach them with your thumbs.
Then there's the suspension system. Four bar links and 10 adjustment settings let you customize the setup based on your size, weight, and preferences to dial in a comfortable ride.
Depending on the model, you get either a 24HP or 26HP Kohler engine with a top speed of either 7 or 9 MPH. Husqvarna also offers stock blades that can cut for up to 5 years without needing to be sharpened–and trust us, that's a time saver.
In short, we think Husqvarna knocked it out of the park with this one.
Price: $5499 – $6999
Best Riding Lawn Mower For Large Properties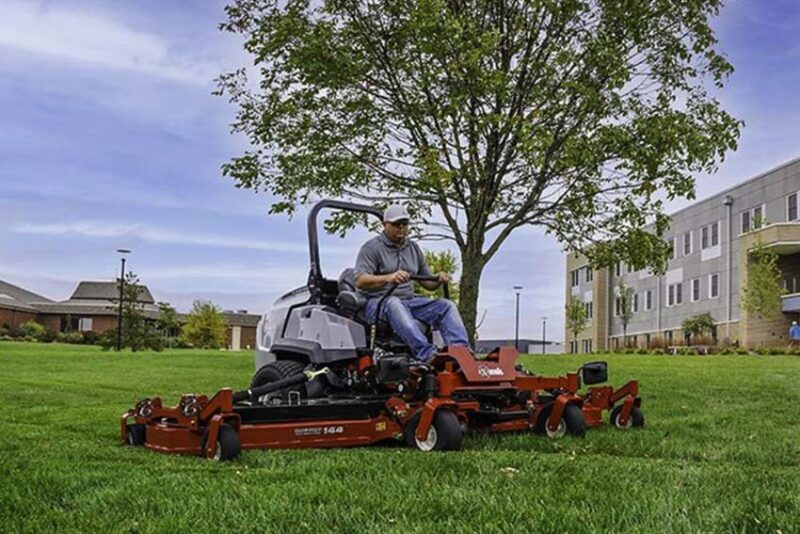 When it comes to maintaining sprawling areas with a clean cut, there are a few large-deck options leading the pack. One of them–the Exmark Lazer Z Diesel–is our choice as the best riding lawn mower for large properties.
When we say large, we mean large. The Lazer Z diesel line includes 60, 72, and 96-inch options along with a monstrous 144-inch model. And Exmark touts the largest cutting rate at up to 11.5 acres per hour! That makes this model a formidable competitor in its market bracket.
However, these mowers come with a behemoth price tag, starting at just over $27,000. The 144-inch model is over $35,000.
Price: Starting at $27,099
Best Riding Lawn Mower For Hills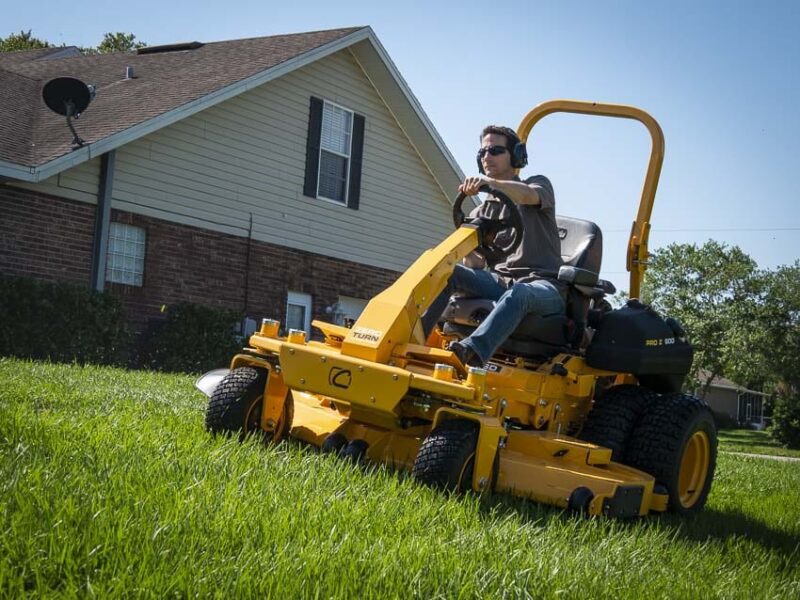 Power and traction are critical to mowing effectively on slopes and hills. In our opinion, the best riding lawn mowers for hills are the Cub Cadet Pro Z 972 series SD/SDL models. What sets these mowers apart is a combination of their rear wheel and steering wheel designs.
Four rear wheels help prevent the back end from slipping, even in wet conditions. The steering wheel makes it easier to negotiate slopes, and there's an option for a pivoting seat that keeps you more upright on those hills.
As part of Cub Cadet's commercial mower lineup, you can expect a commercial-level build and high-end comfort features as part of the package.
Price: $22,753.89 – $28,192.89
Best Riding Lawn Mower For The Money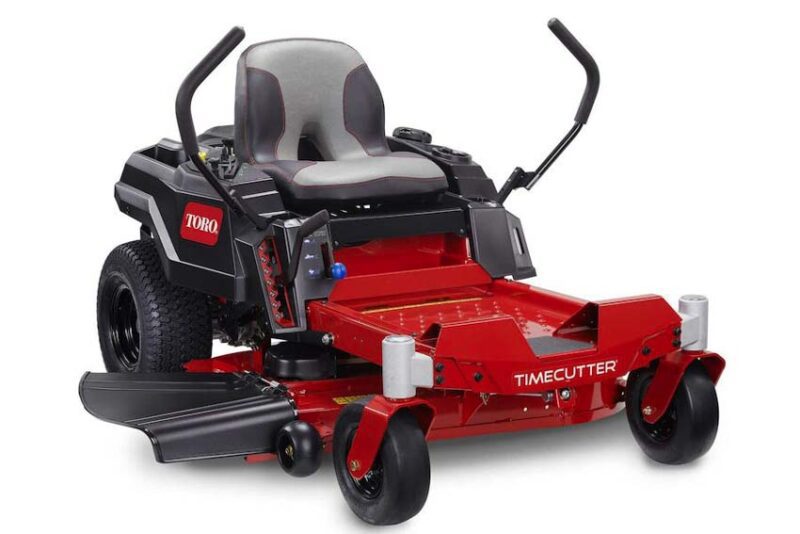 What riding mower gives you the most bang for your buck? For that, we return to the Toro TimeCutter 42-inch 75746.
This isn't the least expensive 42-inch in the line, and it's not the most expensive, either. By upgrading from the entry-level version ($3299), you're moving from a 15.5 HP Briggs & Stratton engine to a much stronger 22 HP Kohler engine.
If your lawn's less than two acres, this model offers performance, durability, comfort, and price.
Even if you have more than 2 acres, stick with the Toro TimeCutter and move up in deck size to match your lawn.
Price: $3699.99
What We Look For In The Best Riding Lawn Mower
Lawn Tractor or Zero-Turn?
The stye you're looking for is an important factor when you're choosing the best riding lawn mower for your lawn. So, the first thing to decide is which style you want.
Lawn tractors have several advantages.
They tend to be a smaller overall size, are less expensive, and are easy to use with their steering wheel and control systems. The downsides are that they tend to be slower and don't reach larger deck sizes. On top of that, they aren't as efficient in your mowing pattern because they require a larger turning radius.
Zero-turn lawn mowers make it easier to efficiently mow straight lines. While they're more expensive, larger, and can take some time to get used to lap bar controls, you can get larger deck sizes, they have higher speeds, and they're better for large properties. If comfort is a high priority for you, you'll find better options with ZTs and lawn tractors.
If there are any real drawbacks to a zero-turn, it's that they can tear up your lawn in spots if you're not careful (especially with new treads). This is because, when turning, the rear wheels perform a screw-like action that digs into the grass.
Of course, with some driving practice and a bit of patience in your mowing, you can minimize or altogether avoid this problem.
Gas or Battery?
Now that battery-powered riding lawn mowers are at a point where they can replace gas, the conversation is shifting away from just power and runtime.
Gas mowers tend to be less expensive and you can usually find someone to service and/or repair them. The trade-off is the noise, emissions, managing fuel and oil, and more required maintenance.
Battery-powered mowers have a push-button start system that's ready when you are. They're remarkably quiet compared to gas and have no emissions. Maintenance primarily boils down to blowing off the deck and maybe rinsing underneath.
The primary downsides at this stage are that you don't have as wide a selection as gas, they're more expensive, the batteries need replacing every 3–5 years, and service technicians aren't a hop-skip-and-a-jump from your home.
Durability and Reliability
As you go up in price from entry-level riding lawn mowers to mid-range and high-end models, there are significant changes. A more powerful engine is only part of it.
Not surprisingly, the design of the engine, the features included, and its quality usually improve. So, as you move up the line, you get a more reliable engine to go along with the higher horsepower performance.
You also see the strength of the build improve. Some of it is the thickness of the metal or moving from stamped steel to fabricated steel on the deck. Other components come into play as well, with higher quality transmissions and electronics packages improving.
If you're looking at an entry-level model, see if your budget has room to move up into the middle or even high end of the line. The durability and reliability you gain will pay off in the long run.
Deck Size
Again, not surprisingly, your property size will by and large dictate the deck size you need. Riding lawn mowers with 42-inch decks are a good starting point for yards up to an acre, especially those with tight areas like gate entrances.
If you have more than an acre, look at models up to 60 inches.
When you get down to it, it's a matter of finding the right balance between how much lawn you have to cut, how much storage space you have available, and your budget.
Speed
Professional lawn crews who need to move quickly from one property to the next are the ones typically concerned with speed. The same goes for campus maintenance personnel working with expansive travel distances between the shop and where they're mowing. They're usually looking for models with top speeds of at least 10 MPH.
Even homeowners can make their mowing chores more efficient with some decent top-end speed. A good benchmark for those models is 7 MPH.
Where speed is neither an asset nor a desire, 5-6 MPH will do.
Comfort
Ah, now here's something that's also really important. The good news is that despite extended periods in the driver's seat, you won't have to go looking for the nearest rest stop.
But with larger lawns come longer jobs, making comfort all the more important.
Entry-level mowers are going to bounce you around more than mid-range and high-end models. Look for a seat with plenty of cushioning, an adjustable tension knob, and enough travel for you to sit without having to scrunch up.
In other words, do your best to avoid feeling as though you're on a mechanical bull.
Why You Can Trust OPE Reviews
Have you ever read a "review" site and found that you couldn't tell if they actually tested the tools or if they were just "recommending" the top Amazon sellers? That's not us. We won't recommend anything unless we'd actually use it ourselves—and we don't really care who the primary retailer is. It's all about giving you a legitimate recommendation and our honest opinion of each product.
We've been in business since 2016 covering outdoor power equipment, writing reviews, and reporting on industry news in the landscaping, heavy equipment, and lawn care industries. Our Pro reviewers have lots of experience in these fields as well as the skills and experience to know whether these products can perform well on the job.
Each year, our team reviews and gets their hands on hundreds of additional landscaping tools and equipment at our shop and at media events and trade shows.
We work with dozens of professionals around the United States who review products for us on real job sites and consult with us on testing methods, categories, and weighting.
We'll provide hundreds of pieces of new content this year absolutely free for our readers—including objective evaluations of lawn care tools, products, and accessories.
The end result is information you can trust because of the editorial, scientific, and real-world professional experience we collectively utilize each and every time we pick up and test a product.