With On-Stick Electronic Controls, Husqvarna Xcite Mowers Bring E-Features to Gas
The Husqvarna Xcite zero-turn mowers (models Z350 and Z380) bring two new 54-inch models to the company's residential riding mower portfolio. The two mowers bring an updated suspension system, industry-first on-stick controls, and five-year blade life to residential consumers looking for a dependable zero-turn solution.
Husqvarna Xcite Zero Turn Mowers – The Big Deal
The first thing you notice about Husqvarna Xcite zero-turn mowers are the up-front controls on the sticks. With SmartControl you get heads-up driving that lets you start and stop the engine as well as engage the blades right on the control arms. It really lets you keep your eyes focused on the lawn as you mow.
Both Xcite zero-turn mowers also utilize Husqvarna SmoothRide suspension with adjustable springs and 10 comfort settings. The premium seat measures 15 inches on the Z350. You get a slightly larger 18-inch seat on the Z380.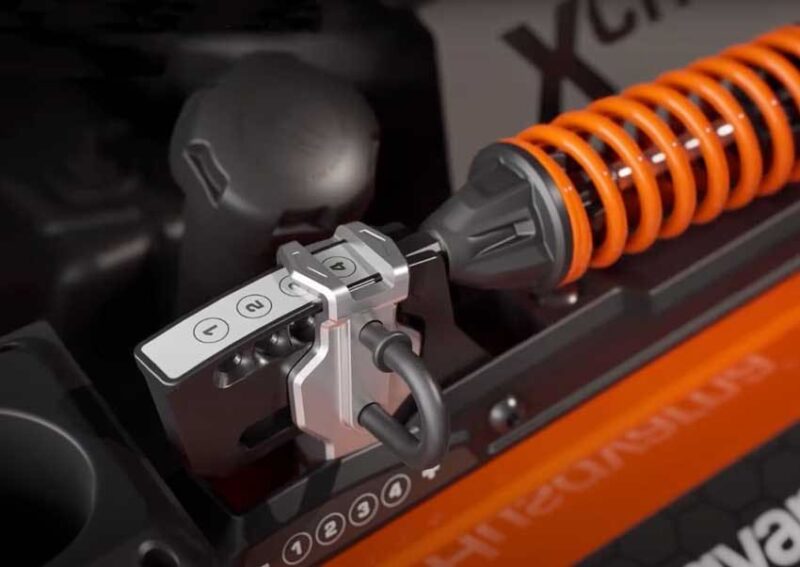 "At Husqvarna, we're always thinking about how we can do even better by our customers and our goal with the Xcite Zero-Turn Mowers was to use the latest technology to create zero-turn mowers that are innovative, agile and fun to use. The Xcite mowers not only deliver a great looking lawn every time but also ensure that lawnmowing is no longer a chore, instead transforming to a rewarding and enjoyable experience to look forward to."

Alvaro Trinidad, Vice-President of Consumer Products, North America at Husqvarna Group
Other Notable Features
In addition, both mowers feature an LCD digital dashboard. It shows the hours and remaining fuel, and also displays any service reminders so you don't run into any surprises while mowing.
The Husqvarna Xcite Zero-Turn mowers feature three DuraSharp blades that the company claims stay sharp for up to five years. You also get premium all-terrain tires and a 54-inch fabricated cutting deck with a foot-operated lift system. We also love the 12-position dial used for setting the cutting height.
Additional Features
4-bar link system
10 gauge fabricated deck
Rear guard
LED headlights
12-position cutting height selector (knob)
Foot-operated deck lift
Accessory rack
Front battery access (tool-free)
Maintenance-free transmission
Multiple tie-down points for trailering
Greaseless wheels and casters
Husqvarna Xcite Z350 vs Z380 Specifications Compared
The biggest difference between the Husqvarna Xcite Z350 and Z380 zero turns is the engine and transmission. The improved 26 hp Kohler 7000 Series Pro also delivers a top speed of 9 mph on the Xcite Z380 vs the 7 mph top speed of the Z350. Both models feature the same 54-inch fabricated steel deck.
| | Xcite Z350 | Xcite Z380  |
| --- | --- | --- |
| Engine manufacturer | KOHLER | KOHLER |
| Engine name | 7000 Series | 7000 Series PRO |
| Net power, hp | 24 | 26 |
| Fuel tank volume, gallons | 4 | 4 |
| Transmission type | TZ-350 | HTE10 |
| Transmission manufacturer | TUFF TORQ | PARKER |
| Speed forward min – max, mph | Up to 7 | Up to 9 |
| Speed reverse min – max, mph | Up to 3.5 | Up to 4 |
| Cutting width, inches | 54″ | 54″ |
| Cutting height min – max, inches | 1.5-4.5″ | 1.5-4.5″ |
| Cutting deck type / gauge | 10 Gauge | 10 Gauge |
| Blade spindle type | Cast Iron | Cast Iron |
| Seat type | 15″ | 18″ with arms |
| Tire size front, inches | 13×6.5-6 | 13×6.5-6 |
| Tire size rear, inches | 20×10-8.5 | 22×10-10 |
Husqvarna Xcite Zero Turn Mowers Price and Availability
You can purchase the Husqvarna Xcite Z350 and Z380 zero-turn mowers at any authorized dealer including Lowe's stores beginning in February 2023. The Xcite X350 is expected to retail for around $5500 and the Z380 will price out a little higher. The company includes a 3-year limited warranty on materials and workmanship and a 4-year warranty on SmartControl electronic components.