Over the years, John Deere has attained legendary status in the world of OPE. A good example is a tractor like the John Deere S130 (BG21273). We found this model worthy enough to put it on two Best lists. The first is our Best Riding Lawn Mowers roster, followed by our John Deere lawn tractor highlights.
Now this tool gets its own (long-overdue) article focusing on its performance and design features. So without further ado, let's dive into the S130.
John Deere S130 Performance Features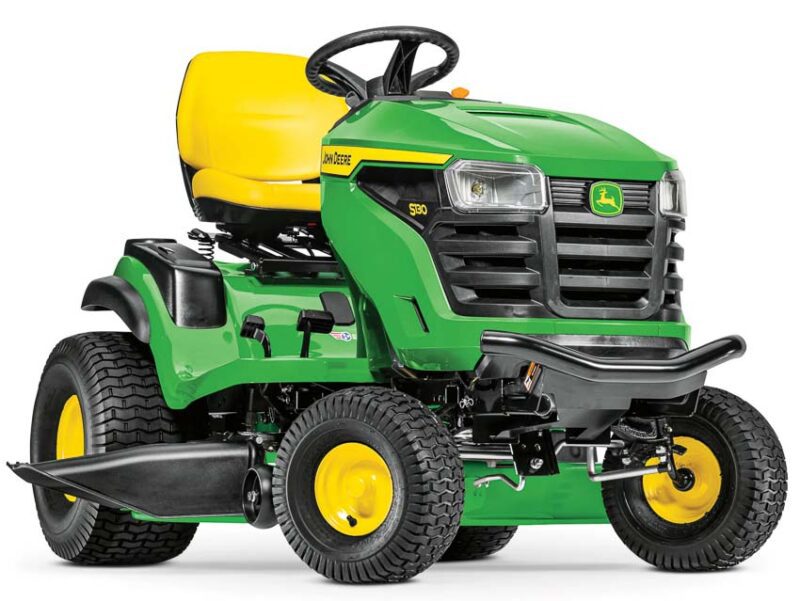 The central question is whether the S130 is the mean green machine that we said it is. You can decide for yourself.
Let's begin with the engine.
Under the hood, this model has a powerful V-twin that gives you 22 hp. We think that's rather good. To put this into perspective, John Deere's S130 is capable of handling up to 2 acres, which generally requires about 16 hp. This model's 22 is more than enough.
What's more, it will give you plenty of the muscle required for mulching, bagging, and, of course, side discharge.
Specs
Model: John Deere BG21273
Engine: 22 hp, V-twin
Deck size: 42 in
Cut height adjustments: 1 to 4 in
Deck material: 13-gauge steel
Hydrostatic transmission
Utilizing this engine's power, the S130 moves thanks to its hydrostatic transmission, which you can control using side-by-side foot pedals.
As for the S130's cutting ability, it has a 42-inch deck made of 13-gauge steel and John Deere's two-blade Edge Cutting System.
We were also pleased to see a few upgrades from its brother, the S100. Among these additions are an electric PTO engage switch and cruise control.
Finally, maintenance work–like a lube job–is easy when you take advantage of Deere's Easy Change 30-second system.
John Deere S130 Design
On the design side, Deere added a number of features, from performance to operator comfort.
For example, there's a gas gauge to keep you in the know about how much fuel remains. This minimizes the risk of running dry in a location far from your gas can.
Moreover, Deere's Smart Connector system enables you to access a variety of add-ons, such as a lawn aerator. The S130 can also take on compatible attachments like a cart, a 44-inch snowblower, and a lawn sweeper.
Lastly, they threw in a 15-inch, open-back seat to keep you cool and comfortable during long mowing jobs.
BG212730 Price
This model retails for $2,799 and comes with a 2-year, 120-hour bumper-to-bumper warranty and local John Deere dealer support.