Husqvarna's YTH1942 packs power, comfort, and convenience into one riding mower
Today, the zero-turn platform seems to be the way that many consumers are leaning. However, we think that the traditional lawn tractor is keeping up with its ZT counterparts. For instance, their overall control characteristics have evolved as more models hit the market with hydrostatic transmission. Unlike manual systems, hydrostatic setups enable you to bounce between drive and reverse with the pivot of a foot. That helps you to tighten sharp curves in a somewhat zero-turn fashion. That said, the lawn tractor is still very much alive, and it's a great option for those who want a mower to maintain and manage their entire property–grass, gardens, and more. Husqvarna has answered this demand with their YTH1942 riding mower.
Let's take a tour of its features and design to see if it meets your lawn and garden needs.
Want to explore other models? Dive into our Best Riding Lawn Mower Reviews list!
Husqvarna YTH1942 Riding Mower
Under the hood, the YTH1942 sports a 540cc Briggs and Stratton EXi engine that puts out 19 horsepower. This gives you a forward drive speed of 5.5 mph and 2.5 mph in reverse.
Editor's two cents: It's not uncommon to hear people lament that their mower "isn't fast enough." This is a valid concern for Pros working on a schedule–time is money. However, residential users with 2 acres or fewer should keep in mind that a slower speed generally equals a higher-quality cut. Our advice is to sit back and enjoy the ride.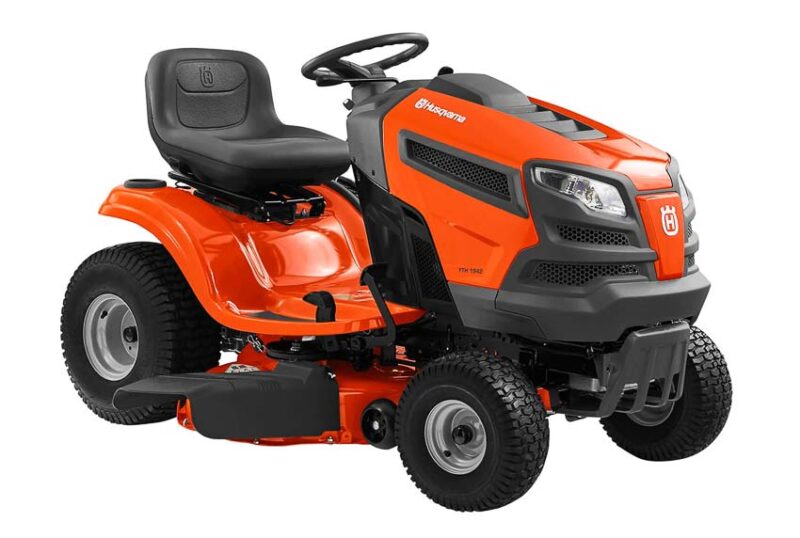 In terms of mowing, this model has a 42-inch cutting width and a stamped 13-gauge steel deck. We typically like to see fabricated 10-gauge (or heavier) builds, but with a clean root- and rock-free lawn, stamped will do. Just make sure that you avoid mowing wet grass. Anything moist will stick to the inside of the deck, and it will rust all the way through the shell.
And, there's one more mentionable about the deck. Husqvarna tells us that the YTH1942 riding mower has an air induction system that enhances flow. The advantage is increased lift, which results in an all-around better cut.
Don't miss our tips on how to mow like a Pro!
Specs
Model: Husqvarna 960450084
Engine: 540cc, 19 HP Briggs & Stratton
Deck size: 42 in
Deck material: 13-gauge stamped
Cutting heights: 1.5 to 4 in
Forward speed: 5.5 mph
Reverse speed: 2.5 mph
Turn radius: 16 in
Weight: 443 lbs
Regarding its drive features, the YTH1942 riding mower includes cruise control and fender-mounted cutting height adjustment. It also has a reverse operating system (ROS). If you're not familiar with this function, here's a short explanation.
Back in 2003, the industry instituted a voluntary standard that required blades to stop turning when a mower is in reverse. That standard remains in place. However, it doesn't prohibit manufacturers from adding an ROS switch, which, once engaged, allows you to cut when in reverse. While we understand the safety concerns, there's no question that reverse mowing is a must-have capability, particularly when negotiating tight areas necessitating three-point turns.
Husqvarna YTH1942 Riding Mower Design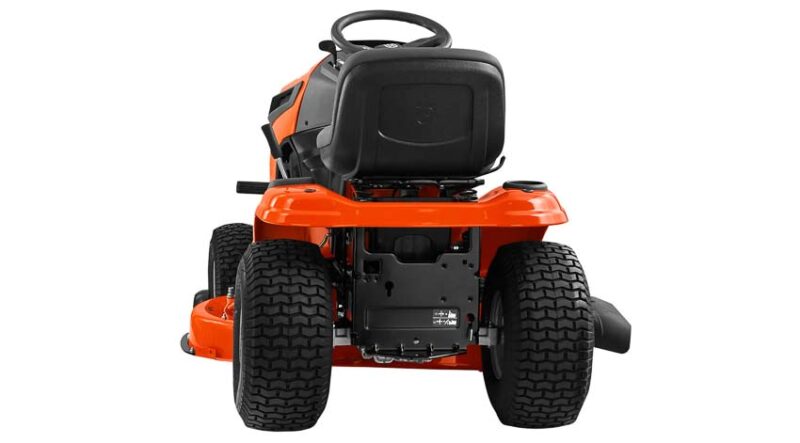 There are several design elements worth mentioning with this model.
First, YTH1942 is a relatively compact riding mower, which makes it a contender for those who have limited space. With the chute up, you're looking at a 43.5-inch storage width.
Ergonomically, the YTH1942 features an adjustable 13-inch seat and easy step-through access. The built-in deck wash port is a nice touch. But, as covered above, thoroughly dry the deck!
And, finally, Husqvarna offers a series of attachments for this model, including baggers, trailers, snow blades, brushes, and a mulching kit.
Husqvarna YTH1942 Price
The Husqvarna YTH1942 Riding Mower retails for $2,399 and comes with a 3-year limited warranty.