There are few certainties in life. One adage contends that there are two: death and taxes. No argument there. However, we say you can count on two more: time doesn't stand still, and money doesn't grow on trees. And that's where the Toro TimeCutter Zero Turn (75746) enters the picture, as this mower focuses on addressing both points.
A dive into the features and design explains how.
Toro TimeCutter Zero Turn Performance Features
Let's face it. The day only has so many hours, and you may not want to spend too many of them mowing the grass.
That's why Toro designed the TimeCutter as a consumer-priced zero turn platform that cuts mowing time by 50% without shredding your wallet in the process. Indeed, it made our Best Riding Lawn Mowers list as the model with the most bang for your buck.
Specs
Model: Toro 75746
Engine: 22-HP, 725cc Kohler
Deck size: 42 in
Cutting capacity: 2 acres
Fuel capacity: 3 gal
Cutting height: 1.5–4.5 in
Weight: 531 lbs
Driving the 75746 is a 22-horsepower, 725cc Kohler engine. This delivers speeds of up to 7 mph in mow mode, 5.5 mph in tow mode, and 4 mph in trim mode.
Furthermore, the TimeCutter clears a respectable 42-inch swath on each pass. Yet, thanks to its compact size, you can still negotiate tight spaces, such as gateways, as well as between trees and yard fencing.
And, while these qualities are important, this model's design features really stood out to us.
Toro TimeCutter Zero Turn Design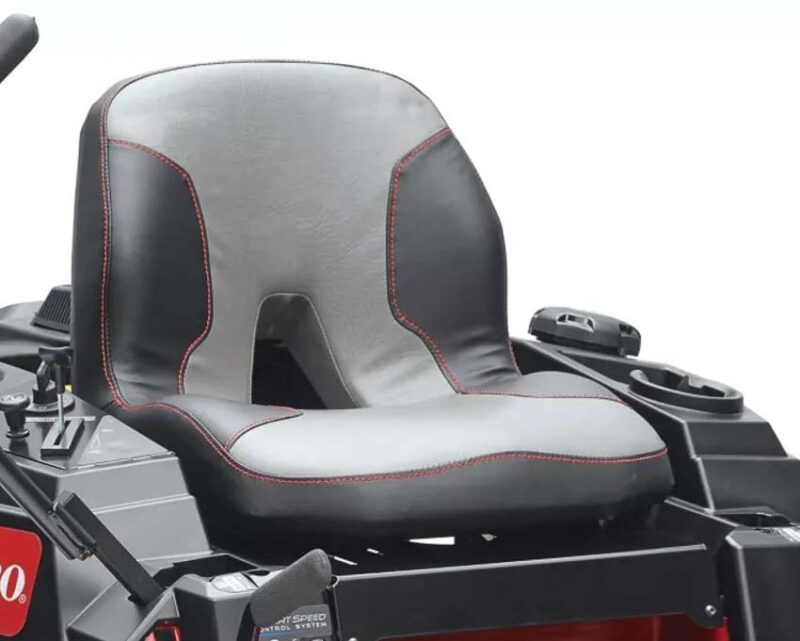 No doubt, Toro didn't just build this mower for performance and price. They added a series of comfort and convenience features as well.
For example, this model has small, but meaningful, touches like a built-in cupholder and an under-seat storage cubby. And speaking of seats, the folks at Toro hand-crafted the TimeCutter's for enhanced cushioning and back support.
On the practical side, this mower comes equipped with a tubular front axle and wide casters, shock-absorbing dampers, and fenders that shield the engine from tire spray. Moreover, Toro threw in a few washout ports to clean up before you park it in your garage.
In addition, we liked some of the time-saving mower maintenance features, including toolless air filter changes and belt covers.
Toro TimeCutter Zero Turn Price
The 75746 sells for 3,699.99. Toro backs this mower with a 3-year unlimited-hour residential warranty.