OptimusZ Zero-Turn and Stand-On Mowers Join Greenworks' Professional Lawncare Lineup
We were invited to the 2022 Equip Expo (formerly GIE), where we got some firsthand looks into new OPE from our favorite brands. One of the highlights of the event was the Greenworks Commercial OptimusZ lawnmower mower lineup. Greenworks set out to design the best ride-on mowers on the market, addressing every pain point that came to mind. We got to drive these new mowers personally. While we want a lot more time on them before we draw any definitive conclusions, let's dive into what we know so far.
This story is still developing. We will update this article as more information becomes available, so check back frequently for more details!
Greenworks Commercial OptimusZ Lawnmower Power Source and Runtime
Greenworks actually steps back from the 82V battery packs present in their handheld tools. Instead, they opted for a larger 82V battery style (for good reason). These mowers feature 8kWh, 18kWh, and 24kWh battery banks and an LFP (lithium iron phosphate or LiFePO4) battery system. LFP cathodes typically result in a safer and more stable high-density battery pack. Indeed, Greenworks tested them vigorously- including drop testing the packs from 30 feet!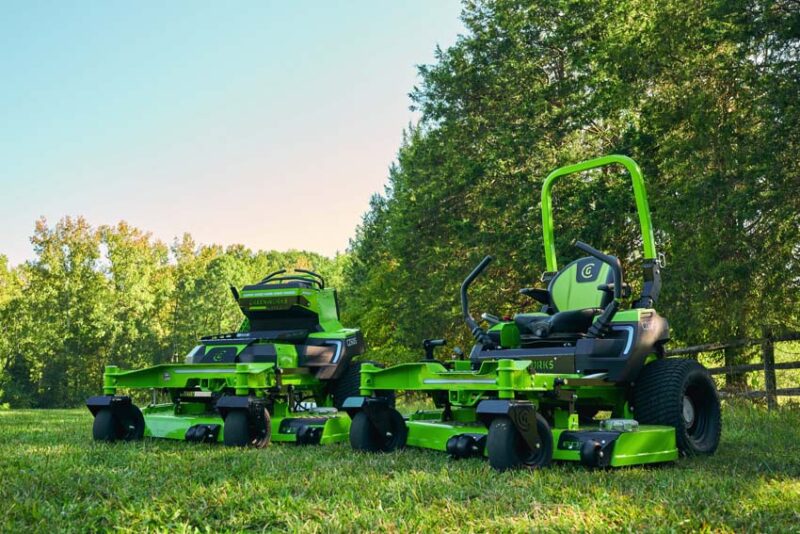 The product team made a deliberate decision to place the battery directly under the seat and build the rest of the mower around it. By giving it a lower center of gravity than other battery or gas options, it can mow slopes up to 25°. This design feature also helps it remain compact since it has less length in the back where an engine would be found normally.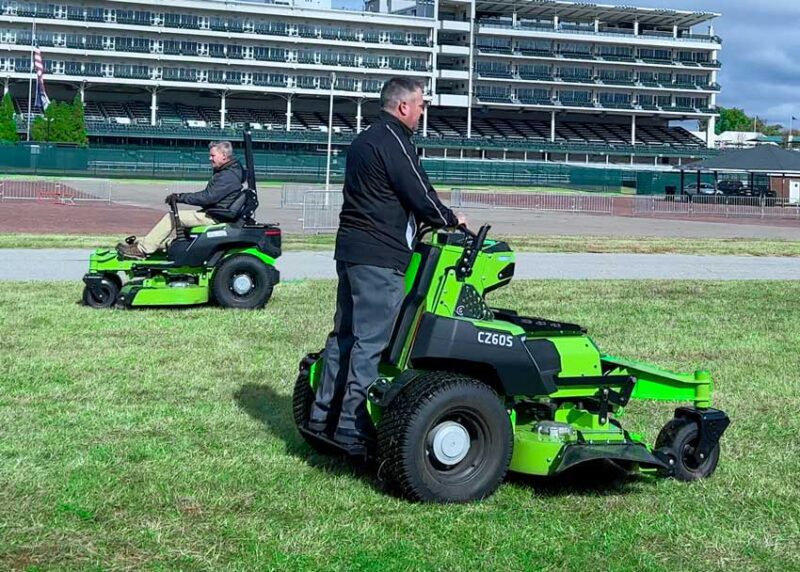 Most commercial battery-powered zero-turn mowers struggle to offer all-day runtime, but that's not the case here. The Greenworks Commercial OptimusZ lawnmowers achieve up to 8 hours of runtime—that's 8 actual mowing hours—and cut up to 21 acres per charge.
On the topic of charging, Greenworks tells us you can fully recharge these mowers in as little as 3 hours with their next-gen charger technology.
Greenworks Commercial OptimusZ Lawn Mower Performance
While some battery-powered lawn mowers claim 25HP gas equivalence, the OptimusZ takes it up several notches. Greenworks tells us that these mowers boast the equivalent of a 65HP (1040cc) gas engine.
Direct drive electronically controlled brushless motors give these machines a top blade tip speed of 19,000 FPM. Greenworks' PowrTraq Smart Drive System retains this speed even in thick grass, which would slow the blades on gas-powered engines. As a result, you get a high-quality cut in virtually any condition.
Greenworks Commercial OptimusZ Lawn Mower Models
There are several zero-turn and stand-on options available. Here's a rundown:
Small Stand-On Models (8kWh Battery)
Large Stand-On Models (18kWh and 24kWh Battery Options)
48-inch deck
52-inch deck
60-inch deck
Zero-Turn Models (18kWh and 24kWh Battery Options)
48-inch deck
52-inch deck
60-inch deck
Automated Models
Starting in late 2023, Greenworks will also offer automated OptimusZ zero-turn lawnmower models. They use RTK GPS for accuracy within 1 inch. To sweeten the pot, you can use them autonomously or with a human operator, making them 2-in-1 mowers.
Additional Highlights
I-beam front end w/ETO attachments
Industry-first low-profile hub drive motors in the rear wheels
Halo lighting system allows operators to see and be seen, even after dark
Folding ROPS bar
Rear utility plate (zero-turn models) transports up to 250 pounds
80% fewer moving parts compared to gas models
CAN bus system
Greenworks Commercial OptimusZ Lawn Mower Maintenance
Compared to gas-powered mowers, the OptimusZ ZTs require way less in terms of maintenance. You do, however, have to sharpen the blades and grease the front casters, but you'll never have to mess with pulleys, belts, or oil. Plus, you'll emit zero gas fumes.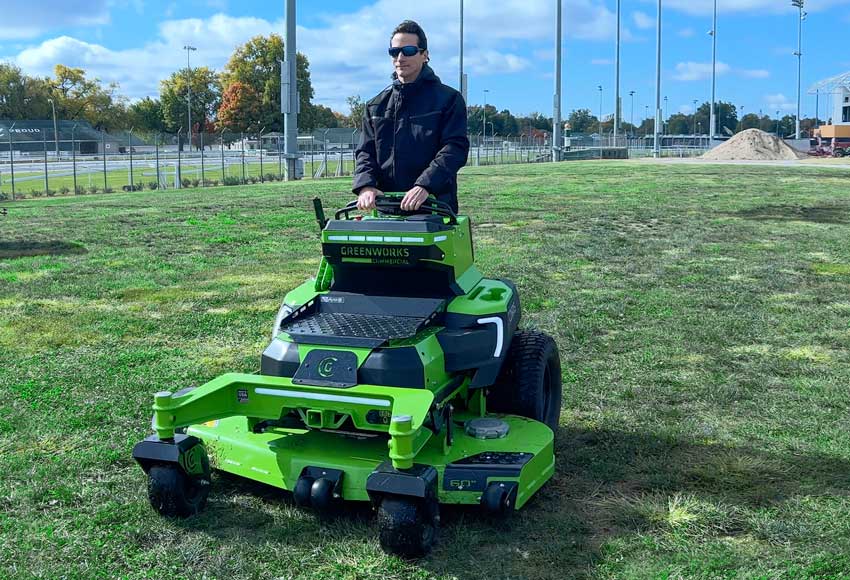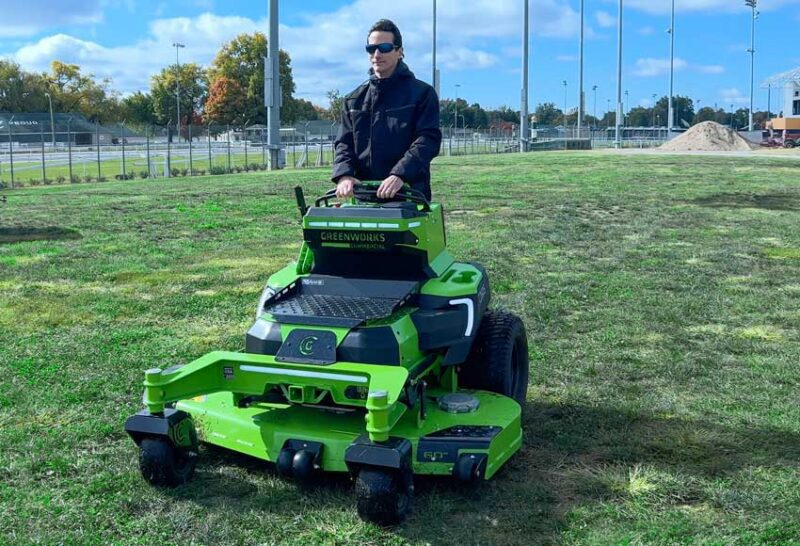 When an issue does come up, you can rely on Greenworks Commercial's Fleet Connect system which delivers diagnostic information directly to you and the Greenworks service team. This system's goal is to identify service points before they become an issue, reducing downtime. You can see exactly what's causing the problem, making it quicker to fix and get back to mowing.
These mowers also come with 4G/GPS anti-theft capabilities and OTA (over-the-air) software updates.
Greenworks Commercial OptimusZ Lawn Mower Price
Greenworks hasn't yet released full pricing details for this lineup yet, but early numbers suggest that the 60-inch ZT will run around $27,000.
Each mower is designed to save you money in the long run when compared to gas solutions. These savings are usually present by the end of the first year. Be on the lookout for our detailed savings breakdown once more information becomes available.
The Bottom Line
As the battery-powered zero-turn market grows, it invites more competition while the industry continues the shift away from gas. The Greenworks Commercial OptimusZ ZT and stand-on mowers ring in this transition as the most well-developed way for Pros to take the electric path. If you're someone who is hard-set on staying with gas-powered platforms, you at least owe it to yourself to try out these mowers for yourself to see what they're capable of.
Questions? Comments? Concerns? Let us know in the comments below and we'll do our best to help you out!
You can discover more of Greenworks Commercial's Pro-targeted lawn care solutions on their website .