EGO Introduces New Steering to its Zero Turn Mower
When the EGO Z6 zero-turn lawn mower came out in 2021, it redefined our idea of the battery-powered ZT. EGO then followed it with its 52-inch zero-turn which increased both power and deck size. Now, the 42-inch EGO e-Steer zero-turn lawn mower targets user experience with a steering wheel and 4-wheel steering.
EGO e-Steer 42-inch Zero Turn Mower Features
From the photo, you can quickly see EGO went with a steering wheel on this zero-turn mower. Rather than simply letting that wheel control the rear wheels, however, e-Steer technology goes further. e-Steer lets you drive the EGO Zero Turn Mower like you would a car using the mower's racing-style steering wheel.
In addition, you retain the zero-turn radius of a traditional zero-turn mower and get something else. You get four-wheel steering.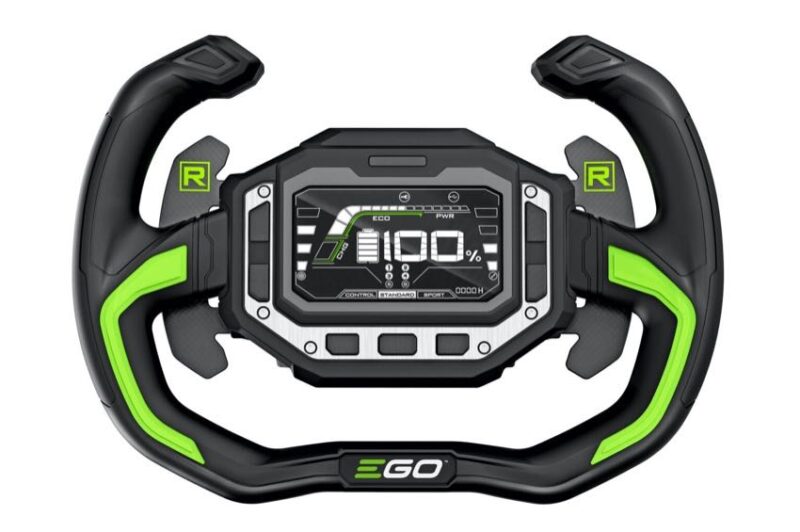 With 4-wheel steering control, you can mow more efficiently when driving back and forth on slopes. The front casters on traditional zero-turn lawn mowers "freewheel" when you mow. That tends to result in drifting downhill when mowing slopes using only the back wheels to keep you going in a straight line.
In contrast, the EGO e-Steer zero turn technology keeps you straight while you mow. In order to pull that off on a zero-turn, it appears that EGO controls the front wheels using a sort of drive shaft while using traditional (for battery) brushless motor controls for the rear wheels.
High Tech Steering Wheel
The actual steering wheel—contrary to a traditional riding mower wheel—possesses a lot of technology. EGO shifted nearly all of the advanced drive controls to the wheel. These would otherwise be located on the right of the driver on the other EGO Z6 zero-turn mowers. Now, you have them at your fingertips. Which controls, you ask?
Drive Speed
Blade Speed
Drive Modes (Control/Standard/Sport)
Since the EGO e-Steer zero turn mower dumps the lap bars in favor of the steering wheel, an accelerator pedal controls your forward drive speed. To go in reverse, you use the "flappy paddle" controls on the wheel to engage reverse.
Additional Features
22HP equivalent power
Cut up to 2.5 acres on a charge
No gas noise, emissions, maintenance, or other gas engine hassles
42-inch stamped steel deck
EGO e-Steer 42-inch Zero Turn Lawn Mower Price
At the moment, EGO hasn't provided us with pricing on their ZT4205S zero-turn. We do know that it ships with four 56V 12.0Ah Arc Lithium batteries. We will be sure to keep this page updated as more information becomes available leading up to its 2023 release.
Specifications