John Deere Launches Its First Electric Zero-Turn for the Residential Market
John Deere's slogan is about as legendary as their green equipment: "Nothing Runs Like a Deere." Of course, an increasing number of manufacturers are entering the realm of electric mowers. The John Deere Z370R is among the latest products to venture into this part of the ZT universe as the brand's first battery-powered electric residential zero-turn mower.
While we already like a lot of the features found in John Deere residential zero-turn mowers, let's dive into its cordless offerings to see how they compare.
Z370R ZTrak Performance
42-inch mower deck
Mow up to 2 acres per charge
Cutting heights: 1.25 – 4.5 inches
7 MPH maximum forward travel speed
3.2 kWh battery
Training their sights on the home-owning population required John Deere's designers to focus on both cutting performance and runtime, and that starts with the 42-inch cutting deck. At 4.97 inches deep, it includes a large discharge chute, which is intended to prevent clipping recuts while also reducing power consumption.
Furthermore, the deck's cutting heights are 1.25 inches to 4.5 inches, with eleven quarter-inch height increments in between.
John Deere's battery-powered residential zero-turn lawn mower also utilizes a 3.2kWh battery, which they say will give operators up to 40% more capacity than its competitors. This lets users mow up to 2 acres on a single charge at max forward speeds of 7 MPH and 3.5 MPH in reverse.
John Deere Battery-Powered Residential Zero-Turn Design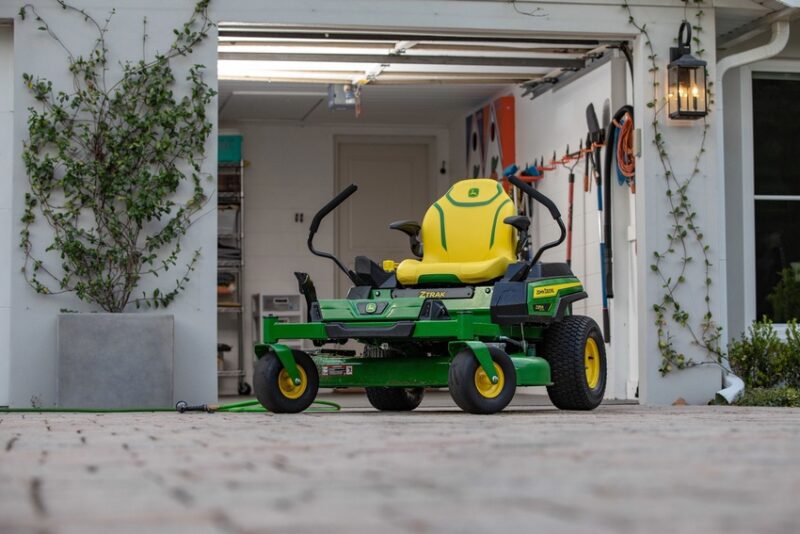 Length: 75.4 inches
Width (with mower): 50.4 inches
Height: 43.3 inches
Weight: 490 pounds
Rear battery cover provides extra protection
Mower frame constructed from heavy-duty formed and welded steel
Onboard charging with extension cord and 110V grounded outlet
More broadly speaking, John Deere gave their electric Z370R zero-turn mower many of the same features as its gas-powered counterparts. This results in what looks like a similarly rugged design. The mower has an overall length of 75.4 inches and weighs 490 pounds.
Additionally, the battery holds an IP66 rating for water and dust resistance, and a rear battery cover provides added protection.
Unlike many of its competitors, the John Deer battery-powered ZT has onboard rather than removable batteries. Charging, therefore, occurs on the mower via an extension cord and a 110V grounded outlet, using Smart Charge Technology to prevent over-charging.
At the right of the operator's seat is a large LCD screen, which displays the battery level and mowing mode.
John Deere Z370R Electric Residential Zero-Turn Price
This electric lawn mower starts at $6,399 and includes a 3-year/200-hour warranty for the mower and a 5-year/200-hour warranty on the battery.