Exmark has revealed their new 2018 commercial mower models. The new Exmark Lazer Z commercial zero turn mower features a few new innovations, such as a 96″ UltraCut Flex Wing cutting deck and a Yanmar liquid-cooled diesel engine. The new model also features Exmark's RED technology. We'll get into what all of that means a bit later, but suffice it to say that the new Exmark mower packs more power, productivity, and durability into their new Lazer Z models. For landscapers who regularly mow larger areas, or have to mow in tougher conditions, the Exmark Lazer Z should turn a few heads this year.
What Exmark Has To Say About It
"The Lazer Z Diesel is the right tool to make quick work of the largest, toughest jobs. Capable of mowing in excess of 10-acres per hour, the 96-inch model is the most productive diesel mower Exmark has ever built. It also raises the bar for the cut quality, operator comfort, fuel efficiency and ease-of-use professionals can expect from a large zero-turn mower. As a result, the Lazer Z Diesel is the ideal choice for municipalities, universities, landscape contractors and others that need a highly productive, versatile, efficient and durable mower to maintain vast expanses of turf."

Daryn Walters, Exmark Director Of Marketing
Exmark Lazer Z Innovations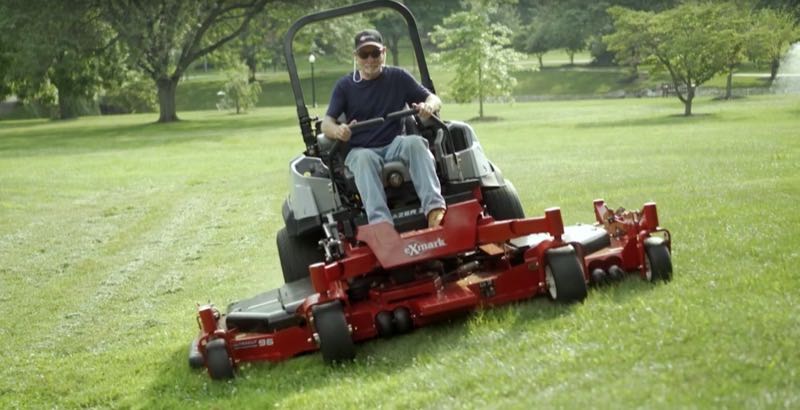 For one thing, Exmark rethought the placement of the engine and radiator. This time around, they've placed both parts lower in the chassis. This not only increases handling and stability, but it couples the engine directly to the transmission. The Exmark Lazer Z design eliminates the need for drive belts, improving the efficiency of the powertrain. Theoretically, this equates to fewer service requirements, meaning a lower total cost of ownership as well as longer uptime.
The Exmark Lazer Z also incorporates an all-new UltraCut Flex Wing cutting deck system. This design features a 48″ center deck with two 24″ wing decks. Both wings can flex 20° upward and 15° downward for unmatched performance over uneven terrain. Using hydraulic lifts, the user can also fold up the wings, making loading, unloading, and storage easier. Despite having an 8′ cutting deck, the Exmark Lazer Z can fit into a 72″ trailer.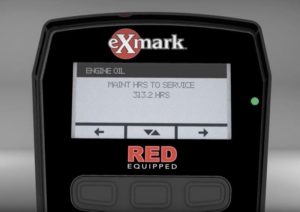 Exmark has also equipped the new diesel models with RED technology. An onboard intelligence system gives service alerts and updates, while also offering productivity statistics. RED tech also allows the 1.3-liter, liquid-cooled, Yanmar turbo-diesel engine to operate at a lower RPM without compromising quality or productivity. It also helps out with fuel efficiency. Additionally, the Lazer Z RED tech reduces exhaust emissions, achieving an EPA Tier 4 compliance rating.
Comfort Quality Improved Through Full Suspension
The 2018 Exmark Lazer Z line also improves upon the level of comfort that operators should expect to experience. Vibration due to bumpy terrain has been dampened through new additions to the design. Exmark has added isolation mounts under the seat and footrest. In addition to this, they have also provided the mower frame with three-dimensional vibration isolation. Wondering what that means, exactly?
We were wondering as well. Apparently, the patented three-dimensional iso mount system is the result of Exmark's research into pressure mapping. By isolating the seat assembly from the mower frame, this system allows for 1/2″ vertical travel and 3/4″ lateral travel.
"Our research showed us that, if we could do a better job at isolating the driver from the oscillations of the zero-turn chassis, it would allow us to greatly reduce the driver's felt vibration and overall fatigue over a work day. That's why our patented Iso-mount system allows both vertical and lateral travel, providing isolation on both planes. When a driver hits a bump, or drops into a hole, it deadens the blow with three-dimensional absorption."

John Swanson, Exmark Product Manager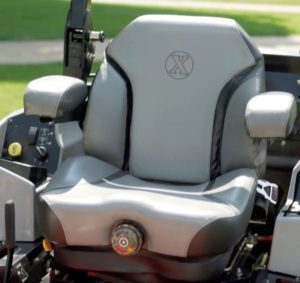 The seat also features Exmark's scissor link ball-bearing suspension system. This system provides 3″ of smooth, vertical travel. Exmark has designed the seat itself with its patented Elastomeric Vibration Control fabric, which eliminates the need for metal springs. This stretchy fabric itself provides up to 1-1/4″ of travel. Custom plush foam lines the top and back of the seat as well.
What we've gathered from all this is that, basically, you should NEVER feel excessive jolts and bumps when riding in an Exmark Lazer Z Mower.
Warranty Information
The Exmark Lazer Z Diesel mower includes a 5-year/2,000 hour warranty. There are no hour limitations for the first two years as well. Basically, for the first two years of ownership, you can mow for 8 hours a day, every day, and not have to worry about the expense of a serious breakdown.
For more information about the Exmark Lazer Z Diesel Zero Turn Mower, or about any of Exmark's patented isolation systems, check in with your local dealer. Or, take a gander at their website here .