Many people live by the mantra that simplicity is best. Benjamin Franklin added to this tenet when he wrote that saving a penny is earning one. Well, if you're looking for a gas walk-behind mower, you can save quite a few pennies with the Toro Recycler lawn mower. We certainly think so. In fact, we named this the best model for your money on our Best Self-Propelled Lawn Mower list.
But you can decide for yourself after a look at its features and design.
Toro Recycler Lawn Mower Features
First, in this day and age, it's worth mentioning that Toro makes this tool here in the USA.
As for performance, the 21352 runs on a 140cc Briggs & Stratton engine. Additionally, it bears noting that, in our experience, B & S engines tend to be reliable starters, which is always an asset on a gas model. In fact, one variation that we've handled fired up on a single pull after sitting in an uninsulated shed through a very cold Mid-Atlantic winter.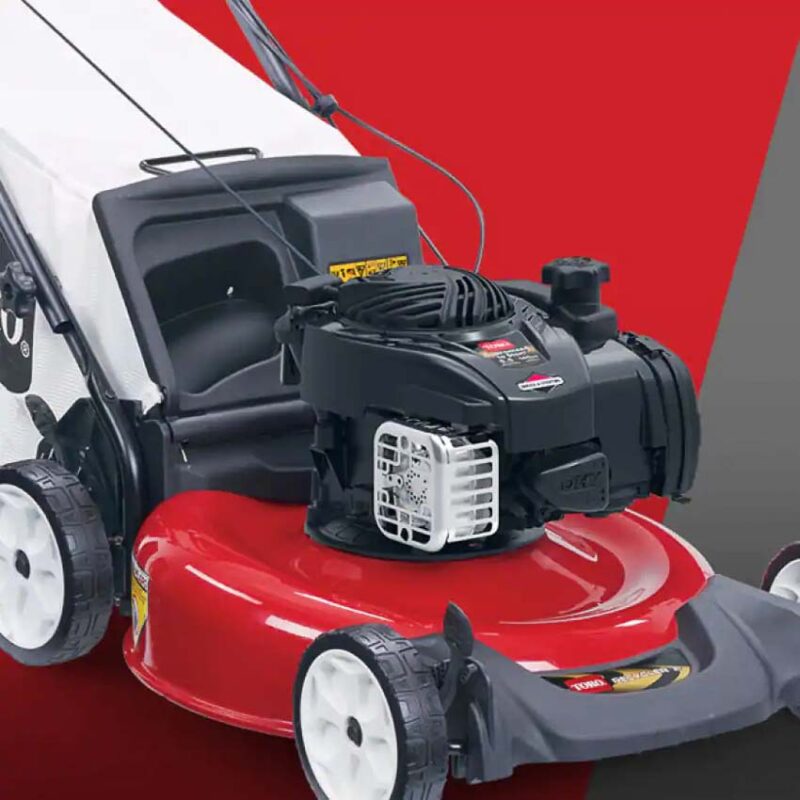 Specs
Model: Toro 21352
Engine: Briggs & Stratton
140cc
Self-propelled
Cutting swath: 21 in
9 cutting positions
Weight: 67 lbs
Furthermore, this engine should have plenty of power for lawns up to half an acre. And that's more than it sounds.
Specifically, the self-propelled Toro Recycler lawn mower cuts 21-inch swaths with each pass. Lastly, it comes ready to mulch, bag, or side discharge.
Toro Recycler Lawn Mower Design
This mower's design encompasses a few features, both in construction and maintenance.
For example, its deck is 14-gauge steel. While that's not the heaviest construction, it's ample for a basic (and user-friendly) tool. Indeed, it makes for a lighter-weight tool that, incidentally, is rear-wheel drive.
And especially for the put-it-away and see-it-next-spring crowd, maintenance is a cinch. The 21352 won't require a single oil change for the life of the mower. Just check the levels and top it off if necessary.
Toro 21352 Price
The Toro Recycler lawn mower sells for $396.73 and comes with 2-year full and 3-year guaranteed-to-start warranties.