Greenworks Commercial's 82V 30-Inch Lawn Mower Gives Pros the Brand's Largest Walk-Behind Yet
Greenworks Commercial has wasted no time in expanding its 82V battery platform and, specifically, an abundance of 82V lawn care solutions in its 2022 lineup. Part of this growing fleet is the Greenworks Commercial 30-inch lawn mower, out-sizing its 25-inch predecessor.
The manufacturer designed this model to persuade professionals to dump their gas-fueled units for battery-powered gear. So without further ado, we'll look at what it has to offer within the commercial landscaping market.
Greenworks Commercial 30-Inch Mower Performance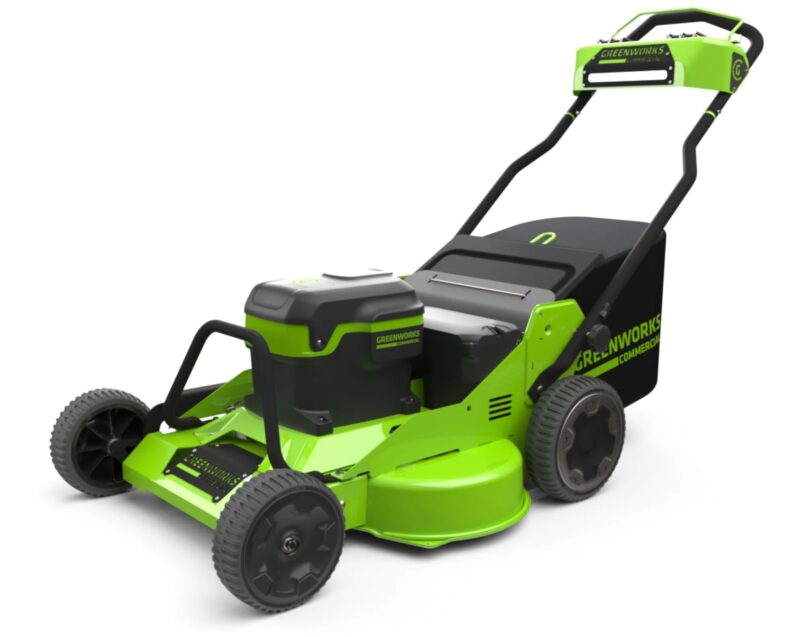 Model: Greenworks Commercial 2522602-P
Two brushless motors
Easy Turn System (ETS) for advanced traction and maneuverability
Two independent hub wheel motors
Blade speeds up to 16,000 FPM
30-inch deck width
Delivers more power than a 200cc gas mower
Runtime: up to 110 minutes per charge
Up to 2 acres of coverage
Power reverse
This particular Greenworks Commercial mower uses two independent brushless motors, along with two side-by-side blades. The goal is to get a quality cut at fast speeds.
The first 30-inch mower to grace the commercial class, the 2522602-P has blade speeds of up to 16,000 FPM. According to Greenworks Commercial, the model delivers more power than a 200cc gas engine.
Likewise, it's the first walk-behind mower to feature power-reverse functionality for easy navigation of tight spaces.
Similarly, Greenworks Commercial equipped this unit with its Easy Turn System (ETS). This sports two independent-hub wheel motors boosting traction and maneuverability. In a nutshell, the system is meant to adjust the power for optimal handling on sloped terrain.
Greenworks Commercial lists the runtime at 110 minutes (roughly 2 acres) on one charge, using three 8.0Ah batteries. And in 60 minutes of charging, the dual-port charger revitalizes the battery to serve your next customer.
2522602-P Mower Design
Length: 64.2 inches
Width: 31.8 inches
Height: 44.2 inches
Weight: 140.9 pounds
Bag capacity: 85L
Cutting heights: 1.5 inches to 5 inches
8 cutting height positions
High-visibility LCD screen
IPX5 rating
LED light
In terms of design, the mower cuts at heights from 1.5 to 5 inches, with 8 different positions in 1/2-inch increments. For disposal options, you can choose between mulching and the 85L rear bag.
The Greenworks Commercial 80V walk-behind also has tri-port powerheads, holding up to three batteries; and it automatically changes between batteries when one runs out.
As for the control panel, a high-visibility LCD screen displays battery status, speed control, blade speed, and error codes. Rubber-coated controls allow you to easily control the power, blades, drive, and LED lights.
What's more, an IPX5 rating protects this mower in most weather conditions.
Greenworks Commercial 30-Inch Mower Price
The Greenworks Commercial 30-Inch Lawn Mower sells for $1999 as a bare tool and $2999 as a kit. The latter includes three 8.0Ah 82V batteries and a dual-port charger. This unit comes with a 2-year warranty on the mower and the batteries.